The best general ledger software includes:
Sage Intacct
SoftLedger
NetSuite
But which will work best for your general ledger accounting needs? We recommend looking for software that includes data capture, account reconciliation, and strong reporting.
1

Sage Intacct

Sage Intacct stands out in the realm of general ledger software, primarily due to its Intelligent GL feature powered by artificial intelligence. This system not only streamlines the accounting process by capturing data in real-time and eliminating manual entries but also integrates seamlessly with over 10,000 banks worldwide, ensuring a comprehensive view of a company's financial status.

The AI-driven outlier detection is particularly noteworthy, as it shifts the review process from being periodic and time-consuming to a continuous, proactive experience, allowing businesses to focus on high-risk areas and anomalies.

Another significant advantage of Sage Intacct is its adaptability and growth potential for organizations. The software offers a modern cloud-based architecture that doesn't require developer intervention for configurations, making it user-friendly. Furthermore, its multi-entity process automation ensures that as a company expands, the workload doesn't necessarily have to.

While Sage Intacct offers a plethora of features, some users might find the abundance of options slightly overwhelming, especially if they're transitioning from a more basic accounting system. But for businesses aiming to make agile, data-driven decisions and free their teams from repetitive tasks, Sage Intacct's Intelligent GL offers a compelling solution.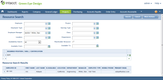 What We Like
User-Friendly Interface
Robust Reporting
Intelligent GL™
What We Don't Like
Budgeting and interactive reporting cost extra
Limited non-financial functionalities
No mobile app
Overview
Price Range: $$$
Starting Price: $8,580/year
Client OS: Web
Deployment: Cloud Hosted
2

SoftLedger

SoftLedger's general ledger capabilities offer a flexible chart of accounts that can be tailored to meet the unique needs of businesses across industries. For example, a non-profit organization may require a chart of accounts that separates unrestricted and restricted funds, while a retail business may need to track revenue by product line. SoftLedger's customizable chart of accounts ensures that businesses can track financial data in a way that makes sense for them.

SoftLedger provides robust reporting capabilities, making it easy for businesses to create and access financial reports in real-time. Reports can be customized to meet specific needs and accessed on demand. For example, a business may need to run a report on accounts receivable to see which customers have outstanding balances. With SoftLedger, they can easily generate this report and take action on the outstanding invoices.

SoftLedger automates reconciliation, saving businesses time and effort in the financial management process. Bank and credit card transactions can be automatically reconciled, reducing the need for manual data entry and potential errors. For example, a business may have hundreds or thousands of transactions each month. SoftLedger's automated reconciliation feature ensures that these transactions are accurately recorded and reconciled in a timely manner.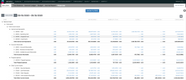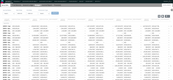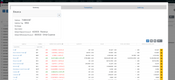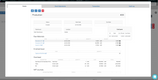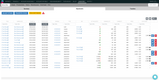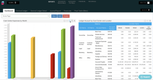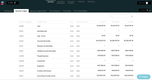 What We Like
Flexible chart of accounts
Robust reporting
Automated reconciliation
Overview
Price Range: $$
Client OS: Web
Deployment: Cloud Hosted
3

NetSuite

NetSuite provides advanced general ledger software capabilities that enable businesses to manage their financial data efficiently and accurately. Some of the key features of NetSuite's general ledger software include multi-currency support, customizable reports, and automatic journal entry posting.

NetSuite's multi-currency support feature allows businesses to manage transactions in different currencies and automatically update exchange rates. This is particularly useful for businesses that operate globally and need to track multiple currencies. For example, a company that imports raw materials from China and exports finished products to Europe would benefit from NetSuite's multi-currency support feature as it simplifies financial management across borders.

NetSuite's customizable reporting capabilities enable businesses to create and access financial reports tailored to their specific needs. These reports can be easily customized by adding, removing, or rearranging columns, making it easier for businesses to analyze their financial data. For example, a company that wants to monitor its cash flow on a daily basis can set up a customized report that highlights the most relevant financial metrics.

NetSuite's automatic journal entry posting feature simplifies the accounting process by automatically posting journal entries as soon as they are approved. This eliminates the need for manual data entry, reducing the potential for errors and ensuring that financial data is always up-to-date and accurate. For example, a company that needs to process a high volume of transactions can benefit from this feature as it streamlines the accounting process, saving time and reducing the risk of errors.







What We Like
Robust reconciliation features
Advanced audit trail
Consolidated financial reporting
What We Don't Like
Must schedule a consult for pricing details
Tedious setup
Difficult to build reports
Overview
Price Range: $$$$
Starting Price: $99/user/month
Client OS: Web
Deployment: Cloud Hosted
What Is General Ledger Software?
General ledger software provides a complete record of the financial management of a business, including the transactional records and the account structure used to organize these entries into meaningful financial information. A general ledger is the core of your accounting ledger, as all entries from other applications flow into the general ledger. This financial information becomes critical to your business decision-making.
Difference Between General Ledger Software and Accounting Software
General ledger functionality is also found as a primary function in accounting software. The general ledger will summarize the organization's financial accounts which accounts payable and accounts receivable. Some of the main accounting items tracked in a general ledger include assets, liabilities, capital, revenues, and expenses. General ledger software gives your business the ability to create the company's financial statements, such as income statements and balance sheets.
Bookkeeping at small businesses can be accomplished with general ledger software for simple data entry, basic financial reporting, or a desire to add subledgers to their Excel spreadsheets. CPAs and accountants may use general ledger software that was developed for accounting firms for the purpose of creating trial balances. Larger businesses may look to an ERP program that provides a full business management suite, which will include a general ledger accounting module within its financial management section.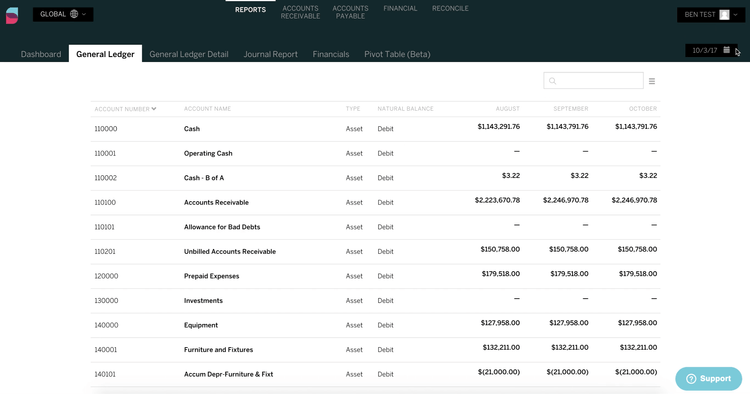 Features of General Ledger Software
Chart of Accounts: Create a list of accounts used by the organization. Define items for which money is spent or received.
Financial Statements: Create reports about your company's financial results, position, and cash flows. Examples of reports include sales, cost of goods sold, gross profit, administrative overhead, taxes, and depreciation.
Journal Entries: Organize and classify business transactions in the order they happened. Transfer debit and credit accounts from the journal to the ledger account.
Audit Trails: Trace financial data to the source document and view the full process of the transaction.
Budget vs Actual Reporting: Create an estimate of revenues and expenditures and compare them against the actual recorded income and expenses once they occur in real-time.
Import/Export via Spreadsheets: Use a spreadsheet program such as Excel or Google Sheets to import or export data into your general ledger solution
Multi-Entity Consolidations: Consolidate the financials of separate entities within your organization, such as centralizing payables, receivables, and reports.
Multi-Currency Conversion: Manage accounts in different currencies depending on the bank account currency.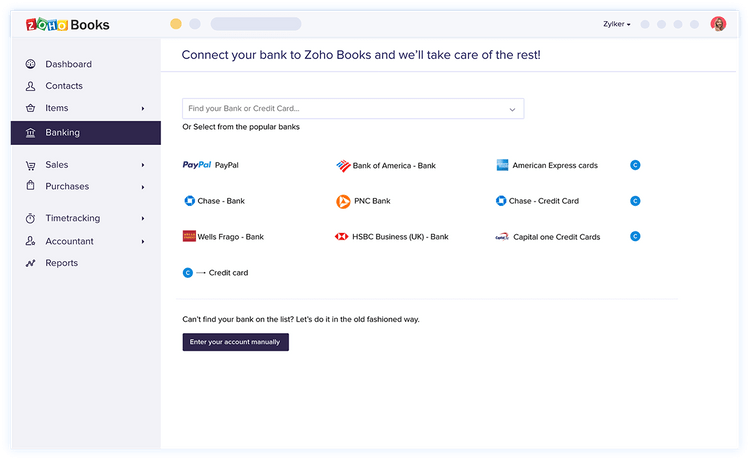 Benefits of General Ledger Software
A general ledger software will help control your accounts and better organize your sub-account structure. It will also enhance your reporting and streamline any company consolidation that is needed. Some of the other key benefits of general ledger software include:
Technological Benefits
Using a general ledger software over manual processes keep you more organized and have your information more readily accessible. It will also transform the way you may record information into your general ledger. One example is the use of electronic data interchange (EDI), which can help update inventory general ledger records in conjunction with sales order transactions as they occur. In fact, automatic updates in your general ledger work best when your general ledger is connected to other functions in your accounting software, such as accounts payable or accounts receivable.
Financial Benefits
Because the GL provides a wide variety of functions related to a company's core financial records, automation and efficiency features (reversing entries, intercompany transfers, drill-down, report scheduling, etc) can create significant financial savings through reducing costs related to executing administrative tasks.
Access to meaningful financial data (as provided by proper chart of accounts, departmentalized records, budget vs actual numbers) provides the foundation of managing a company "by the numbers" and allows for better business development decision making (what to invest in, performance evaluation, decisions on product lines, distribution methods, marketing decisions, expansion, etc).
GL optimization provides the clarity and controls necessary to reduce tax burdens. GL's provide the core financial health reporting which may be needed by banks or other investors to secure capital.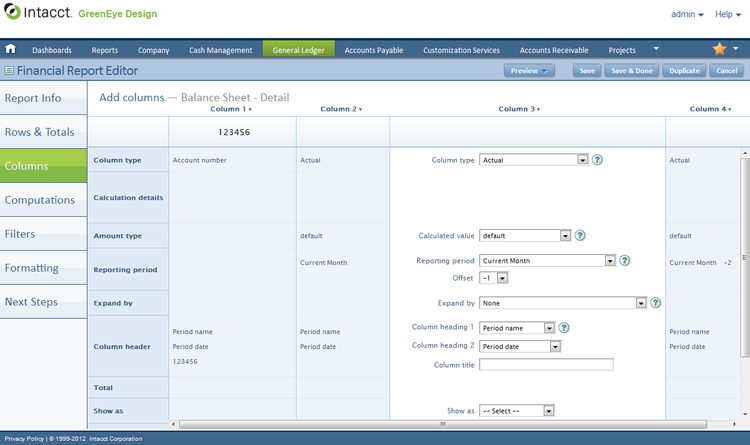 Other Benefits
Increase overall profitability by enabling access to meaningful financial data from company records via improved financial categorization and monitoring tools in order to improve decision-making on key issues such as what to invest in, individual/team/department performance evaluation, product line decisions, sales channels, distribution methods, marketing decisions, business expansion, and beyond
Increase access to bank financing by being able to provide key company financial performance reports
Lower tax burden by supporting tools to optimize strategic accounting and prevent accounting errors
Decrease labor costs related to task-oriented financial tasks via automation features (for example, for reconciliations, reversing entries, transfers) that enable reductions in payroll for the financial team or freeing up time to spend on more strategic work more likely to improve company performance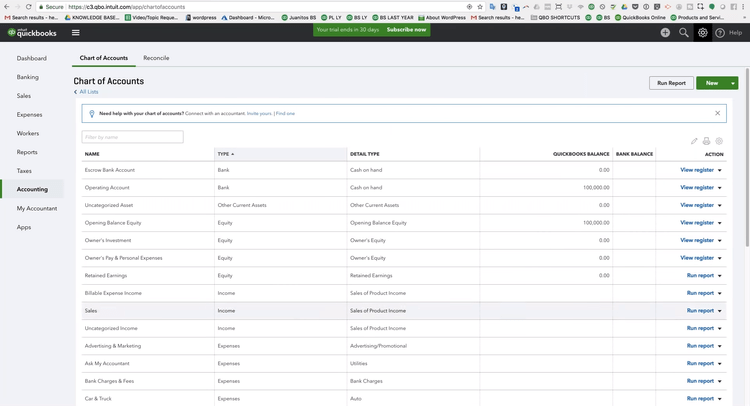 Financial Statements Created With General Ledger Software
One of the largest benefits of general ledger software is the ability to create custom financial statements and reports for up-to-date information on the well-being of the company. Some of these statements include:
Income Statements
Income statements explain your current company performance by monitoring debits and credits, bank account balances, and most importantly how much income has been made during a set period. They can help decision-makers understand various revenues and expenses that have occurred during the selected period. They also include metrics such as total income, the total cost of goods, gross profit, total expenses, and net income.
The income statement can help answer the following questions:
How much was sold? (Net sales)
What were the costs of the items sold? (Cost of goods sold)
What were the overhead costs? (Total operating expenses)
What was the income before taxes? (Net income before taxes)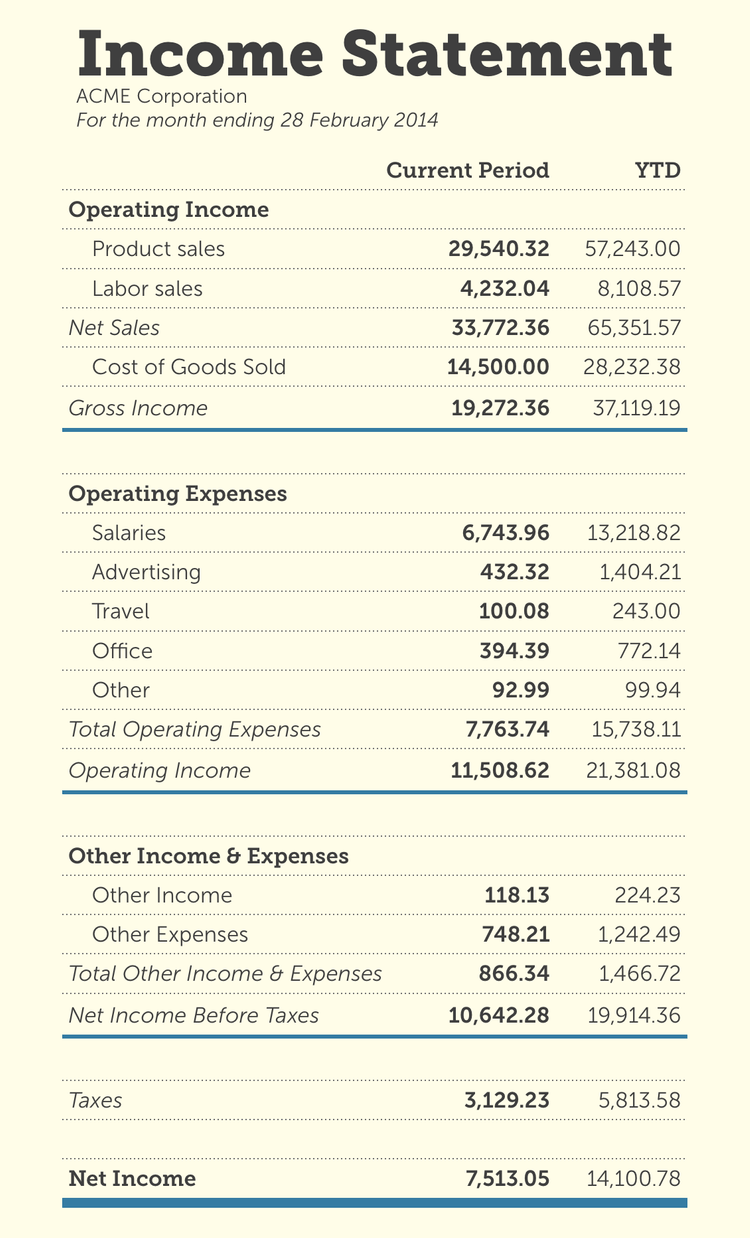 Financial Ratios
Financial ratios are relationships created from your financial information found in the general ledger software and are used for comparison purposes. In short, they help make sense of your financial data. They take a large amount of data and turn it into a performance indicator that your company can analyze.
An example of a financial ratio that can be created with general ledger software includes a common size analysis. This type of report translates each line item into a percentage of net sales. Each line in the income statement becomes its own financial ratio which uses net sales as a common denominator.
The benefit of these types of reports is their attention to each line item, and the ability to benchmark performance against other companies of different sizes.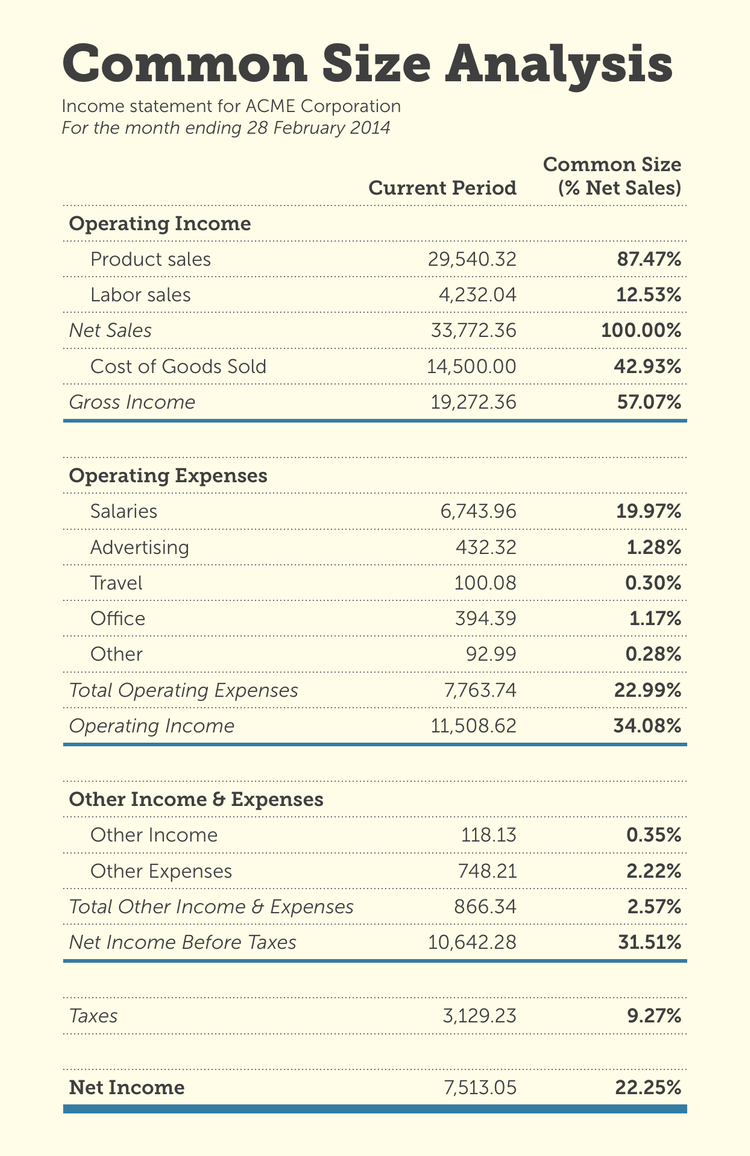 Trend Analysis Reports
Comparisons can help your business determine if your company is better or worse off than previous periods. Trend analysis is important in business so decision-makers know if what they are doing is working or if changes need to be made.
An income variance report breaks down income and expenses during the current period and a selected period, showing the difference and the variance percentage. These reports can let you know when sales are up or down, what type of sales are overperforming or underperforming, and to take better control of your product costs.