Enterprise accounting software helps large businesses go beyond basic accounting processes by offering advanced capabilities. After reviewing different options, here are some top picks for enterprise accounting software:
1

NetSuite - Best for Advanced Features

NetSuite by Oracle is utilized by over 40,000 organizations in more than 160 countries, NetSuite is a cloud ERP software solution that supports sales, finance, human resources, operations, and service needs.

NetSuite is licensed as a subscription-based software-as-a-service (SaaS). Its broad range of ERP functionality includes accounts payable and receivable, bank reconciliation, bill of materials, fixed asset tracking, inventory control, and more.
2

QuickBooks Online - Best for Scalability

For growing businesses just reaching enterprise levels, QuickBooks Online is an ideal accounting software. Companies can send unlimited invoices even at any subscription level. QuickBooks is popular with small businesses for this reason, though the software is highly scalable to meet the needs of growing companies as well.

In addition to invoicing, we found QuickBooks Online excels in both capturing and organizing receipts. It also provides tools for maximizing tax deductions and handling payments.
3

Sage Intacct - Best for Reporting

Sage Intacct is a browser-based, GAAP-compliant financial management system which offers a comprehensive suite of core accounting functionalities. Its support for multi-entity operations, project accounting, and multi-dimensional reporting allows businesses to expand domestically or internationally seamlessly. Moreover, its integrations with CRM, inventory management, and other essential systems enhance its versatility.

Sage Intacct's scalability, making it suitable for mid-market and enterprise-level companies with growth ambitions. However, it's important to note that some advanced features like budgeting and interactive reporting may come at an additional cost. An endorsement from the American Institute of CPAs (AICPA) as a "preferred provider of financial management application" further attests to its reliability and adherence to industry standards.
4

Acumatica

Acumatica is an ERP with a strong focus on accounting. The cloud-based architecture offers unlimited users for flexibility and scalability. This adaptable pricing model is based on actual resource usage and modules employed.

One of Acumatica's standout features is its support for multi-entities which facilitates global financial consolidation, making it suitable for companies with international operations. Industry-specific editions make Acumatica a solid choice for those in construction, distribution, manufacturing, retail-commerce, and services.
5

Microsoft Dynamics 365 Business Central

Dynamics 365 Business Central by Microsoft is a versatile solution for managing various aspects of an enterprise thanks to functionalities that encompass finance, human resources, operations, marketing, and sales. The accounting module offers essential features such as audit trails, multi-currency, and multi-language support, while also automating recurring tasks like invoicing and reporting.

For growing businesses looking to transition into a comprehensive ERP system with a focus on accounting, Dynamics 365 provides the tools necessary to streamline operations and drive data-driven decision-making. And all on a user-friendly interface which resembles popular Microsoft products.
6

Xero

The cloud-based Xero accounting system is designed to streamline bookkeeping processes, offering features like bank reconciliation, financial reporting, and sales tax management. Xero's strength lies in its ability to provide a comprehensive view of a company's cash flow, with clear displays of upcoming bills and outstanding invoices.

Xero offers unlimited user support across all its plans, facilitating real-time collaboration among employees, accountants, and financial advisors. However, Xero is most suitable for small to medium-sized enterprises with transaction volumes that do not exceed 2,000 per month.
What Is Enterprise Accounting Software?
Enterprise accounting software is used by large businesses to cover core accounting processes while including a suite of advanced capabilities to balance your books. These additional tools give your business more insight and control into your financials.
In addition to the standard accounts payable, accounts receivable, and general ledger capabilities found in all accounting software, you'll also find features such as:
Bank reconciliation
Depreciation schedules
Advanced billing and invoicing
Budgeting and forecasting
Payroll
Enterprise accounting software differs from small business accounting software due to the robust accounting tools offered. These financial management features provide a larger level of automation to the business, meaning your employees can spend less time doing menial accounting tasks such as recurring invoices/billing/purchases and late payment reminders.
These enterprise-level accounting solutions can also allow for multiple users with user permissions, which is important for a bigger company that wants to control their employee's access to specific parts of the software and monitor audit logs.
Many enterprise resource planning (ERP software) tools automate business needs on a level that is on par with enterprise accounting options. These management software options will provide all the capabilities of an enterprise accounting option while also providing access to non-financial capabilities such as inventory control, e-commerce integration, and supply chain management.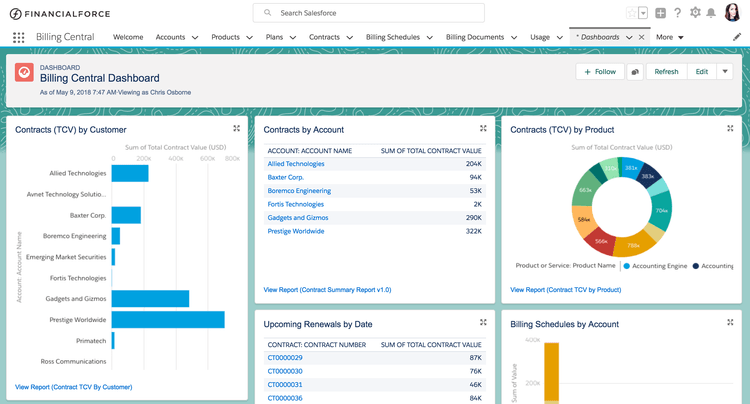 Features of Enterprise Accounting Software
General Ledger: A central repository for accounting data transferred from all sub-ledgers. Helps prepare financial statements that showcase company assets, liabilities, equity, revenue, and expenses.
Accounts Payable: Manages money your company owes to others. Includes check-writing capabilities, vendor management, 1099 processing, and purchase order reconciliation.
Accounts Receivable: Manages money owed to the organization such as debts and unpaid invoices. Includes a customer database, invoice creation, and recurring billing.
Fixed Asset Management: Provides automation for depreciating asset value for optimal asset management strategies and accurate business tax filing.
Bank Reconciliation: Imports bank records, often in real-time, and attempts to auto-match bank and accounting records.
Billing/Invoicing: Create, send, and manage outbound invoices for client work. Collect payments online via credit card payments or ACH bank transfers.
Purchase Orders: Creates financial documents that are issued to vendors when buying supplies or services. Can be included within accounts payable or as a standalone module depending on additional features needed, such as automatic generation based on inventory levels, or approval and requisition workflows.
Payroll: Executes employee compensation via wage calculation, check printing and direct deposit, and payroll tax management. Includes deductions management, benefits administration, and time tracking.
Business Intelligence: Creates financial plans for your business through dashboards and visualizations. Includes budgeting and forecasting capabilities such as departmentalized reporting, budget vs actual comparisons, and budget approval workflows.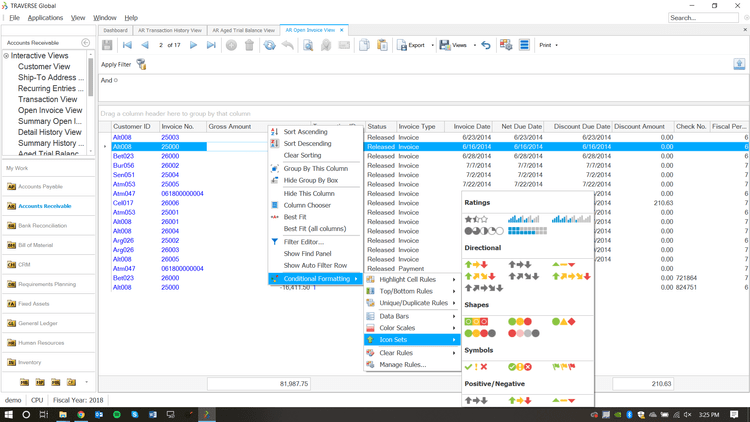 Benefits of Enterprise Accounting Software
Despite the name, enterprise accounting software is not exclusively for larger businesses. Many small and midsize companies looking for enterprise-level features can benefit from using an enterprise accounting system. Some of the top benefits of enterprise accounting programs include:
Improved Focus on Your Departments, Divisions, and Entities
A general rule of thumb is that the more advanced an accounting system, the more easily it can handle multiple subsidiaries within your organization. Your business may operate different departments or divisions under different names, and without the proper accounting system, it can make keeping financials separate a messy process. It can also give headaches when it comes to limiting user access so that only members of specific divisions can edit fields related to their division.
A more robust accounting system will help you support multiple divisions within the same company. Any sort of transactions between related companies (intercompany transactions) can easily be handled, and users will only be able to access files necessary to them.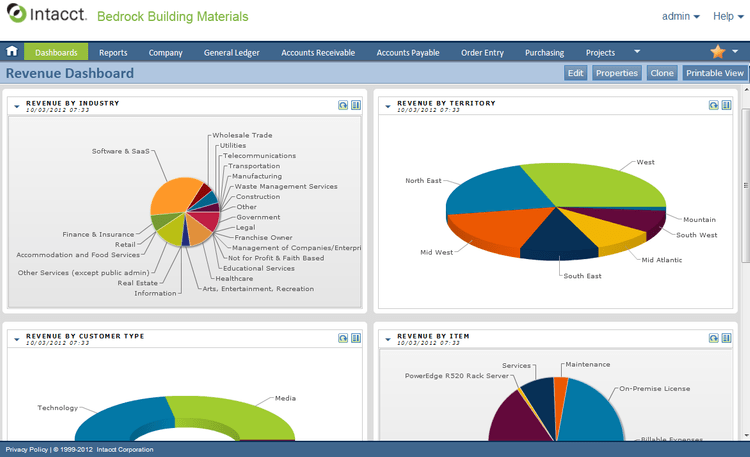 Easily Add Modules at Your Convenience
Enterprise accounting software will usually have a modular design, meaning the software can be bought in bits and pieces. For example, if you only required AP, AR, and a GL to begin, you could purchase the software at an appropriate price. Down the road, you can add on the advanced invoicing or budgeting/forecasting tool and simply pay the difference in cost.
This level of flexibility means enterprise accounting software can offer broad capabilities without forcing you to begin using, (or worse, pay for) features you have no interest in. Likewise, you can continue to use existing systems side-by-side with your newer enterprise option if your staff is reluctant to give up a solution it likes.
For example, many companies use a separate solution for customer relationship management (CRM). While your new enterprise accounting system may have its own CRM module, if it doesn't force you to use or purchase the CRM module, the transition to the new software might go over better with your staff.
Gain Insight on Your Business Performance With Advanced Reports
Prebuilt reports, dashboards, data visualizations, and more can all be created with the advanced reporting capabilities found within most enterprise accounting software. These reports can be used for both internal uses or for any regulatory compliance required by your organization. The goal of these reports is to help interpret the results of your company's financial performance and anticipate future performance and gains.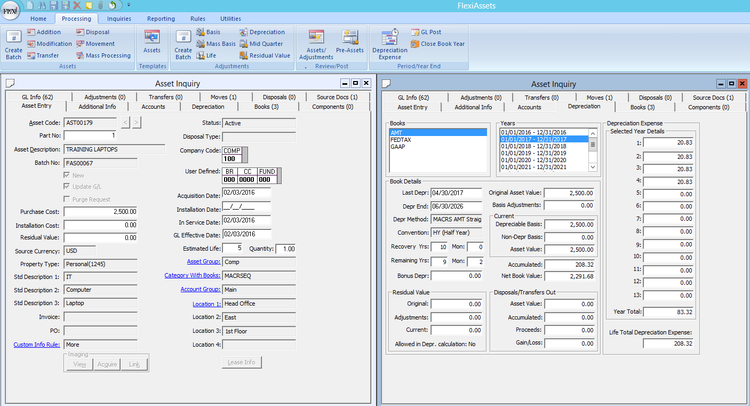 Enterprise Accounting Software Pricing Guide
The cost of enterprise accounting software starts between $100-$400 per user per month. These solutions come in at a higher price point due to the level of use, the number of users needed, the number of applications needed, and integrations with other systems.
Many enterprise accounting solutions may allow you to purchase a base package and add on additional capabilities as your business gets used to the software or as your company begins to grow. Additional features such as advanced budgeting and forecasting, as well as payroll, will almost always include an added cost onto the base package.
Functionality such as payroll requires constant updates in order to provide tax calculations, tax filings, and tax payments. Payroll modules will almost always incur ongoing monthly/yearly costs on a per-user basis.
Compared to normal accounting solutions, enterprise accounting packages will typically always cost more due to an increased need for additional features. These features include multi-currency support, multi-entity accounting, order management, and recurring invoicing.
Will QuickBooks Work For Enterprise Accounting?
QuickBooks Enterprise is Intuit's answer for businesses who enjoy the ease of use and familiarity of QuickBooks Pro or QuickBooks Online but have simply outgrown the solutions. The Enterprise option is the most advanced version of QuickBooks on the market, with more industry-specific features for businesses in the manufacturing/wholesale, construction, nonprofit, professional services, or retail industries.
Compared to lesser versions of QuickBooks, the Enterprise version has 6x the storage capacity and can give access for up to 30 users. Features uniquely available in QuickBooks Enterprise include:
Advanced inventory management
In-depth job costing
Nonprofit workflows
End-to-end project management
Automated pricing
Industry-specific reports
The cost of QuickBooks Enterprise starts at $1,039.50 for the first year. This price reflects locally installed versions of QuickBooks where data is stored locally and users won't be able to access data remotely. Hosted options can be accessed from anywhere, anytime, with any device (including Macs) and start at $130.40/month.
Roughly speaking, the more users and features required, the higher the monthly or yearly cost. Features such as payroll and advanced inventory will require a more robust level of the solution.