When searching for the best bank reconciliation software, a company should look for features that will automate the reconciliation process, minimize manual intervention, and reduce the risk of errors and compliance issues.
We've evaluated a handful of options on the market to find the ones which provide real-time visibility into financial data, including detailed reports and analytics, and offer comprehensive audit trails. Top picks are also scalable to support company growth and integrate easily with existing systems.
After researching and comparing 20+ options, here are our top picks for the best bank reconciliation software based on our own independent review process.
1

AutoRek

Why We Chose It: AutoRek was designed for organizations in the financial sector, including banks, asset managers, insurance companies, and hedge funds. The software is specifically designed to automate financial and regulatory reporting processes and streamline reconciliation activities, saving time and increasing accuracy.

AutoRek is a top bank reconciliation software due to automated reconciliation, data validation, exception management, and regulatory compliance–all which help financial organizations reduce errors and comply with regulations.
Automated Reconciliation: Matches transactions across multiple sources, including bank statements, internal accounting systems, and third-party data.
Data Validation: Ensures data from multiple sources is accurate and complete, thereby reducing the risk of errors and compliance issues.
Exception Management: Helps identify and resolve discrepancies quickly, minimizing the need for manual intervention.
Regulatory Compliance: Stays compliant with the Financial Conduct Authority (FCA) and the General Data Protection Regulation (GDPR).
Reporting and Analytics: Identifies trends and areas for improvement.
2

Blackline

Why We Chose It: Blackline streamlines the financial close process through features it offers, such as bank reconciliation, account management, and other financial tools targeted at mid-sized and large organizations.

Blackline is one of the most recognized names in bank reconciliation as it enables the process of matching transactions across multiple sources. These sources usually include bank statements and accounting software used by the organization.

Exception management capabilities in Blackline will help identify and resolve discrepancies–minimizing the need for manual intervention.

We have seen companies that have used Blackline state benefits of operational efficiency, reduced costs, and improved accuracy and compliance with regard to their financial data management. The integration it offers with top accounting software options, such as SAP, Oracle, and NetSuite.
3

Xero

Why We Chose It: Xero is an accounting software first, but offers bank reconciliation to all customers. This allows users to easily match transactions from their bank statements with those in their accounting system, reducing manual effort and improving accuracy.

Xero's bank reconciliation feature allows small businesses to easily confirm that all transactions in their bank accounts are accurately recorded in their accounting records.
Using the Reconcile tab, users can match bank statement lines from their bank account against transactions in Xero, creating new transactions as needed.
Xero lets users know when bank statement lines are ready to reconcile and provide suggestions based on bank rules or previously reconciled transactions.
The feature can connect to over 10,000 banks and financial institutions, making it easy to import transactions and reconcile them in real-time.
Paired with Xero's suite of other accounting tools, including invoicing, payroll, inventory management, and reporting, Xero makes a great choice for businesses of all sizes. By using Xero, businesses can streamline their financial processes, improve accuracy, and gain real-time insights into their financial performance.
4

Zoho Books

Why We Chose It: Zoho Books automates various financial tasks, such as recurring invoices, payment reminders, and conversions from estimates to invoices, streamlining the financial management process. A full accounting solution, bank reconciliation is included in all plans. This includes the free version, making it accessible to startups and small businesses with limited budgets looking for bank reconciliation.

However, it's important to note that Zoho Books may not be the best choice for businesses requiring an all-in-one solution beyond financial management and basic inventory control. As businesses scale, they may need to incorporate additional Zoho product suites like CRM and Inventory to manage higher volume transactions.
5

ReconArt

Why We Chose It: ReconArt is adaptable to a wide range of business scenarios, making it suitable for businesses of all sizes and industries. It offers various reconciliation capabilities, including banking, credit cards, balance sheets, and more, making it a one-stop solution for managing various financial reconciliation processes. And with a pricing structure starting at $1,500 per month for a 5-user minimum, ReconArt is a cost-effective solution for businesses looking to streamline their reconciliation processes.

One of the key advantages of ReconArt is its full automation capabilities which lead to significant time savings for finance teams. It enhances control and auditability while improving operational efficiency. Seamless integration with ERPs, internal systems, and platforms, makes ReconArt user-friendly, flexible, and configurable to meet specific business needs.
6

QuickBooks

Why We Chose It: QuickBooks is an accounting solution known for its intuitive user interface, customizable invoicing, and robust custom reporting capabilities, allowing businesses to tailor the software to their specific needs. More importantly, the bank reconciliation features are simple and intuitive, helping businesses keep financial records accurate and up-to-date.

QuickBooks Online may have some limitations, such as a maximum of 25 concurrent users and limited industry-specific features. It still remains a strong choice for small to medium-sized companies in industries like professional services, accounting, and information technology. Its scalability, extensive integrations, and user-friendly design make it a powerful tool for businesses looking for efficient bank reconciliation software backed by comprehensive financial management capabilities.
7

NetSuite

Why We Chose It: NetSuite stands out as a robust ERP solution for businesses looking for sophisticated bank reconciliation and financial management software that can scale with their growth. The accounting capabilities, including bank reconciliation, make it an ideal choice for businesses looking to maintain accurate and up-to-date financial records.

Additionally, NetSuite's ability to integrate with various eCommerce platforms and point-of-sale apps enhances its appeal for businesses seeking comprehensive financial and operational management.
8

Sage Intacct

Why We Chose It: Sage Intacct is a browser-based financial management software which offers a wide range of features, including accounts receivable, payable, general ledger, cash flow management, and more. Notably, its bank reconciliation features are user-friendly and efficient, making the process of reconciling accounts straightforward. Another standout aspect is its ability to handle complex financial scenarios, such as multi-entity and global consolidations.

While it may not be the most cost-effective choice for smaller businesses due to implementation and subscription fees, Sage Intacct's comprehensive feature set and flexibility make it a powerful tool for growth-minded companies.
What is Bank Reconciliation Software?
Bank reconciliation software helps automate the financial close process and replaces it with a centralized online system. Preparers using the software can retrieve real-time balances from a general ledger, carry information and open items from prior periods, and compare data from the bank statement and invoices. These account reconciliations can then be signed electronically by the preparer before being sent to a reviewer for approval. Once approved, the data can be stored in the software's database as an audit trail.
Many account reconciliation software provides unified templates to highlight this reconciliation data and provide a layer of automation to grab financial data from your banks, general ledger, and other accounts. Users can upload supporting documents, leave comments, view company policies and procedures, and electronically view and sign off on bank reconciliations. Rules-based certification tools can help management monitor the process and create dashboard reconciliation reports that illustrate your company's cash flow.

Features of Bank Reconciliation Software
Account transaction matching: Match bank transactions and internal account transactions from multiple sources to each other. Establish matching rules specific to one account or company-wide. Can create matching transactions to solve differences within predetermined tolerances.
Reporting: Create reconciliation statement reports that list unmatched records. View suggestions for getting your account into balance. Store reports for future historical reporting and compare the differences in financial statements from previous periods.
Issue Management: Identify exceptions, track follow up attempts and roll forward issues into subsequent periods, and resolve via a manual matching clean-up method.
Classifications: Match records correctly by assigning appropriate type classes and using that as an attribute during the matching process. Classes can be user-defined or set automatically.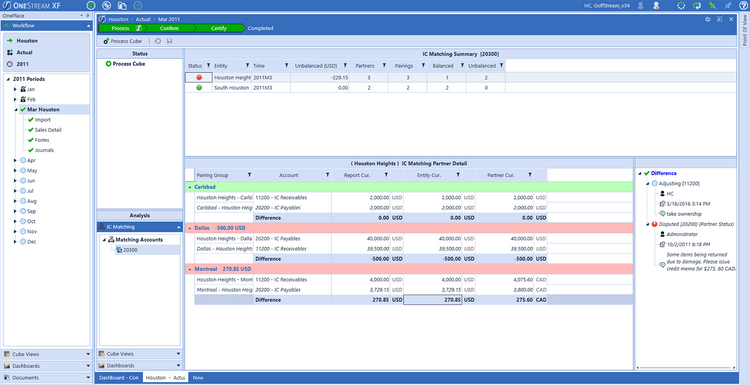 Benefits of Bank Reconciliation Software
Both large and small businesses will benefit from the use of reconciliation software. Automated algorithms, full bank and ERP integration, and in-depth reporting are a few of the immediate benefits offered to a company looking to implement bank reconciliation software. Larger businesses will benefit even greater as they begin to handle multi-entity accounting or multi-currency accounting, and require managing multiple bank accounts across different stores and regions.
Fully Automate Your Bank Reconciliation
Account reconciliation software provides a level of automation that relies less on manual input from your employees, leaving you more time to analyze reports and improve other areas of your business. Automation will lead to stronger compliance, decreased costs, and speed up the financial close process.
The controls embedded within reconciliation software will improve automation by decreasing the risk of errors. This is accomplished by ensuring all connected balance sheet accounts are reconciled (including new or recently added accounts), sending alerts to the appropriate users for approval or rework, template creation, and storing documents in the right place.
When it comes to inter-company transaction processing, bank reconciliation software will automatically post transactions across different entities at the same time. This will ensure your accounts always balance with one another. Other types of activities that can be automated include journal entries as well as the creation of checklists that can point your staff in the right direction at the month-end close.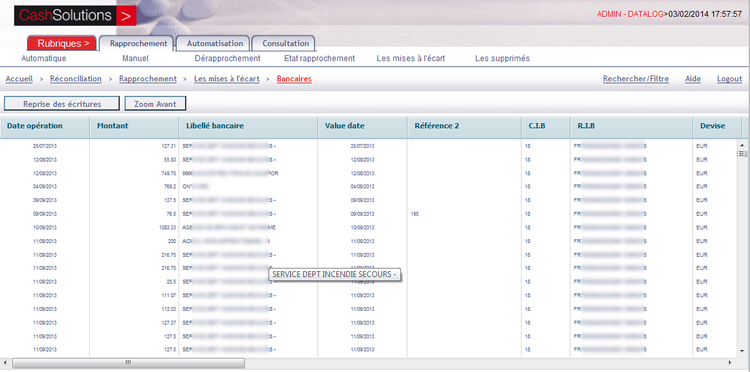 Standardize Your Reconciliation Process
Account reconciliation software will help optimize how your reconciliations are presented, which will help improve the quality and accuracy of your financial data. Many companies that perform manual reconciliations will deal with non-standardized methods. This means that their documentation is being recorded in a variety of formats and data is spread thin between different locations. This downside is in addition to the amount of manual labor that is required to perform the reconciliations, meaning their full-time employees are tied up from handling more important tasks.
Reconciliation software will enforce standardized rules for every reconciliation type. When it comes to auditing, bank reconciliation software will give a standardized presentation with your reconciliations and also provide a centralized document repository. Management staff handling approvals will be able to easily monitor the activity of the staff handling the reconciliations.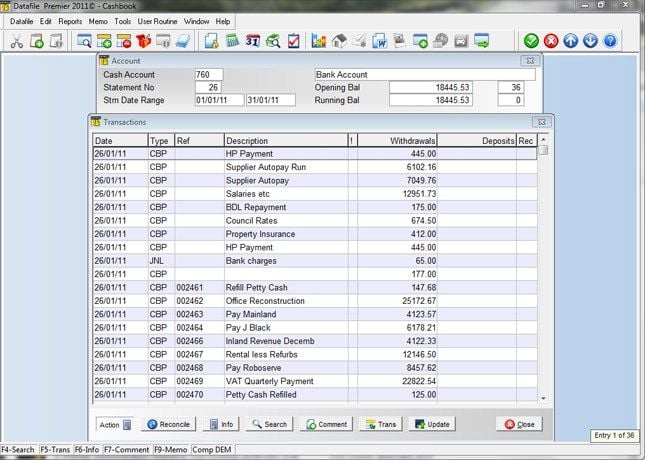 Reduce Errors and Enhance Internal Controls
Internal controls in your accounting process will assure your organization is being as effective and efficient as possible by providing reliable financial reporting and compliance with any laws, regulations, and policies. Balance sheet reconciliation software will compare your accounts and adequately explain differences between accounts.
The biggest benefit of the internal controls provided via account reconciliation software is the reduction of risk that is prevalent with manual paper-based methods. Electronic processes will help segregate duties between your staff, automatically sync with any accounting software or ERP systems, and detect missing or duplicated transactions.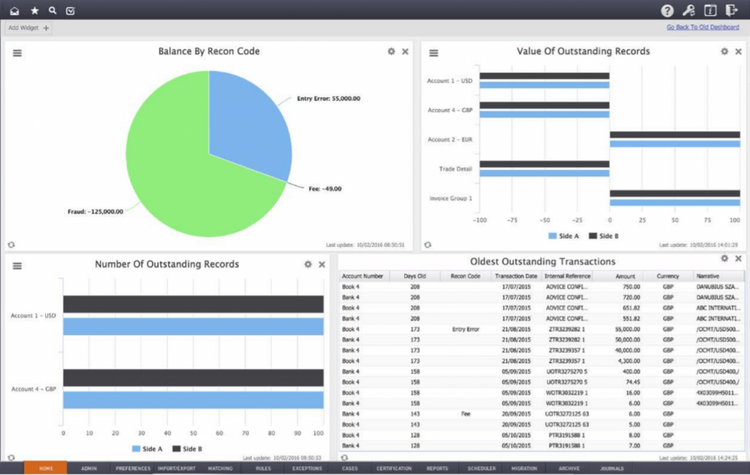 Frequently Asked Questions about Bank Reconciliation
Here are some of the most common questions about account and bank reconciliation.
What software is used for reconciliation?
Reconciliation software tends to fall into two categories:
Of course, there are also standalone bank reconciliation solutions such as:
AutoRek
Blackline
Xero
Zoho Books
ReconArt
QuickBooks
NetSuite
Sage Intacct
How do I know if I need bank reconciliation software?
You need bank reconciliation software if you need a faster, more efficient way to handle a large volume of financial transactions, multiple bank accounts, or complex financial records. Software can automate the entire process, improving account accuracy and saving time.
Can Excel do bank reconciliation?
Yes, Excel can be used for bank reconciliation, but it requires manual data entry and can be time-consuming and error-prone than using bank reconciliation software. Spreadsheets should only be used by small businesses or startups which do not have a high volume of transactions to reconcile.
What is the best way to reconcile bank accounts?
The easiest way to reconcile bank accounts is to use software to automate the process. These solutions automatically match transactions, detect discrepancies, and provide accurate reports. However, if you are stuck using manual methods, you should compare bank statements with your financial records, verify each transaction, and investigate any discrepancies.