What Is Enterprise Project Management Software?
Enterprise project management software coordinates the execution of complex project tasks, including planning, scheduling, resource allocation, quality management, time tracking, and collaborative document sharing. This specific type of project management software is intended to be used by larger businesses and enterprises–making it better suited to handle larger projects with longer timeframes and an increased number of users.
Enterprise organizations have thousands of employees spread across the country and may even have international operations. When it comes to communication, alignment, and planning, enterprise project management tools help automate your workflows to ensure work can be complete on time and include far more customizable options through available APIs.
Sometimes referred to as enterprise project portfolio management software, these solutions have a bigger focus on identifying project risks, monitoring project progress, analyzing performance metrics, and improving project quality. This "big picture" approach is best suited for working with bigger teams who deal with a larger volume of projects and mostly reserved for situations where a standard project management solution would not suffice.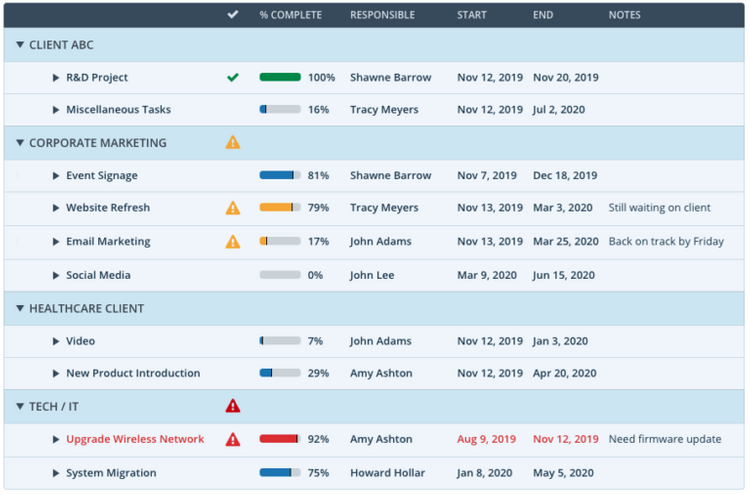 Features of Enterprise Project Management Software
Project Planning and Scheduling: Design policies and methods to achieve project objectives. Assign tasks to complete projects by allocating resources within a timeframe.
Team Collaboration: Allows two or more users to collaborate on the same project–seeing updates and edits to files in real-time.
Time Tracking: Track hours spent on individual tasks and the project as a whole. Monitor billable vs nonbillable hours for improved budgeting.
Reporting: Create summary overviews of the current status of a project. Includes status reports, risk reports, board reports, variance reports, Gantt charts, and PERT charts.
Budgeting: Estimate the total cost of a project. Includes labor costs, material procurement costs, and operating costs.
Billing and Invoicing: Prepare and send out client invoices, maintain cash flow, and measure the profitability of projects through planning, execution, and analysis.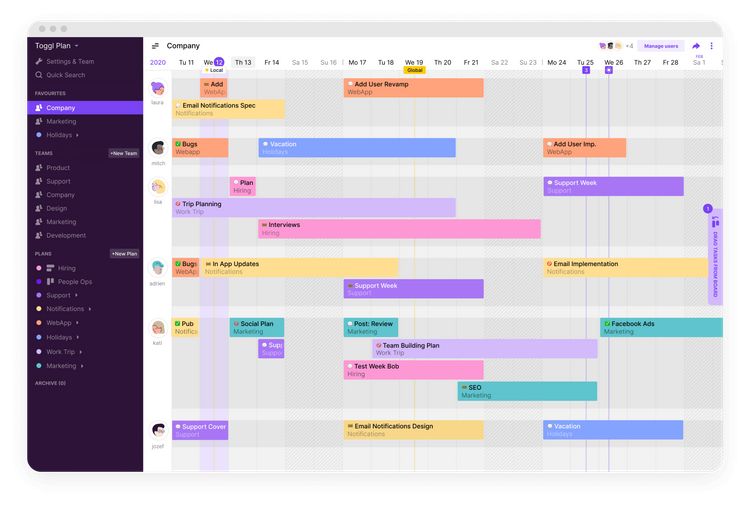 Benefits of Enterprise Project Management Software
The top benefits of enterprise project management tools will make your project team members more agile, improve their resource management, and offer strong levels of automation. They may also improve communication between staff and stakeholders through file sharing (via a dropbox) or collaboration tools–all while being user-friendly.
Increase Efficiency Through Maximized Engagement
Your enterprise project management software should provide a return on investment quickly through improved efficiency from your workers. Project managers and employees of all types should be able to easily communicate the type of work they are dealing with, how long they will be before completion, and if they require any assistance from others. This is made possible by keeping everyone on the same page via real-time interactive Gantt charts, which creates a visual method of organizing all tasks and resources. Your project team can create milestones, dependencies, and critical paths so everyone can work better together.
A dependable enterprise project management system will allow for clarity of purpose, meaning all involved will have well-defined roles and responsibilities. When these goals are achieved, the true business value of the software will be discovered. Providing visibility into all of your team's pending and completed tasks will let everyone know who is required to complete the work–putting a level of friendly pressure and accountability on your staff to finish work on time.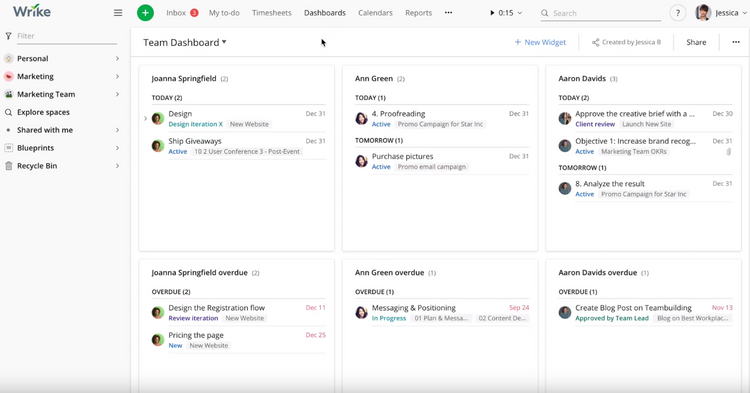 Better Decision Making Based On Data
Enterprises make tough decisions constantly, and decisions are made based on project performance, results, and more. These decisions have a large impact on company financials, human capital, and your supply chain. Enterprise project management solution can help implement the right processes and systems in order to help your organization make better decisions.
One example of how an enterprise project management system can help your business overcome challenges is by determining which projects should be funded and which should be scrapped. Some projects may pose more of a risk than others, and part of that risk may have to do with the cost ramifications.
Likewise, some projects may simply underperform, or require a lot more intervention from your staff and management. Enterprise project management software can help monitor the risk and compliance involved in a particular project–ideally leading to improved profit margins through managed product costs.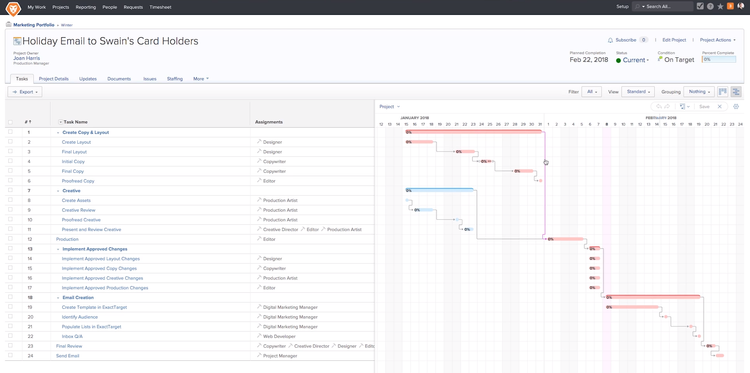 Improve Quality of Projects And Improve The Skillset Of Your Staff
A 2018 PMI survey suggests EPM software will result in higher quality work, reduce the impact of skills shortages by leveraging skills more appropriately, reduce project risks, enhance integration within a decentralized or regionalized delivery organization, and improve productivity. The same survey suggests that 71% of organizations report greater agility over the last five years.
Most enterprise-level organizations will want to establish an organizational view of handling their projects. This clearly defines roles between a delivery manager and a project manager. The delivery manager handles commitment to the project, reviewing the project, coaching throughout the project, and resolving any issues that come his way. The project manager is left with the core tasks of planning, organizing, controlling, and overall leading their team to completion.
The delivery manager has a "big picture" role of ensuring commitment to the project, reviewing and coaching the management team, and identifying and resolving issues. Meanwhile, project managers are more autonomous and instrumental in the project being handled on a day-by-day basis.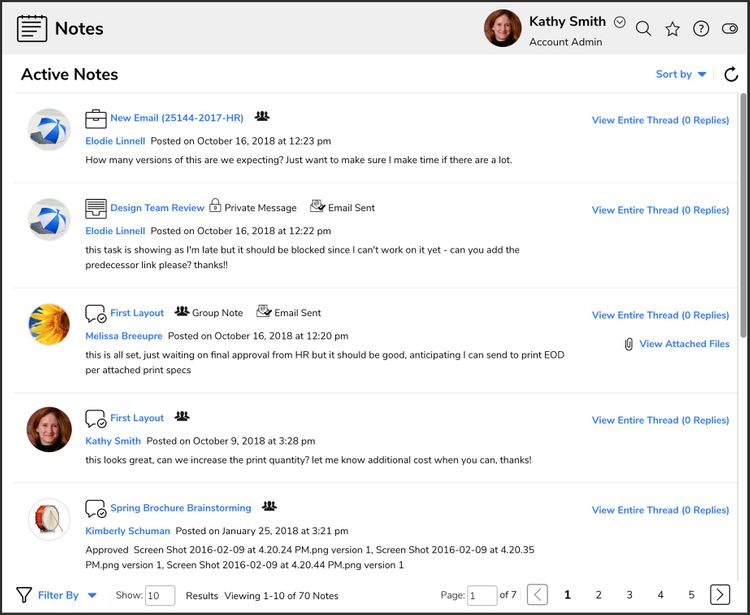 Pricing of Enterprise Project Management Software
How much you'll pay for enterprise project management software will depend on:
The number of functionalities needed
The number of users
The scope of your business
The cost of enterprise project management software starts at $10/user/month to $75/user/month. However, this pricing is mostly introductory and reflects starting rates for limited functionality. This is due to the crossover that exists between basic project management options and enterprise options. Most of the time, the reason a PM software becomes "enterprise" is through purchasing an upgraded version with improve functionality that allows for a larger userbase.
Many solutions will offer free trials to let you determine which level you need. These options can be used indefinitely, but usually are stripped-down versions of their paid counterparts. This means you are usually limited to the number of users and projects that can be used in the system.