Ever get the feeling that your organization hasn't always green-lighted the projects most likely to deliver a solid return? Ever run into issues keeping the right resources allocated to the most important projects? If so, it might be time to dig deeper into what project portfolio management programs can offer your business.
What is Project Portfolio Management Software?
Project portfolio management (PPM) software is a decision making tool that helps CEOs, CFOs, CIOs, and other executives determine the right project priorities. Namely, what are the right initiatives to pursue and when should they be pursued. In order to come up with the right project priorities, you need to be able to weigh all the different factors that go into a project-by-project cost/benefits analysis.
Whereas project leaders and project team members require tools like single-project task management and scheduling, executives need a way to distill the big picture into actionable project portfolio leadership.
The ability to catalog projects and score them in terms of normalized costs and benefits, presents an opportunity to utilize data to more effectively manage the project portfolio. Project portfolio management solutions are designed to gather data and model estimates in order to come up with reliable predictions on which projects will generate the greatest returns.
Managing for Success Across the Entire Portfolio
Prioritization of projects isn't the only responsibility of project portfolio management software though. After all, selecting the right projects is only half the battle. Projects must be well-managed in order to achieve the desired results. PPM solutions are designed to help handle risk analysis, change requests, budgeting, and resource allocations across the enterprise, in order to accomplish the end of goal of successfully executing your most important strategic initiatives.
Executives and key decision-makers are utilizing PPM software to enhance portfolio management across a variety of project types, including:
IT
Marketing
Product Development
Business Development
Understanding Core PPM Capabilities
The central functional capabilities of project portfolio management systems include:
| Feature | Description | | |
| --- | --- | --- | --- |
| Resource Management | PPM software manages access to finite resources–such as equipment and labor–across a multitude of different projects. Tools like Gantt charts and project calendars help visualize labor and resource utilization. | | |
| Reporting Tools | Strong reporting capabilities are required to distill large data sets into project performance and prioritization metrics. Graphical presentations of data simplify the complexity of managing numerous projects in various life-cycle stages. | | |
| Risk Management | PPM software utilizes risk analysis tools to identify potential risks to successful project completion. Weighing the likelihood of risks and potential financial impact is an important part of determining estimated ROI. | | |
| Change Management | Plan for project prioritization and completion changes and manage issues as they arise. | | |
| Budgeting | Integration with financial systems and budgeting software can help identify capital availability and likely project costs, which can be utilized in the cost benefits analysis to determine project prioritization. | | |
| Cost/Benefit Analysis | Integration with financial systems and budgeting software can help identify capital availability and likely project costs, which can be utilized in the cost benefits analysis to determine project prioritization. | | |
| Request Management and Ideation | Often PPM systems will incorporate submission tools to collect project ideas from across the enterprise. | | |
Benefits of Project Portfolio Management Software
Benefits of PPM include:
Optimizing Resource Utilization and Capacity Planning
Resource management capabilities in PPM software gives businesses insight into who is working on each project, the materials being used, and the project timeline. Project managers are able to assign employees to specific projects based on availability and qualifications or certifications.
Resource capacity planning is also an important part of project portfolio management. Capacity planning in PPM software helps businesses determine if they have the right resources and skills at a team level to complete a project. When it is determined you have the available resources, the resources can be allocated to the project.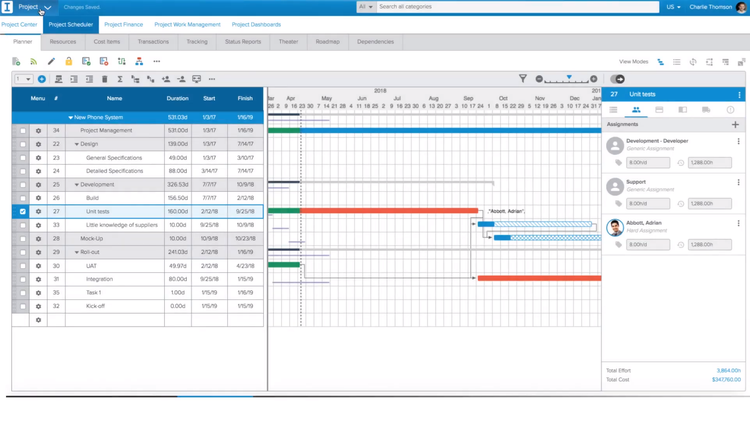 Minimizing Risk
Risk management tools in PPM software helps businesses minimize risk by identifying potential problems that will hinder the completion of a project. The software will identify the type of risk (i.e., a quality control issue, security problem, etc.) and where the risk is coming from (i.e., an employee, vendor, or customer). Risks are assessed to determine the likelihood of the error occurring and how much it will impact the project. The risks are then prioritized and assigned to staff members that can take action to mitigate the risks.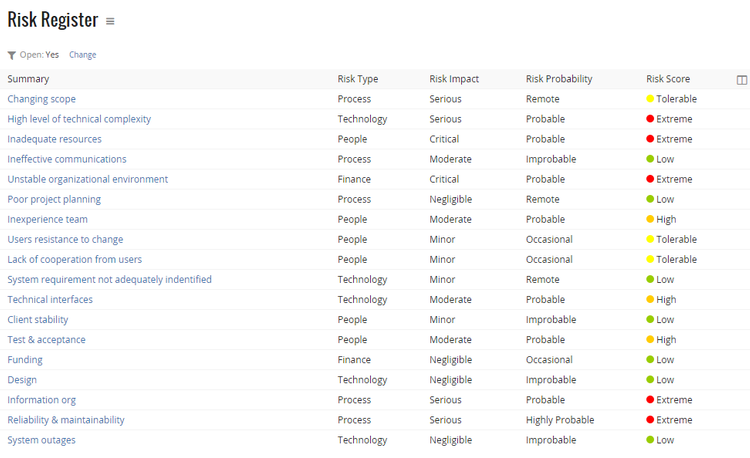 Monitoring Project Performance
PPM software has a variety of tools for monitoring project performance to ensure profitability and efficiency across the entire portfolio. Most PPM systems provide time tracking functionality, allowing you to monitor how much time was spent working on projects across the portfolio. This allows businesses to see where time is being spent, and where changes can be made to improve overall efficiency.
Reporting tools are important for monitoring overall performance. Graphs and charts provide you with clear visuals of estimated vs. actual costs, budgets, time tracking data, employee workloads, and more.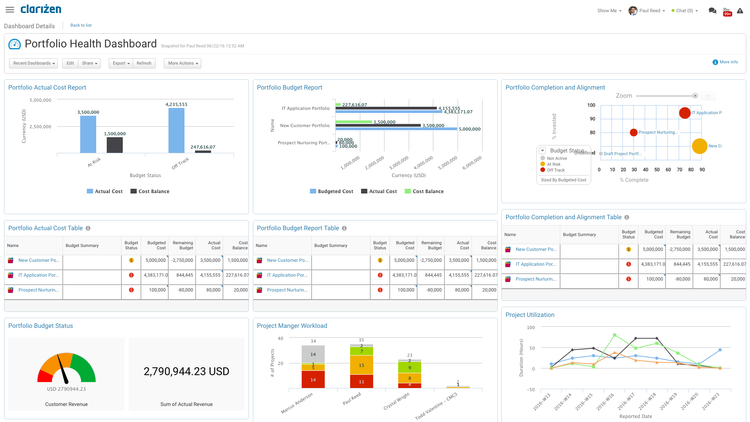 Taking the Next Steps
If you are at the point where you are looking to find good project portfolio management options to evaluate, we can help. We offer a free software search service designed to help save you time finding the right program for your organization. Get started today!