Procurement and sourcing go hand in hand to ensure your supply chain is as efficient and accurate as possible. By using tools such as procurement software, your business can ensure faster delivery times, economies of scale, better efficiency, and lower overall costs. Procurement managers and procurement professionals alike understand the importance of the entire procurement and sourcing life cycle in order to make the most profitable choices.
Sourcing vs. Procurement: What's the Difference?
First, let's dive into what each of these is.
What is Sourcing?
Sourcing, sometimes referred to as strategic sourcing, is the process of developing channels of the supply chain at the lowest total cost. This includes all activities that revolve around identifying and assessing potential suppliers as well as selecting the appropriate supplier at the best possible cost.
Sourcing involves contract negotiations once an agreement has been reached between the buyer and supplier and outlines the terms of procurement. Usually, a company has sourcing professionals on staff who evaluate the market and develop the contractual agreements in order to ensure the company is getting the best possible value.
The sourcing process starts with your procurement team defining the requirements of a new sourcing job. This job can be categorized based on the strategy your business is trying to implement (strategic sourcing). Knowing this information allows you to identify the correct supplier that you can submit an RFI or RFQ. When a supplier has been identified and selected, the contract can be negotiated. Future supplier relationships are handled by managing these contracts over the course of the relationship for future cost savings in your overall supply chain management (officially known as "supplier management").
In short:
Requirements definition
Category analysis/strategy
Supplier identification
RFI/RFQ
Contract negotiation
Contract management
Supplier management
What is Procurement?
Procurement is the act of obtaining goods and services that a business needs to support its operations. Procurement gathers real-time information on the vendor, purchase quantities, items purchased, delivery timeframes, payment terms, and costs. This data is compiled into a purchase order–a financial document issued to suppliers when buying goods or services.
Procurement teams aim to purchase competitively priced suppliers that deliver the most value–ultimately helping save the company money on things they need. However, procurement teams may define their procurement processes differently. Procurement can start by gathering business requirements, sourcing suppliers, all the way through to tracking the receipt of goods, and managing the supplier relationships and payment terms between the two parties.
The use of procurement software ensures each purchase order created is legitimate, authorized, and trackable. By linking with an organization's inventory management system, you can access real-time stock quantities, movement history, seasonal trends, and supplier lead times.
The procurement process starts by identifying a need. From there a purchase requisition is created and sent to the procurement department. This purchase requisition is either approved or denied. The requisition becomes a purchase order sent to the appropriate vendor/supplier if approved. When the goods or services are received, the supplier provides a receipt. This receipt is then sent to the purchasing department for an invoice matching the purchase or to complete the payment.
In short:
Identify need
Purchase requisition
Approval
Purchase order
Goods/Service receipt
Invoice match/payment
Procurement vs Sourcing: Key Differences
While procurement and sourcing hold many similarities, in order to better understand what each does, one must look into what makes them different. Simply put, procurement is the process of acquiring goods and services the company needs, while sourcing is finding and qualifying the suppliers of those goods and services.
Sourcing strategy and procurement both involve the work needed to operate your business. Proper vetting in the sourcing process can optimize the procurement strategy through improved automation and sustainability. Each step along the way in procurement has a direct impact on the step in the sourcing process. For example:
Procurement involves procuring goods and services from suppliers that sourcing has vetted and maintained a contract and healthy relationship with.
While procurement focuses on what supplies to get, sourcing focuses on who to get the supplies from
The procurement function ensures a steady flow of raw materials, while the sourcing team is responsible for building its supply chain network through supplier relationship management
Procurement is responsible for the fulfillment of orders that have already occurred, while sourcing ensures the business can have a competitive advantage in sourcing the best prices to ensure orders are filled at the lowest possible cost.
Using Procurement Software for Procurement and Sourcing Capabilities
Procurement software allows you to issue orders for services and products by tracking all key order info in real-time including the vendor, purchase quantities, item or service purchased, delivery timeframes, payment terms, and costs.
Also known as e-procurement or purchase order software, you can ensure each order is legitimate, authorized, and trackable. By linking your procurement solution to inventory control, you can access exact real-time stock quantities, movement history, seasonal trends, and supplier lead times.
Features of procurement software include:
Purchase order document creation
Vendor database
Requisitions and approvals management
Automatic or recurring orders
Supplier lead time management
Critical supply chain benefits enabled by e-procurement software include:
Improved cost control via authorizations and approvals to ensure the necessity and accuracy of individual purchases
Reduced supply costs through improved capabilities to compare vendor options
Increased customer satisfaction based on ensuring the timeliness of material provisioning
Reduction in the administrative labor costs associated with purchasing activities through the use of software automation
Other benefits of procurement software include contract management, automation in the purchasing process, audit trails for improved accountability, and being able to meet customer demands quicker.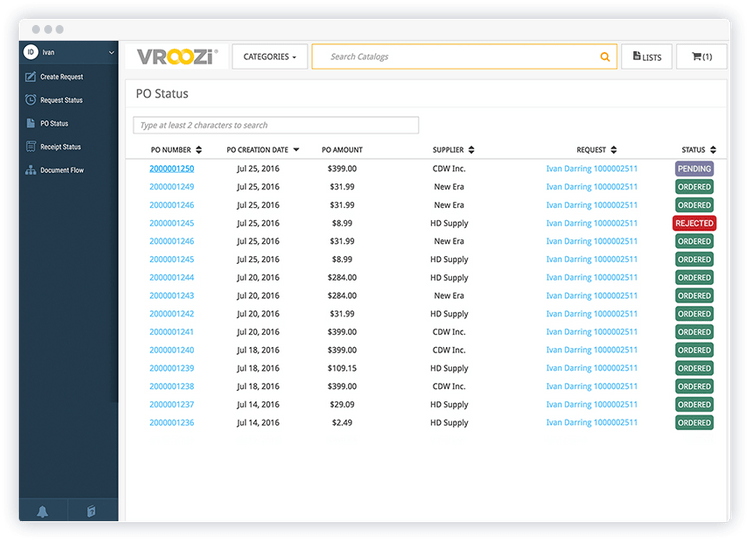 Sourcing Software
While most procurement systems will offer features intended for use in the sourcing process, strategic sourcing software will automate the sourcing process of gathering information needed to complete the purchasing process. This streamlines sourcing decisions in real-time so you know when and where to get your needed goods and services from.
The primary difference between sourcing software and procurement software is the focus on the data gathering process to complete the procure-to-pay process. Most sourcing software will obtain bids and quotes from a variety of vendors within a unified portal and compile the data into a single repository to compare figures side by side.
Similar to sourcing solutions, supplier relationship management software is a communication solution that organizes vendors as needed. It can be thought of as a CRM tool for suppliers–similar to that of an online Rolodex.