What Is Strategic Sourcing Software?
Strategic sourcing software, also known as sourcing software or e-sourcing software, automates the sourcing process of gathering information needed to complete the purchase process. This software is primarily used in purchasing departments and can be known as a unique type of e-procurement software.
Sourcing software will streamline sourcing decisions in real-time so you know when and where to get your needed goods and services from. This aids in the efficiency of your overall supply chain. While a part of the e-procurement process, strategic sourcing solutions differ from procurement systems by focusing more on the data gathering necessary to make purchases. This differs from something such as a purchase order software that only focuses on the monetary aspect of purchasing goods or service rather than on the spending lifecycle.
The best e-sourcing software will obtain bids and quotes from a variety of suppliers within a unified portal, compile the data in a single repository to compare figures side by side, and ideally let your decision-makers generate costs savings and increase supplier competition.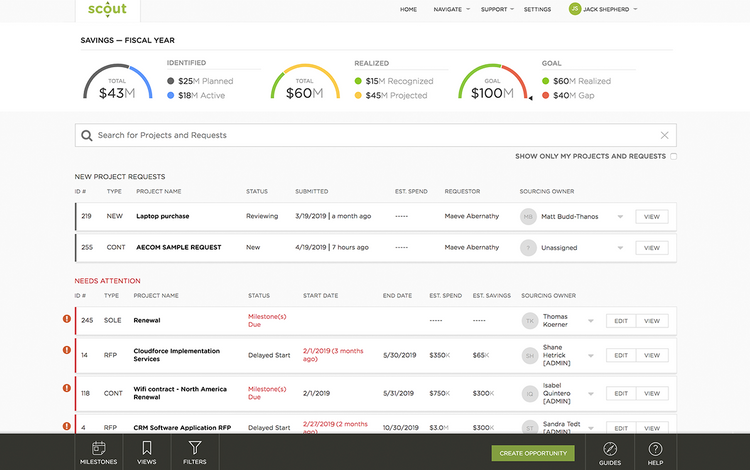 Features of Strategic Sourcing Software
Spend Analysis: Helps identify, gather, cleanse, group, and categorize your spending data. Helps aid in decision making with regards to decreasing procurement costs and improving efficiency.
Bid/Quote Creation: Create a request for quote (RFQ) that solicits quotes from potential suppliers. Lets vendors submit bids for how much they will charge for a product or service. Also called an invitation to bid.
Request for Proposal (RFP): A document that solicits a proposal through a bidding process. Involves a funding announcement that outlines the bidding process, contract terms, and how bids should be formatted.
Contract Management: Handles the administration, creation, execution, and analysis of contracts between customers, vendors, partners, and more.
Supplier Management: A workflow that evaluates your vendors–taking into account competitiveness, customer satisfaction, profits, and more. Evaluates if suppliers are performing per your organizational requirements and identify areas of improvement.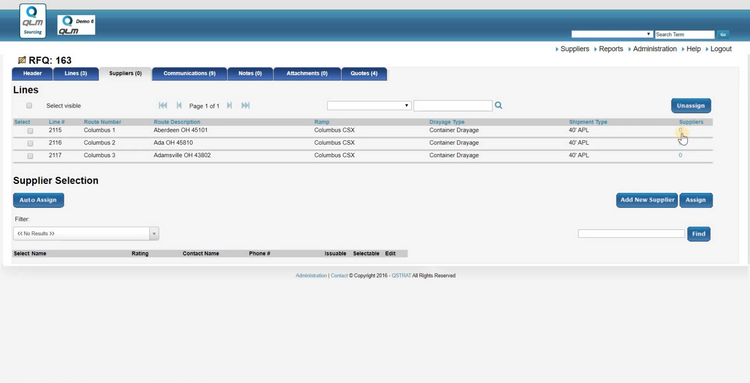 Benefits of Strategic Sourcing Software
The goal of using any strategic sourcing software is to keep procurement costs at a minimum, without interruption to your supply chain or manufacturing processes. Many procurement teams and procurement professionals look to sourcing software as a way to reduce spending and maximize the profit potential of your business. Some of the top benefits include:
Automate Your Spend Analysis and Tracking Process
Many businesses may find a disconnect between savings claimed by the procurement department and savings recognized by your finance team. This creates a division of identified savings, approved savings, and realized savings. Having any sort of gap or misalignment can create distrust between the different departments involved in your organization.
The right sourcing software will turn your spend data into tangible opportunities, monitor savings pipeline using analytic tools, and bridge the gap between procurement and finance. Most may offer an accelerated savings ideas tool, which can lead to more opportunities being available for your procurement organization. Any ideas thought of by your staff can be shared across your organization, leading to more eyes seeing them and less being left unnoticed. Tracking ideas all the way to approval makes your savings pipeline much more transparent.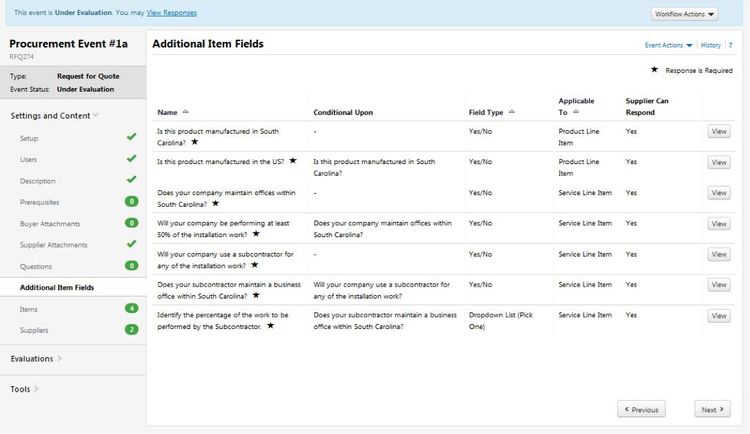 Select The Right Suppliers For The Materials You Need
In selecting the appropriate supplier to go through, your business will usually make a decision based on a number of factors–such as delivery time, product quality, and cost. Without the assistance of strategic sourcing software, a business may find it difficult to sort through all of that information about potential suppliers. Most e-sourcing software will let you organize potential suppliers side by side and compare the data–letting you see which supplier you want to work with moving forward.
AI-based tools can also assist in the supplier selection process. Many of the leading strategic sourcing systems will take a look at your inputted data and determine the best combination of traits, depending on the weight you assign them. This is a way that your organization can better manage risk while also finding the best value all while improving supplier relationships.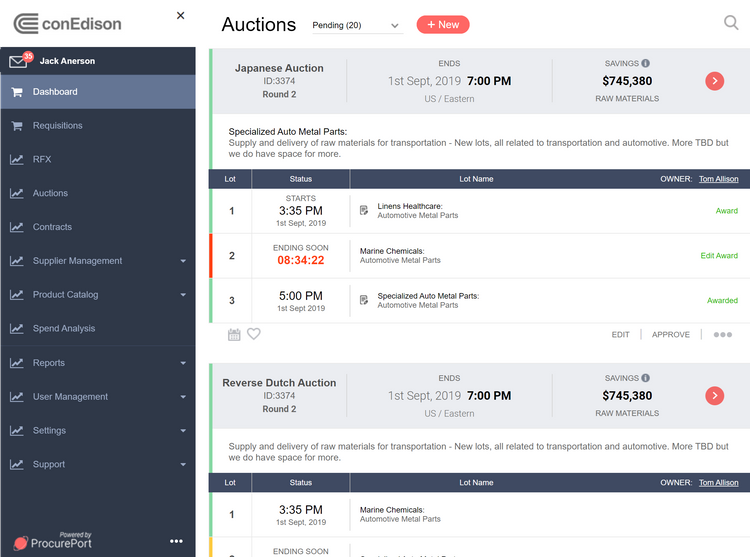 Track Your Cost Savings Initiatives
One core goal of any supply chain management operation is to grow your profits. One way of doing so is through cost savings that your organization may not be aware of. Procurement cost savings can be realized by focusing on 3 core areas:
Purchasing demand management
Supply based management
Total cost management
Purchasing demand management looks into reducing consumption, spend consolidation, and improving product specifications. Reducing consumption will ask the question of "Does our business really need that?" Spend consolidation tools will look into grouping related-items into larger bulk orders and take advantage of volume discounts. Improving product specifications will fine-tune exactly what your company is purchasing as to avoid any added costs for things you don't need or won't be taking advantage of, such as needless warranties.
Supply based management takes a deeper look at your supplier's by attempting to increase your competition, restructure your relationships with the vendors, and overall restructure your supply chain. This can be as simple as finding additional suppliers and comparing their rates. If that option isn't available for you, simply reaching out and working with your vendors on reducing costs is always a viable option. Above all, you may consider switching from a direct purchase with the manufacturer to a distributor model (or vice-versa).
Total cost management will look at your total cost of ownership through inventory costs. Adjusting your inventory stocking methods (such as FIFO, LIFO, or JIT) can lead to significantly reduced inventory costs. Alternatively, your business can consider going away with tracking/stocking inventory in-house and find a third party logistic company (3PL) to handle your vendor managed inventory needs.