Supply chain management (SCM) is the active coordination of goods and services to multiple destinations. End-to-end SCM strategies cover the sourcing of raw materials through the production process all the way through the delivery of the finished product to end consumers.
SCM helps companies increase revenue, decrease costs, and monitor their bottom line. This post takes you through the fundamental concepts of SCM, why it's important, and tips for optimizing your SCM strategy.
How Does SCM Work?
The supply chain is a system of converting raw materials into finished products and delivering them to buyers. It includes the individuals, organizations, resources, activities, and technology necessary to produce and deliver products to the end users. To streamline and automate these processes, organizations use supply chain management software to reduce production costs and optimize operations.
SCM entails the following key stages:
Plan: Create a production and distribution plan that details the work processes to meet market demand.
Manufacture: Determine the best manufacturing process to turn raw materials into finished goods.
Distribute: Arrange the delivery and storage of finished products by using logistics.
To ensure a supply chain's success, supply chain managers must carefully coordinate each step. They must apply a fluid management strategy that can adapt to changing real-world conditions. One misstep can cause the entire system to fail.
For example, a company that sells shirts must be aware of drought conditions that might impact their cotton fabric suppliers. By using fluid SCM practices, the clothier can adjust their product line to reduce cotton use in new garments. Or, if they know a drought is likely based on seasonal trends, they can source cotton from other suppliers to make up the difference. Both methods of effective SCM minimize the impact of the shortage on customers.
How to Develop a SCM Strategy
To develop your own supply chain management strategy, follow these four basic steps:
1

Create a Plan

Establish your company's long-term goals and create a plan to carry them out. Determine your ideal production timeline and forecast a budget with detailed data analysis. As part of your plan, establish a backup strategy of alternatives to account for unexpected events that can offset any part of your plan. By having these alternatives as part of your plan, you can remain agile in adjusting to and handling potential conflicts as they arise.
2

Source Materials

Before procurement begins, research vendors to see who can provide the best price and value for the quality of materials you want. Once you decide on your primary vendors, look for and keep a list of backup vendors in case your primary supplier isn't available.
3

Optimize Production

Find the best method to turn your raw materials into finished goods. Consider where potential bottlenecks might occur, and test workarounds. Incorporate quality assurance measures, such as using a quality management system (QMS), to ensure customer satisfaction.
4

Organize Distribution

Choose a method to distribute your finished goods to buyers. Look for ways to package, ship, and deliver your products to your customers by using the most efficient means. For example, you might store inventory in your own warehouse or partner with third-party logistics companies. Go with the option that makes the most sense for your business and yet ensures customer satisfaction.
Elements of Supply Chain Planning
A key part of managing the supply chain is planning ahead. After all, businesses can't manufacture and assemble finished products without first having raw materials on hand. And those products have to get to buyers in a timely manner to keep customers happy. With proper supply chain planning software, businesses can meet demand forecasts as efficiently as possible.
Supply chain planning depends on many elements to work, including:
SCM Best Practices
To ensure successful SCM, follow these tips:
Remain fluid: Stay on top of customer demands. Keep current on news about real-world events, like natural disasters and supply shortages, that could affect your ability to meet their needs. Adapt your strategy as needed to accommodate for these changes.
Diversify your vendors: Build strong relationships with your current vendors. However, prepare for emergencies by seeking and establishing partnerships with new suppliers.
Review your processes: Look for ways to improve your supply chain. Perform regular reviews to see how you can achieve greater efficiencies in how you procure, manufacture, and distribute your finished products.
Why Effective Supply Chain Management Matters
The supply chain determines whether your business succeeds or fails. The faster you can respond to changes, the more prepared your business will be. A successful supply chain starts with a strong SCM plan.
Key Benefits of Successful SCM
An efficient supply chain leads to higher customer satisfaction as buyers get their deliveries on time. By streamlining your business processes, you optimize your supply chain and reduce costs.
These efficiencies help prepare you to meet and anticipate changes in demand. For example, you can also use past trends to predict upcoming demands and short-term forecasts to reduce turnaround time on orders.
Successful SCM has the following benefits:
Inventory optimization
Improved delivery
Cost savings
Better visibility
Automated ordering
Plus, you can use traceability tools for greater visibility along your supply chain to ensure your products maintain the highest quality.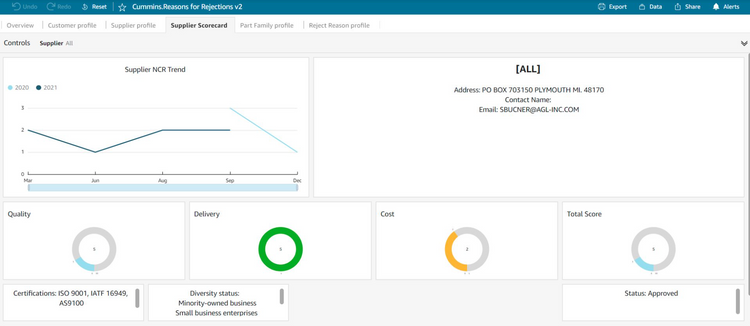 Risk of Failure
Supply chain disruption can lead to loss of revenue, unhappy customers, and missed deadlines. One infamous example happened in 2021, when the Ever Given cargo ship became stuck in the Suez Canal. It took six days to free the ship, which had blocked all other vessels from passing through it. Besides the Ever Given being behind schedule, a ripple effect of delays occurred across the rest of the global supply chain, leading to late shipments and lost profits for countless companies.
The Future of SCM
Before the pandemic in 2020, lean manufacturing and just-in-time (JIT) inventory were key strategies for SCM. While these strategies provide cost savings by delaying payments to vendors, lowering storage costs, and preventing spoilage, they are vulnerable to disruption. If any supplier experiences disruption, the entire supply chain is affected.
However, a survey by McKinsey & Company of over 400 companies found lean manufacturing principles and Industry 4.0 technologies helped manage operations through the pandemic. They've also emphasized the importance of end-to-end supply chain management for maintaining visibility into supply networks. Economic and sociopolitical changes are all monitored by a comprehensive supply chain management strategy.
Because supply chains are ever-evolving, management systems must adapt to keep up. Current trends include the rise of cloud-based controls, offering more remote access to real-time performance updates. For example, a supplier in Japan can send an instant notification to a manufacturer in the US about raw material shortages, enabling the manufacturer to adapt production.
Plus, advanced technology makes it easier to forecast demand based on real-world conditions. If another cargo ship were to become stuck in the Suez Canal, supply chain leaders can now have workarounds at the ready.
Supply Chain Management Software
Supply chain management software can automate SCM processes for greater efficiency. Popular solutions include:
Find more solutions in our list of other popular SCM products.
Optimize Your Supply Chain
From inventory warehousing, distribution, 3PL, and manufacturing to fleet maintenance and field service operations, SCM covers several opportunities for optimization. With so many areas to cover, how do you go about finding the right solution for your business? To get started, read the Supply Chain Management Buyer's Guide.
---
Further Reading
---