What Is Distribution Requirements Planning (DRP) Software?
Distribution Requirements Planning software (also known as DRP software) calculates inventory requirements and generates purchase orders and inventory transfers to meet the needs of distribution organizations. Implementing this software in your supply chain management environment will help you deliver goods more efficiently by determining the type of goods, the number of goods, and the location that has those goods in stock that will be needed to meet any demand.
This type of supply chain planning software can be used by both manufacturing and distribution centers to manage stock at multiple locations. This is why many consider the software to be a synonym for inventory optimization software. This is due to the software's function of holding inventory at multiple locations, which will increase the chance that you have a facility closer to the customer placing the order, effectively reducing the time of shipment.
DRP software can sometimes be referred to as distribution replenishment planning. This is just another way of referring to software that provides the same end goal; to help determine when inventory is depleted and to help your business create plans to improve your replenishment processes.
The use of DRP software will help coordinate your master schedule across all of your channels. This includes warehouses, manufacturing facilities, and more. DRP solutions will let you filter items by location, manage inventory across multiple facilities, and plan inventory replenishment all in one easy view. This will aid in minimizing disruptions, improve the responsiveness of your sales team managing new orders, and ensure your customers get what they need on time.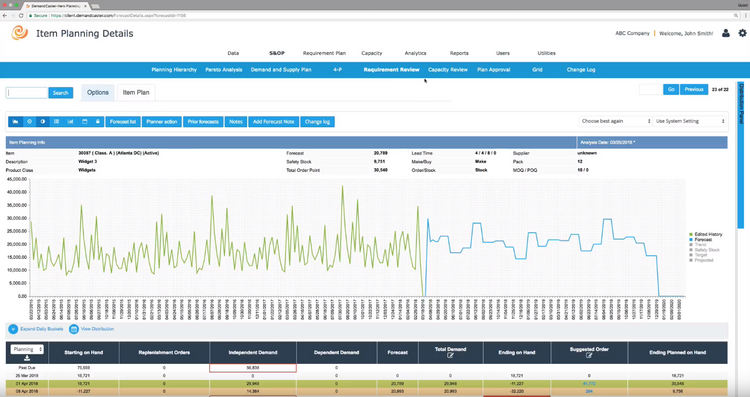 Features of DRP Software
Sales and Operations Planning (S&OP): Monitors the overall management of your sales plan and operations plan, which includes tracking sales per month by product family, demand management (such as new product promotions and special offers), production per month by product tracking, workforce and inventory level tracking, and backorder management.
Demand Forecasting: Forecast demand for a product so it can be developed and shipped in as efficient of possible ways. Coordinating data from separate units of the business (primarily sales, marketing, and operations) to make more informed supply chain decisions. Includes historical data on order volumes and inventory turns while mixing it with continually updated forecasts from your sales personnel.
Inventory Planning: Identify non-performing inventory SKUs and avoid overstocking. Scale for error to ensure under and over-forecasting situations even each other out.
Supplier Management: Helps strategically plan and manage interactions with any vendors or suppliers of goods. Set reminders for reorders and reduce risk in your supply chain.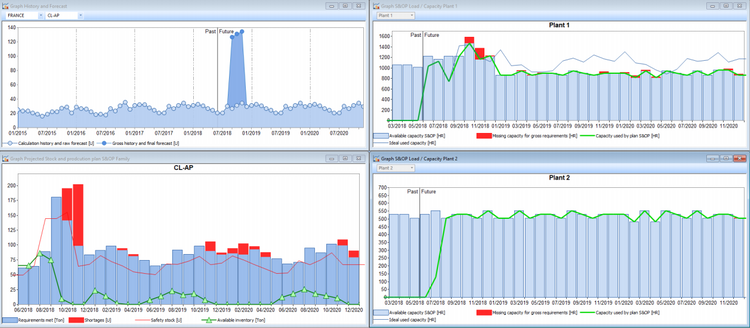 Benefits of DRP Software
The top benefits of distribution requirements planning software include:
1

Track Inventory Levels

Sync with your inventory management software and be aware of space constraints in your inventory to avoid carrying excess goods. Ensure any customer demands can be met by minimizing inventory levels and maximizing efficiency.
2

Create Target Safety Stock Figures

Create a per product per location combination intended to meet demand within the lead time. The target stocking level for each location part is best determined by the impact it will have on your service levels.
3

Replenishment Quantity Recommendations

Inventory levels will be continuously reviewed to catch when they fall below pre-determined levels. Get notifications on the mix/max strategy (or a reorder point). This can help create a replenishment plan that reflects how much you should order today or in the near future.
4

Generate Lead Times

Set target lead times and verify whether your company is meeting goals or falling behind. Discover areas of improvement. Reduce lead times by carrying less inventory and gain flexibility when the market shifts.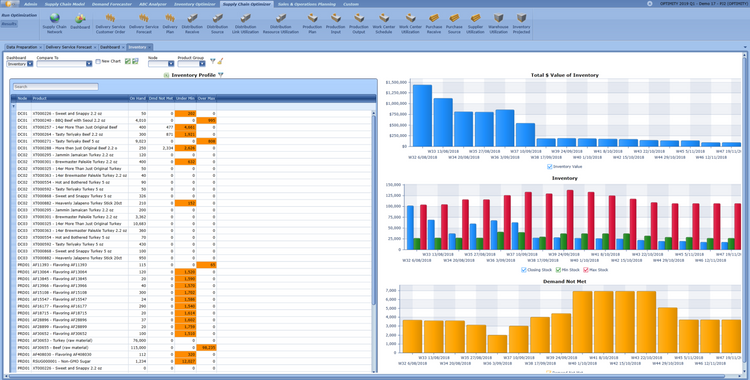 DRP Software Pricing Guide
The cost of DRP software will vary on the number of users, the method of deployment (cloud-based or locally installed), and the level of integrations needed with other systems (such as a warehouse management suite). Keep in mind that this only applies to the licensing cost for the software, which will either be paid in one lump sum (to purchase a software) or as an ongoing subscription cost. Services such as setup (installation and configuration), training, and data migration will usually cost extra.
Traditionally, software that is locally installed (on-premise) will be bought outright. This means your company will pay a larger cost upfront, and only pay ongoing maintenance costs for annual updates and support offered by your software provider. Cloud-based software (SaaS) will typically have an ongoing subscription cost. These solutions tend to appeal to the cost-conscious crowd, but it's important to realize that these solutions do still have upfront costs for setup. While still considerably lower than purchasing software, you will likely spend as much as you would purchasing software over the course of ownership.
The cost of distribution requirements planning software will start as low as $250/user/month. For purchased solutions, some basic (limited functionality) packages start as low as $5,000. However, most organizations looking for large-scale DRP functionality should expect to budget as much as $30,000 to $100,000 for upfront costs, and anywhere from $1,000 to $4,000/month for ongoing costs.
DRP Software vs MRP Software
What's the difference between distribution requirements planning software and material resource planning (MRP software)? After all, both are vital to the manufacturing and distribution companies who want to optimize production and enhance the overall efficiency of their operations.
MRP software, also known as material resource planning or manufacturing requirements planning, is the more well-known term. This type of system coordinates forecasting, procurement and production efforts to ensure resource availability while maximizing efficiency and reducing inventory carrying costs. This is accomplished by converting demand forecasts into the material, labor, and equipment requirements. It also helps optimize purchase timing to provide on-demand materials for production, which will let you create a better production schedule. Since MRP mostly deals with raw materials needed based on demand forecasts, it ties in with a push control of inventory.
DRP software deals with the efficiency behind your goods being delivered. These goods are usually finished goods being sent to a customer. DRP software will take note of what locations have the goods needed, calculate the cost/time needed to send these goods to the destination, and choose the most efficient one.
While some software may market itself as one or the other, there are solutions out there that can perform the functions of both. On their own, material requirements planning (MRP) tends to focus on a single location, such as one manufacturing plant and the capability to produce goods efficiently. DRP, on the other hand, will control the flow of goods among the various locations your business has under its control. The biggest difference between MRP software and DRP software is that MRP primarily focuses on the inbound flow of goods and completing the bill of materials (BOM), while DRP is a more high-level concept dealing with your company's supply network, or outbound goods.
Today, the functionality of both systems can sometimes be found within advanced planning and scheduling systems (APS software). APS solutions are intended to both optimize the production scheduling process while correlating with the material planning and distribution process.