What Is Energy Management Software?
Energy management software (EMS) is a collection of applications intended to reduce energy costs and usage for energy-consuming devices, such as buildings and facilities. This includes energy-consuming devices inside facilities, such as refrigeration equipment, cooling equipment, fans, pumps, and more.
Sometimes called a "building management system" (BMS), this reduction in costs and usage is accomplished through utility bill management, HVAC and lighting control system management, energy metering, and equipment management.
Many companies waste money through energy. As energy represents 15% of your facility's total expenses, energy management systems can help your business save money in the long run through proper and efficient energy management.
By having a continuous energy monitoring system in place, energy management solutions can reduce costs and energy consumption by helping your business modernize and adapt air conditioning, venting, and heating systems. It can also give insight on how to improve natural lighting into your facility. More important, it can identify key savings by evaluating current daily loads and compare costs and consumption with last years statistics.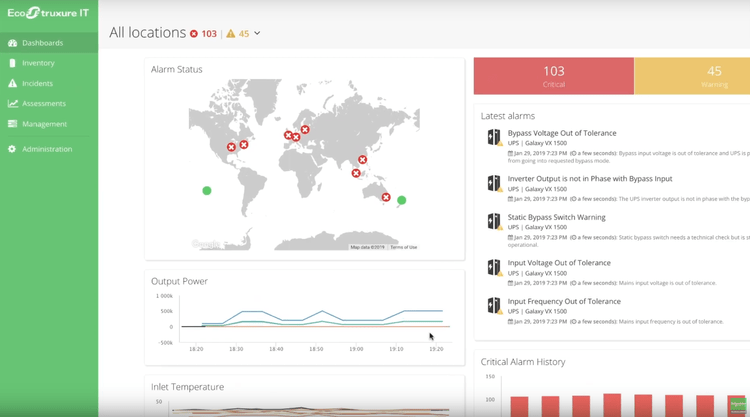 Features of Energy Management Software
Data Collection: Collect real-time and historical energy data from smart meters and sensors that will allow you to address issues within your facilities, manage energy use, and control expenses.
Monitoring: Continuous measurement and evaluation of energy consumption.
Data Analytics: In-depth information about all your energy consumers. Monitor measurements, metrics, and find savings and where any potential energy wastage is. Determine expected savings when negotiating new energy contracts. Check for patterns in power quality.
Reporting: Fully automated energy reports that show an overview of relevant energy management data at a glance. Cost and energy consumption reports.
Utility Bill Tracking: See current daily loads and compare costs and consumption with last years statistics. Check for irregularities in your current utility bill versus years past. Set alerts for bills that are outside of standard deviation so they can be evaluated further.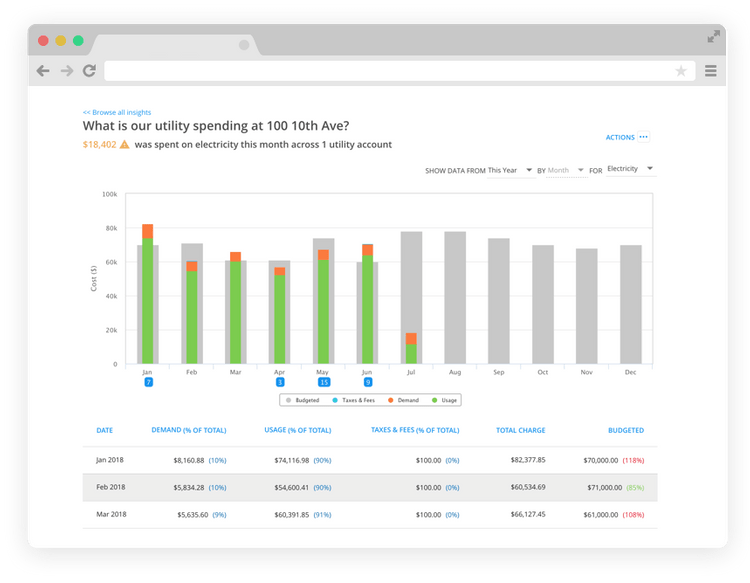 Benefits of Energy Management Software
There are many additional benefits to reducing energy costs and usage via energy manangement software, but often they go unnoticed by decision-makers when time comes to consider implementing new technology. Some of the top benefits include:
1

Peak Demand Reduction Strategies

Peak demand reduction strategies help reduce energy usage, reduce your carbon footprint, and overall reduce the cost your business pays for its energy. Energy management software can help you implement these peak demand reduction strategies into place. The software will help building operators be aware of their peak demand times and how it can negatively impact a company's bottom line (through a high utility bill).

Energy management software helps you solve peak demand issues through proper forecasting, visualization, and an understanding of your real-time data. Some companies can easily determine their energy usage, but companies with larger facilities that have plenty of operating machinery won't have it so easy.

Energy management software will be the first step to see which machine, room, building, or facility, is using excessive amounts of power and energy at certain points of the day. Once you have this information, implementing best practices to reduce that is next.

Some top peak demand reduction strategies include:
Scheduling: Distributing your energy out at varying intervals
New equipment: Find inefficient equipment and look for a replacement. Newer equipment tends to use less energy.
Use of batteries: If your company has a risk of energy shortage during peak times, make sure you are keeping charged batteries on-hand. During peak demand, you can ensure some facilities are drawing power from these batteries to help reduce the power consumption stress. Charge these batteries during non-peak times to ensure you can always depend on them. This process can also be referred to as "loadshifting" (see below).
Alternative energy: Solar panels let you generate your own power through natural means and rely less on your electrical grid from your utilities provider.
2

Load Shifting

Load shifting helps shift energy usage from one period of time to another on a recurring basis. This is accomplished taking the energy that is created during non-peak hours and using it during peak hours in order to manage any stress or additional support that is needed. In other words, load shifting is a system that helps limit demand.

Energy management software can help you determine peak times for your energy usage, and even more importantly determine when your non-peak times are, so you can know when load shifting strategies can be implemented (and thus, "borrow" that energy from a non-peak time into a peak time). An example of load shifting is the previously discussed use of batteries. Another example is ice storage, where companies may help cool buildings using ice that was produced overnight.
3

Detect Improper Set Points and Schedule Misalignments

Ensure your lighting and HVAC equipment are optimized to ensure your building is operating at peak efficiency while keeping your staff/equipment comfortable, all the while reducing unnecessary energy spend. Energy management systems help optimize your schedule through submetering and advanced analytics.

Submetering is the process of billing for individually measured utility usage. In a building management scenario, submetered data gives you increased insight into which areas of the business are using the most energy. Combined with the right analytics, you can identify deviations between what your current energy levels are, and what they should be.
When Do You Need Energy Management Solutions?
Any business looking to save on energy costs can benefit from an energy management solution. Most businesses could benefit from taking the following into consideration:
What energy are you monitoring? Are you only managing one building or multiple? Is the energy coverage looking at multiple facilities stretched out over a few states? Knowing how big or small of a system you need is the first step to ensure you're getting something that can meet your needs, but isn't overkill.
What is your energy savings potential? A better question people want to be answered is "How much can I save with energy management software?" You'll first need to prioritize what your savings potential is. This can be figured out by determining which expenditures you are willing to reduce, and what type of spending you're willing to do to fix potential problems found from energy management software (such as poor insulation in a facility).
How energy efficient is your current equipment? Look at your HVAC systems and the lighting systems in your facility and determine what sort of technology they use. Are they capable of being more efficient, or could they use an upgrade? How much natural light does your facility receive? How does this contribute to the overall temperature (and thus, the strain on your HVAC system)?
There are a wide variety of energy management solutions in the market, so you'll need to ensure you're choosing one that is of an appropriate size for your operation. If you're unsure of some of the above questions, a proper energy monitoring system will help you measure your performance and lead you in the right direction to improve your processes.
Types of Energy Management Systems
Energy management systems can work for a variety of buildings and assets you may be looking to get better control on, but there are industry-specific as well as asset-specific options available.
Building Energy Management Software
A building energy management software (BEMS) monitors and analyzes a building's energy use. This includes monitoring the energy needed to operate the building itself, such as lighting, heating, and cooling. However, it can also include less commonly thought of forms of energy, such as the electricity needed to power a security system.
BEMS are used in buildings of all types, such as manufacturing facilities or any kind of commercial production facility. Generally, you'll want to seek out a BEMS (rather than the "generic" EMS) in situations where you have larger commercial buildings with higher energy demands. Typically, the cost savings discovered with the BEMS will be into the tens of thousands and more, which will give a great return on your investment.
Data Center Energy Management Software
Data center energy management software helps improve the infrastructure of your data center, either through the initial planning and design phase or by ensuring it is being run at it's most efficient level. Sometimes referred to as Data center infrastructure management software (DCIM), these systems help improve uptime to your IT equipment, improve capacity planning and utilization, increase data center energy efficiency, and improve the productivity of your staff.
Data center energy management systems are used by IT of facilities managers who want to get insight into energy usage during IT loads compared to non-IT loads. Data centers use a good deal of energy to stay operational, and even more during their peak times. This different type of energy management software can be billed by how many data centers you're managing, how many business units you have, or by the types of services or applications your business manages.
Best Energy Management Software
Which options have all of the above features and benefits, plus a little extra? We've done the research and have found some of the top energy management software options out there:
1

Wattics

Wattics has one of the widest ranges of intelligent energy analytics tools available in their program compared to other available options on the market. Some of their best features include monitoring consumption and costs, customized alerts, scheduled reports, and machine learning capabilities.

Wattics is a very visually appealing solution, and they even offer a branded page capabilities. This means a more professional looking system in line with your company standards. Wattics ranks as high as it can in terms of being user-friendly and intuitive.

Price: Exact pricing not provided by the vendor. Wattics advertises no upfront costs. They also let you "pay for what you use", meaning if your metering points decreases, so will your subscription-fee.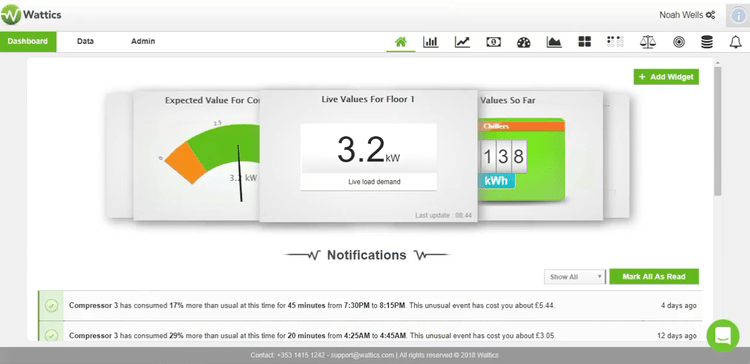 2

ETAP

ETAP provides the full spectrum of managing your electrical power systems. They refer to themselves as an analytical engineering software company, but their specialty is in energy management.

ETAP has a few main solutions available. Their major solution is ETAP PS, which is a power system modeling, analysis, and optimization software. The solution has a wide range of functionalities available that help you with network analysis, dynamics and transients, renewable energy, arc flash, DC and control systems, and more.

Price: Pricing not provided by the vendor.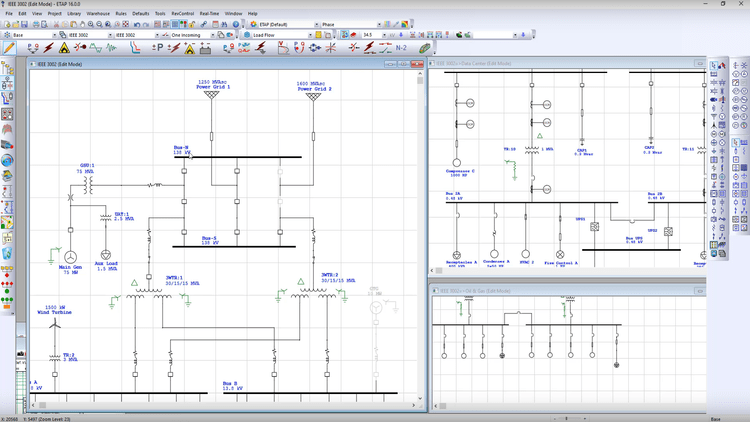 3

XClarity

Lenovo XClarity Administrator is a data center infrastructure energy management solution that helps you deploy your IT systems in a fast and flexible manner. Lenovo XClarity Administrator is designed to help free up administrator time, reduce time to value of new systems and reduce complexity in maintaining systems.

It's a centralized systems management solution that helps deliver infrastructure faster and integrates quickly with Lenovo ThinkSystem infrastructure and ThinkAgile solutions. Top features of the energy management software include a graphical user interface, auto-discovery and inventory, configuration patterns, security management, and more.

Price: Pricing not provided by the vendor. Pricing will vary based on the use of either the "Administrator" or "Pro" version.