What is a Liquor Store POS System?
A liquor store point of sale (POS) system assists with maintaining alcohol sale regulations in addition to typical POS features like payment processing, customer information tracking, and sales reports. You need to be able to verify the age of your customers, apply the right sales tax, and keep records of product suppliers in accordance with local or state regulations. Liquor store POS systems can be localized to state, county and municipal laws so you can avoid penalties. Features to look for in liquor store POS systems include age verification, inventory control, staff management, and reporting.
Features of Liquor Store POS Systems
| Feature | Description |
| --- | --- |
| Age Verification | Liquor store POS systems allow you to enter the date of birth for customers or scan their ID to verify age. |
| Purchase Order Management | Automatically send purchase orders to vendors when stock levels reach a certain threshold to avoid running out of stock. |
| Payment Processing | Process payments from any method including gift cards and credit cards. |
| Staff Management | Track when employees clock in and out. Set user permissions to allow only certain employees void items or approve discounts. |
| Inventory Control | Keep records of the supplier of each bottle or case of liquor in your inventory. Track inventory counts by bottle, 6-pack, or case, and record when case breaks occur. |
| Customer Loyalty Programs and Pricing Specials | Track the amount of money spent or rewards points to give repeat customers discounts on future purchases. Also, manage special deals during sales or mix and match pricing for a set number of bottles. |
| Reporting | Run sales reports to get a detailed look into which brands or types of alcohol are selling the most. |
Regulatory Compliance with Liquor Store POS Systems
Alcohol sale regulations vary by state and even by city or zip code. If you have multiple locations, keeping the regulations straight becomes even more challenging. Your liquor store POS system should help you maintain regulatory compliance no matter where you're located.
Some restrictions and regulations you need to be aware of include:
Photo ID for patrons appearing to be under a specific age. The time or day of week alcohol can be sold.
Sales tax based on the type of product, alcohol content, and place of production.
Volume or package size restrictions.
Tracks the distributors assigned to specific retailers by state or local authorities
Liquor POS systems can deny sales at the cash register if certain parameters are met - for example, entering in the birthdate of a customer under 21 years of age will result in a declined transaction. The software also keeps detailed records of vendor information and purchase orders for compliance reports.
Best Liquor Store POS Systems
Some examples of top POS systems for liquor stores include:
LiquorPOS
Liquor POS is an industry-specific liquor store point of sale system. Core features include employee time tracking, EMV card processing, bar code scanning, shelf tag printing, inventory control, customer management, and reporting.
For one user, LiquorPOS starts at $1,295. Extra charges apply if you need hardware provided. Some hardware options include touchscreens, label printers, and barcode scanners.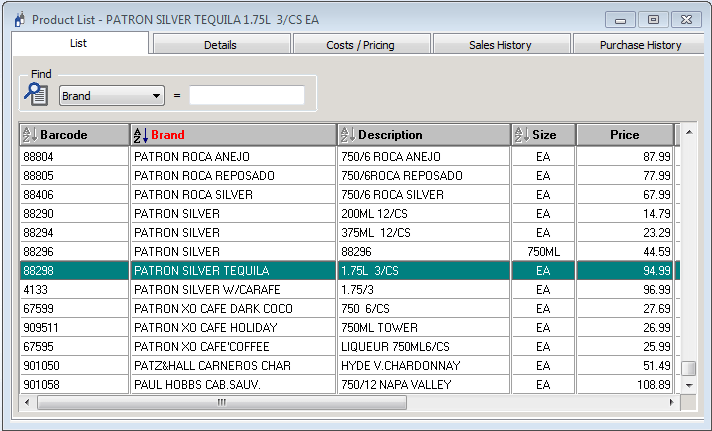 Vend is a cloud-based retail POS solution that is popular among liquor store owners. Vend's primary features include payment processing, real-time inventory tracking, customer information management, and reporting. Accounting programs like QuickBooks Online and Xero integrate seamlessly with Vend, so you don't have to lose the programs you're familiar with. Vend also integrates with popular e-commerce software like Shopify and WooCommerce.
Pricing starts at $99/month for the Lite Plan when billed annually. This plan includes one outlet and one register. Extra registers after the first one are $49/month per register. Custom pricing is available for multi-store retailers.
Business owners can use their own POS hardware with this software. If needed, you can purchase UPC barcode scanners, receipt printers, or cash drawers through Vend. Mac, PC, and iPad bundles are also available if you need everything.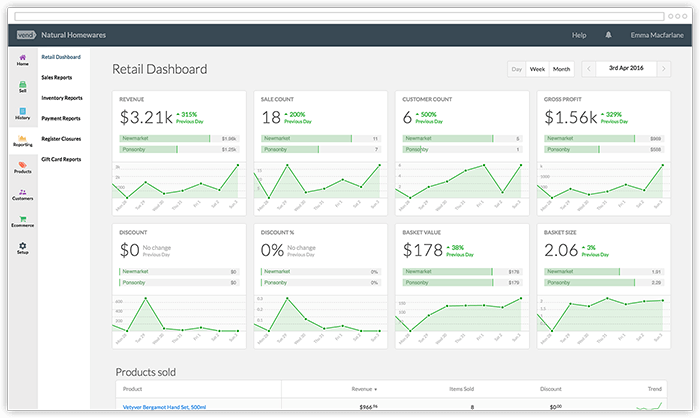 ShopKeep is an iPad point of sale solution that is popular for bars and liquor stores looking for payment processing, inventory tracking, employee management, and reporting capabilities. ShopKeep integrates with QuickBooks for accounting and MailChimp for email marketing.
The price starts at $99/month for one register. The basic plan includes advanced reporting and e-commerce functionality, as well as unlimited inventory, transactions, and users. The Advanced plan lets you have an unlimited number of registers and multi-store management tools, as well as customer loyalty program management.
POS hardware is also available for purchase directly from ShopKeep including barcode scanners, cash drawers, credit card readers, and label printers.