AppFolio and Propertyware are both popular property management software which are made to handle in-house accounting, schedule maintenance requests, facilitate unit inspections, automate tenant communication, and streamline reporting processes for property managers, landlords, and real estate owners. As the technology behind the software continues to evolve, both AppFolio and Propertyware have more tools to offer property management companies than ever before.
AppFolio vs Propertyware: Software Overview
These property management systems offer many of the same tools for streamlining your operations. Learn more about both and how they can benefit your business.
What is AppFolio Software?
AppFolio Property Manager is a cloud-based, all-in-one property management software to effectively market, manage and grow their business. This online solution is used by all types of property management companies, including mixed portfolio property managers, such as:
Multi- or single-family homes
Commercial facilities and business centers
Congregate living spaces (student housing, assisted living centers)
Residential, community, homeowners, and/or condo associations (HOA)
AppFolio offers one of the most modern looking interfaces around to support modern property managers through the latest features, like digital applications and leases, owner and resident portals, online payments, built-in tenant screening, maintenance requests, onsite unit inspections, and general accounting.
This software is appropriate for both residential and commercial property management. For residential properties, AppFolio gives you everything you need in a single application, from tenant screening tools to integration with third-party accounting systems such as Quickbooks. The commercial capabilities are designed for complicated leases, specialized reporting, and even CAM reconciliations.
AppFolio's advanced real estate marketing tools post vacancies to your website and sync with third-party multiple listing services (MLS) hosting sites. You can also easily establish rent increases based on the terms of the lease, quickly resolve maintenance issues, and more.





Modern and intuitive user interface
Strong universal search input
50 unit minimum
Limited integrations
No API access
Price Range: $$
Starting Price: $0.80/unit/month
Client OS: Web
Deployment: Cloud Hosted
What is Propertyware Software?
The leader of on-demand property management software, Propertyware by RealPage provides landlords and property managers with next-generation tools for controlling real estate investments. This solution combines award-winning functionality with point-and-click customization to create the ultimate user experience. All of these reasons are why Propertyware has become the trusted solution of thousands of global customers who manage commercial and residential portfolios of all sizes.
Propertyware is a completely web-based system fully-integrated for accounting, marketing, and maintenance features. With flexible pricing, Propertyware is a fantastic choice for a fast-growing company looking to expand to more properties and units. There are automatic email notifications for owners and tenants, owner ACH contributions via an owner portal, and an overall more robust feel.
Propertyware provides one of the most flexible reporting options among property management tools, including the ability to create custom fields. This is in great contrast to competitors with static reports with no content or layout customization options.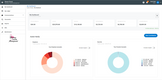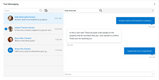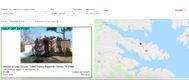 Heavy customization options
New utility billing features
Personalized customization options
$250/month minimum
Steep learning curve
Website not included
Price Range: $$
Starting Price: $1/unit/month
Client OS: Web
Deployment: Cloud Hosted
How They Compare
How these software products compare to one another:
Software Deployment Models
AppFolio and Propertyware are both available on cloud-hosted platforms, making them accessible to users from anywhere via web browser. Each solution has custom portals for owners, renters, and even vendors to allow for online interactions like rent payments, maintenance requests, and lease management.
AppFolio and Propertyware also have iOS and Android apps which can be used on their respective mobile devices. By going mobile, landlords can perform important property management processes while on the go across different properties. For example, instead of visiting an apartment to go over a move-in checklist, going back to the office, and typing in the notes, all notes, photos, and videos can be compiled through the app instantaneously.
Winner: Tie, both have full functionality on the web and apps
Software Pricing
Picking a property management software has a lot to do with your available budget as well. Both AppFolio and Propertyware base their prices on the amount of units you manage.
AppFolio pricing is also determined by your specific type of property. This is the current pricing structure:
Residential: $1.25 per unit per month
Commercial: $1.50 per unit per month
Community Associations: $0.80 per unit per month
Student Housing: $1.25 per unit per month
All AppFolio packages have a minimum monthly fee of $250 per month. There is a "Plus" version available for property management firms with over 1,000 units in order to cut down on bulk costs. There is a free trial version available for property managers who want to test out the features.
The starting price for Propertyware is as follows:
Basic: $1.00 per unit per month ($250 monthly minimum)
Plus: $1.50 per unit per month ($350 monthly minimum)
Premium: $2.00 per unit per month ($450 monthly minimum)
Like AppFolio, there is a monthly subscription fee and an implementation fee for new installations. There is a free demo and free trial available.
Winner: Tie, price depends on total units and plan
Property Management Features
Next, you'll want to consider the features of AppFolio and Propertyware to see if they match your current needs. Both solutions offer ways to manage the majority of your tasks completely online. These include:
Online rent payment
Tenant screening and communication
Lease review and renewal
Maintenance requests, scheduling, and ticketing
General accounting and reporting
The best property management software, like AppFolio and Propertyware, have additional features for reaching potential tenants. Both solutions have marketing modules to post vacancy listings online, either on custom websites or through third-party multiple listing services (MLS). These advertising modules serve as a way to reach new tenants and prevent long-lasting vacancies.
In terms of sheer numbers, AppFolio has more features than Propertyware, including unique tools like community association management in order to serve commercial and residential style properties.
Winner: AppFolio
Scalability and Flexibility
Software scalability and flexibility are additional factors you need to consider when creating a property management system. A scalable software can grow to fit your expanding business needs as you take on more units and tenants, both commercial and residential. And a flexible solution lets you customize your features to better fit your services.
In terms of scale, Propertyware is favored by smaller residential property companies. AppFolio can be used by property managers with only a few units to over 1,000 units. While both of these solutions can be used for a wide range of property types, AppFolio has more options for specifically commercial properties. This extends to congregate living facilities like student housing.
Fortunately, Propertyware is designed for easy multi-regional expansion. For instance, there is a two-way data exchange to minimize data entry risk and duplication which may otherwise occur when entering data from multiple units and properties. Similarly, AppFolio enables scalable growth for mixed portfolios with both commercial and residential properties.
Finally, both of these property management solutions can be largely customized to fit your business needs. Propertyware software provides custom dashboards, and unlimited custom reports. These can then be used to develop an entirely unique workflow suited exactly to your business.
Overall, AppFolio and Propertyware are mostly equal when it comes to setting up the exact modules for your type of property management.
Winner: Tie
User Ratings and Support
Software usability and available support services are another factor when selecting a property management solution. AppFolio and Propertyware have online and phone support, along with detailed onboarding processes in order to train new users. Propertyware even offers in-person, on-site training sessions.
Based on user reviews, Propertyware has higher user satisfaction than AppFolio. Reviewers indicate Propertyware is easier to use and easily scales to match the needs of a growing business.
Winner: Propertyware
AppFolio vs Propertyware: Which is Best?
Selecting the right software for your property management company is tricky, as there are many factors to consider. You need to consider price, how many units and tenants you have, and whether you need tools for a mixed portfolio.
Overall, both solutions provide many advantages to property management companies. SoftwareConnect can help you start your search.
Further Reading