What is Restaurant Management Software?
Restaurant management software assists with point of sale, as well as back-office processes like reservation management, assigning waitstaff to specific tables, monitoring food costs, tracking ingredient inventory, storing recipes, and accounting. The restaurant industry's thin margins and fierce competition both necessitate careful management using robust software to keep customers happy and increase your ROI.
Restaurant Management Features
| Feature | Description |
| --- | --- |
| Point of Sale Systems | Process payments, send orders to the kitchen electronically, manage discounts from coupons or loyalty programs, collect tips, and verify age for alcohol purchases. |
| Restaurant Accounting | Track ingredient, equipment, and labor costs and track revenue from food sales. Create financial reports based on budget, revenue, and expenses. |
| Inventory Management | Keep track of ingredient quantities and order more when supply gets too low. Track prices of each ingredient. |
| Recipe Management | Store recipe information to keep food quality consistent. Substitute ingredient information is saved within the system when ingredients aren't available or an allergy is noted. |
| Menu Management | Adjust menu items and pricing based on ingredient availability and seasonal products. |
| Employee Management | Manage employee scheduling, process payroll, track attendance, and manage the hiring and onboarding process. |
Point of Sale (POS) Systems
Restaurant POS software manages the sales side of your business. POS systems are either included as a part of a complete restaurant management solution or as standalone software that integrates with your restaurant management system.
Some of the key features of restaurant POS systems include:
Payment Processing and Tip Tracking
Order totals are calculated within the POS system to reduce errors from manual calculations. Prices are automatically adjusted if extra ingredients are added or removed from an order, ensuring customers aren't overcharged and you aren't losing money. After the order is submitted, the POS system will handle payment processing from credit cards and gift cards. Some systems accept payment through mobile apps like Apple Pay and Google Pay, allowing customers to pay from their mobile devices.
Tip amounts are stored within the system, making it easier for you to distribute the right amount of money to the appropriate team members. Gratuity amount suggestions can be added to receipts to make it easier for customers to calculate how much to pay. If you have a minimum gratuity for large groups, this amount will automatically be calculated and added onto the bill.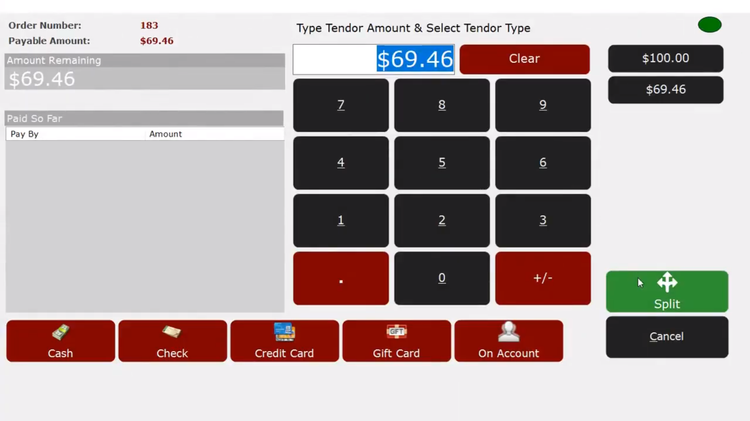 Tableside Ordering
A mobile POS system allows staff to take tableside orders with an iPad, tablet, or mobile device. The orders, along with special requests, are sent to a kitchen display that is much easier to read than pen-and-paper tickets. You don't have to rely on deciphering handwriting, so miscommunication between the waitstaff and kitchen is greatly reduced.
The restaurant POS software will also provide waitstaff with recommendations to upsell customers and increase your bottom line.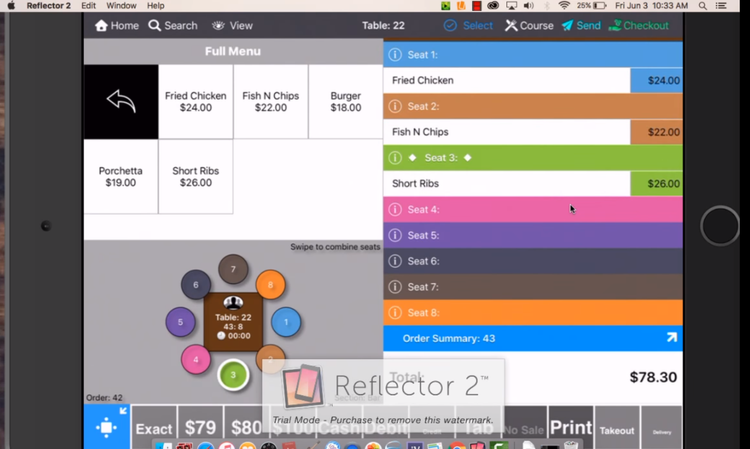 POS systems can store your full menu, allowing you to organize products by type (like appetizers, entrees, and drinks) and add or remove items easily. If you have seasonal items or specials not listed on the printed menu, staff can read them off right from the system and place the order. Waitstaff can also be prompted to ask questions related to the order. For example, if a side is required, staff will be prompted to ask for a soup or salad choice.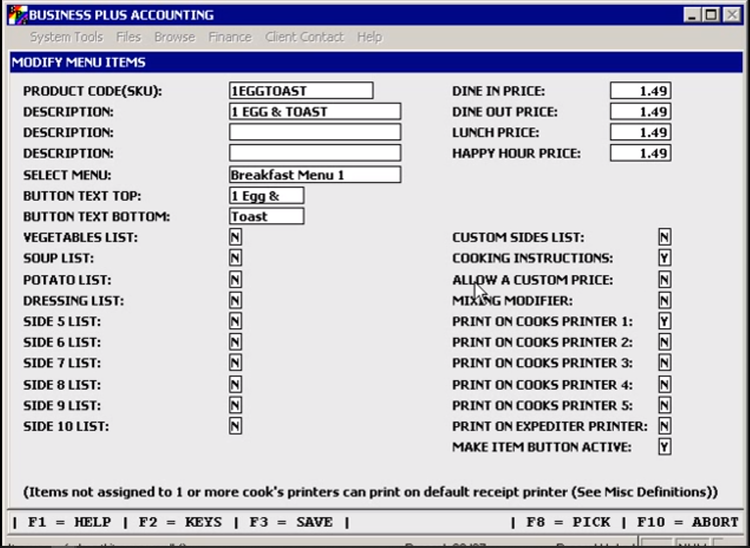 Inventory Management
Inventory management functionalities help restaurant managers keep track of ingredient inventory in real-time. Cut down on food costs by tracking the amount of available ingredients, so you don't purchase more than you need.
Inventory control systems keep track of purchase dates and expiration dates, allowing you to avoid wasting food or using spoiled ingredients. Waste tracking also recommends portion sizes, so you don't lose money on overserving guests.
Ingredients often come from multiple different vendors. Inventory management systems keep track of which vendors you use for each ingredient, so you can easily create and send purchase orders to the right vendor.
Run variance reports and cost of goods sold (COGS) reports to get a better look into your profitability. These reports let you compare your budget versus your actual revenue and expenses, as well as calculate food cost percentage.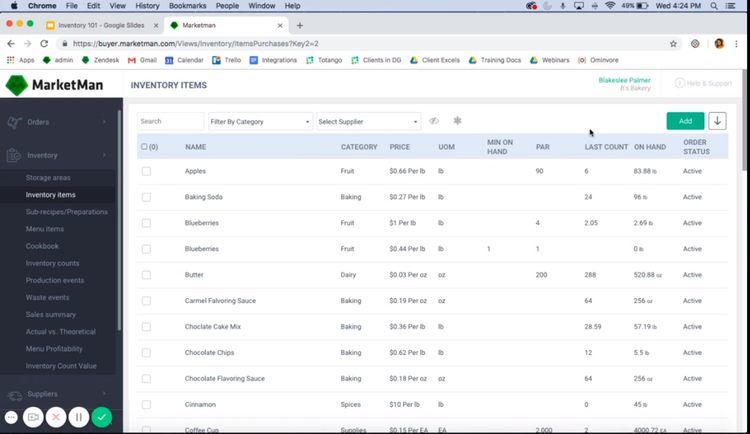 Online Ordering and Reservations
Some restaurant management systems allow online ordering through your website or a mobile app. These systems allow customers to choose menu items, make customizations, and submit the order from anywhere.
Restaurants that never offered delivery options can integrate their systems with apps like DoorDash and Uber Eats to provide a new delivery service. Restaurant owners can monitor orders and update menus.
Restaurant management software sometimes lets you take reservations online through your website. Standalone reservation systems like OpenTable integrate with most solutions and allows you to take online reservations through their app or your own website.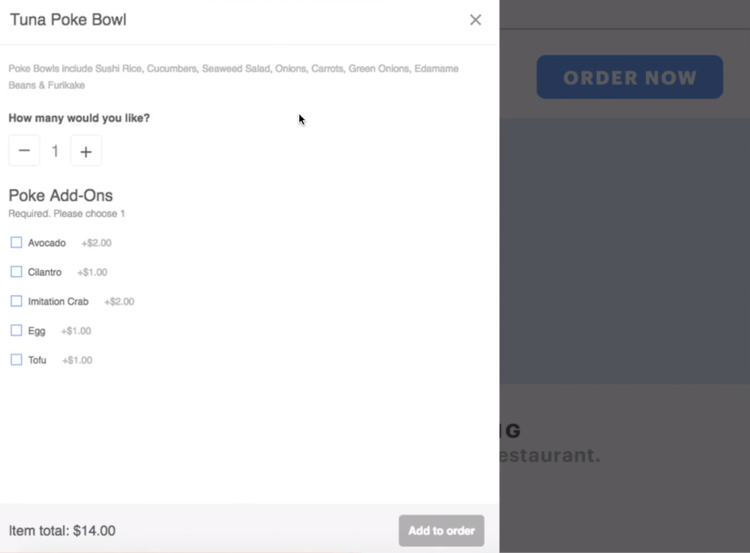 Cost of Restaurant Software
Restaurant owners can expect to start out spending around $2,500 to $4,500 on restaurant management software for one user over a 3-year course of ownership. The software price will increase as you add more concurrent users, terminals, or locations. Keep in mind that many systems require hardware upgrades if you desire something such as tableside ordering. Some software providers supply their own hardware. Additional fees are also added for installation and training.
Free and Open Source Restaurant Management Software
Finding a completely free restaurant management software is extremely difficult. There are either hidden charges for functionalities like payment processing or very limited free plans with options to upgrade at a price. Most free software is also geared towards multiple industries and not specific to the restaurant industry.
One of the closest solutions you'll find is Floreant POS. This solution is marketed towards food and beverage retailers, as well as restaurants. Floreant is a free, open source solution that can be used on Windows, Mac, or Linux platforms. It includes financial reporting, table management, sales tax calculation, and mobile device support. A paid version is available starting at $19.99/month/terminal along with plugins for an extra charge per month per terminal - some of these plugins include inventory tracking, kitchen display software with helpdesk support, and a floorplan designer.
What Does Your Business Need?
Full-Service Restaurants
Fine dining and casual dining restaurants are focused on providing a high-quality guest experience with great tableside service. Full-service restaurants should consider a mobile POS as part of their restaurant management system to record orders clearly and allow customers to pay quicker from their table. Reservations and table management are also important functionalities for a full-service restaurant to prevent staff from double booking parties or tables
Quick-Service Restaurants
Fast food and fast casual restaurants need to fill a large volume of orders quickly. Your restaurant management system should be able to send orders electronically to the kitchen as soon as an order is submitted and accept payments at the kiosk to keep people moving along. The system can assign ticket numbers to customers to make it easier to hand out orders as they're completed.
Coffee shops, cafes, and bakeries typically have low volume orders but a higher volume of customers throughout the day. You'll need to process orders quickly and accept payments from the register.
Food Trucks
Food trucks need a system that can work from anywhere as they travel as well as keep up with a stream of orders. Your restaurant management system should keep track of your limited inventory so you can notify customers when menu items run out.