What is a Restaurant POS System?
Restaurant point of sale (POS) systems help your staff take orders, manage reservations, update menus, and track food costs, improving your bottom line.
POS systems for restaurants keep orders moving along in an organized and efficient manner, and process payments quickly to keep your guests satisfied. Being able to track feedback and menu item popularity will give you the opportunity to improve the customer experience by correcting shortfalls noted by the customer or dropping menu items that aren't performing well.
Reporting and analytics functionality in POS software gives you a better look into your expenses. Seeing where your money is going and how much you're bringing in will help you make informed business decisions to improve your ROI.
Features of Restaurant POS Systems
Common point of sale features specific to the restaurant industry include:
Order Management
Restaurant POS systems make it easy for staff to take orders and process payments. When waitstaff and cashiers enter orders, their touchscreens send the orders to a kitchen display system in front of the cooks. They get clearly legible order details and greatly simplified ticket organization.
POS systems allow customers to make secure payments with cash, credit cards, gift cards, or checks. Newer systems can also read EMV chip cards and accept payment from apps like Apple Pay or Google Pay. The POS system also tracks tips and makes it easier to distribute the correct tip totals to each employee. If an employee didn't make enough in tips to meet minimum wage requirements, the system will help you calculate the adjustment from their earned total.
Full-service restaurants like fine dining and casual restaurants that provide table service can use mobile POS systems to provide tableside ordering and payment processing. The point of sale system allows the waitstaff to assign food orders to specific seats at a table and easily split checks among groups.

Quick-service restaurants and establishments like fast food chains, fast-casual restaurants, food trucks, and coffee shops often need to provide the customer with a number or name associated with the order. POS systems let you pair the name or number with the order to make sure the customer gets the right food as you quickly hand out a large volume of orders. Staff can accept payments directly from the cash register to keep orders moving along quickly.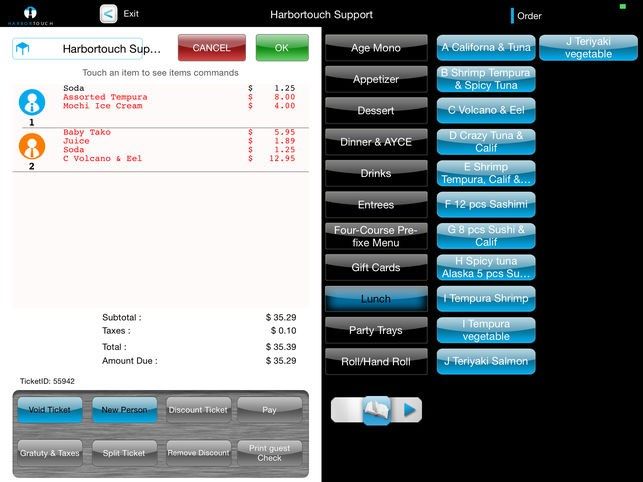 Restaurant point of sale software helps you organize products into categories and rotate seasonal items on and off the menu. The menu on your website will automatically update, and you can easily print off new copies of the menu as needed. Servers will be alerted of any specials going on so they can push particular items during their shift. Servers will also be prompted to ask about special requirements like side choices, meat temperature, or drink size.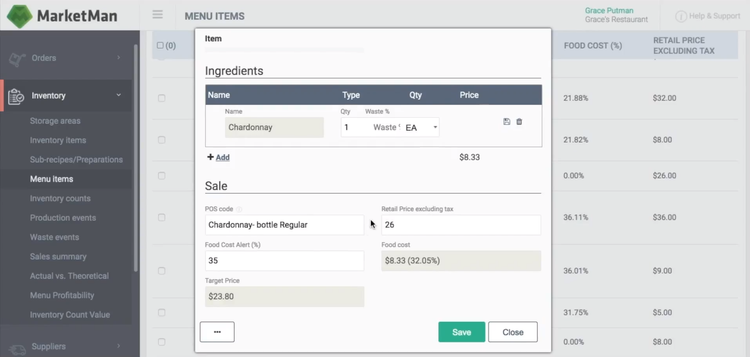 Feedback Management and Loyalty Programs
Customer relationship management features like feedback management and loyalty programs are becoming more important for the foodservice industry to compete in today's competitive market. POS systems will track guest feedback, allowing you to continue making improvements based on their suggestions to keep guests satisfied.
Loyalty programs are also impactful for maintaining repeat business. Customers can receive discounts on specific menu items or take a small percentage off their order after purchasing a set number of meals. You can also automatically send out email advertisements for upcoming specials and distribute coupon codes to drive more business to your restaurant.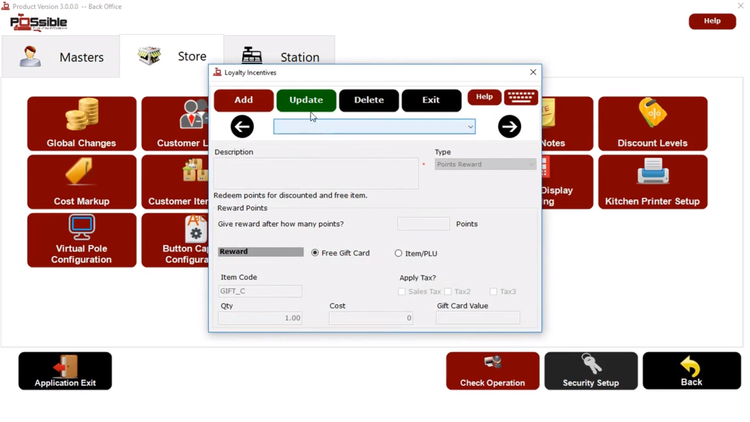 Staff Management
POS software helps restaurant owners with employee management including shift scheduling and attendance tracking. Ensure you have the right number of employees covering each shift and employees are clocking in and out on time. Set user permissions for each staff member to allow certain employees access to specific tasks. For example, managers would be able to approve discounts or void items from an order.
POS systems also assist with onboarding processes for new employees. A training mode allows new hires to practice with the software before going out on the floor. They can enter fake orders without the risk of leaving incorrect order data in the system.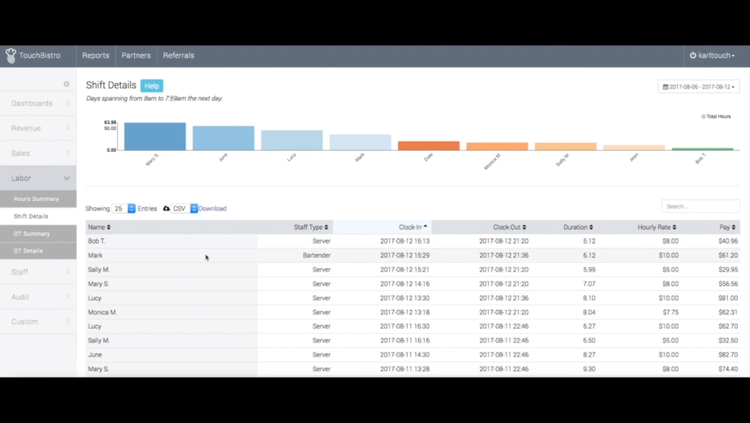 Reservations and Table Management
The restaurant POS system will manage reservation information like customer names, reservation dates and times, party sizes, and special requests. The software will alert you if you're about to accidentally double-book a table or group.
Employees can be assigned to specific tables or sections of the restaurant to ensure servers are distributed evenly. You can also look back to see which server was assigned to a specific table if customer feedback was left.
Some POS systems also assist with floor plan layouts. You can rearrange furniture in the virtual layout, and figure out how to maximize floor space before you do any heavy lifting.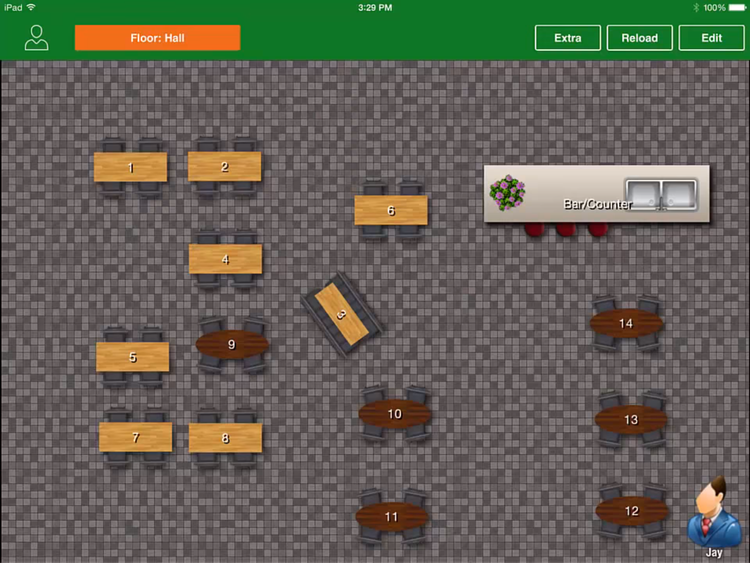 Online Ordering
If your restaurant offers delivery or carryout options, POS software gives your customers the ability to order online through your website or mobile app. The online menu automatically changes as you update the menu within the POS system, ensuring your prices and available items are accurate. Some systems allow customers to order and pay from their table or a kiosk at a sit-down restaurant and have servers bring the food out to them.
Even if your restaurant doesn't provide its own delivery service, you can integrate your POS system with something like Uber Eats or DoorDash. Customers order through apps on iOS or Android devices or through a web browser to have food delivered to them.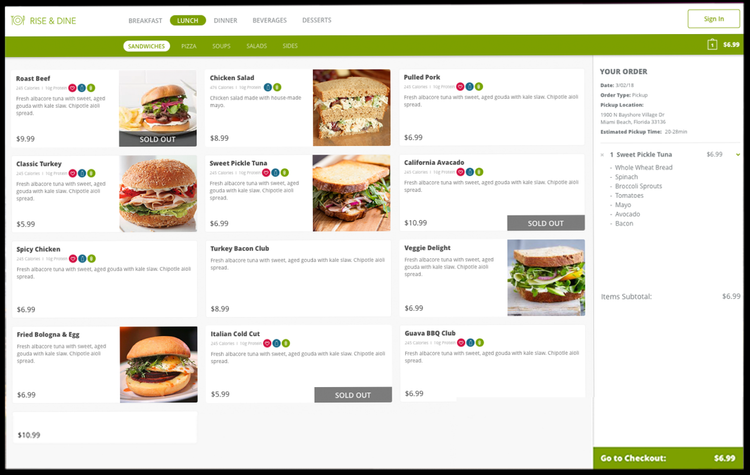 Reporting and Analytics
Reporting and analytics functionality in POS software allows you to view real-time data to evaluate the restaurant's performance. The system shows multiple views for measuring profitability including:
-Day of the week profits to see which days your business is the most or least profitable.
Profits by server to see how each individual server is performing on any given shift or time period.
Menu item profits to see how much you're making from popular products, which menu items aren't selling well, and where price adjustments need to be made.
Profits by location to see how specific locations are performing compared to each other over a specified timeframe.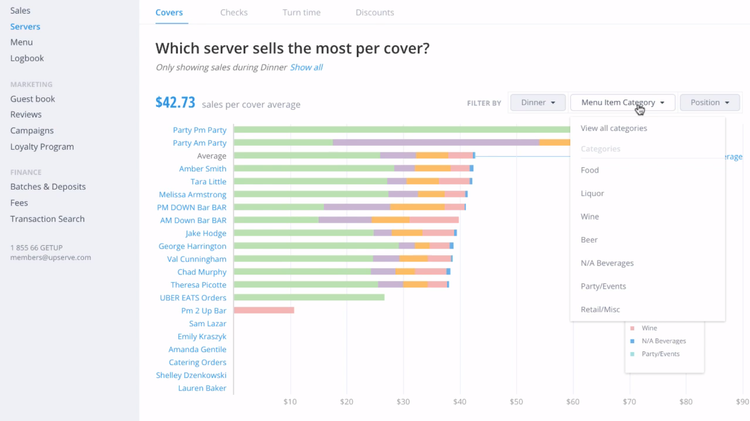 Will an iPad POS System Work?
iPad restaurant POS systems provide a more affordable way to give restaurants a full-featured, mobile solution. Other systems often require you to buy their own hardware, driving the price up. The lower cost of iPads makes this software popular among small businesses that need industry-specific features like order management, shift scheduling, table management, and payment processing. The mobility of iPads is also great for food trucks that need software on the move. The only additional POS hardware to consider is a cash drawer, card reader, or receipt printer.
iPad POS systems also speed up tableside ordering. Orders will be submitted to the kitchen electronically as soon as it's entered into the system, ensuring an order ticket won't get missed. The system can also accept payments right from the table, so the customer doesn't have to wait for the server to come back with the card. Some restaurants are also setting up iPad kiosks for customers to place orders and pay for the food without the assistance of a server.
ShopKeep by Lightspeed (in the above video) is a popular iPad-based point of sale system for restaurants and retail businesses.
Cost of Restaurant POS Software
Restaurant POS software costs anywhere from $1,000 to $5,000 over 3 years of ownership for 1 terminal. Most restaurant POS solutions are priced per terminal per month.
There are many extra costs to consider when you're looking into full-featured POS software including costs for:
POS hardware
Software installation
Training and access to customer support teams
There can also be extra costs for integration with other software. Some businesses use standalone solutions for managing back-office processes. If you have an inventory management system, accounting software like QuickBooks, or a standalone restaurant management platform already in place, you'll want to find a POS solution that integrates with it.
Are There Any Free POS Systems?
There are a few free restaurant POS systems available. These systems typically limit you to one register and limit the number of orders you can input per month. You will also be charged a payment processing fee per credit card transaction. Free restaurant POS software can be used by very small businesses that are just starting out. As you grow, you'll need a more robust solution to keep up with orders and manage your staff.
Some examples of free restaurant POS software include:
Square Point of Sale is a free retail and restaurant POS system that features real-time analytics, inventory tracking, order management, and payment processing. Setup is free and there are no monthly payments. You will be charged a percentage for every transaction based on the hardware you're using.
Waiterio is a POS system designed for bars and restaurants that assists with order management, menu customization, table management, bill splitting, and reporting. The free version limits you to 100 orders per month. Paid plans are available from $19/month to $159/month depending on the number of orders per month your business gets.