Looking for software for your food distribution business? As you've seen then, there's a lot to consider. There's no shortage of packages claiming to offer efficient, cost-saving software. And, it's true, a robust and industry-appropriate ERP suite really is a cornerstone of running a successful distribution business in today's competitive landscape. But, selecting the right program can be complex. This article will provide an overview of your food distribution software options and input on how to make the right choice for one of your most important financial management decisions.
This guide will provide information on the following topics:
What is Food Distribution Software?
The food distribution industry is unique. It's not like distributing any old widget. Yes, you have the same challenges of maintaining the stock your clients want, lowering supply and transportation costs, and running an efficient business. But, food distribution is also a highly regulated industry. Especially for distributors of perishable goods, USDA regulations add a significant layer of complexity to contend with. Ultimately, though, whether you are a beverage, produce, meats, or non-perishables wholesaler, the unique needs of food distribution effectively raise the ante on the data management challenge.
In order to stay competitive in a crowded market, food distributors generally require a comprehensive ERP program to help lessen the costs associated with food distribution's operational and accounting challenges. Alternatively, some companies will leverage a capable accounting package, augmented with industry-specific modules. Whichever route you select, a well-integrated system supplying accurate real-time info is key. Whether you are making sure you have the stock on-hand which you are promising to a customer or adding a new product line from a supplier, access to accurate up-to-date information is a must.
Food Distribution Software Features
There are a handful of key components included in a software system for food distributors:
| Core Feature | Description |
| --- | --- |
| Core financials (AP, AR, GL) | Tracks revenues and expenses. Includes modules such as accounts payable, accounts receivable, and a general ledger. |
| Inventory control | Keeps track of all information about the items that your company builds, buys, stores or sells. Record inventory as current assets on the balance sheet. Track the cost of goods sold on your income statement. |
| Order entry | Coordinates the business processes and document workflow involved in delivering goods and services to customers. |
| CRM | Provides features designed for supporting sales, marketing, and service activities. Includes contact management, conversation history, lead tracking, order histories, quote/invoice creation, and call center integration. |
| Payroll | Manages employee compensation: wage calculation, ACH deposits, check printing, and compensation tax reports. |
| Supply chain management | |
| Reporting | |
Additionally, more advanced systems will include functionality for:
| Advanced Feature | Description |
| --- | --- |
| EDI communication | The computer-to-computer exchange of business documents in a standard electronic format between business partners |
| Fleet management | Tracking your fleet assets from an accounting standpoint or as complex as using GPS hardware to track location of each vehicle in a fleet. |
| Warehouse management | Generally includes the following functionality: inventory management, facility management, receiving, shipping, and labor management. |
| E-Commerce | Provides you with the means to market your product or service on a global level. |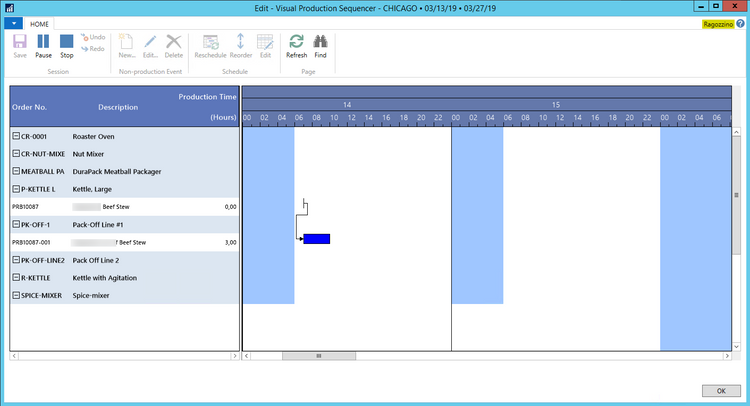 Best Benefits of Food Distribution Software
There are many advantages to implementing distribution software in the food and beverage industry. Learn about some of the most popular, user-friendly features:
Managing the Supply Chain
Getting your product from the supplier, processed and then to the customer can be complex. To help simplify this complexity, distributors are utilizing supply chain management (SCM) software.
Supply chain management has a number of very important benefits:
Eliminate delays that lead to decreased customer satisfaction
Identify the vendors providing the most attractive rates
Maintain just-in-time inventory and save on warehousing costs
Avoid Shortages and back-orders that lead to lost business
Optimize warehousing requiring less space or fewer facilities
Provide real-time updates to customers on order provisioning status
Utilize historical data to feed future projections and forecasting
Decrease turnaround time
Most food distributors have a quick turnaround time from the time an order is received to the time it is shipped to the customer. Anticipating demand is especially important when mistakes in demand prediction can nullify the value you can recoup from perishable products. A solid SCM program will help you identify what came in first, how long it has been on the shelf and when it needs to be sold by.
Supply chain software systems feature a number of modules including purchasing, vendor management, demand planning, sales forecasting, receiving, warehouse management and shipping & delivery optimization to help provide a comprehensive management system for the challenge of getting your goods from the supplier to the customer at the lowest cost.
Financial Management in the Food Distribution Enterprise
In the food distribution arena, the product has to change hands quickly. You may order fresh product on Monday, receive it on Tuesday, and ship to your customer Tuesday afternoon. An integrated solution between your supply chain modules and your accounting modules will help you easily coordinate these transactions. Efficiently and accurately tracking revenues and expenses, assets and liabilities allows for a clear, real-time financial picture.
Additional modules incorporated into a distribution-oriented financial management system include general ledger, accounts payable, accounts receivable, reporting and budgeting.
Maintain and Strengthen Relationships with Customers
Rarely is strong customer relationship management (CRM) software more important than in the distribution industry. In any kind of distribution environment the majority of your sales are composed by a core customer group. CRM functionality provides you with a tool to position yourself as the company to meet your customers' needs.
CRM software also can help you acquire new customers. Features which allow you to database and market to prospects based on company size, years in business, key contacts at the company, and product-focus allow you to more effectively target your value proposition to your prospects' needs.
Manage New Account Opportunities
Turning a new customer into a loyal customer is a much easier process with the right software. Tracking order histories and flowing the information to the sales department can help promote major gains in customer retention.
Managing Inventory for Regulatory Compliance
When buying and selling produce, your company reputation is on the line. The stakes are higher when spoilage and recalls loom as potential threats. In fact, very often your inventory traceability requirements will be informed not only by the dictates of running a profitable business, but also by regulatory mandates.
Segmenting your product inventory lots with lot number tracking is a basic, but very important safeguard. The ability to isolate down to batches or lots is a great start for ensuring you can identify affected product. Depending on your product set, you may have a much larger inventory management challenge. Any distributor needs to associate quantity, supplier, product descriptions, and cost with a given inventory item. You may need additional flexibility to add custom inventory fields. Perhaps, you need to not only track the farm at which a food product originated, but also the chemicals used in the grow, when it was harvested, and where it was shipped. Depending on your particular food line, you may have very different custom inventory tracking requirements.
A requirement for food traceability software is not the only challenge requiring strong lot tracking in the food distribution arena. Volume discounts, customer specific pricing levels, and promotional pricing campaigns are very common needs. Carefully inspecting capabilities for supporting multiple price-lists and flexible price calculation is therefore an important part of the inventory control/order entry evaluation. Determining the level of automation required in achieving your inventory counts is another important decision. A barcode or RFID lot tracking system will require the least manual labor, as items are scanned automatically within proximity of a reader. Wholesale food distributors with a smaller amount of high value items, rather than dealing with large quantities, may prefer to track manually with part numbers.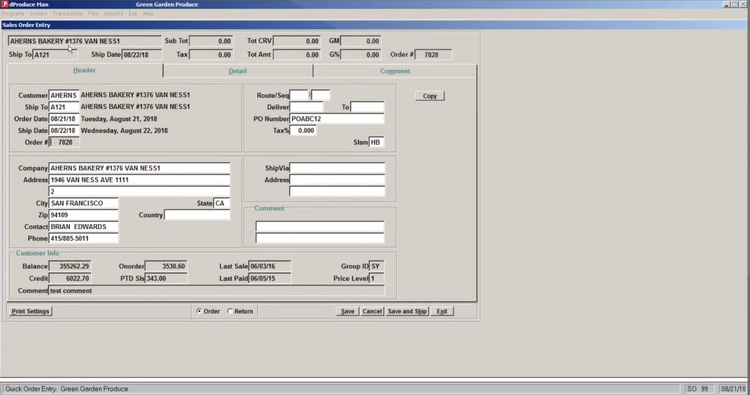 Software Installation
Finding the right program is an important step, but it must also be deployed properly to ensure you receive the value in which you've invested. There are several ways food distribution software can be deployed. First, it is important to understand your needs. Do you need just specific modules or are you looking for an all inclusive ERP software? If you just need specific modules, such as order management, does that module need to integrate directly with your other systems or remain completely stand alone? You may have a sufficient financial management system and just need to add on inventory and CRM functionality.
Also consider your customization needs. A beverage distributor will have very different needs from a wholesale food service. If you are looking to integrate with your current systems, there may be a fair amount of custom integration needed to create the link between your current systems and the new modules.
Finally, is it better to buy the software outright or rent it with a software as a service (SaaS) approach? These decisions can make a difference in the speed of transactions and accessibility by your users.
Connecting with qualified providers of relevant platforms is a key step in your software review process. If you're ready to uncover your top food distribution software options, we're ready to help with our free software search service.