What is Home Builder Software?
Home builder software ensures the construction project is organized, stays within budget, and is completed on time. Home builder software is primarily used by residential construction companies, custom home builders, and general contractors for project management, estimating, job costing, scheduling, and purchasing.
While builders can get away with using general construction management software, there are many vendors offering dedicated home building software. Specialized systems often include databases with vendor information for parts or materials for home projects like appliances, plumbing fixtures, or flooring materials. Some systems also include home design functionalities to assist with creating blueprints and 3D models.
Home Builder Software Features
| Feature | Description |
| --- | --- |
| Construction Estimating | Create accurate estimates based on labor costs, required materials, and equipment needed to complete the job. |
| Job Costing | Assigns costs to labor, materials, equipment, and subcontractors. |
| Project Management | Coordinate scheduling, time tracking, resource allocation, document management (blueprints, progression photos, etc), punch lists, and warranty information. |
| Financial Management | Manage invoicing, purchase orders, payroll, lien waivers, and change orders. |
| CRM | Allow customers to suggest or approve changes to the design, send post-job surveys for customer satisfaction analysis, automate notifications for warranty changes, and store customer contact information. |
Construction Estimating with Home Builder Software
If your estimates are too low, you risk upsetting clients over unexpected price increases. If your estimates are too high, you're likely losing out on a lot of potential projects. Construction estimating software functionality assists with creating an accurate quote based on the costs of labor, subcontractors, materials, and equipment needed to build the home. Accurate quotes will help you land more jobs, keep customers happy, and increase ROI.
As the project goes on, customers might change their mind about certain aspects of their home's interior or exterior design. The estimate will automatically be adjusted for things like appliance upgrades, countertop material changes, or fixture updates.
Digital takeoff is also an important part of estimating to ensure your quotes are as accurate as possible. Digital takeoff assigns costs to lumber and steel, as well as light fixtures, pipes, and cabling. A detailed price list of the materials required for the project is created based on dimensional information extracted from the blueprints.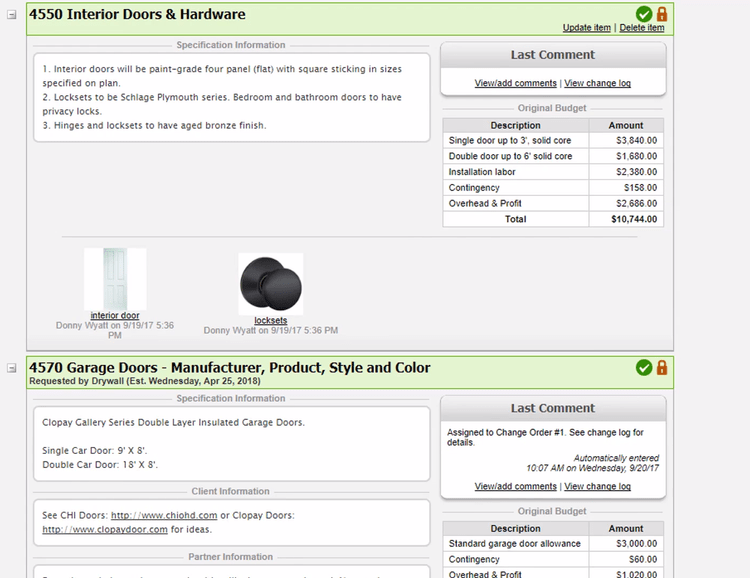 Scheduling with Home Builder Software
Scheduling in home builder software helps you assign labor and resources to particular tasks. The system will alert you if there are any conflicts in the schedule, so you can make changes as needed to prevent delays. Having a schedule laid out for all of the labor and resources will also help you calculate an accurate completion date. The completion date will be automatically adjusted if any issues arise, so your customers won't be left in the dark about schedule changes.
Some home builder systems also provide custom schedule views including Gantt charts, Kanban boards, and calendar views. These views will help you visualize the labor, materials, and equipment being used at particular times in the construction process.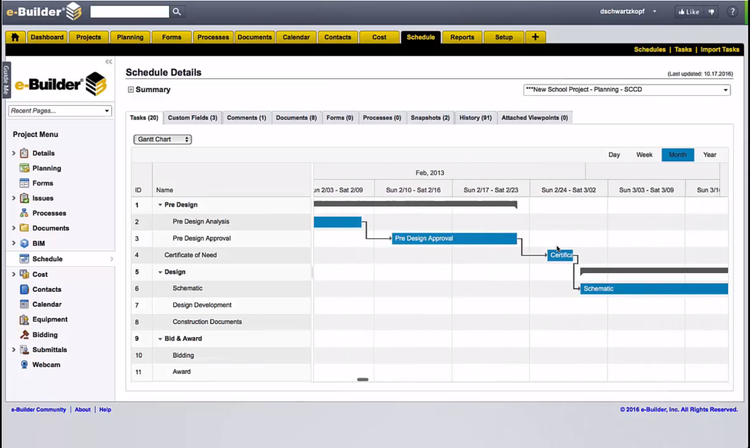 Purchasing with Home Builder Software
Purchase order management in home builder software allows you to create orders for services, raw materials, and products that are needed for a project. The system will keep track of vendor contact information, purchase quantities, delivery times, and costs. When the price and quantities are approved by the vendor, you can save time by collecting the approval signatures electronically.
Purchase order management also includes the scope of work documents that include materials, description of project deliverables, cost codes, and payment schedules.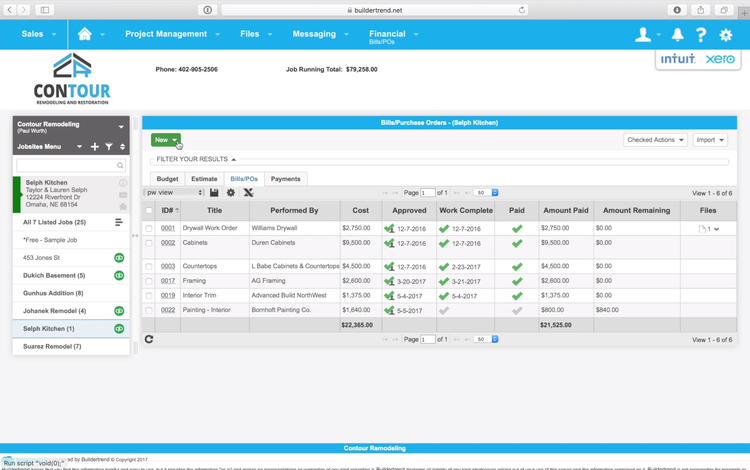 Free Home Builder Software
A complete home builder software won't be available for free. The closest thing you'll find is a limited time free trial on a full system. However, there are some free solutions that can help with specific aspects of home building. For example, SketchUp lets you draw in 3D for free. There are also some free project management systems like GenieBelt and 2-Plan Desktop that are designed for the construction industry.
Online Home Builder Software
Web-based home builder software allows employees in the field to access schedule information, review change orders, obtain electronic signatures, and collect payments from anywhere. Contractors can access the system either through a mobile app or a web browser to get the information they need. Office workers can also see real-time status updates on the project and track when payments were made.
Some systems allow you to take progress photos of the home building process and upload them to a portal for the customer. This allows buyers to see how their new home is coming along and keeps them engaged throughout the project. Your customers can share their photos with family and friends, giving your company some publicity.
Cloud-based software is becoming more important among home builders and construction companies. In our Construction Technology Trends 2018 Report, we've found that 87% of companies were open to reviewing cloud-hosted construction management software.