Risk management is a vital part of protecting your business interests. Yet the transition to largely digital workplaces has led to some unique challenges when addressing security and safety concerns. Even a minor threat can lead to your online infrastructure can lead to countless costs and delays. As more businesses turn to online solutions, it's time to adapt your risk management procedures to match with custom IRM software.
What is Integrated Risk Management (IRM) Software?
Integrated risk management software, sometimes shortened to just IRM, is an automated set of technology-based practices and standards to improve safe decision making at a company. IRM systems help companies to identify digital risk at all levels of operations and come up with adaptable solutions.
The key difference between IRM and general risk management software is the focus on IT and cybersecurity-based risks. Additionally, while compliance issues are addressed by both, the goal of IRM is first and foremost on risk identification itself. Then it moves on to offering ways to manage incident response and mitigate any damage.
Depending on the industry, there may also be significant overlap with governance, risk and compliance (GRC) solutions. GRC software is aimed to help businesses remain compliant with specific government regulations within their industry or location. IRM solutions can address both local and international safety standards in IT but do not focus as much on compliance within the financial or legal sectors.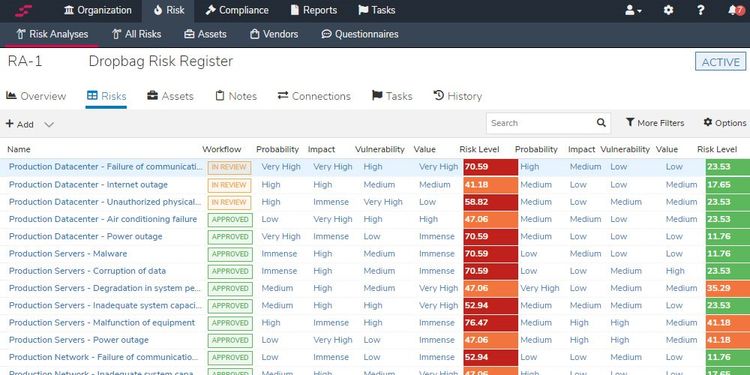 Features of Integrated Risk Management Software
IT risk management: Protect your digital assets, such as computers and proprietary technology, from external threats, such as hacking, and internal ones, such as power failures or data corruption
Key risk indicator monitoring: First identify key risks impacting your company, then monitor changes in status or study analytic trends based on acceptable risk thresholds
Operational risk management: Minimize specific risk scenarios created by your line of work or industry; create safety training plans for all workers to follow
Safety management: Create operational guidelines for all employees regarding how to work as safely as possible, based on both internal and external safety standards
Incident and response management: In the event of an incident, have a set of safety protocols ready to mitigate damage, streamline response, and continue operations as best as possible
Compliance management: Stay ahead of changing safety standards and ensure your operations fall within local or international regulations
Audit management: Save and submit information about risk management and safety practices to local, state, federal, or international entities
Risk repository: Build a library containing all your company's most common risk factors into a single, consolidate location
Vendor management: Remain compliant with safety standards and minimize risk when dealing with third-party vendors, suppliers, clients, and others
Best Integrated Risk Management Software Benefits
There are several benefits to utilizing integrated risk management solutions at your organization:
More Visibility into Potential Risks
One of the easiest ways to prevent accidents is to simply modify your view of risks. The more you encourage a risk-aware culture at your company, the lower the likelihood of incidents from simple mistakes and negligence. Simply knowing what threats are out there can increase your company's ability to respond and make better decisions. In this way, IRM software often acts as the first line of defense for companies looking to protect themselves from all sorts of common IT threats.
For instance, many businesses rely on email for internal and external communications. Yet a single employee using a weak password can make the entire email system vulnerable to hackers. It's very easy to overlook this small security measure or do anything about it until something has already happened. Integrated risk management systems include key risk indicator monitoring to identify those particularly risky scenarios and then prepare protections against them. In the above scenario, this might be as simple as sending quarterly or monthly reminders to employees about updating their password strength according to company guidelines.
Risk mitigation is another important aspect of IRM solutions. For those threats which are unavoidable, incident response modules help you plan out mitigation methods in advance to minimize losses. Adopting safer, risk-averse procedures in your operations can even lead to better business performance and outcomes by preventing the need for mitigation at all.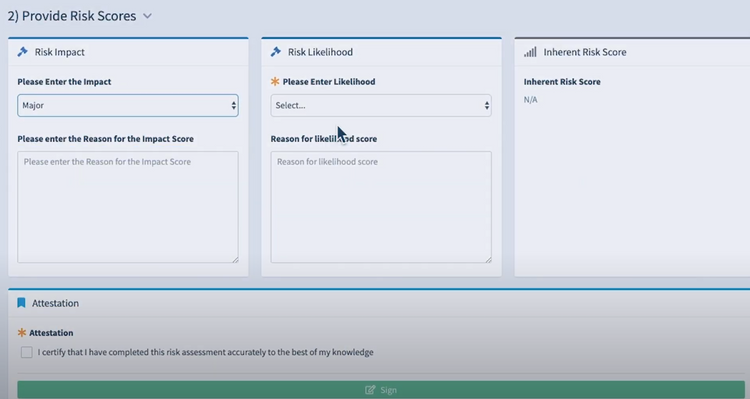 Faster Responses to Incidents
Incident management modules let you plan for possible threats before they come to pass, saving you valuable time when disaster strikes. First, address risk based on the likelihood of even occurring. Then, measure the potential impact through risk assessment. Risk analysis of these two variables will allow you to prioritize how you plan out your incident response, giving preference to the most likely risk scenarios with the largest potential impact.
Before 2020, many companies would have considered a global pandemic to be a rare occurrence with likely an insignificant impact if any at all on operations. Yet COVID-19 has shown just how catastrophic such a seemingly unlikely scenario can be on businesses across every industry. Government-mandated lockdown measures led to countless industries unexpectedly shutting down for months at a time. For those businesses without an existing risk management plan, they were left uncertain about reopening while those companies with systems in place for such an unlikely risk scenario were able to adapt and begin to recover.
A key factor of your response will be how quickly you can begin corrective and preventive actions (CAPA) after an incident has occured. IRM software modules for real-time incident and response management help you coordinate recovery and get your operations back on track after a risk situation, big or small. And internal audits can later reveal other opportunities for improvement.
Remain Compliant with Safety Regulations
Another major benefit of integrated risk and compliance management software is the ability to stay ahead of ever-changing safety regulations. This is particularly necessary for any business with international business dealings which may encounter differing regulatory requirements country to country.
Just a few of the US-based government entities which may regulate your industry include:
Occupational Safety and Health Administration (OSHA)
Securities and Exchange Commission (SEC)
Food and Drug Administration (FDA)
American Society of Safety Engineers
Chemical Safety Board (CSB)
A basic GRC helps you manage your compliance on a variety of levels while an IRM specifically helps you remain compliant with IT-related regulations. Additionally, the IRM provides ways to catalog risk information into repositories for future use. In the event a related regulation changes suddenly, you can already have potential solutions stored within your IRM system, allowing you to instantly adapt and remain compliant.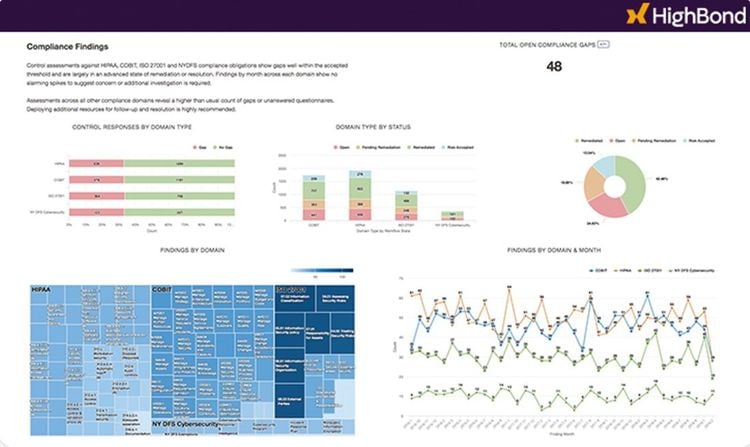 Integrated Risk Management Software Pricing
IRM software pricing depends on several factors, such as whether you want an on-premise or cloud-based solution. Each deployment option has its own advantages and disadvantages, though one of the main differences between the two is total costs. An on-prem solution may involve a one-time perpetual license fee while a web-hosted solution will be charged a monthly subscription rate. This can make the overall costs very different.
The best IRM software for your company will be the one which matches your requirements and budget. Fortunately, integrated risk management software options range from $175 per month per user to $750 per month when offered as a SaaS solution. Other risk management platforms which charge annually range from $12,000 per year to $24,000 per year.
One-time licensing fees are a wide range as well, based on any extra modules and installation fees. There may be additional costs to cover employee training on the new system, tech support, or annual updates. Also, for SaaS plans, the amount of users or facilities covered by the software may increase the price. depending on your exact business needs, a GRC solution or enterprise risk management software may be more appropriate.