What is Finale Inventory?
Finale Inventory is an easy to understand, affordable, and adaptable inventory management system. You can access cloud-based Finale from a web browser or Android-compatible mobile device so users get a consistent view of inventory records from anywhere.
Finale software supports barcoding, QuickBooks data importing, serial numbers, custom reports, multi-channel eCommerce, ShipStation, and a broad range of features for overall warehouse management.
Pros
Cons

Offers comprehensive features.
It has a general help center, video tutorials, and allows specific service requests.
Imports existing product data from spreadsheets and external systems.
Has 50+ integrations available for accounting, POS, EDI, and more.

It only offers dedicated account managers on some plans.
May not be affordable for smaller businesses.
Not a substitute for an ERP or MRP.
Our Ratings
| | |
| --- | --- |
| Usability - 8.7 | Has both a home screen and top navigation for modules; lets users easily create and edit product details manually or automatically import from integrated solutions. |
| Support - 9.4 | Includes live chat in all plans with stated response time of under 3 minutes; help topics searchable within chat box; learning center with step-by-step videos. |
| Features - 9.3 | Comprehensive features are categorized as Inventory, Purchasing, and Accounting. |
| Security - 9.2 | Software automatically logs out after 30 minutes of inactivity; data export to PDF, Excel, JSON, TSV or CSV files. |
| Value - 8.5 | Plans start at $75/month with a discount of $63/month when paid annually; the top plan has custom pricing. |
| Performance - 9.0 | Functionality was fast and responsive; it was easy to add new products, create purchase orders, and reconcile them in the system; no noticeable slowness or performance issues. |
| Key Features - 9.0 | Includes inventory management tools like product lookup and transfers; also has tools for purchase orders and invoicing; integrates with QuickBooks for accounting. |
Finale Inventory Features
While testing out Finale Inventory, we made it a point to focus on the key features of inventory management systems.
Add New Products
Finale Inventory has three separate ways to add new products to your account:
Import products from an external system: Use existing inventory information from an eCommerce platform to import data.
Import products from a spreadsheet: Use an existing Excel spreadsheet to copy over product data into Finale.
Add products manually: Finally, users can add products one at a time or in batches directly into Finale.
Once added, all product information can be exported to external systems, spreadsheets, and emails. Your product data stays yours at all times.
Stock levels can be manually modified at any time if changes are needed on an individual item. Users can also perform batch stock changes to change multiple stock levels at once. Just import the necessary product information from an Excel spreadsheet or even a Word document.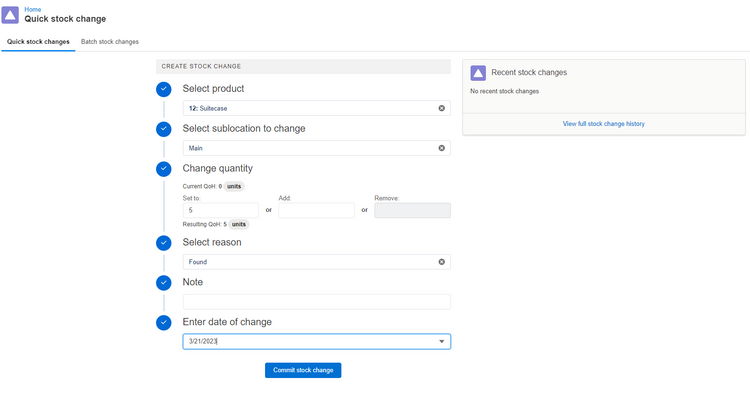 Suppliers of these products can be added in a similar way: manually or from a spreadsheet.
Create Purchase Orders
Like products and suppliers, you can make purchase orders manually or import existing ones into Finale. Fill in all the relevant fields and you can start fulfilling the order.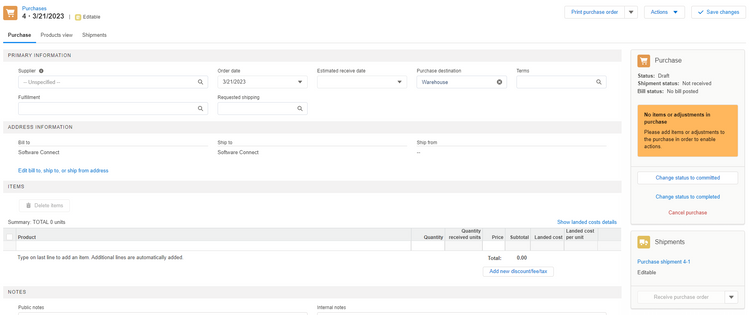 The purchase order itself acts as a guide to users, prompting users to mark a PO as complete after billing. This feature was useful for remembering where in the process a PO was and if any additional actions were needed.
If you have QuickBooks, you can automatically sync with Finale to get instant updates on POs and bills. Sync every five minutes or manually push it through so you can keep your books balanced with your inventory.
Custom Reporting
Finale Inventory offers an abundance of reporting methods for users, all of which are fully customizable. They are divided into different categories, like:
Stock
Purchase and sales
Master data
Accounting
Documents
Labels
There are additional reports within each category. For example, stock reports include:
Reorder reports
Transfer reports
Variance reports
Stock history reports
Build reports
Integration reports
Each subcategory offers even more ways to customize your final reports to include the specific product data you want to share.

When it's time to run the report, you can email or print it as a PDF. There are also options to export it to Excel, CSV, TSV, or JSON.
What Features Are Missing?
While using Finale Inventory, there were a few features which could have improved my experience:
Automatic time out: The software will automatically log-out if users are inactive for a period of time, roughly 30 minutes. While this is an important security feature, it can be a minor annoyance. For example, if you're planning on stepping away for some other tasks and don't want to log in again, you have to be fast.
Scanner limitations: Currently, the integrated barcode system works with the Android scanner app. There is not yet an Apple version, so users might have to adjust their hardware or buy new scanners.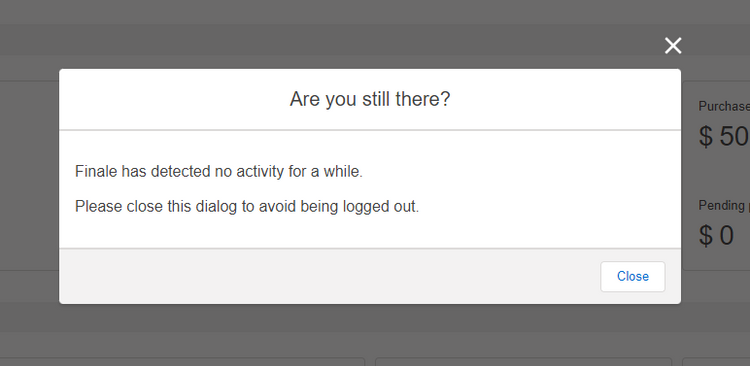 Pricing Plans
Plan
Pricing
Features
Starter
$75 per month ($63 per month when paid annually)
Designed for small teams.

1 user
500 included orders per month
2 integrations
100,000 products

Bronze
$199 per month ($166 per month when paid annually)
Includes all Starter features plus:

4 users
2,000 included orders per month
4 integrations
Up to 3 work orders with attached procedures

Silver
$349 per month ($291 per month when paid annually)
Includes everything in Bronze plus:

7 users
5,000 included orders per month
7 integrations
Report customization
QuickBooks Online

Gold
$549 per month ($458 per month when paid annually)
Includes everything in Silver plus:

11 users
10,000 included orders per month
11 integrations
Barcoding app and mobile barcode scanner

Platinum
$799 per month ($665 per month when paid annually)
Includes everything in Gold plus:

16 users
20,000 included orders per month
Unlimited integrations
API access
SPS Commerce EDI

Platinum+
Custom pricing - request a quote
Includes everything in Platinum plus:
FAQ
Is Finale Inventory easy to use?
Billed as "the online inventory management system your employees can actually understand", it may take some time to familiarize yourself with all the features offered by Finale. Fortunately, there are free training demos to help, along with a dedicated help center to guide new users through various processes.
I really liked how tutorial videos were incorporated into the quick start process. Even without a demo, you can get started right away by following the tutorials.
Does Finale Inventory have an app?
Finale Inventory has a mobile scanner app which works on Android OS and is available through the Google Play Store. There isn't an iOS version available.
How much is Finale Inventory software?
FInale Inventory software pricing depends on several factors, starting with which plan is best suited for your business. For example, the Starter plan is $75 per month and covers up to 500 orders per month. The Platinum plan is $799 per month and covers up to 20,000 orders. If you go over, there is a charge of $0.05 per order (Starter/Bronze/Silver) or $0.03 (Gold/Platinum/Custom).
Plans can be changed at any time. There is a FREE 14-day trial available.
Who is the CEO of Finale Inventory?
Will Harvey is the current CEO of Finale Inventory. The rest of the leadership team is rounded out by his co-founders, Chris Hondl and Chinh Nguyen.
Alternatives
Summary
Based on our experience, we recommend using Finale Inventory if you need an easy to use yet comprehensive inventory management system. This software is particularly suited for eCommerce and other retail businesses which need real-time inventory updates.
Finale Inventory has several pricing plans, starting as low as $75 per month up to $799 per month. There are custom quotes for enterprise plans.
We wouldn't recommend Finale Inventory if a business needed multi-currency support, as that is not offered. We also wouldn't use it as a replacement for an ERP or MRP. Basically, manufacturers would be better suited by an actual MRP. And the accounting section isn't a replacement for a full accounting software like QuickBooks but helps you get started.
Overall, Finale Inventory is a scalable inventory management solution with many integrations to fully customize the user experience.