Procurement, the acquiring of business assets ranging from raw materials to office supplies, plays an important role in every company. A key part of this process is managing timely payments to suppliers and vendors after receiving goods and services. Popularly known as the procure-to-pay process, better coordinating your authorized payments can improve your entire procurement structure.
What is Procure-to-Pay?
Procure-to-pay, often written as P2P and occasionally called purchase-to-pay, refers to how payments are made during the procurement process. A number of steps, determined by your company, cover the creation of requisition invoices along with the authorization of payment amounts for all your business-related goods and services. In order to make accurate and timely payments, P2P covers more than just transferring funds. It's involved at the very start of the procurement process, which can lead to insights into your company's buying habits to optimize cash-flow and improve the bottom line.
What is the Procure-to-Pay Process?
The main three procure-to-pay processes are categorized as being related to either purchase orders, receiving, or invoicing. The individual P2P process flow steps are generally as follows:
Needs recognition to create requisitions
Approval of requisitions
Selection of vendors
Create purchase orders
Approval of purchase orders
Generate receipts
Supplier performance measurement
Approval of invoices
Final payment
In short, most start with finding what you need to purchase and end with balancing accounts payable. Some companies may have slightly different steps, possibly in a different order or with changed names, depending on the exact workflow of the procurement department. For instance, a brand new startup might only use a few steps while an international enterprise will add more to ensure compliance with international currency regulations. Overall, the workflow still goes through the same three key stages for all.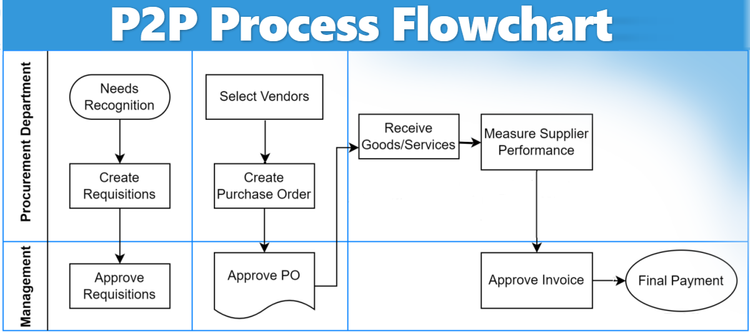 The various steps can be further explained as follows:
Needs Recognition and Requisitions Creation
The procure-to-pay cycle begins with needs recognition, the act of identifying what materials and supplies your company needs to operate. Sometimes referred to as sourcing, this covers both direct and indirect procurement, meaning you have to find what you need for production and daily operations. For instance, you might need to purchase raw materials alongside office supplies.
Traditionally, this process would include a procurement team member going through inventory lists and performing onsite audits to learn what is needed for work to begin. The best procurement software solutions can streamline this process through digital automation.
Approve Requisitions and Select Vendors
Once the procurement team has learned what needs to be ordered, the approval process begins. A chief procurement officer (CPO) may be in charge of overseeing final approval on all purchase requisition forms, whether they are one-time expenses or recurring purchases.
With approval, the procurement team can begin looking for the best suppliers for the job. The selected vendor is then contacted to begin the next steps of the purchasing process.
Create and Approve Purchase Orders
First, the purchase order (PO) has to be created with all the exact details on the purchase. Next, both the company and the vendor must approve the purchase. Just like requisitions approval, the CPO or procurement team may be involved in finalizing the purchase.
At this point, any regulations regarding the goods or services must be considered to ensure compliance. For example, certain materials cannot be transported across the country without strict adherence to local and federal standards. Before approving a PO, ensure the vendor is capable of complying with those requirements.
Generate Receipts and Measure Supplier Performance
Referred to as either receipts or receiving, this is when the good or service is actually received by your procurement department. Whoever accepts the order must check it over for accuracy and document the process in receipts, invoices, and so on. Any irregularities, such as mismatched line items, should be reported.
Once the goods have been received, they should be checked over for quality and quantity. At this point, if there are any issues with the product or service, a dispute would be made as to whether or not any payment is made. In some cases, there might be a discount for damaged goods while in others the item in question would be returned with no funds exchanged at all. Ideally, dispute terms should be set out clearly during the initial purchase order to expedite closure.
With a good understanding of supplier performance, you can keep detailed records of your preferred vendors to continually get the best products and services at the lowest possible prices. And by forging good vendor partnerships early, you can potentially benefit from long-term savings as the mutually beneficial relationship grows over time.
Approve Invoices and Submit Final Payment
The final step of the P2P process is where the name comes from: payment. Careful payment processing can help balance your accounts payable (AP) after each purchase without the risk of human error causing costly mistakes.
With procure to pay software, payment can be made automatically once the final invoice is approved by whoever is in charge of authorization thanks to three-way matching features. No more inefficient from running back and forth trying to get signatures for traditional invoice matching, just money instantly moved to where it needs to be though an advanced pay solution.
Example of the P2P Process
To get the full picture of the procure-to-pay cycle, let's take a look at an example:
Imagine a clothing manufacturer decides to expand into selling pants after previously only making shirts. During the initial needs recognition step, the procurement department will research what the company needs to make pants: new machinery, different fabric, and efficient design patterns. Then, they will fill out purchase requests for each.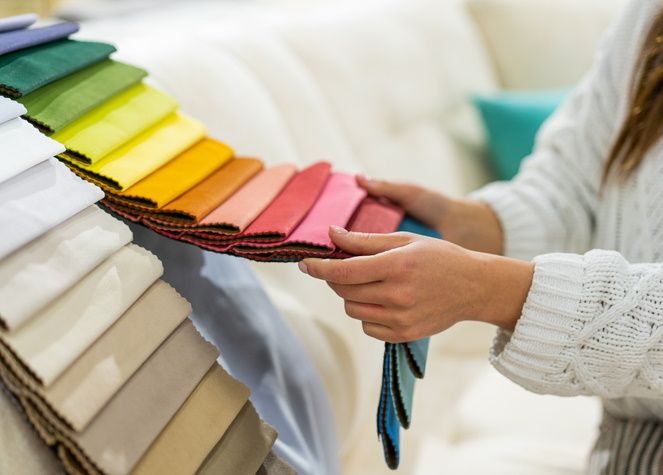 With the needs identified, work can begin to find the right vendors. The procurement department can check their existing supplier relationships to see if anyone would offer discounts or deals on the new goods and services. This can potentially lead to valuable cost savings and cut down on the time-consuming task of finding brand new suppliers.
Each item will need requisition approval. At this stage, the CPO in charge of decision-making may determine the current machines can be adapted to make both shirts and pants and turn down the request. Or, they may decide the new machinery is necessary and approve the one-time purchase after consulting the budget. The various fabric and thread will likely need to be a recurring purchase in order to meet the production volume and keep the supply chain moving. And an expert third-party fashion consultant might be brought in to come up with new designs.
After finding the best vendors for each, purchase orders can be officially made to document the rest of the process. Through P2P systems, all three of these payments can be prepared in a single system, cutting down on potential miscommunication, discrepancies, and delays. Detailed POs, goods receipts, and invoices can show where each purchase is in the cycle. And with automated P2P software with tools for real-time three-way matching and invoice processing, accurate vendor payment for each need can be made as soon as the final product is received.
Who Needs P2P?
Almost every business can benefit from implementing a procure-to-pay system to keep all purchase-related information in one centralized location. A very small startup can likely keep track of outgoing expenses and purchases. Yet once business starts to grow, having a system in place to oversee procurement and spending is a must. Without a clear P2P process in place, a company might overlook upcoming payments or orders. Fortunately, software makes it possible to automate the process, with solutions capable of integrating with existing ERP systems to centralize all your business operations.
Now that you know the benefits of an automated P2P cycle, consider getting procure-to-pay software for your business.