Radio-frequency identification is pretty nifty. Although the location-tracking tags that integrate with inventory software have been around for decades, new applications continue to appear as the tech becomes more affordable and approachable.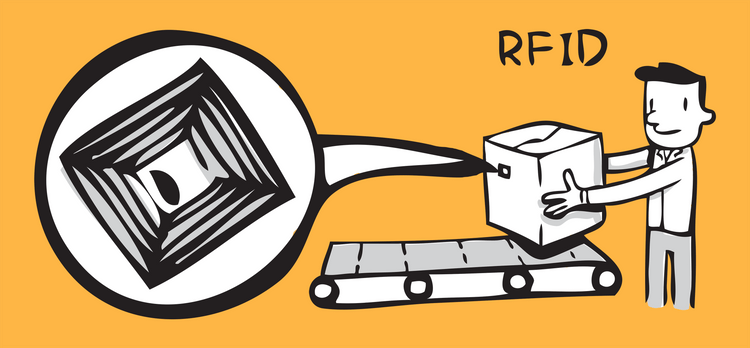 Explosive e-commerce growth and the Internet of Things have only intensified the demand to digitize and track real-world objects. Last time we checked in on unexpected and awesome uses of RFID, we found robbery-proof casino chips, loss-resistant golf balls, and smart fitting rooms – all thriving thanks to RFID.
Those cool innovations inspired us to make a new list of eight more exciting takes on RFID for 2018 and beyond:
1. Retail Dream Scenario: 100% Inventory Coverage
Okay, so we cheated a bit with this first one; it's not a surprising use case, but it is remarkable. Macy's has added RFID tags to more than half of its inventory and plans to achieve 100% coverage by the end of 2018. While obviously not a new use case, from a retailer perspective it's exactly what RFID was meant for, so its importance can hardly be understated.
Retailers live and die by matching their inventory supply to demand, and the better data they have to stock levels, the better they can meet demand. And with the cost of an RFID chip going from $1 in 2003 to about 10 cents today, it's easier than ever for retailers to take advantage of the benefits.
The results are already clear, according to Bill Connell, the company's senior vice president of transportation. "With an increase in the inventory accuracy, out-of-stocks are significantly reduced," he told Forbes.com. "And by cutting the out-of-stocks, item availability is increased, which can lead to substantial and measurable sales increases." The company's "Pick to the Last Unit" program also combines inventory management software with RFID tracking to boost sales of low-stock items.
2. Construction Sites: Smart Belts to Increase Worker Safety
Large construction sites can be complex hives of activity where there's simply no way to keep track of employees using conventional methods. That's where RFID comes in.
Spot-r by Triax is a simple RFID tracking device that clips to workers' belts and helps ensure managers can contact them when needed. It also integrates with construction management software, like Procore. The device registers if a worker slips or falls, alerting safety managers who can make sure aid arrives quickly. Workers can also use the devices to notify managers of safety issues they encounter.
3. Airlines: Customer Visible Real-Time Luggage Locations
Air travelers don't soon forget the nightmare of lost baggage and the bureaucratic headaches that often ensue. Now, RFID is putting their minds at ease. Since 2016, Delta fliers who check bags receive mobile notifications as bags are loaded onto and off of airplanes and when they reach carousels for pickup.
By embedding RFID chips in each luggage tag, Delta has achieved an eye-popping 99.9% tracking success rate, according to the company. "In the same way that customers want information at their fingertips about flight changes, we know our customers want clear visibility to their checked bags," says Tim Mapes, Delta's chief marketing officer.
4. Supply Chain: An RFID-Integrated Cryptocurrency
Yes, another blockchain and cryptocurrency idea. This one has an interesting angle though, and might have legs. Named after Charlie Walton, the inventor of RFID technology, Waltonchain combines RFID with the same blockchain technology that powers the secure exchange of Bitcoin and other cryptocurrencies to make connected devices much safer to use.
"By attaching RFID chips to real-world objects, it gives them a unique digital identity which is then stored in immutable ledgers on blockchains," explains cryptocurrency expert Alex Saunders. "What this is going to do is streamline inventory management and logistics, and by using that blockchain encryption it's going to make it far more secure than traditional Internet of Things models."
With Waltonchain, businesses and consumers can have access to a trustworthy and traceable history for each individual item's history. This opens up a ton of possibilities. New supplier and retailers can work together without requiring trust to be formed in advance. Concerned consumers could, for example, self-verify that there is in fact no horse meat in their beef.
5. Warehousing: LED Guided Order Picking
An online click would never result in a package delivered to your door without the efforts of vast ranks of pickers, who help gather items and package them for shipment at distribution warehouses worldwide. Now, RFID and LED guided picking systems (aka "pick to light") are helping pickers find items faster, reducing error in the process. RFIDs are real-time location aware of both the picker and items on the pack list. Using that information, WMS software can toggle LEDs for aisle and bins; literally lighting the way for pickers.
6. Hospitals: Take-One-Leave-One System for Staff Scrubs
Healthcare costs may keep going up, but thanks to RFID, hospitals are spending less on scrubs. One success story is LewisGale Medical Center in Salem, Virginia. The hospital managed to save $40,000 on scrubs in under two years, according to RFID Journal. It's all thanks to the CabiNet RFID Scrub Dispenser, a device that distributes and monitors the medical-procedure uniforms. The system reduces the tendency of staff to treat scrubs as disposable, making sure the garments are returned for cleaning following each shift.
7. Retail: Cashierless, Checkout-Free Stores
While experts have long predicted that RFID tags would lead to stores without checkout lines, this long-rumored future has been slow to materialize. Recently, Amazon has filed patents for RFID-enabled stores but denied that RFID is involved in their new checkout-free Amazon Go grocery store. Now, Chinese retailer JD.com is taking strides of its own toward the unmanned store of the future, and RFID is definitely involved. Together with facial recognition technology, RFID could allow no-wait checkout and personalized in-store offers. As JD.com ramps up its competition with fellow Chinese retailer Alibaba, RFID could find additional ingenious uses.
8. Child Safety: A Lanyard for Inexpensive and Batteryless Alternative to GPS
Most parents know the feeling of brief panic that sets in when a child has wandered out of sight. Now, imagine that scene in a moving crowd of 40 or 50 million people – the scene each year during a holy Hindu pilgrimage in southern India. This year, Vodafone India and police authorities are partnering on RFID technology that helps track children under 14 as they participate in the ritual, according to RFID Journal.
A child wears a lanyard holding a card embedded with an RFID tag. Stationary tag readers along the pilgrimage trail records when the child passes by and sends a message to a parent's phone to inform them of the child's location. If a child gets lost during the journey, a police officer can use a handheld reader to scan the card and contact the parents to reunite the family quickly, saving time and giving parents' peace of mind. The service is provided free of charge.
---
Have you tumbled upon some other surprising use-cases for RFID? Tweet at us @SoftwareConnect.