What is Digital Asset Management Software?
Digital asset management software, sometimes shortened to DAM software, controls the various digital content created, used, and stored by businesses. Similar to document management (DMS), DAM systems store more than just electronic copies of digital documents, by including images, videos, audio recordings, and other media files. Other digital assets include:
Logos and branding
Presentations
Spreadsheets
eBooks, manuals, and guides
Illustrations and animations
Emails, text messages, and recorded call audio
There are five key steps involved in asset management:
Create
Manage
Distribute
Retrieve
Archive
By following these steps, assets can be stored in a centralized library on either local servers or through cloud-based systems. As a result, users can import and export media in a variety of ways, such as local hosting which allows for incredibly secure storage or through the web which offers instant access anywhere. Digital asset management systems are a key part of several industries, primarily those involved in advertising, outreach, eCommerce, or communications.
Features of Digital Asset Management Software
Asset creation: Import media files from the original source, such as scanned photographs or video links, incorporate automated watermarks when necessary
Asset management: Catalog each digital asset with metadata in order to make a searchable index
Dashboards: Navigate through personalized dashboards when reviewing new assets or organizing existing files
Uploading and downloading media: Both upload and download digital assets into a protected cloud without damaging the original data or asset quality
Indexing: Classify assets through metatags such as keywords, users, clients, dates, document codes, and more.
Search functionality: Use customized metadata to categorize, label, and tag files for expedited retrieval when searching using search engines
File sharing: Easily select and share files between different users, either within the same department or select third-party partners
Version control: Sometimes called "versioning", save, copy, restore, and view multiple versions of the same assets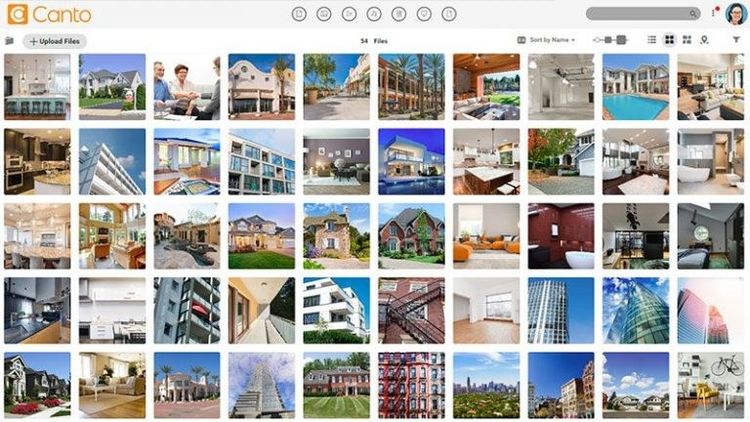 Best Digital Asset Management Software Benefits
The many benefits of digital asset management software can be broken down into the five main steps described above:
Digital asset management solutions are primarily used by marketing teams to streamline brand management of various media materials. They depend on countless brand assets like video, photo, and audio files for their advertising campaigns. Yet whatever industry you work in, chances are you have some form of physical assets. From HR training videos to logo illustrations, every company has valuable media which require secure storage and easy accessibility. In the past, these materials would be stored in carefully (or not so carefully) cataloged file cabinets or desk drawers. In a modern business environment, digitizing this material is the best way to keep assets available for long-term use.
One of the first steps of digital asset management is creating new files or objects in your current system. Some methods of media creation offered by a DAM solution include:
Encoding
Scanning
Uploading/downloading
Optical character recognition
The method you utilize will vary depending on the asset's origin and intended file format. For example, the physical paper the original illustration of the company logo is on will need to be scanned into the system and possibly modified to preserve the image as much as possible as a JPG or PNG. Yet a photo taken by an employee on a smartphone can be uploaded directly from a social media account through the cloud at incredibly high quality. And every file type can be stored in a single, searchable DAM system rather than individual folders on different computers.
Manage or Index an Existing Catalog
As you add new media assets to your DAM system, you can apply custom metadata through different tags. The tags include information about the asset, such as keywords, users, clients, dates, and more. Once properly tagged with metadata, you can easily search and retrieve files of your media assets. For instance, you can search for all images uploaded on a certain date in order to narrow down your search. Or you can search based on the media content, if you want to retrieve a custom graphic or an image taken from a corporate event. DAM software allows you to determine the tags, so you can create your own index based on your search preferences.
While digital assets can include a wide range of materials, sometimes the subset of media is referred to separately as media asset management (MAM). This applies to photographs, videos, and audio recordings and can result in separate forms of metadata being used in labeling. For instance, if you have to plan a presentation on human resources (HR) and want to retrieve an existing video from a previous demonstration, you can search specifically amongst the media files to find only the videos rather than every single document, image, and graphic marked by the HR tag.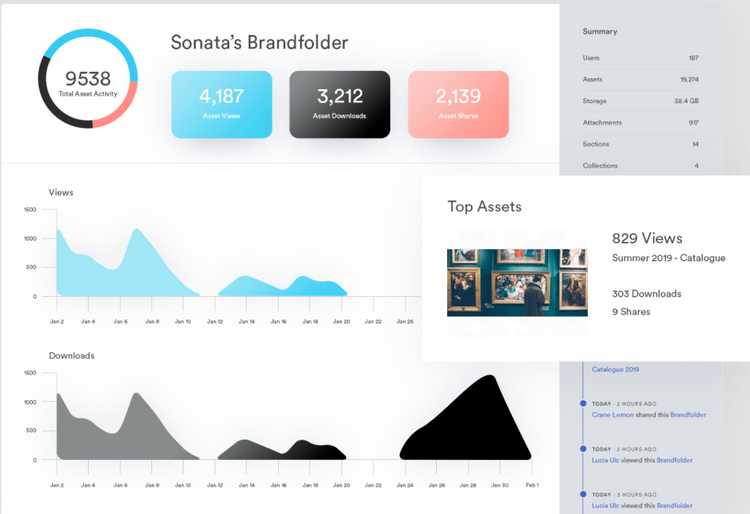 Distribute Assets into the Workflow
Some assets are more important than others. An important legal document should be preserved; a blurry photo from a corporate retreat should not. DAM software follows the lifecycle of digital media assets, from creation to archival or deletion. Use templates to ensure new media is added with the correct metadata. When an asset is no longer needed, it can be completely removed from the content library in order to free up more cloud storage space.
Additionally, access control and digital rights management provides layered security while allowing for media file sharing with approved users. If you need to send a specific piece of content to a third-party individual who works with your company, you can rest assured your proprietary media will be protected from file corruption, accidental deletion, or unapproved sharing.
Some assets are too important to delete, even if they are long outdated. Anything regarding an official company logo or branding might need to be kept for brand consistency. Version control systems also provide long-term protection to archived assets. Digital formatting can often change rapidly, leading to incompatible file types and low-quality resolution. A user-friendly DAM platform utilizes version control to indicate the original format of each media piece so it can be retrieved or reverted to maintain quality.
Creative teams, such as marketers and others working in advertising, know how revisiting old campaigns can be effective marketing. Keeping those seemingly outdated commercials, print ads, and radio jingles in digital storage can create a jumping off point for new material which maintains brand consistency. And in all industries, digital content is also a way to cut down on physical media storage. No more boxes in a backroom full of film reel; no more file cabinets filled to the brim with concept art. Every sort of file type can be stored with digital asset management software.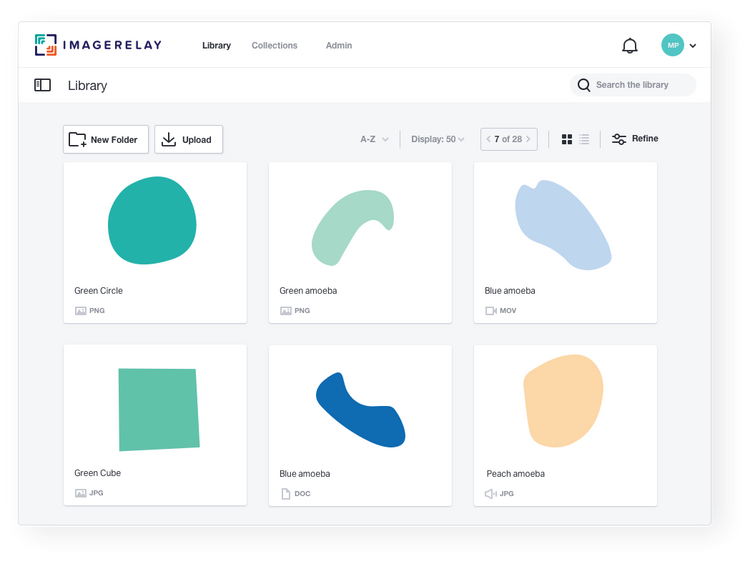 DAM Software Deployment Options and Pricing
Digital asset management software can be deployed either on-premise or on cloud-hosted SaaS platforms. There are also hybrid models which allow the local security of an on-prem deployment while including the accessibility of a web-based solution.
Cloud-based digital asset management software can be accessed anywhere with Internet access, which is highly useful when you're traveling and don't want to store assets on flash drives, CDs, or forms of data storage. Instead, you can simply use a single sign-on to safely access your assets once you arrive.
However, these web-based deployments are often priced based on how much data storage you require. And you'll need to make sure your digital asset management software is compatible with additional business management tools, such as ERP software.