What is E-Learning Software?
E-learning software, sometimes known as e-learning authoring software, is designed to facilitate remote and in-person learning at education institutions of every level. A type of learning management system (LMS), e-learning solutions primarily provide the necessary tools for creating and sharing new coursework to use in virtual classrooms at every grade level.
E-learning systems can be used by elementary, middle, and high schools all the way up through to colleges and universities. Teachers can completely customize lessons to meet curriculum requirements for remote learning while intuitive, easy-to-use interfaces help children 3 and up participate in class activities.
Note: While e-learning can apply to professional environments, these products are primarily authoring tools and LMS for schools. A general LMS or onboarding solution may be more appropriate for corporate training courses.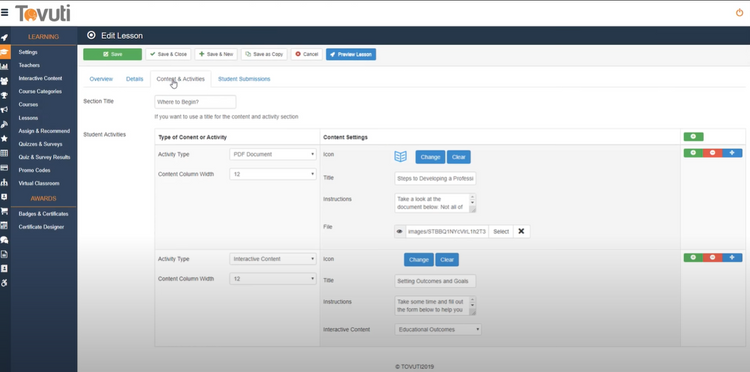 E-Learning Software Features
Authoring tools: Build custom, interactive content for each lesson plan, including templates for homework, quizzes, and tests
Image/video/audio file hosting: Upload all file types to use as learning materials in virtual lessons
Content management: Manage online content, remove outdated material, and adjust lesson plans by building accessible content libraries with different file formats
User management: Control how users, teachers, students, and staff alike, interact with courses, assignments, tests, and other learning material; manage program enrollment
Class automation: Design classes which can be started by students with minimal administrative duties and interactive elements
Program enrollment measures: Use prerequisite conditions to control student enrollment in upper level or speciality classes
Asynchronous/synchronous learning: Let learners to take specific classes according to availability and/or have remote classes in real-time
Attendance tracking: Take daily or class-specific attendance on remote students
Shareable Content Object Reference Model (SCORM) compliance: Share important content between different e-learning applications while staying compliant with SCORM standards
Student progress tracking: Monitor how learners are advancing through their coursework; record personal performance metrics for tests, quizzes, and homework assignments
Gamification: Encourage students to perform better on assignment by offering "games"; interact directly with students for collaborative learning outreach and activity through interactive leaderboards
Grade books and report cards: Record test results, assignment submissions, and student activity in class
Reporting: Report metrics on attendance, test results, assignment submissions, and overall student performance
Best E-Learning Software Benefits
K-12 schools, colleges, and universities can all benefit from e-learning software. The best elearning authoring tools help schools:
Design Custom Classes
Online courses can be designed for general education at any level, from pre-K to graduate classes. You can have classes for an entire K-12 school district by making custom coursework for different grade levels. It's even possible to design specialized courses for individual students in advanced learning programs. For example, an academically-gifted student in one grade can be entered into an advanced program for some subjects to better suit their skills while still remaining enrolled with their classmates.
Interactive learning in virtual classrooms is just one way e-learning software helps students learn in new ways. With this software, teachers and professors can develop multimedia presentations based entirely on their own teaching style. These lessons can be used for virtual learning or in-person with hybrid school systems.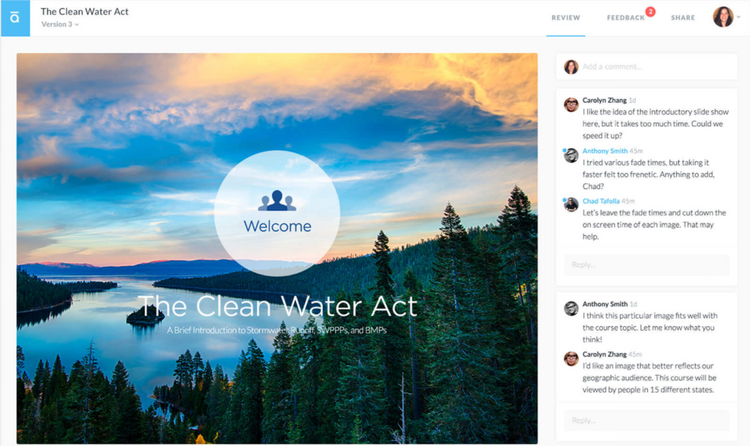 Easy to Use for Teachers and Instructors
Not every teacher is comfortable incorporating technology into their lessons, particularly those more accustomed to hands-on learning opportunities. Yet there are a lot of ways technology can improve the learning experience. Course authoring tools let teachers, professors, and classroom aides fully customize lesson plans for their students.
Fortunately, software is easy to use, even for teachers and administrators with limited experience. No coding is required to build lesson plans for an entire semester. Instead, customizable templates make it possible to design cohesive worksheets and tests with ease. For teachers who are more tech savvy, e-learning platforms even include tools for posting lessons to social media to keep student engagement high. Special multimedia webinars, PowerPoint presentations, or YouTube videos can be shared amongst students even outside of traditional school settings.
Additionally, e-learning platforms often allow for greater ease of use and accessibility for learners than ever before. Students can access lessons from computers, laptops, tablets, or even their mobile phones. This can be particularly useful for students who do not have consistent Internet access at home, can only afford mobile devices instead of desktop computers, or need other learning accommodations to view training materials.
Measure Student Progress
E-learning content has several differences from the material used in physical classes. For starters, any materials students use for homework has to be entirely digital or prepared and delivered in advance. Digital content, like video, photo, and audio files can all be used to personalize classes. High-quality gamification tools can make even "boring" subject matter into something fun for students.
Is a student falling behind? Real-time assessments can show who is struggling to keep up with the workload, allowing for teachers to intervene before they completely fail a class. Teachers can customize lesson plans per student progress to give everyone the attention they need.
Asynchronous and Synchronous Learning Opportunities
Asynchronous functionality is key with e-learning software for upper level students at colleges and universities. Many of these learners have to balance their education with jobs, internships, or even graduate programs. By offering asynchronous e-learning courses, these students can participate based on their own schedule.
In contrast, synchronous classes are ideal for students enrolled in elementary, middle, or high school and need a consistent schedule day-to-day. These courses can be kept to set times to encourage structured learning. In K-12 schools, this helps coordinate between specialty courses with limited admission, like electives or extracurriculars.
There is significant overlap between LMS and e-learning software, as both facilitate user-friendly online learning. However, LMS software focuses on every aspect of managing a school or learning environment, from administrative tasks to reporting on student progress. Additionally, LMS can be used at non-educational institutions, such as workplaces, for training or certification purposes.
While some e-learning platforms are used by corporations for distributing training materials or coordinating employee recertification, it is more common for schools. On a technical side, this software meets e-learning standards including:
Many e-learning platforms allow for work in multiple standards in order to fit your authoring preferences.
E-Learning Software Pricing
The pricing for e-learning software varies depending on several factors. Some products charge per author or learner, meaning larger schools will pay more than smaller school districts. Others have monthly or annual SaaS fees which allow for unlimited authors, teachers, and students. These subscription plans may cost more upfront, though might be worthwhile for large educational institutions.
For instance, some plans are available for $2 per learner per month. Others range from $75 up to $413 per month. Charged annually, plans range from $900 to $4,950 per year.
Additional features, such as modules for custom animations, can increase the cost. Employee training, tutorials, and IT support may be included, depending on the software. Some free e-learning solutions are available for very small schools or educational institutions.