QuickBooks Online is undoubtedly the most recognizable name in accounting software, but there are many other options for small businesses to consider. While QuickBooks is the most notorious, other popular software like Xero could be the better choice for running your business.
These accounting tools offer a comprehensive range of features, from basic bookkeeping to project tracking and inventory management, to help your business thrive.
While both are very similar, these two products have exclusive benefits that set them apart. In this guide, we will explore the key differences and declare our respective winners in each category.
QuickBooks vs. Xero: Software Overview
About QuickBooks Online and Xero
QuickBooks Online and Xero are well-known cloud-based business accounting software solutions that are a favorite of growing companies due to their affordable pricing and scalability. Accounting features such as invoicing, accounts payable and receivable, and inventory management help your business stay organized and profitable. QuickBooks was created in 1983 by Intuit, garnering nearly 40 years of development behind it. A New Zealand-based company launched Xero in 2006 to challenge the growing accounting software market. Intuit also offers QuickBooks Desktop versions for companies that require it, but in this guide, we will compare the Online version.
Further Reading: What is QuickBooks?
Features
Below is a list of features that these two bookkeeping tools have in common:
Connect to bank account and credit cards
Reconcile transactions
Reports–bank reconciliation, profit and loss, chart of accounts, sales tax, and more
Create, send, and customize invoices
Create recurring bills and invoices
Manage bills with overviews of cash flow and accounts payable.
Manage vendors and enter credits
Capture receipts
Manage purchase orders
Pay 1099 contractors
Create estimates
Customizable dashboard
Free Android and iPhone mobile app
On top of the shared features listed above, both QuickBooks and Xero have inventory management tools. However, QuickBooks only offers it with its higher-tiered plans, while it comes standard with all Xero plans. Time tracking is an important feature that many businesses need. QuickBooks Online provides this feature starting in their Essentials plan, and Xero offers it in their Established plan. Neither software offers this feature in their lowest-price plan. Additionally, both software provide online support, but QuickBooks excels by offering phone customer support as well. Standard phone support is available Monday through Friday, 9 AM to 8 PM EST, and 24/7 with the QuickBooks Online Advanced plan.
A few features exclusive to QuickBooks that could be vital for your small business:
Reconcile transactions without connecting bank feeds
Manually enter bank transactions and balances
Automatically calculate state tax rates
Customize invoice colors and choose from templates
While both software will let you create recurring bills, only QuickBooks will allow you to schedule automatic recurring payments. In addition, because QuickBooks is so well known and widely used, it is easy to find a local bookkeeper fluent in QuickBooks accounting software.
Xero vastly outperforms QuickBooks in its fixed asset management tools. With QuickBooks, you can record the purchase of a fixed asset, but with Xero, you can track fixed assets, calculate and track their depreciation, and much more. Xero also has a more robust tool for tracking project profitability, giving you access to real-time reports. Additionally, Xero is a better choice for international businesses needing multicurrency support.
Winner: QuickBooks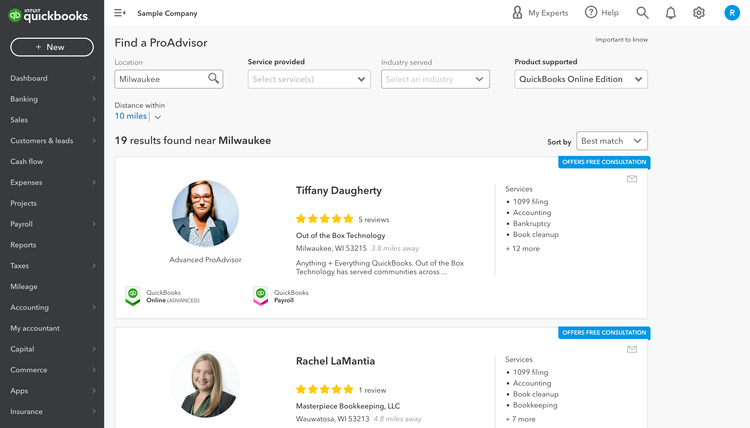 Integrations
QuickBooks offers integrations with 400 plus apps and software tools to increase the functionality of your software plan. E-commerce businesses can easily connect their accounting software with payment platforms like PayPal and Shopify.
On the other hand, Xero has more than double the integrations as Quickbooks, with over 1000 tools to add to your online accounting software. Link inventory and invoicing tools, and integrate with Gusto Payroll or Hubspot CRM. Explore Xero's complete list of integrations on their website.
Winner: Xero
Who Uses This Software?
QuickBooks is a great bookkeeping solution for freelancers, small to medium businesses, and companies that want a full product suite. QuickBooks has a more complex interface with a higher learning curve best suited to those with accounting experience or who are willing to hire an experienced accountant. Most bookkeepers are familiar with QuickBooks software, so it's easy to find someone to assist with your accounting needs.
Xero best suits medium to large businesses but works for all businesses. In addition, Xero has a far more user-friendly interface than QuickBooks, so its ease of use makes it the perfect choice for the self-employed and those with less accounting experience.
Winner: Tie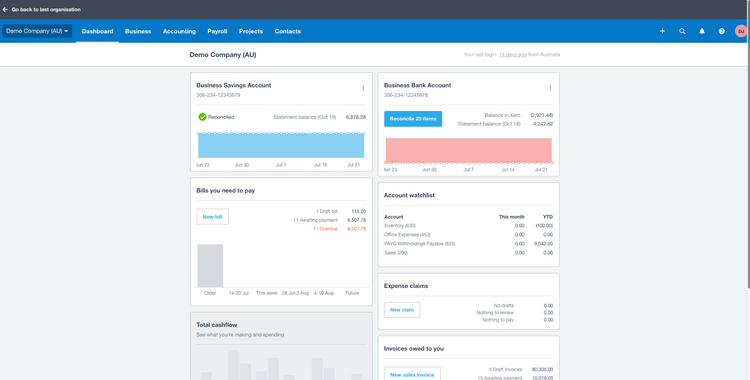 Scalability
Quickbooks is a more scalable solution than Xero when it comes to bills and monthly invoices, which are both unlimited in all plans. Xero's Early plan gives you 5 bills and 20 invoices and only offers unlimited invoices and bills starting in their second product tier.
Despite not offering unlimited invoices and bills in its base plan, Xero accounting software is a more scalable solution than QuickBooks in the number of users it supports. Xero supports unlimited users with all their subscription plans–in contrast, QuickBooks allows only up to 40 users with its highest-tiered plan. Additionally, if more software apps and integrations are critical to the scalability of your business, then Xero is a winner in this category as well.
Winner: Xero
Pricing
QuickBooks Online has a range of product tiers to choose from to meet your business's bookkeeping needs. The products are Simple Start, Essentials, Plus, and Advanced. The QuickBooks Online base plan starts at $30 per month, and the plan with the most features is $200 per month. Intuit offers prospective users a free 30-day trial and generous discounts on their monthly subscriptions. Go to their website for a full breakdown of Quickbooks pricing and deals.
Xero has a similar pricing structure as QuickBooks Online and offers three products–Early, Growing, and Established–that range from $13 per month to $70 per month. For companies in need of a payroll function for their employees, Xero offers add-on integrations for an additional cost. Xero also offers a free trial. Visit Xero's website for more detailed pricing.
Winner: Xero
QuickBooks vs. Xero: Which is Best?
When QuickBooks is best
You are a freelancer or small to medium-sized business
You need a full product suite
You need advanced inventory management
You need to enlist the help of an outside accountant
When Xero is best
You are a startup or medium to large-sized business
Your business needs multiple software solutions
You need to manage multiple fixed assets
You have an in-house accounting team
Depending on several factors, including the size of your business and the type of business you run, either QuickBooks or Xero will be your best choice. Xero is a better solution for large and growing companies that don't want a cap on the number of users needing access to the software. On the other hand, Quickbooks is a favorite small business accounting software for companies that need to be able to outsource their bookkeeping to a hired accountant.
Want to compare more options? Explore our list of accounting software solutions or request a free consultation with one of our software experts.