What is LIMS (Laboratory Information Management Systems)?
Laboratory information management systems (LIMS) software is built to support day-to-day lab operations. Also known as laboratory information systems (LIS) or laboratory management systems (LMS), LIMS solutions offer labs everything from data tracking and analytics to basic enterprise resource management tools.
LIMS are used in laboratories all over the world, by researchers across every scientific discipline. From life science labs at universities to biobanks in the isolated Arctic, data management is vital to running laboratories. It's even used by manufacturers to streamline research and development practices. These systems were originally designed to provide more efficient sample management from the moment the test is ordered to the final invoice. In order to serve all types of modern labs, new features, like clinical functionality, are regularly being added in order to improve the effectiveness of LIMS.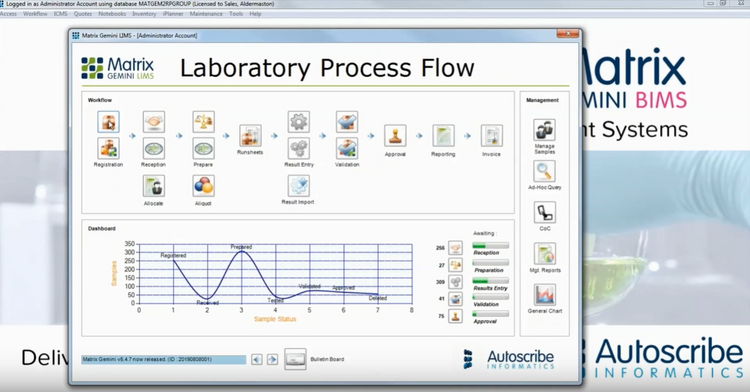 Features of LIMS Software
Sample management and traceability: Control samples and record how they are used within your lab. Physically track samples at all times using barcodes to prevent loss from sample misplacement or expiration.
Test data management and tracking: Record all data from your lab work in one convenient location, from the results of experiments to staff observations.
Instrument integration: Ensure configurability between all your lab instruments and equipment.
Inventory management: Maintain records of samples, equipment instrumentation, and consumables which go through your lab.
Maintenance and calibration: Automate instrument calibration and equipment maintenance throughout your facility.
Electronic data exchange: Transfer data between multiple locations. If your lab collaborates with another facility, electronic exchange tools protect and transmit important data.
Analytics reporting: Receive easy-to-understand reports about your lab operations. Generate new reports on your findings from custom templates.
Electronic laboratory notebook (ELN) functionality: Upload, download, and share notes written in an ELN.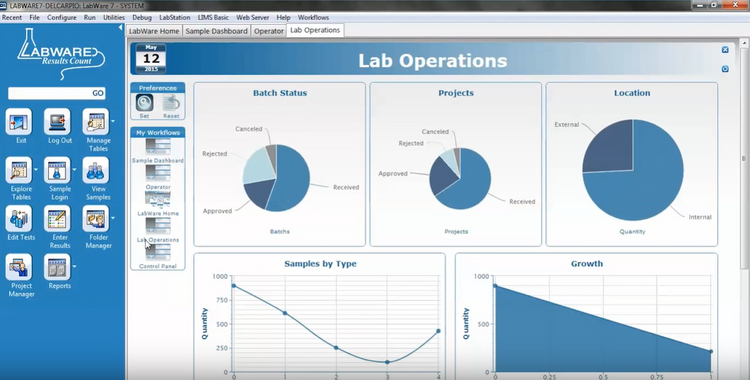 LIMS Software Benefits
LIMS software helps labs in many ways. Learn more about the benefits now:
Sample and Documentation Management
LIMS software was originally created for the purpose of sample management. From tubes to plates, there are many types of samples out there which all need to be managed from the moment they arrive at your facility. And each sample comes paired with documentation to ensure it meets any required ISO, CLIA, HIPAA, GLP, or FDA specifications. Keeping track of all that information manually can lead to lost samples or mismatched documentation.
Streamlined sample tracking and management are an essential part of LIMS software. By automating sample management, you can focus on testing and not manually tracking each and every sample which comes into your laboratory.
There are many ways to physically match documents to their respective samples. LIMS use barcodes and other tracking features to digitally record sample locations in real-time. Locations begin as broad as necessary, such as which facility a sample was sent to, then get more specific, such as highlighting the exact shelf in the freezer which has the sample.
Automated, Accurate Data Collection
The samples you collect have a lot of associated data to record: the date of collection, the sample material, who handled it, and much more. That's before you even begin working. Then you need to record any results from what you do with the sample. Manually writing down lab results takes time and can result in simple human error. LIMS modules can collect data automatically from your instruments and equipment.
Finding data can be just as difficult as recording it in the first place. And the more methodologies you use, the more results you'll have to sift through. LIMS software offers a digital way to store and retrieve this data. You can find the documentation you need by sorting through samples based on resource material, incoming/outgoing dates, location of origin, and more.
Finally, you can perform lab data analysis using LIMS tools. Generate reports by compiling all your test results into a single, easy-to-share document.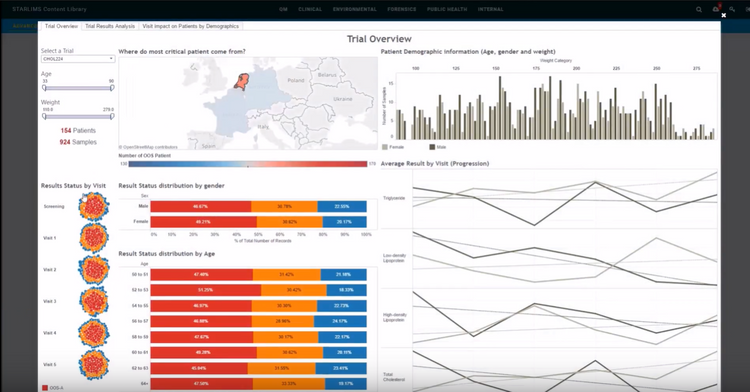 Improved Quality Control
Your lab has to remain compliant with quality control standards. Otherwise, your testing methodology might come into question and invalidate your results. LIMS software with quality control modules helps you remain in full compliance with various testing methodologies.
Depending on your field, there are many different organizations you may have to work with. And they all have their own regulations when it comes to sample management, instrument calibration, and testing methodology. Make sure you meet the regulatory compliance standards of:
Lab Equipment and Instrument Integration
The more equipment and instrumentation your lab uses, the more important it is to have clear collaboration between each piece. Laboratory automation won't be fully possible until every tool you use works together. LIMS tools ease communication between the equipment you use on a daily basis in your lab operations.
Even the best lab equipment in the world needs to be regularly maintained. The work you do needs to be as precise as possible. If your machines are not being calibrated correctly and on a regular schedule, your findings could contain errors. LIMS applications can provide automated reminders when it's time to calibrate instruments. Receive notifications on your mobile devices to always stay ahead of equipment maintenance.
Types of Facilities Using LIMS
Biobanks and Storage Facilities
Medical Clinics
University and College Labs
Forensic Labs
Clinical Labs
Research and Development Labs
Manufacturing Labs
Agricultural, Food, and Beverage Testing Plants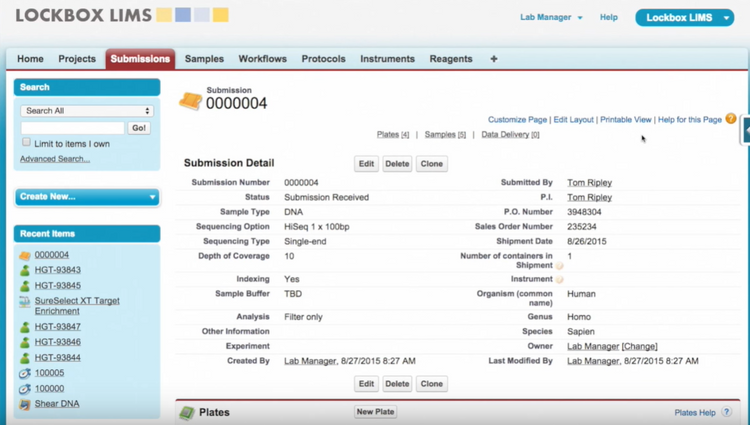 Common Problems with Lab Management
Labs which do not use automated LIMS software may encounter several problems, like:
Sample and Test Audits
Laboratories need to maintain compliance when working with samples. For many facilities, this means keeping a record of how the sample was handled, when testing was performed, and other details. This is especially important for forensics labs which deal with evidence and have to maintain a clear chain of custody.
LIMS software collects sample data and test results for you in order to establish a clear audit trail. You can focus on work instead of worrying about documenting every test by hand.
Missing or Destroyed Samples
Misplacing a sample can lead to testing delays. Worse, it can lead to losing the sample entirely and negating the results of testing. Deploying a LIMS system to track samples in real-time down to the exact on-premises storage unit and shelf can prevent lost samples, or at least narrow down where you have to look. With LIMS, your lab can provide better quality assurance.
Difficult Data Sharing
Researchers work all over in the world. There are lab facilities on every continent, in remote jungles, in barren desserts, and even aboard ocean-going vessels. Sharing your test results with the home office may require exceptional planning to ensure no data gets lost in the upload. SaaS LIMS software with Cloud-based hosting can make data accessible anywhere, even in difficult circumstances. Maintain data integrity by keeping your test results and field observations in one secure laboratory management system.
Lost Lab Notebooks
Related to working in difficult environments, using real, physical lab notebooks in the field can have its own risks. There are many events which can destroy your notebook and leave you empty-handed after months of work. Even in-house labs experience spills, fires, and contamination capable of ruining a notebook. Electronic lab notebooks, supported by LIMS, let you record your data in a safe Cloud-based or on-premises software. Even if your handwritten notes are ruined, you'll still have your all important scientific data saved and ready for analysis.