Mattec was an MES that provided accurate 24/7 real-time manufacturing information of all plant operations. The platform helped users:
Reduce scrap, waste, and machine downtime
Improve cycle times, Overall Equipment Effectiveness (OEE), plant productivity, and automatic part qualification
Assisted in production and job scheduling
Customize reports and data analysis tools
Mattec Alternatives
Popular alternatives to Mattec include:
1

Epicor Advanced MES

Epicor Advanced MES is an adaptable system that provides real-time insights into machine performance and product quality. It delivers automatic data capture, real-time machine efficiency monitoring, and statistical process and quality control.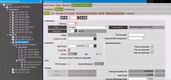 Automatic part qualification and rejection
Flexible deployment options
Great for growing and established companies
Client OS: Windows
Deployment: Cloud or On-Premises
2

ShiftWorx MES

ShiftWorx MES offers a user-friendly interface for improving manufacturing efficiency and productivity. It provides a patented machine monitoring system, universal machine connectivity, and real-time data outputs.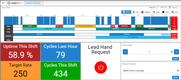 Competitive pricing with a "pay as you go" model
Predictive modeling through AI integration
Real-time machine monitoring
Price Range: $$
Starting Price: $250/user/month
Client OS: Web
Deployment: Cloud Hosted
3

Hydra MES

Hydra MES is designed for comprehensive shop floor management, offering tools for detailed production planning and control. It integrates with various hardware and software systems and offers process monitoring and documentation.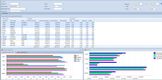 Adaptable to different industries
Gathers real-time shop floor data
Great customer support
High initial cost
Limited one-piece flow support
Confusing UI for some users
Price Range: $$$$$
Client OS: Windows
Deployment: Cloud or On-Premises
Video Overview
Key Benefits/Features:
Real-time production monitoring including scrap rate, down machines, and process alerts
Statistical Process Control provided analysis of part weights and dimensions as well as critical machine process parameters
Dynamic job scheduling delivered views of production floor operations
Preventive maintenance management in real-time