What is Pawn Shop Software?
Pawn shop software primarily handles point of sale, record keeping, and inventory management. Pawn shops need to keep detailed records of every transaction and item brought in. These records will be sent as police reports to cross-check for stolen items.
Pawn shops also have the unique challenge of holding collateral items in exchange for loans. After a specified period of time, if the loan is not paid back in full, the item is put up for sale. Pawn shop software's inventory management keeps track of whether or not the item is sellable and how long it has been held. When the grace period is up, the item will be made available for purchase.
Features of Pawn Shop Software
| Feature | Description |
| --- | --- |
| POS | Process payments, print receipts, create price quotes, and apply discounts. |
| ID Scanning | Upload and store photo ID of buyers and sellers for record keeping. |
| Police Reporting | Collect photo identification, residence information, and merchandise information to include in the police reports. |
| Inventory Management | Track sellable items and layaway items, as well as items held as collateral. |
| eCommerce] | Allow customers to purchase sellable items through your website. |
| Check Cashing | Real-time check verification and fraud detection, bad check reporting, and secure check depositing. |
Pawn Shop POS
Pawn shop software handles core point of sale functionalities like payment processing, receipting, and transaction tracking. POS systems also have features unique to pawn shops including:
Integration with Google and reselling sites like eBay and Amazon. This allows you to create accurate price quotes based on resale value.
Automated notifications to targeted customers if a wanted item is brought in or made available.
Discounting based on how long inventory has been available to improve turnover.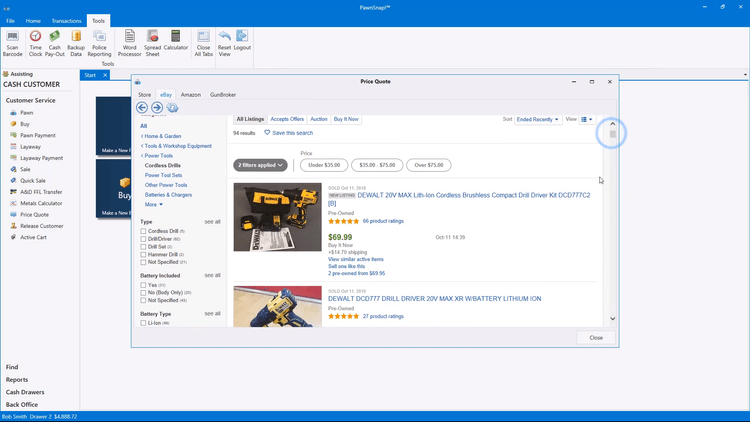 Police Reporting and ID Scanning
Pawn shops are required by state and local laws to report items you purchase. Templates within the software make it easy to put together reports with all required information. You only need to upload a scanned image of a photo ID and enter in additional details. Depending on your municipality, you'll need the address, phone number, and photo of the seller. A detailed description of the product, as well as an image of it, is also important to include. In some cases, you need a social security number or fingerprint.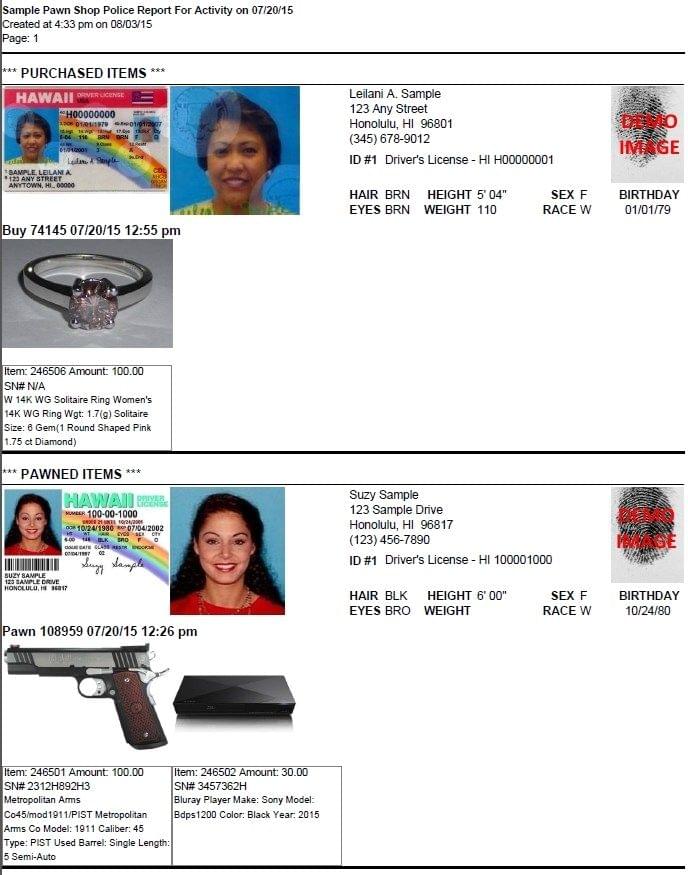 Inventory Management
Unlike general retail stores, pawn shops don't have a predefined inventory to stock. The inventory comes from customers that sold the item outright. An item will also be sold if it is used as collateral and the loan isn't paid back. Pawn shop management systems track how long an item has been in your possession before adding it to available inventory. Most items are held for an average of 30 days before being put on the market.
Pawn software also helps manage layaways. Pawn shops that offer layaway services require down payments and/or monthly payments. This prevents inventory items being held for an indefinite amount of time. The system will keep track of payments made towards the item. You will be notified of missed payments to prevent losing money on unsold inventory.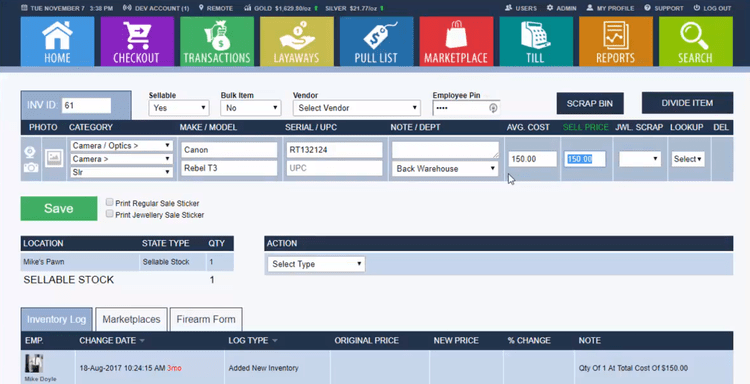 Price of Pawn Shop Software
Pawn shop software averages between $495 and $995 over the course of one year. Prices change depending on features and user licenses you need. For instance, driver's license scanning, barcode printing, and real-time cash drawer auditing features are found in higher-priced plans.
Many software vendors also charge extra for customer support and installation. Keep in mind that additional POS hardware may need to be purchased with some solutions as well.
Free Pawn Shop Software
Currently, there aren't any free software programs specifically designed for pawn shops. Most pawn shop software is considered too complex to be completely free. Some temporary free trials are available depending on the software company.
If you have a very small number of transactions every month, sticking with Excel and a basic accounting solution like QuickBooks could work.