What is Pharmaceutical Manufacturing Software?
Pharmaceutical manufacturing software provides process manufacturing functionalities such as recipe management, batch tracking, expiration management, quality control, compliance tracking, and production scheduling. The software also provides features found in most manufacturing or material resource planning (MRP) options including improved inventory control, order management, and proper purchasing and overall accounting.
The pharmaceutical industry depends upon traceability, whether it's tracking ingredients along the supply chain or real-time trial results. With the proper ERP software in place, consistent traceability in the back-office and on the plant floor will help you improve financial management, eliminate inefficiency, and grow your pharma manufacturing company. Pharmaceutical manufacturing software will help bring your product to market faster while complying with FDA mandates.
ERP Solutions Available to Pharmaceutical Manufacturers
There are a number of ERP systems on the market designed to address the specific business challenges facing pharmaceutical manufacturers. It doesn't always feel that way though. Surfacing pharma appropriate ERP solutions among the large number of discrete and job-shop oriented manufacturing solutions can be tough.
Whether you desire a solution to optimize efficiency, manage compliance, or meet regulation standards, there is industry-specific software to address your needs. In fact, there are fully integrated systems that manage everything from accounting, to manufacturing, sales and beyond. These systems will be able to handle your entire product lifecycle from product conception through approval and manufacturing. And there are many add-on products designed to extend the functionality of existing systems in order to handle specific tasks like R&D management, compliance tracking, or quality control.
How Does Software Benefit Pharmaceutical Manufacturing?
There are a lot of issues which can impact production for pharmaceutical companies. Government agencies are constantly deploying ew regulations, there are countless causes behind supply chain delays, and financial management can impact any business. Implementing the right software can help to alleviate those pain points.
To take on these many challenges you face, you need a system designed specifically for your organization which can:
Effectively manage tracking of ingredients and products
Ensure quality control requirements are met
Manage new and updated compliance with regulations and regulatory agencies
Ensure the products you need are in stock when you need them
Effectively manage your production from planning through completion of manufacturing and product sales
Ensure tight financial management across the enterprise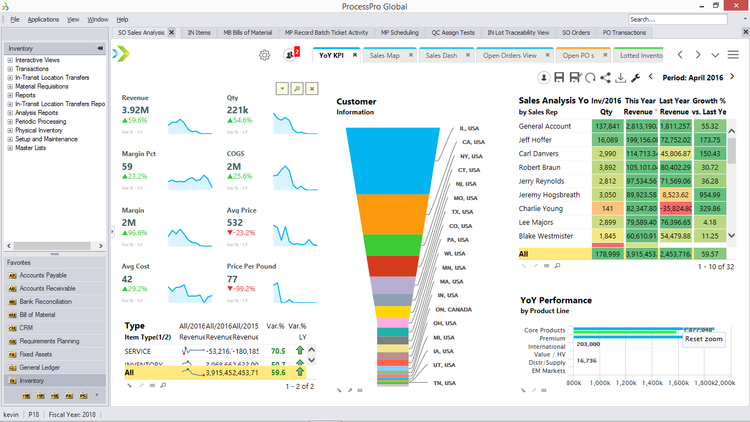 Popular Modules of Pharmaceutical Manufacturing
In order to provide those benefits, let's take a look at some of the modules available in pharmaceutical manufacturing software.
Production Management. Managing the production activities of your company is one of the most crucial steps in achieving product traceability. Functionality within production planning will allow you to track where each batch is in the manufacturing process. You will be able to set project completion dates and adjust them accurately based on your observations of the progress of each batch. Your product formulas will track raw materials and the products those raw materials create. The tracking of raw material lot numbers on the formula provides visibility into which raw materials were used in each finished product batch. This kind of material transparency is especially vital for quality control efforts and recall purposes. You will also be able to track when a batch was completed which will, in-turn, allow you to manage shelf life and expiration tracking.
Formula Tracking. The creation of pharmaceutical products begins with a formula. Obviously tracking existing and new formulations is a vital need for your company. A formula tracking system will allow you to track each formula, as well as each incremental revision so you can perfect your products. A formula tracking module will also give you the ability to scale batches and formulas so you can produce larger quantities in a single manufacturing run.
Quality Control. You likely have several steps of quality control testing in your manufacturing process. A module specifically designed to manage quality control activities will give you all the tools you need to ensure you are delivering the same quality product each time while complying with regulations. It will allow you to request quality control tests, track test results, and take corrective actions. Workflow management functionalities provide check point tracking in your manufacturing process to identify when samples should be taken for quality control tests.
Regulatory Compliance. Pharmaceutical ERP packages are designed specifically to help you meet the requirements set forth by regulatory agencies, in addition to your own internal quality management standards. The ability to assign tasks to particular individual staff members is an important aspect of creating accountability in managing compliance. The beauty of using a pharmaceutical management package is that the developer built the system with your business in mind. A good example of this can be found in the built-in forms and predefined workflows for compliance management offered in many pharmaceutical manufacturing ERP oriented systems.
Production Scheduling and MRP. Manufacturing delays are costly. Delays can result in lost sales, dissatisfied customers, and wastage due to expiring products or raw materials. With the MRP functionality available within many pharmaceutical systems you will be able to set a production schedule months in advance. MRP & production scheduling will take into account capacities (both machine and human), lead times on ingredients, predicted demand, and a number of other factors to ensure that you have the products available to your customers when they are needed. At the same time production scheduling will reduce inventory costs by ensuring ingredients and products aren't sitting on your shelves for extended periods of time.
Purchasing and Procurement. Strong purchasing controls are especially important for pharmaceutical manufacturers. A purchasing module will allow you to track product vendors, setup vendor cross-referencing for products, track lead times, and vendor pricing variations. One particularly important bit of purchasing functionality in pharmaceutical ERP systems is the ability to track the lot number of each ingredient received from a vendor. Vendor material traceability can help to mitigate costs associated with recalls.
Inventory Control. One of the aspects that makes inventory management in pharmaceutical manufacturing unique is the issue of controlling for material and product expiration. Systems designed specifically for pharmaceutical manufacturers will allow you to set up inventory picking using a FEFO (first expiring, first out) process, in addition to FIFO (first in, first out) and LIFO (last in, last out). Integration with technologies such as RFID and barcode can further optimize the efficiency of your inventory control department.
Customer Relationship Management (CRM). A strong software system will handle everything from customer acquisition through post-sale follow-up and repeat ordering. As a pharmaceutical manufacturer you may have unique needs in addition to the basic customer management needs of any company. For instance, if you have a customer that is requesting the same item for the same application, they may require that the product come from the same lot as the previous order. Requests of this variety can be tricky to accommodate. Empowering sales personnel with integrated CRM modules that provide strong visibility into order histories can be tremendously beneficial.
Accounting. Back-office accounting includes features like accounts payable processing, receivables management, financial reporting, and budgeting. If you're running R&D projects you'll be able to track project costs through cost accounting features.
Reporting. Reporting is key for meeting compliance and preparing for audits. Some examples of pharma industry reports include reports related to the frequency of expiring products in inventory, quality control test results, and trial. With many packages you'll also be given the option of creating custom reports or managerial dashboards.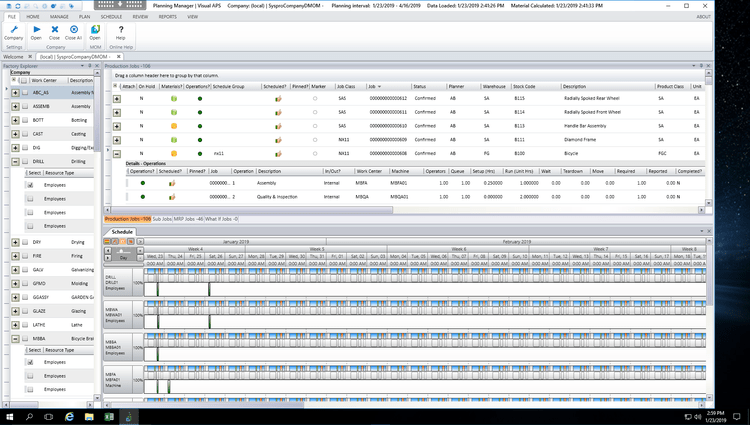 Streamline Your Software Search
Many of the features above are available in fully-integrated systems or as add-on modules for your existing software. Whether you're looking to implement a complete system of process automation or just add on to your current software, there's a solution available to your pharmaceutical manufacturing company.
There are a lot of factors to consider when buying software. For instance, you'll want to consider whether you want an on-premise, cloud-based, or hybrid deployment model. What budget can your company afford? What add-ons do you need? Rather than do all the work yourself, our software specialists will gather your specific needs to match you with the most appropriate end-to-end pharmaceutical manufacturing software systems for your company. If you're ready to review your options use our free software matching service.