Product lifecycle management is the process of managing a product through the typical stages of its existence, including design and development (manufacturing), the sale of the item, service done to the item, and the eventual decline or abandonment of the good. PLM is used by both manufacturers and marketing departments to inform business decision-making.
What is PLM Software?
Product lifecycle management (PLM) software helps your business develop new products faster, improve quality products, and collaborate with your colleagues. PLM software keeps your business organized so you can manage the entire lifecycle of a product from conception through design and manufacture and finally disposal.
Product lifecycle management software gives businesses a strategic approach to managing the lifecycle of a product through its full value chain. These systems help manufacturers engineer and build products according to design specifications.
For any type of industry, such as apparel or food manufacturing, you'll need to manage multiple databases with your colleagues. You may have many requests from clients, or you may need to do new versions of your product for clients, which requires checking incoming requirements on a routine basis.
When a customer asks for a new product, PLM software lets you fill the data to capture the customer's specifications and regulatory compliance. You can manage formulas, packaging, and labeling, and optimize your time spent at each stage of a product. This data can be freely exchanged with other software such as MES, ERP, and eCommerce.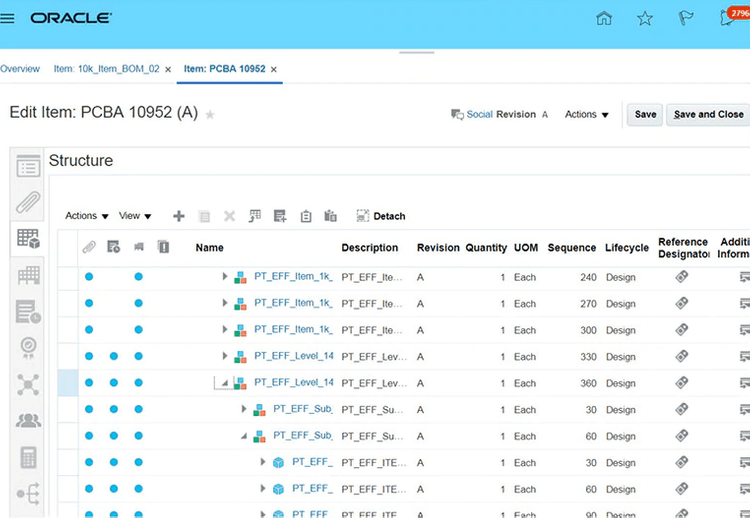 What Are Features of Product Lifecycle Management Software?
Bill of materials: Specifies the raw materials, parts, and sub-assemblies needed to manufacture each specific product
Change management: Request, plan, implement, and evaluate changes to any step of your product lifecycle, from design to manufacturing. Includes cost recalculations and schedule adjustments.
Quality management: Ensures regulatory compliance and analyzes and reduces risk. Includes quality objective definitions, workflow management, monitoring and reporting, corrective action management, parts non-conformance, approval management, customer complaint management, audits and inspections, and document management.
Product data management: Tracks changes to product-related data to enhance collaboration and improve productivity through the reuse of design data.
Reporting and analytics: Keep product information stored within the solution.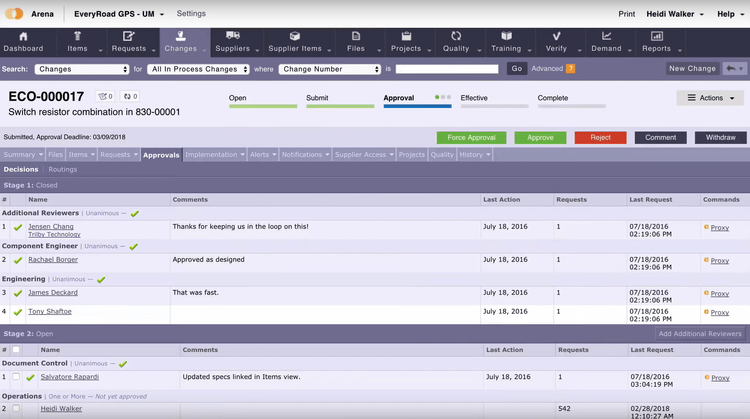 What Are The Stages Of Product Lifecycle Management?
A product life cycle is the amount of time a product goes from being introduced into the market until it's taken off the shelves. The four stages of a product life cycle are:
Introduction
Growth
Maturity
Decline
These stages are used by management for improving decision-making regarding the price of a product, how much marketing and promotion is required, what areas need improvement or changes, and more.
A PLM software gets involved at every step of the way. The introduction phase includes design–allowing engineering, simulation, marketing, engineering, and other tweaks to the process–which gives the ability to expedite the completion of a final product.
PLM software further works with other business management systems in your organization such as bill of material software, which helps you produce accurate product lists for sourcing, manufacturing, and pricing.
Since lowering development and production costs is a key end result of PLM, PLM software also provides change management, which organizes revisions and cancellations as well as tracks different versions of documents.
Who Uses PLM Software?
Product lifecycle management is primarily used by manufacturing industries. Due to the vast number of parts they source from thousands of suppliers, they stood to benefit the most from this type of system. Originally created with the auto and aviation industries, PLM can now help any company that develops products and is looking to lower costs, improve quality, or shorten the time to market.
Today, certain manufacturers such as those in consumer packaged goods stand to benefit the most by using PLM in their complex environments. This means any manufacturer of goods or merchandise that customers use and replace repeatedly can reap the advantages PLM software gives their business. The biggest example would be food, beverage, cosmetics, and cleaning product manufacturers.
PLM solutions allow CPG industries to organize projects, improve team communication, and adhere to regulatory requirements. This is especially important in an industry with shortened product lifecycles–pushing the agenda for an increased speed to market. This is as opposed to a traditional discrete manufacturing system who deal with products with longer lifespans. Because of this, PLM software tends to be segmented into different solutions depending on the targeted industry–meaning a cosmetics manufacturer may use a different PLM compared to a food and beverage producer.
Examples of Industry-Specific PLM Software
The apparel and fashion industry work in the manufacturing of soft goods: textiles and clothing. These companies have all the same concerns as other manufacturers, such as reducing time to market, staying profitable, and working with ever-tightening margins.
The apparel and fashion industry is no stranger to product design issues and will desire a product lifecycle management software that can cater specifically to their needs. Sourcing, demand management, supply chain planning, inventory, and distribution will need to be figured out.
Industry-specific capabilities of PLM software for the apparel industry include:
Style management: Includes images, colors, sizes, fit, labels, and more
Altercations and visuals: Manage images and videos of your clothing line in action (from model shoots or runway walks), check fitting quality control (ensure the products displayed size match actual size), and issue grades to your products.
Why Do Companies Need PLM Software?
What benefits does a PLM software offer to a business? PLM systems move a business through the ideas stage, into the initial requirements gathering (the plan), through the design process, to sourcing and product development, into the manufacturing process, and ends at the final finished product.
Many companies have product data scattered in multiple software tools, spreadsheets, emails, and more. This makes it painful to get all staff members on the same page so you can get back to customers on their requirements, product designs, and project status. What product lifecycle management software gives you is a representation of a product production cycle in a digital format.
Businesses are in tremendous pressure to get products to market. A cloud PLM software gets its lifecycle management in order as fast as possible. Customers can deploy quickly with a lower cost of ownership and scale as their business grows.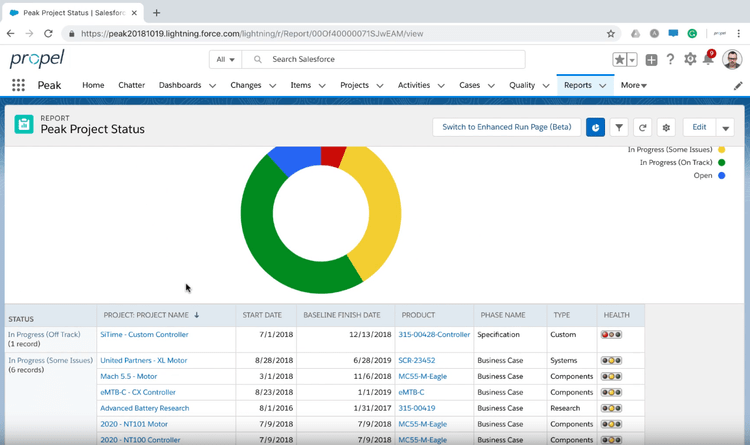 Improved Product Data Management
Product data management (PDM), which can also be referred to as product information management (PIM), is the use of software to manage data as it relates to a particular project. PDM is the process of publishing product data for all involved parties to comprehend and understand. PDM information comes in the form of materials/parts information, instructions for manufacturing, notes, documents, or computer-aided design (CAD).
In easy to understand terms, product data management acts as a centralized hub that stores the information on product history and encourages users to interact with the data and keep the information updated (by uploading data from the integrated products).
Key pieces of information found in the PDM functionality of a product lifecycle management software include:
Part numbers and descriptions
Suppliers
Units of measure
Cost
3D or CAD drawing