What is Product Management Software?
Product management software is used to improve your company's business processes when developing new products. Like product lifecycle management (PLM) software, this solution enables product managers and their production teams to collect new ideas, discuss ways to execute the idea into a finished product, and collaborate with other departments.
PLM solutions differ in that they focus on technical matters like prototyping, manufacturing or assembly issues, and eventual disposal. Product management software helps more with the conceptualization and communication elements of new product development. In particular, it is popular with agile project management methods which keep production moving forward at a fast pace to meet increasing demand.
Additionally, product management often refers to software development, rather than the production of physical products. However, some product management software is intended for either physical or virtual production. Regardless, product managers (PM) depend on software to automate the entire process from beginning to end in order to create better products.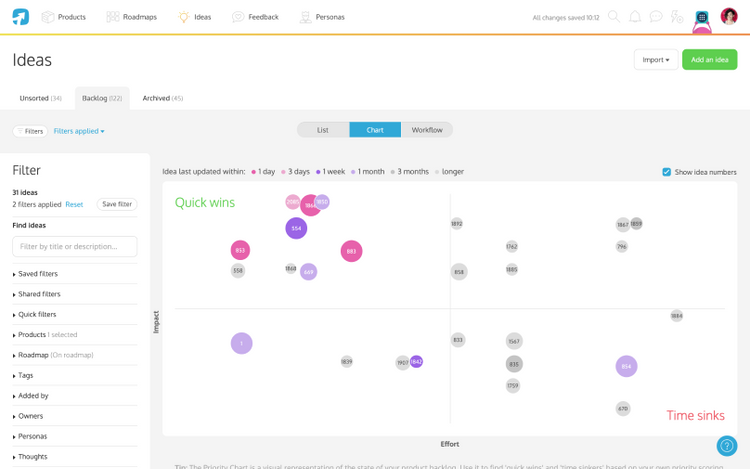 Features of Product Management Software
Idea management: Share different concept ideas with team members and allow for editing and modification for improvements
Prioritization: Determine which elements of production are most important and allocate resources to the completion of those tasks
Roadmapping: Create an optimized pathway for all elements of production, from the initial design to the final product, by aiming all efforts at the most important tasks first; may be accomplished through templates of Kanban boards, Gantt charts, or other organizational methods
Task management: Assign different tasks to team members based on who is best suited to complete it and is available to work
Resource management: Control which resources are used in production, such as physical assets, conceptual designs, and employee labor
Communication and collaboration tools: Coordinate emails, text chats, and other digital forms of communication between team members, product managers, and clients or customers
Milestone tracking: Anticipate upcoming milestones to keep projects moving towards specific goals
Release planning: Select accurate product release dates based around production progress and anticipate potential delays or setbacks
Product portfolio tracking: Keep tabs on all products, from those still in development to those which have been completed and released
Customer surveys and feedback: Gain insight into product performance directly from users through customer surveys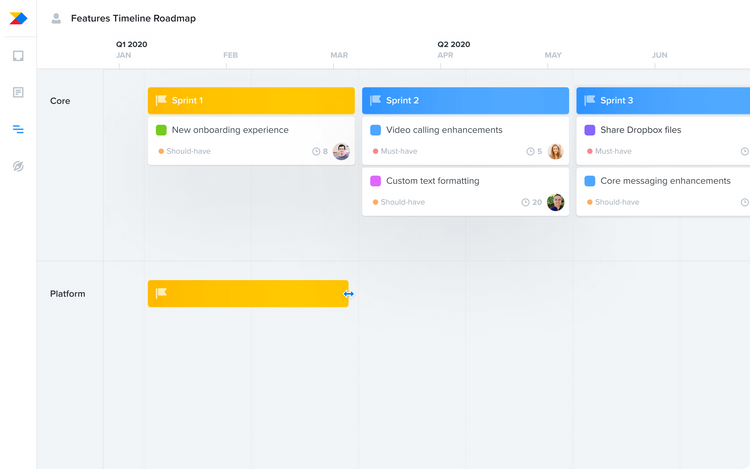 Best Product Management Software Benefits
Utilizing a product management software can provide your production team with many useful modules for streamlining your business operations. Some of these product management tools provide benefits like:
Prioritize Workflow
The first step of developing any new product is to know where to start. From startups to multinational corporations, everyone begins with just an idea, their product vision. Making it a reality may take months or years. This can entail lots of research and development, endless scrums, and going back to the literal drawing board multiple times.
Once you have a concrete idea, your product strategy needs to be carefully considered before any real work even begins. A product roadmap can establish the best pathway for workflow in both the short-term and the long-run. Address the entire lifecycle of the product to avoid any unexpected surprises.
Next, optimize your workload by prioritizing all the tasks necessary for completing your new product. Use product management software to determine what needs to be done first, move it to the front of the line, and make sure it gets started fast. Drag and drop tools let you instantly move tasks around to fit your prioritized schedule.
Additionally, product management software lets you account for backlog which may be holding parts of your project back. Real-time checks into your process can help you identify the causes of backlog and provide ideas for workarounds.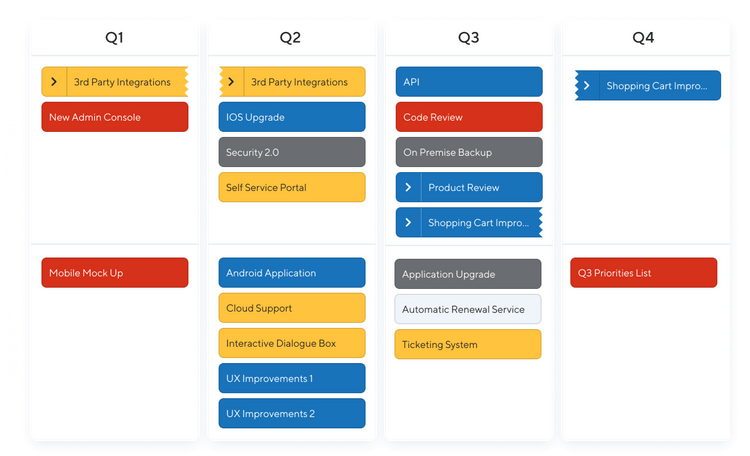 Clearer Communication
Messaging tools, ranging from text-based chats to video conferencing, make it easier for development teams to communicate and collaborate in real-time. Even remote workers can contribute more to production by being kept in the loop on the latest developments thanks to cloud-based product management software. Automated notifications can inform everyone when milestones are met or when there is building backlog.
Roadmaps built from custom templates, Kanban boards, or Gantt charts provide another way to streamline communication: visual timelines of production. These can be presented to product teams, investors, or clients to confirm progress every step of the way. And remote access tools let you share these organizational methodologies from your workspace with anyone, anywhere, at any time.
Create Higher Quality Products
Using product management software to improve your communication can lead to higher quality products. This feedback is invaluable in modifying your product to better meet consumer needs. Product management tools like customer surveys allow you to measure satisfaction with product features and make adaptations based on their feedback.
The more customer feedback you gather, the more accurately you can address any potential issues. Even internal user feedback can be essential to learning what is necessary to design a better product. If you are specifically a software developer, product management systems can provide tools for user testing and bug tracking to reduce possible errors when it's time to launch your product.
For instance, you can build customer personas with product management software, letting you better personalize your offerings based on specific demographics. Each persona can be edited and customized based on feedback from real customers to provide more future knowledge when developing the next new product.
Product Management Software Pricing
Product management software pricing tends to follow the same pattern, with SaaS plans based on how many users, makers, or admins will be using the platform. Plans may be as low as $5 per user or as high as $74 per user. Others have a capped monthly amount for a set number of users. Most solutions also offer discounts for annual subscription billing.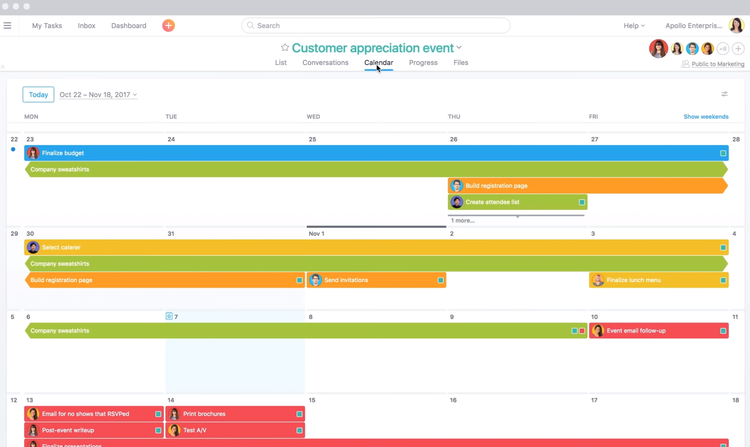 Product Management Trends of 2021
There are several new trends in product management. One notable trend is the increase in remote workers across every industry. Product management software, as mentioned above, allows for streamlined team collaboration between workers, even if they are not all in one place. This was occurring even before the COVID-19 pandemic, though many companies were pushed to adopt more remote practices faster as a direct result of 2020.
Another trend has been the increase in customer feedback from digital surveys. Results can be received faster than ever, allowing companies to make changes to products instantly based on real user experience. This leads to greater customer satisfaction and better products overall.
Finally, more product managers have started specializing team roles. No more is it up to one person to wear every hat, instead the workload can be shared for a more efficient workflow. These new specialists can do everything from customer outreach to data analysis, whatever the manager needs most to follow the product roadmap as efficiently as possible.