What is Real Estate Accounting Software?
Real estate accounting software tracks income and expenses from real estate transactions. This includes commission management, contract management, and financial reporting to brokerages, realtors, real estate investors, property managers, and other real estate professionals.
Real estate accounting systems will track income from real estate transactions and rental income. Broker and agent commissions can be managed from the software–set commission percentages and caps as you see fit. The system also tracks business expenses like office space rentals, advertising costs, utility bills, and more. Run reports on income and expenses, the values of active and expired listings, and other key performance indicators to get a better idea of how your business is performing.
Real estate accounting software can also assist with contract management. Some contracts you can manage with the software include purchase agreements, assignment contracts, and lease agreements. The system will ensure you're using the right forms and filling in all required information to manage your real estate transactions.
Real Estate Accounting Software Features
| Feature | Description |
| --- | --- |
| Core Accounting Features | Track revenue and business expenses in real-time. Modules include accounts payable, accounts receivable, and a general ledger. |
| Commission Management | Calculate commission rates for real estate agents and assign commission caps as needed. |
| Financial Reports | Create reports on real estate transaction values, listing values, overall income and expenses, and more. |
| Contract Management | Upload, edit, and store real estate contracts including purchase agreements, lease agreements, and assignment contracts. |
Commission Management with Real Estate Accounting Software
Real estate accounting systems automatically calculate the commission amounts based on the commission rate and the final sale price of the property. The real estate brokers–both the listing broker and buyer's agent broker–get a percentage of the property's sale price as commission. The listing broker splits their commission with the listing agent and the buyer's agent broker splits their commission with the buyer's agent.
The real estate brokerage typically determines the commission percentage and split rate between the broker and agent. The real estate accounting software allows you to set this percentage for commission calculation. You can also set commission caps for agents.
Accounting solutions will also take into account any taxes or fees that need to be subtracted from the commission total. For example, any self-employment taxes, state and federal income taxes, and fees including dues, MLS fees, advertising costs, and more. The software makes it easy to track income withholding come tax time. This information can also be used to file tax returns.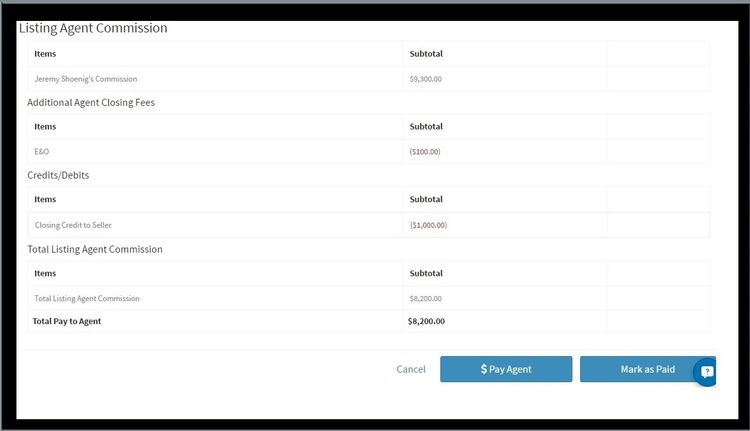 Financial Reports with Real Estate Accounting Software
Real estate accounting software give you a better sense of overall ROI and cash flow via reporting tools. Real estate agents and brokerages can monitor the value of any current or expired property listings, as well as a breakdown of property sales values from each agent. Reports can also be run on how long properties have been listed on the market–this is helpful to know if a property isn't selling well, the value may need to be adjusted.
Property management companies can also use real estate accounting software to run financial reports on income and expenses from rental properties. The reports can give you an overview of rental income, vacant units, and expenses on advertising, repairs and maintenance, and more.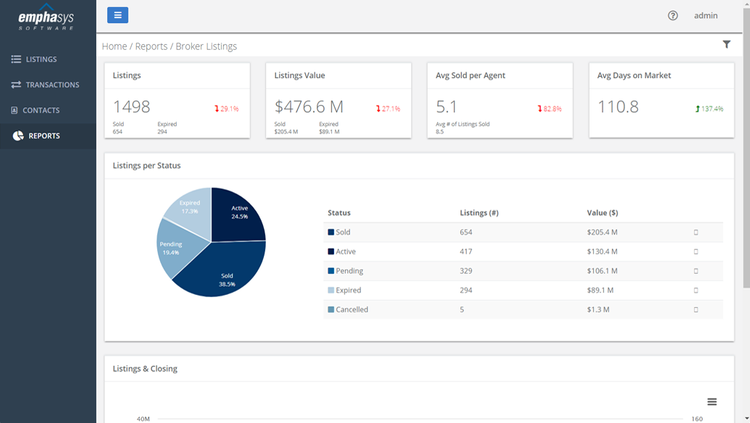 Contract Management with Real Estate Accounting Software
Real estate accounting systems allow you to store, upload and update various types of real estate contracts including:
Purchase Agreements
Purchase agreements define the sale terms between the buyer and seller. The system will ensure all information required by your state is included in the State/Association Purchase Agreement forms. Typically the purchase agreement includes the property's address, final agreed-upon price, the names and signatures of the buyer and seller, and the closing date.
Lease Agreements
The lease agreement is a contract between a renter and property manager or building owner. The lease agreement will contain the name and contact information of the landlord and tenants, the property address, rental term lengths, rental payment amounts and due dates, security deposit amounts and terms, and dated signatures by the landlord and tenant. The software will also ensure the tenant rights and responsibilities are outlined on the form in accordance with the appropriate state regulations.
Assignment Contracts
Assignment contracts are primarily used by real estate investors. The contract allows the property owner to give the investor the right to buy the property. The investor can sell the right to purchase to another party (the end buyer) for an assignment fee. The end buyer will complete the purchase and acquisition of the property.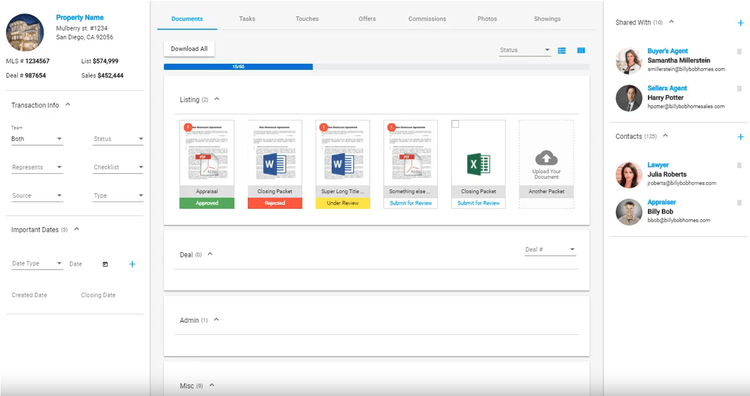 Best Real Estate Accounting Software
The best accounting software for your real estate business depends on a number of factors like the type of business you're in and the size of your company. Maybe you want to integrate with an existing real estate brokerage software. Larger companies may need a robust solution that manages basic accounting in addition to agents, real estate transactions, and contracts. Small businesses might need a reliable accounting system that helps them move away from Excel spreadsheets for more accurate income and expense tracking.
Some popular accounting software options for the real estate industry include:
Realtyzam is marketed as an accounting solution that is built just for real estate agents. Agents can use Realtyzam to track income and expenses, link credit cards and bank accounts to automatically upload transactions, generate tax reports, upload receipts, and run financial reports. Realtyzam is cloud-based and also has a mobile app for Android and iOS devices.
Realtyzam starts at $9.95/month when billed annually (or $12/month billed monthly). A free 30-day trial is available. For startups, Realtyzam can be used for free after the 30-day trial–the software is free until 3 properties are sold or $5,000 of income and expenses are logged into the system.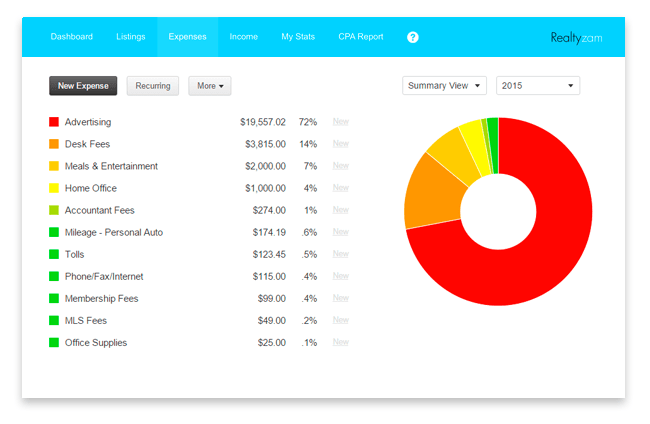 CORE BackOffice is a back-office accounting and commission management system for real estate brokers and agent teams. This system features agent onboarding, agent billing processing, custom commission plans and closing fees, direct deposit, custom workflows, and more.
Pricing for CORE BackOffice starts at $99/momth + $1.50/agent/month. Custom pricing is available for brokerages with over 500 agents. Integration with QuickBooks is available for an additional $50/month, as well as integration with Zoho Dashboards and Reports for another $25/month.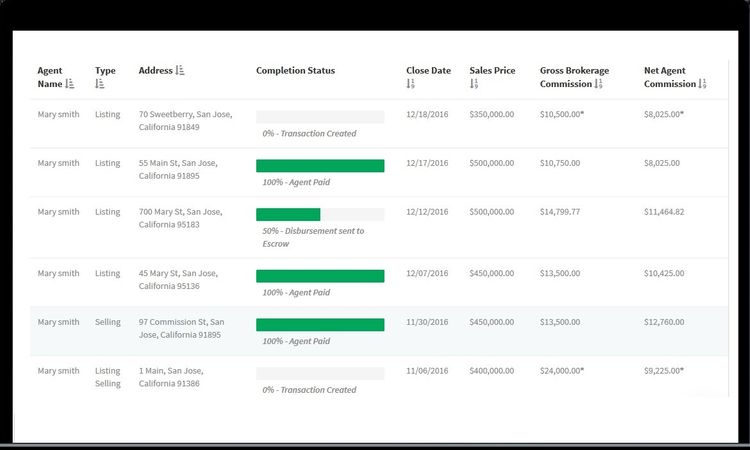 QuickBooks Online is a popular solution for many small businesses. QuickBooks can be used by property managers with few tenants or properties, house flippers, and independent real estate agents to record income from rentals or commission, as well as track expenses from equipment and materials purchased to fix a property or other business expenses. Real estate agents can even track vehicle mileage from driving between properties to showings for their tax returns. As your business grows, you'll likely need an industry-specific option to calculate commission percentages and manage real estate contracts.
The most basic QuickBooks Online plan starts at $25/month for basic income and expense tracking. If you want bills management or access for more than one user, you will have to upgrade to another QuickBooks Online plan.