Bringing buyers and sellers together. It's the fundamental challenge of the real estate brokering industry. Behind that simple challenge is an enormous amount of complexity, though. In order to manage that complexity, real estate brokerage companies are increasingly looking for software-based agency management solutions. Read on to find out about the software available to real estate brokers and how it can benefit your business.
What Is Real Estate Brokerage Software?
Real estate brokerage software helps automate your real estate brokerage through proper transaction management and keeping tabs on your agents and the commissions they earn. The software also helps increase sales for your brokerage by turning prospects and leads into closed sales through proper marketing and lead nurturing in a CRM, as well as helping to keep you compliant with the necessary documents you or any buyer needs to take care of.
Real estate brokerage systems can work as a fully-integrated solution with accounting, CRM, commissions and sales analysis, or it can be a single-application solution providing one of those needed tools (usually used in combination with other software). Real estate brokerage software can also include investment analysis tools, which let you evaluate investment properties to determine if they would be profitable for your real estate business to pursue.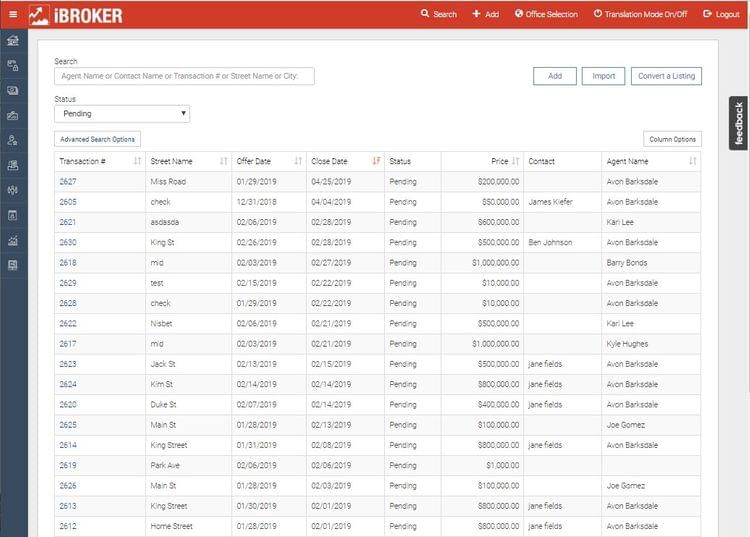 Features of Real Estate Brokerage Software
| Feature | Description |
| --- | --- |
| Real Estate Transaction Management | Includes financials and primary accounting (AP/AR). Monitors workflow of transactions. Automates paid at closing and commissions letters. |
| Brokerage Management | Create commission plans, manage multiple offices, send out announcements, create sales reports, assign tasks to agents, white-label and customize software/templates/invoices with your brand. |
| Agent Management | Track all activity of your agents. Monitor sales and calculate commissions paid out to agents. Create custom workflows, set user permissions, manage recruitment of new agents, and create agent production reports. |
| Electronic Signatures and Document Management | Store all needed documents and forms needed during entire real estate process. Manage an audit log of changes made to documents. Allow users to sign digitaly via electronic signatures (e-signature) from mobile devices or from a web-browser. |
| Real Estate CRM | Assign Leads to agents, create pipelines and stages to help with benchmarks and goals in regards to new prospects, convert sales opportunities into transactions on the back-end. |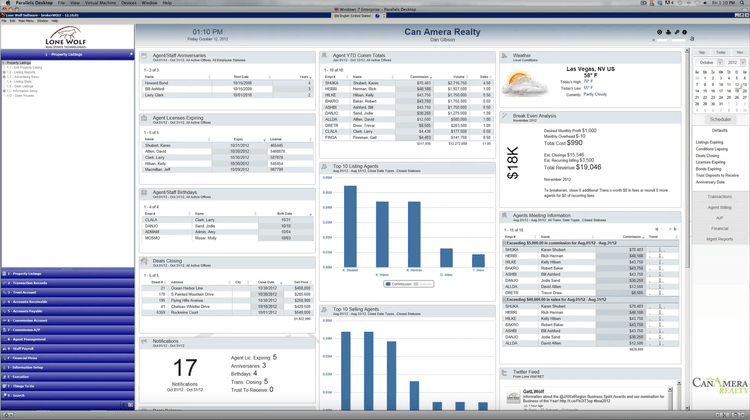 Benefits of Real Estate Brokerage Software
Let's take a look at some of the modules that real estate software solutions provide:
Accounting Software for Real Estate Brokerage
Comprehensive real estate broker management solutions include back-office accounting features to help provide automation and control in terms of company financial management.
Accounting modules are responsible for:
General ledger consolidations
Accounts payable transaction processing
Asset depreciation
Bank reconciliations
Accounting modules provide a real-time view into your organization's financial health while offering transparency to understand rates of return and cash flows.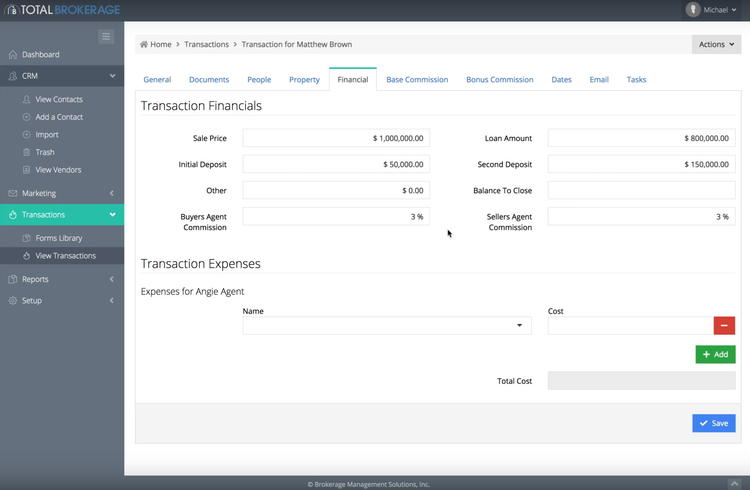 Real Estate Agent CRM Software
Customer relationship management (CRM) solutions help maximize opportunities to connect and stay connected with buyers and sellers.
A CRM module provides a centralized repository to track all contact and customer information. Having all customer-related data stored in a normalized format offers a tremendous advantage in terms of marketing coordination. Many CRM modules integrate email and social media functionality to help execute marketing campaigns.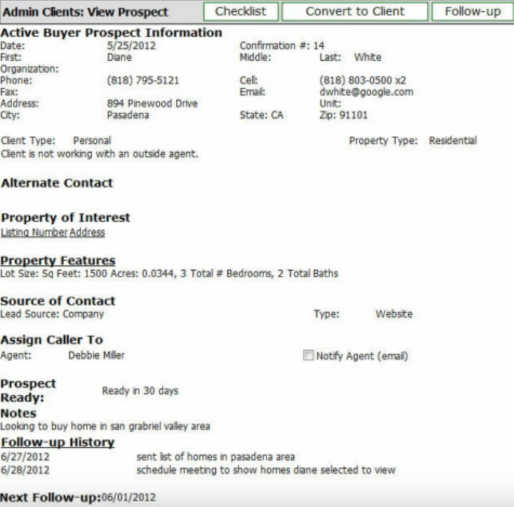 Real Estate Commission Calculation and Processing Software
Real estate broker solutions typically include robust and customizable commission calculation and processing capabilities for managing payouts to W2 and 1099 employees alike. Employee portals that allow agents to track their own commission payments are becoming increasingly more common in software solutions of all sizes.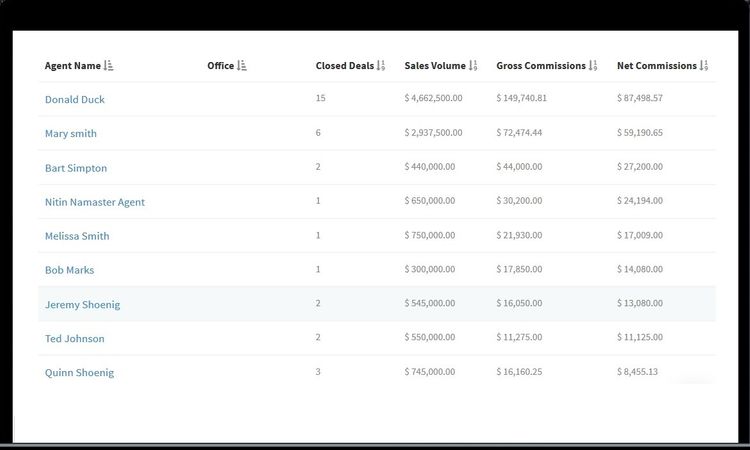 Real Estate Sales Analysis and Forecasting Software
Sales analysis and forecasting modules assist by tracking milestones in the sales cycle. In addition to assisting with cash-flow projections, milestone tracking throughout the sales cycle can provide great insight into understanding where improvements can be made to turn a higher number of prospects into completed sales.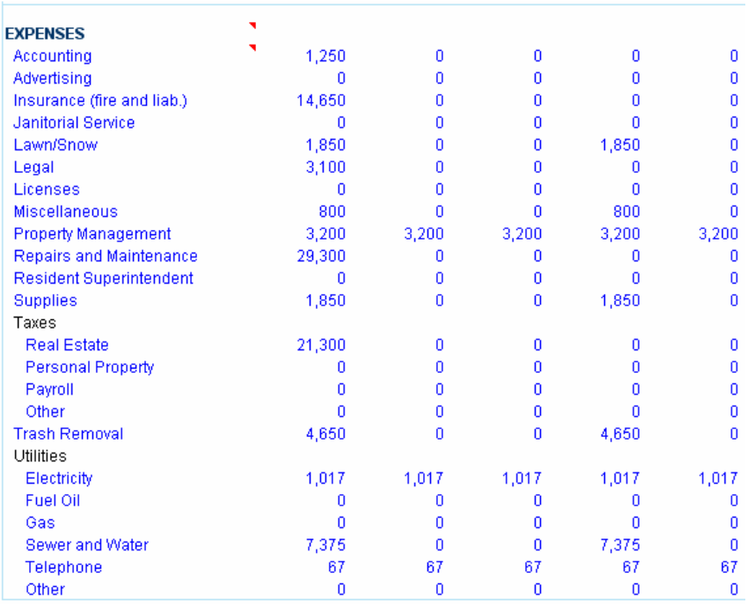 Real Estate Listing Managers and Web Integration
Integrated, web-based listing managers are now becoming bundled with full agency management solutions. Web tools provide the ability to publicize properties on the market and often integrate with MLS search integration.
A strong web presence is a critical tool, as more and more buyer's focus the majority of their research efforts through online searches.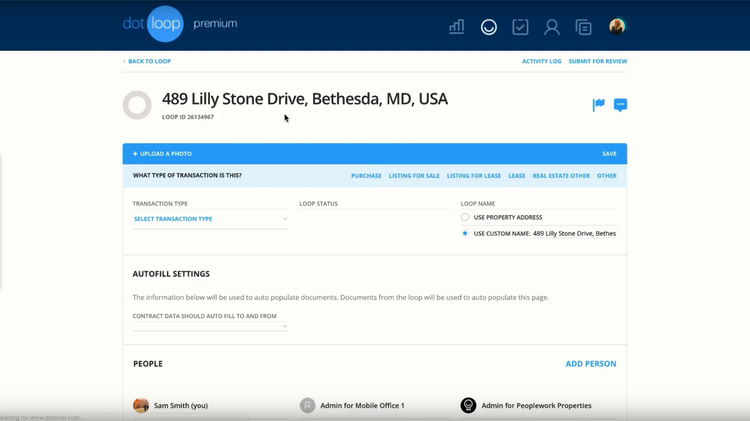 Real Estate Showing Scheduling Software
An integrated and consolidated scheduling resource, deployed across the organization, can be an invaluable time-saver that both promotes efficiency and prevents issues like double-bookings and missed appointments.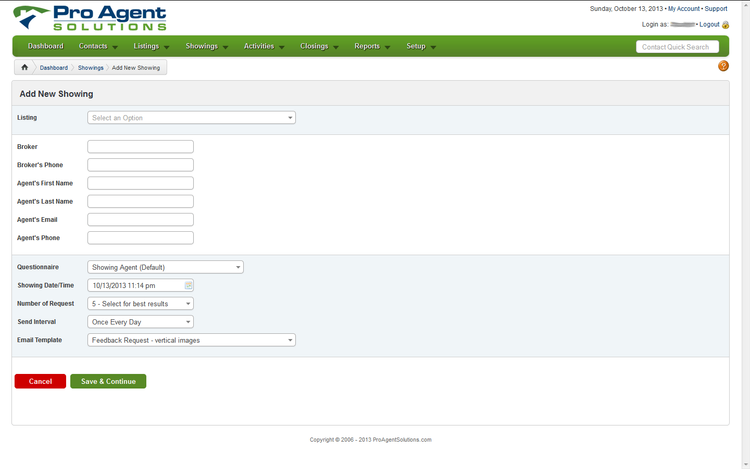 Real Estate Reporting Software
Real estate brokerage agency have some specific financial reporting concerns. The ability to report on sales and inventory by property type, geographic region, and responsible agent is unique to the industry.
Many programs offer custom report writers that allow savvy report writers to tap directly into database fields to construct their own custom reports. The ability to save these reports as templates can be a major time saver. Additionally, management-oriented dashboards can offer an important tool for quickly conveying a large amount of information in real-time to top decision-makers.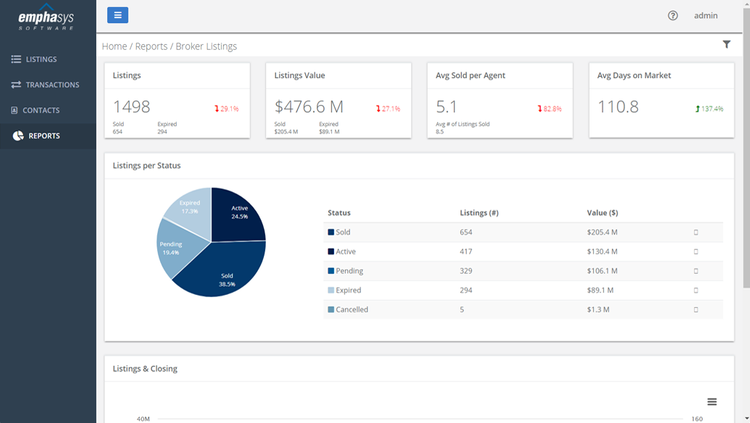 Real Estate Form and Document Management Software
Document management programs offer the ability to database documents in a centralized repository. Maintaining consistent, single versions of documents is critical to removing error and loss opportunities.
Document management programs facilitate collaboration by easily offering uniform access to multiple parties. The ability to pull in communication from multiple different communication channels (fax, email, scanning) and of multiple different media types (documents, phone records, video, web, paperwork) is an important feature of document management solutions.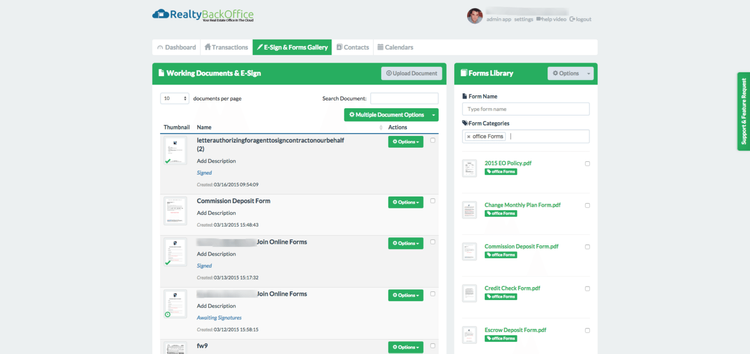 What Does Your Business Need?
Depending on your specific outlook into software, there are comprehensive solutions designed for:
Number of Users
Full agency management
Task-specific programs
Specific or Broad Needs
Back-office accounting
Commission calculation
Document management
Industry Type
Commercial oriented solutions
Residential oriented ones
Target Company Size
Owner-operators
Multi-office real estate corporations.
While the features included in the different solutions may vary, the idea behind all of this software innovation is to provide you with the tools to run a more efficient and effective agency and close more deals. Finding the right program for your specific needs will help maximize that opportunity.
Pain Points Solved by Real Estate Brokerage Software
To understand the breadth of options available, it's useful to first consider some of the concerns that real estate oriented solutions address. Some of the key business questions that today's real estate broker software solutions address include:
How do you effectively locate and connect with new sellers and buyers?
How do you optimize your workflows to run an efficient office?
How do you manage the sometimes overwhelming amount of documents that real estate offices deal with?
How do you spot trends in the market to capitalize on faster-moving property segments?
How do you manage complex commission structures in a way that keeps top-performing sellers happy and selling for you?
Which agents are performing well and which are not?
How do you handling the scheduling of showings, closings, appraisals, and other appointments?
Taking the Next Steps
Managing a successful real estate brokerage is no small feat. But it is significantly easier with the right software tools. Whether you are looking to augment an existing real estate accounting solution with task-specific modules or looking for a comprehensive solution, there are options on the market that are right for you. Mobile access, SaaS options, social media integration, and collaboration tools are just a few of the software trends making their way into the real estate arena and allowing real estate agencies to operate more efficiently.
If you are at the point where you are ready to find out which real estate brokerage programs are right for you, we can help. Through a brief phone call, our software specialists will look to better understand your business and software needs to help you locate a handful of solutions that can address the issues you are currently experiencing. Get started today!