What Is Real Estate Transaction Management Software?
Real estate transaction management software streamlines the transaction process of the real estate industry through document management, e-signature capabilities, lead nurturing, and monitoring listings and showing. Transaction management platforms will streamline your real estate workflow with less paperwork and an increase in automation, meaning you can start to close sales faster and earn more commission by working new leads.
Real estate software helps create full transparency in the property buying and selling process. The best real estate transaction management software will let real estate professionals manage deadlines by keeping their transactions organized and on track. They can also create automated workflows via task management, which creates the ultimate closing plan for anyone involved.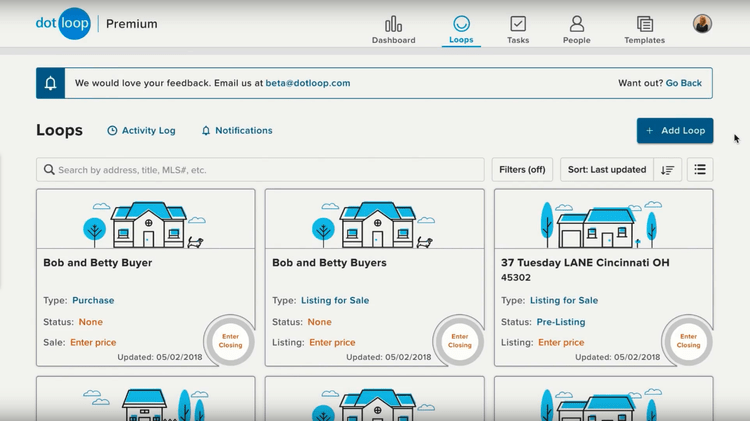 Features of Real Estate Transaction Management Software
Audit Management: Review files with customized checklists. Ensure all listing documentation such as purchase agreement agency disclosure, and contingency files are included, signed, and accepted.
Listings and Showings: Create listings and schedule showings via an online portal. Monitor your showings' history and client offers made. Update listing statuses to reflect listings with pending or accepted offers.
Real Estate CRM (Customer Relationship Management): Assign leads to agents, create pipelines and stages to help with benchmarks and goals in regards to new prospects, convert sales opportunities into transactions on the back-end.
Document Management: Store all needed forms and ensure your documents get signed with electronic signatures (e-signature) capabilities.
Reporting: Get metrics and analytics/insights on agent performance, the growth of your brokerage, and where opportunities were missed.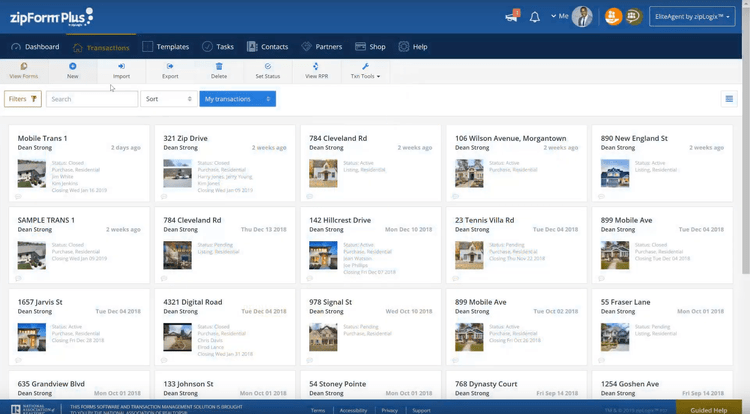 Benefits of Real Estate Transaction Management Software
Software technology can help bring your real estate office into the next century and close more deals faster than you ever thought possible. Some of the top benefits of real estate transaction management software include:
Structured Compliance
One of the most stressful parts of closing a sale is the amount of paperwork needed to complete the deal. An adequate real estate transaction management software will have all the needed documents ready to be used, and set tasks during the transaction process to remind the agent and buyer of what still needs to be completed and signed. This will reduce any risk the brokerage has in the process, on top of making the entire process more streamlined and convenient for all involved parties.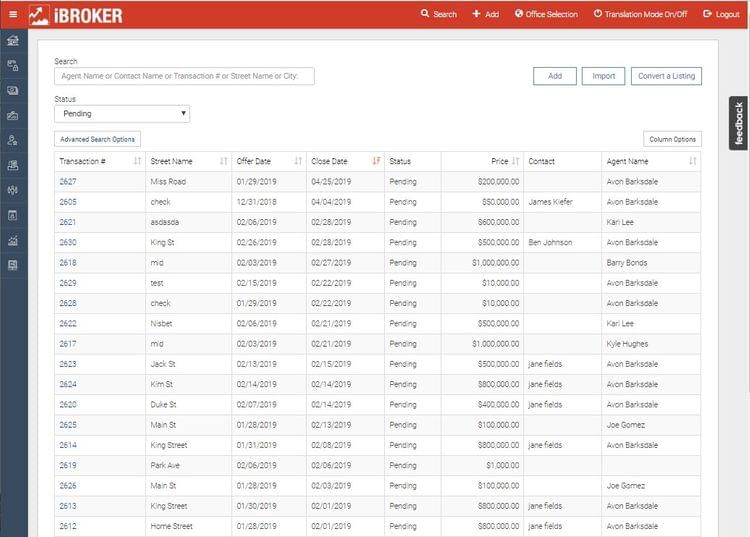 Anytime, Anywhere Access In The Cloud
Web-based and Software as a Service (SaaS) options have been changing the way real estate business is done. Mobile software via a phone or tablet now acts as a centralized hub for buyers and sellers to collaborate on documents, schedule meetings, and take care of signing needed documents. This can be handled from any location your device has internet access.
Clients can also become more informed as to where they may be at in the purchasing process. A realtor that updates their client at every step of the way will lead to increased client satisfaction, while also eliminating many of the administrative tasks needed to be performed once arriving back at the office.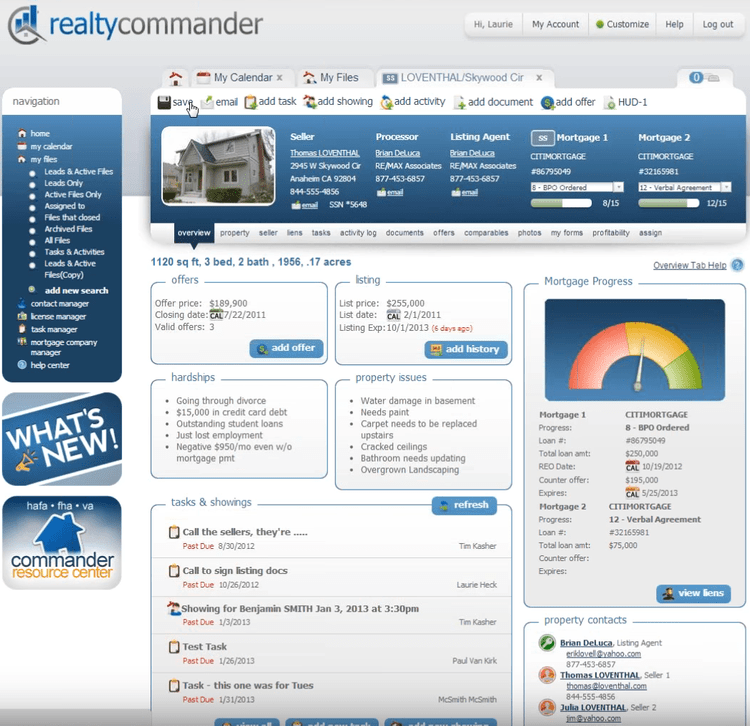 Save Time Through Efficiency and Organization
A key benefit of real estate transaction management software is the ability to free up time so agents and brokerages can make more money. Real estate agents have no two days alike, as they may be assigned varying tasks from their brokerage such as open houses, generating leads, meeting with clients, and closing on a deal.
Implementing a real estate transaction management software can get rid of a large volume of paperwork involved in each transaction, and speed up the process of closing a sale for all involved individuals and parties (such as insurers and appraisers). Going completely digital and having a unified collaborative workspace can eliminate the headaches of manual document storage and sending documents back and forth. This can mean spending less time on each transaction, meaning more time spent on closing more deals.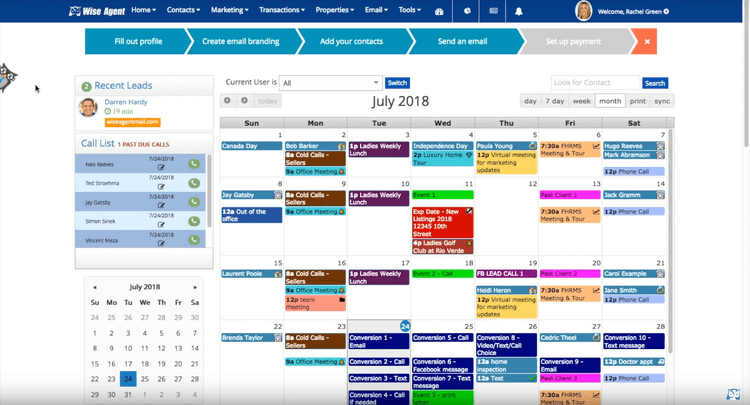 What Type of Buyer Are You?
Whether you are a single agent trying to improve their organization, or a large brokerage managing thousands of agents and trying to stay automated and compliant, there are real estate transaction management solutions that can meet your needs.
Real Estate Agents
Agents will want real estate transaction management software that focuses on what matters the most: proper paperwork and happy clients. Agents, buyers, and sellers will continuously write, edit, sign and send documents back and forth as they make offers, modify the contract, make counteroffers, etc.
A common issue for real estate agents is where different versions of documents are being passed around. This is because every time a document is emailed or faxed to a party, you are essentially creating a new copy of that document. There is also zero collaboration or communication going on during this process.
Agents will want to have a collaborative workspace where all involved parties (agents, buyers, and sellers) can edit, share, and e-sign their documents (such as via DocuSign integration).
Agents can also take advantage of mobile technologies by finding real estate transaction management software that allows for iOS or Android access. With mobile access, agents can pull up documents on the fly to create transactions, make changes, add signatures and initials, and more.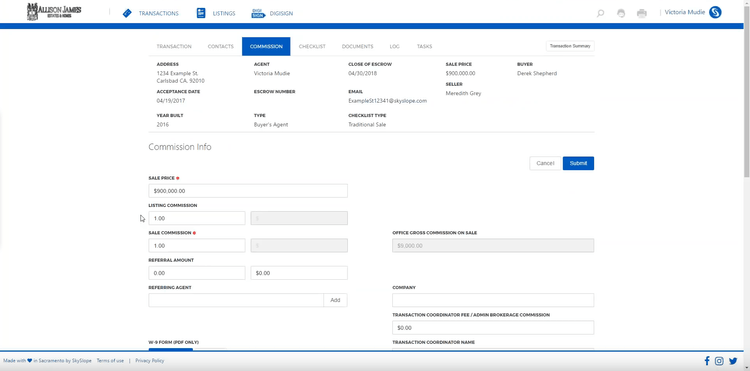 Real Estate Brokers
Real estate brokerages will want to find a collaborative solution that will let agents, brokers, and managers work together for real-time visibility into your agent's transactions. A quality real estate transaction management software will let you easily check the status of any deal, review all your documents, and ensure compliance.
Brokers need a better way to view documents, communicate with agents, ensure compliance, and store files. Brokers used to waste time managing transactions, tracking down agents, and round up missing paperwork. Adding in multiple software solutions that do not integrate with one another just added onto the stress.
A real estate transaction management software for brokers will let you create tasks list to check off items, provide notes to agents to remind them of tasks to fulfill, or even create your own customized review process based on your brokerage's workflow. This will free up more time for brokerages to focus on tasks outside of their software system, such as recruiting, coaching, and marketing their business.
Brokers should also look for a solution that provides proper reporting. This will let them monitor ongoing deals and pair them with an agent. This can let them monitor an agent's performance and see how their success stacks up to others. An agent's transactions are visible through the broker dashboard, a management and compliance portal where brokers can view everything from one solution. This helps streamline compliance, as all involved parties are now working together to ensure all forms are taken care of.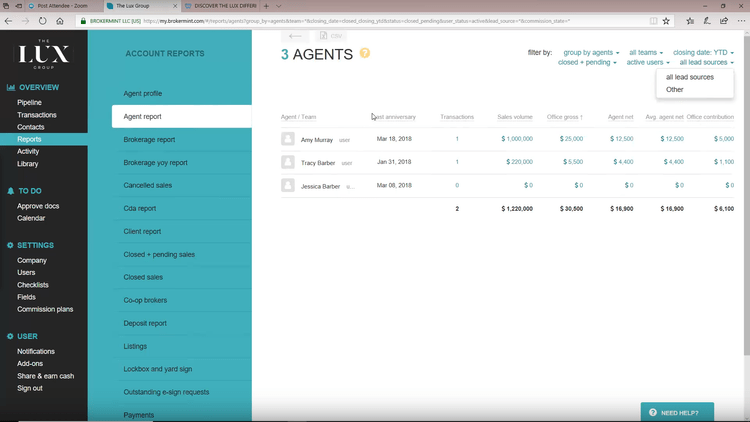 Real Estate Brokerage Software
Real estate brokerage software helps automate your real estate brokerage through proper transaction management and keeping tabs on your agents and the commissions they earn. Brokerage software also includes CRM capabilities to nurture prospects and leads, and full back-office accounting for your office (to cover commissions, expenses, etc.).
Simply put, real estate transaction management software focuses strongly on improving your transaction process, and may or may not include additional features. A real estate brokerage software is more of a "fully-integrated" office management option; intended to fulfill all software needs of your organization. A real estate brokerage software will include transaction management as a functionality, but a real estate transaction management will typically not include all the features that a brokerage software has.
To determine if your needs require a real estate transaction management system or a real estate brokerage system, you'll want to know a few things about your software needs. This includes the number of users, whether you have specific needs (improving your transaction process) or broad needs (manage the back-office real estate accounting), the type of industry you work with, and your target company size.
Read more: Best Real Estate Brokerage Software