What Is Revenue Cycle Management Software?
Revenue cycle management software (RCM software) helps automate and streamline claims management, payment processing, and the overall revenue process of your healthcare organization in real-time. A key part of medical billing software, revenue cycle management is the financial process used by healthcare organizations to improve cash flow from tracking all patient care from the initial phone call, appointment scheduling, co-pay, and final payment on the remaining balance.
Revenue cycle management is more of a process than it is software. RCM solutions help ensure you follow the proper steps during the medical billing process. This includes before visit tasks such as insurance eligibility verification, during visit assignments such as collecting co-pays, and the after-visit responsibilities of claim submissions and denial management.
Having an established healthcare revenue cycle management system is crucial to proper medical billing in your organization. This type of software can be used by all types of healthcare organizations, from physician practices to behavioral health. RCM processes can be found in many EHR systems or medical practice management systems as a way of better handling patient engagement involved in your medical billing services.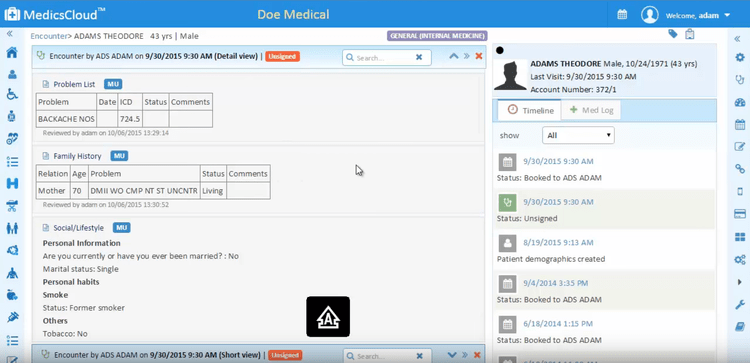 Features of Revenue Cycle Management Software
Scheduling: Record details of patient contact with the office and set up appointment times in a calendar
Eligibility Management: Verify insurance eligibility, assess plan information, expedite patient check-in, determine patients with HSA and high-deductible plans, and speed up collections with current co-payment and deductible info
Charge and Code: Render medical services into billable charges. Create and assign the proper codes to the patient account depending on their diagnoses, procedures performed, prescriptions given, etc.
Claim Management: Submit claims of billable fees to insurance companies, check the validity of claims, track all unpaid claims, and determine when claims need to be statused based on payer payment patterns.
Denial Management: Investigate unpaid claims, appeal rejections, create templates with pre-populated information, monitor the appeal process.
Patient Financials: Track patient payments coming in such as deductibles and co-pays. Collect any additional payments due to remittance. Set up payment plan terms and ensure proper collection occurs within the organization's accounts receivable solution.
ICD-10 compliance: Stay compliant with ICD-10 cataloging by examining risk adjustment trends, analyze general equivalency mappings, and optimize your employees by keeping a thorough record of medical billing transactions.
Benefits of Revenue Cycle Management Software
Revenue cycle management software will help your medical practice save time, reduce denials, and speed up collections. This will lead to clean claims, improved decision making, and an overall business process that leads to an improved population health of your community.
Save Time and Effort
The billing process starts with insurance and provider enrollment verification, and revenue management software will help verify this information. When done manually, this process consists of reaching out to insurance companies via phone, fax, or email, and using valuable time and materials on gathering simple verification data. Many times, to avoid future headaches, a medical provider will need to have all insurance information verified well in advance of any appointment or procedure.
Insurance verification and provider enrollment are two benefits of revenue cycle management software that are crucial to beginning the process. This type of verification is usually handled when scheduling patients over the phone or via a web-app and can ensure patients are only seen if these qualifications are met. Reduce Denied Claims
When you improve your front-end processes with revenue cycle management software, you can avoid or reduce denied claims from occurring. Claims are usually denied due to:
Incorrect or missing patient information
The patient not having insurance
The insurance carrier not covering the specific service
RCM software helps you avoid these denials by ensuring any claims being sent out are accurate before submission. If you do happen to come about a denial (which will happen) during the regular course of business, the RCM software will be able to prioritize higher value claims, filter denials by reason codes, view original claims and check for errors, and create appeal letters.
Speed Up The Collection Process
Patients do not usually make payments at the time of their appointments (with the exception of co-pays). Because of this, it's up to the medical practice to ensure the complicated insurance process is moved through as quickly as possible.
A revenue cycle management software will automate collections by auto-populating fields on various submission forms (eliminate the need for duplicate entry), electronic processing of co-pays or any other out-of-pocket cost, and link electronically to any follow-up tasks that require staff attention.
Healthcare Revenue Cycle Management Flowchart
The healthcare revenue cycle is very complex. If not properly managed, your organization can lose time and resources trying to maintain the cycle or get back on track. The goal of every healthcare organization should be to have a healthy revenue cycle, which means maximizing profits and ensuring that revenues continue to come on a frequent basis. Revenue cycle management software is the tool used to help automate this process.
What is the healthcare revenue cycle? What does it's flowchart look like? Some organizations may have a more simple workflow with only 2 to 3 steps. Others can be as many as 9 or 10. We've helped break down the cycle into the below flowchart: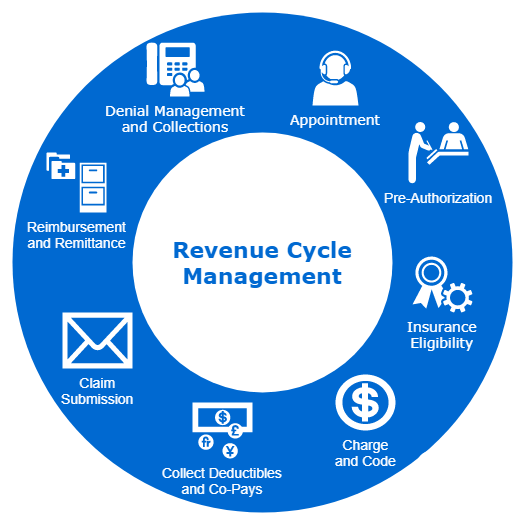 Appointment and Pre-Authorization
Patients will call in to create an appointment. You'll need to code their information into your RCM system, such as their contact details, insurance information, and any medical concerns. This information is usually collected over the phone, as it needs to be collected before the patient arrives for their procedures or check-up.
When a patient is registered into the billing system, they undergo pre-authorization. The medical practice will generally pre-approve a number of treatments and potential prescriptions during this process. This pre-authorization is based on the initial glance of their insurance or medicare, and what will typically be approved by their insurance provider, given the requested services.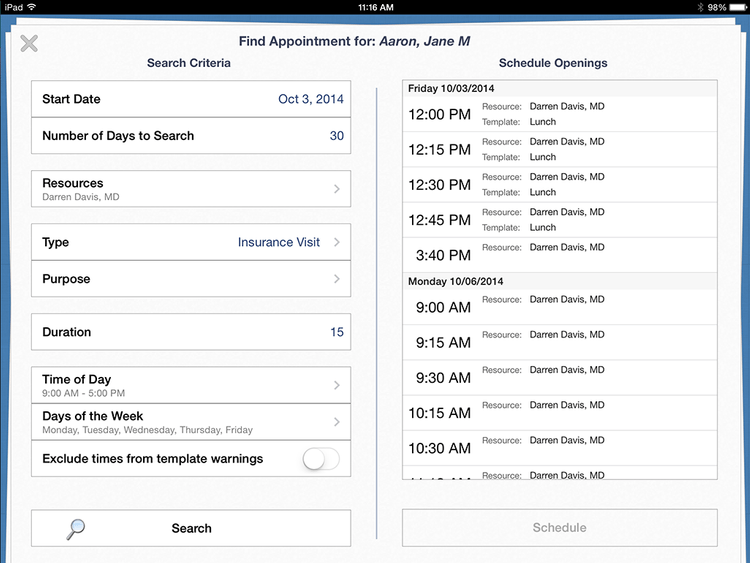 Verify Insurance Eligibility and Charge and Code
When a patient has arrived at the medical office, additional information will be collected. This lets the office create a medical record number and meet any regulatory and clinical requirements. It is also an opportunity to help the patient with their Explanation of Benefits (EOB) statement which details exactly what services and/or treatments are eligible to be paid for under their insurance plan.
With the patient in the office, the end-user will capture the medical services rendered into a billable charge, and code their diagnoses and procedures.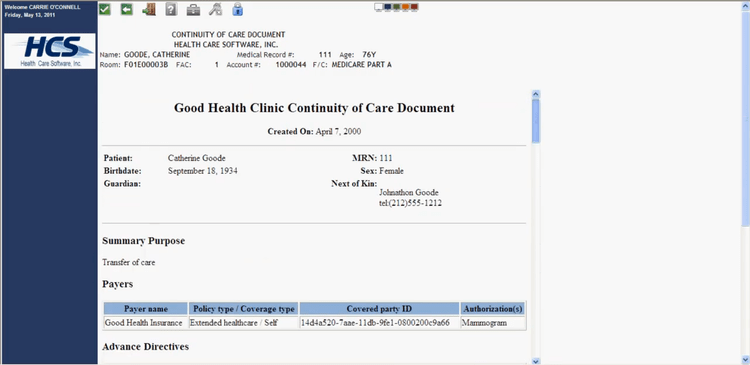 Collect Deductibles and Co-Pays
Your medical practice will need to begin the patient collection process through the initial collection of any co-pays or deductibles that are required to be paid. These numbers will vary wildly depending on the patient and the insurance they have. This payment must be collected before the insurance company starts paying for any health care services rendered.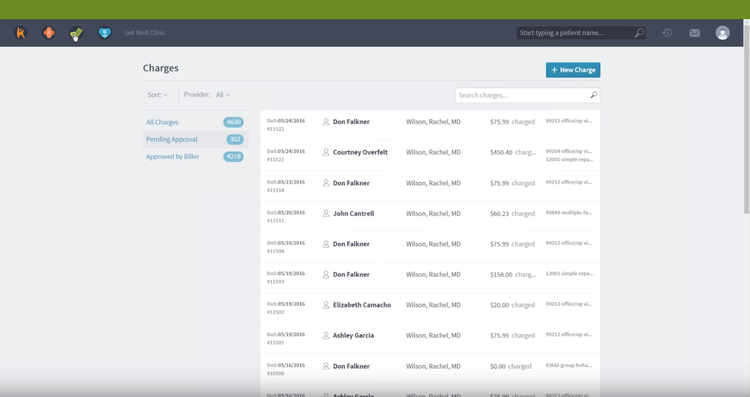 Claims Submission
Claims submission is when your medical office submits the billable fees to the insurance companies. A biller files this information with the insurance companies via a clearinghouse, which helps to ensure that the information is clean and free of errors.
This process comes immediately after the medical services have been rendered, the appointment is complete, and a deductible and/or co-pay has been collected from the patient.
Claim submission is one of, if not the, most important step in the revenue cycle management process. Any errors in the claim submission process can greatly reduce the payments received, or increase the chance that the insurance company denies your claim. A revenue cycle management software helps connect the practice management software information with any needed medical billing info, and the operation of sending the information to the insurance company.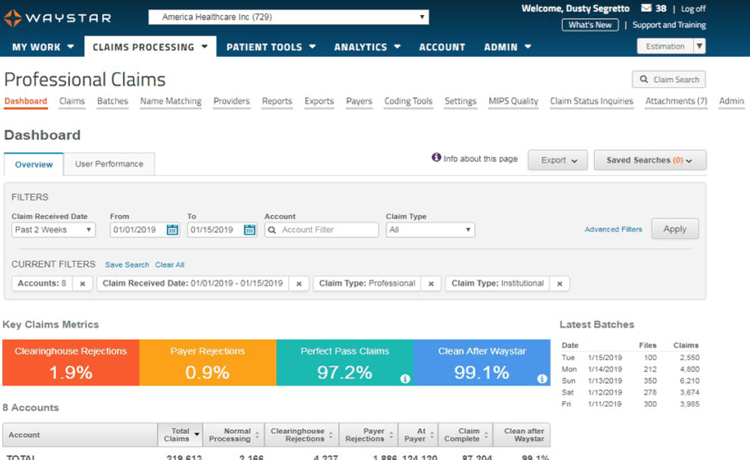 Reimbursement and Remittance Processing
Remittance processing is applying or rejecting payments. The insurance companies need to match their policies with the charges filed on the claim and ensure it is covered with the patient's plan. If approved, the payment is sent back to the medical practice. If information is missing or incorrect, this can lead to a denial.
A revenue cycle management software ensures information goes out correct and without errors the first time around. Received reimbursements can be moved into the next step of recording them in the organization's financials. If the inevitable error does occur, the RCM software will bring the claim to the front and ensure it is given the proper attention it deserves.
Denial Management and Collections
Rejected claims are considered denials, meaning your practice will need to follow up with the insurance company to gather additional information, object to their reasoning (if necessary), and/or resubmit the claim once it's been cleaned of any mistakes.
Resubmitting claims should be of importance to your revenue cycle, as they present a clear hurdle to getting paid what your organization is owed. If something is truly not covered by the insurance plan, the collection process can begin immediately with the patient.
Collections from patients mean determining a balance and collecting payments to cover the balance. The balance is determined by taking the charge minus any reduced reimbursement from the payers (insurance provider).
A revenue cycle management software will prioritize these needed communications with the insurance provider, and ensure the proper collection steps are put into place with the patient if it arrives at that step. This includes sending outstanding payment invoices to the patients as well as additional follow up.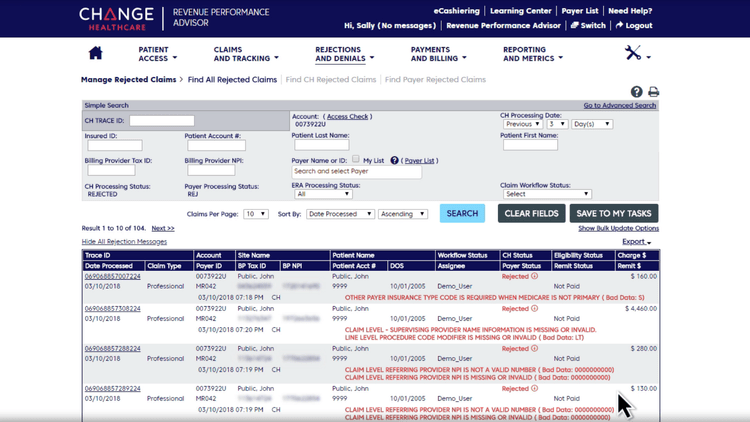 In-House Medical Billing Software or Outsourced RCM Services?
Many revenue cycle management software vendors also provide revenue cycle management services. In other words, they'll manage your RCM process for you, usually with their own medical billing software that they've developed or are experienced with.
When searching for an RCM software, you'll want to decide how much of a hands-on approach you and your staff will take: Does your staff have the time to learn the software and use it effectively over time? Or are you willing to pay to let a company handle your revenue cycle management process for you? The latter would be outsourced medical billing, and it can be a very realistic, practical, and affordable way of handling your revenue cycle management process.
If you choose to outsource your revenue cycle management, the service provider will file claims and work on denials/appeals on your behalf, leaving you more time to focus on your practice. If you don't have the expert IT personnel in your organization or a dedicated employee to handle the medical billing process, outsourcing may be the most efficient route to take. However, this can usually incur a higher cost than keeping it in-house, as the service providers tend to take a flat percentage of the net collections.
If your medical practice does have employees capable of handling this type of work, revenue cycle management software is the ideal choice. Your organization will have much more responsibility to deal with, from coding, submitting, and following up on claims, in addition to submitting these claims in a timely fashion. However, this in-house method is far more inexpensive and gives you more control over the process.
Medical Billing Software and Revenue Cycle Management
While medical billing involves the process of submitting and following up on claims with health insurance companies, revenue cycle management is the administration of these financial transactions.
You may wonder if your medical billing software can be considered a revenue cycle management solution. Or, if your practice does not have software in place, you may wonder whether you should pursue a medical billing software or something advertised as a revenue cycle management software. Rest assured, revenue cycle management software and medical billing software are basically the same things.
Since revenue cycle management is more of a process, an RCM software is a medical billing software that includes checks and balances along the way to ensure the RCM workflow is as automated as possible while alerting you to any roadblocks along the way.
As long as your medical billing software or HIPAA compliant accounting software can help guide you through eligibility checks, collecting co-pays, creating and submitting claims, and handling denials, you'll know that your revenue cycle management process is being handled effectively.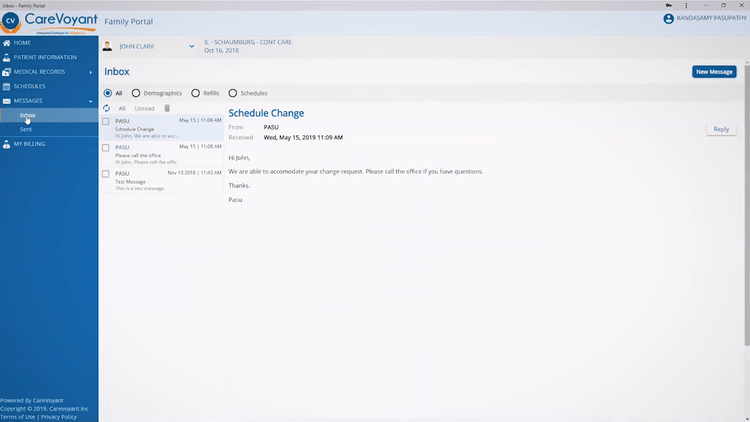 Artificial Intelligence in Revenue Cycle Management Software
Artificial intelligence, or AI, has been a desired part of healthcare systems for years. But how is AI being applied to these healthcare IT systems?
Healthcare leaders are always looking for innovations that can improve their revenue cycle. Machine learning and artificial intelligence are technologies that may be able to improve the accuracy of documenting critical health details. This should not only improve your revenue cycle but also defend your organization in the vent of any medical review.
One RCM software company CEO had the following to say about the exciting future of AI in health IT:
Specifically within the revenue cycle, application of clinical natural language processing can improve coding, achieve real results in clinical documentation improvement, and allow clinicians to focus on care rather than the administrative burdens that pull on them for billing. Optum has invested in AI and enabled several of our health system clients to take the cost out of revenue cycle so that resources can be invested in care delivery improvements. Tom Boehning, CEO at Optum360
Another leader RCM vendor, Change Healthcare, hosted an in-depth webinar on applications of AI to revenue cycle management software and services.