What is Farm Management Software?
Farm management software helps in operating a farm's production and increasing its profit by having an understanding of agricultural economics, plant sciences, animal care, and proper engineering for farm facilities, tools, and machinery. This is accomplished through forecasting and measuring profits, tracking field activities, farm accounting, livestock management, labor management, crop plans, crop management, inventory control, and monitoring the performance of your staff.
All types of farms and agribusiness can benefit from automating their operations and productions, including crop farms, fish farms, dairy farms, poultry farms, livestock farms, or meat farms. Farm management software can also be used by grain elevators, cooperatives, ethanol production plans, feed stores, petroleum outlets, and any other business with a tie to agriculture.
Farm management software can help both small and large farm operations measure their profitability in real-time at the enterprise, crop, and field-level. This is accomplished through comparing projected vs actual usages/costs of your inventory, forecasting revenue, proper crop and field planning, and yield variability (for more in-depth management of your farm financials, please consider farm accounting software).
Features of Farm Management Software
Harvest Management: Increase the efficiency of your harvest. Manage multiple harvests and productions through weight/load management and proper timing and scheduling of feed, seed, chemicals. Manage employee-level production levels per individual field. Monitor weather and moisture levels and any risks associated with staying on schedule.
Crop and Field Planning: Create operational plans by scheduling all farm activities. This includes crop plantings, a watering schedule, as well as when to order seeds. Intended to ensure a business stays on schedule with plantings and harvests. Can help a business stay properly staffed during expected harvest dates or in the event of unplanned pests.
Cost Tracking: Track expenses involved in your production process. Manage the purchases of goods such as seed, fertilizer, and chemicals. Record costs involved with overhead, repairs, and insurance and overall increase your bottom line.
Soil Testing: Sample your farm soil for improved topographic information and make better decisions. Learn how your inputs move through your soil based on the physical and chemical characterization. Get a better understanding of soil texture, compaction, root zone depth, and moisture retention. Manage the complete nutritional profile of your soil for optimal soil fertility. Establish boundaries to sample via grid sampling or zone sampling.
Pesticide Management: Develop a pest control plan based on your crops and manage external risks. Minimize or eliminate pesticide use and/or increase the precision of pesticide application in needed areas. Automated pest and disease alerts can help ensure crops are protected at all times. Reduce the use of pesticide applications and eliminate spray mistakes or skipped rows.
Inventory Management: Track and manage on-site and off-site inventory of all raw materials involved in the production process. Includes crop seeds, fertilizers, pesticides, fuel, harvested crops, and more. Organize inventory for the day's work or the entire season. Track maintenance of equipment via work orders to know when proper preventive work needs to be completed.
Contract Management: Manage agricultural contracts for all involved business partners. Create and agree upon contract terms prior to execution and settlement. Improve your farm record-keeping for expenses related to specific deals, consolidate settlements, make amendments, and manage risk.
GPS Field Mapping: Create farm maps via satellite imagery or via publically available means. Create custom maps to display topography, roads, or areas of crops. Use GPS technologies via mobile devices (iPhone and Androids) to draw field boundaries, establish mark points, and find distances between two points of interest. Improve the precise application of pesticides, herbicides, and fertilizers.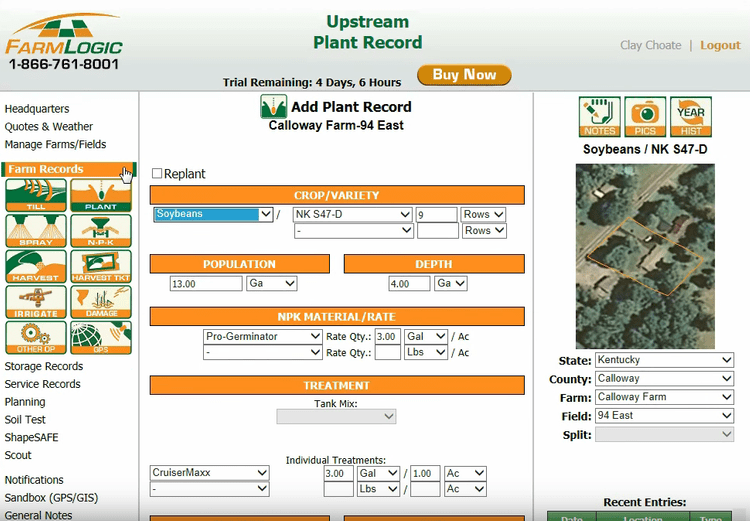 Benefits of Farm Management Software
The larger the farm can mean the more acreage that needs to be tracked. Using manual methods such as a spreadsheet can make this process daunting, especially if a farm has to use multiple spreadsheets to record income/expenses and another for on-field activities. The best farm management software will keep your operation more organized and automated than ever before, and also help find cost savings in areas you didn't think possible. Some of the top benefits of farm management systems include:
Access to Real-Time Information
Farmers need up to date information on weather patterns, current disease outbreaks, and if there is a chance their crops could be swarmed by pests. Outside of cautionary measures, farmers will want to have an idea of their employee tasks, their daily/weekly/monthly costs, and their revenues. This can let them know if their current workflows are in line with projections and their budget, and will lead to a more profitable operation.
Fields can be connected in real-time, which can let machine operators see where other drivers are and note which fields have been handled/picked/sprayed so no time is wasted second-guessing or calling around.
Farmhands can also access their data in the field via mobile apps. Using an Android or iOS smartphone device, they can log into a corresponding mobile app to report on crop production in the field and confirm the weather forecast.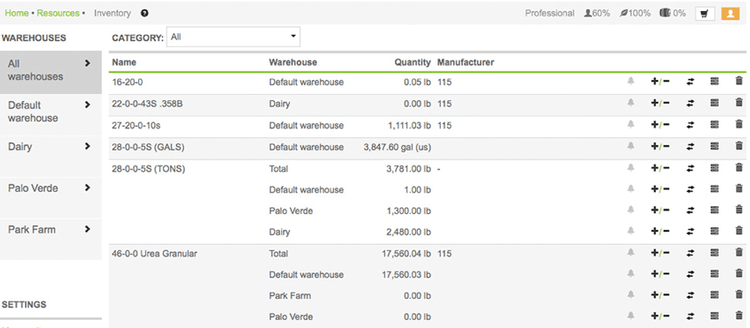 Industry-Specific Assistance
Farm operations have many facets to control, such as tracking financials, proper upkeep of their operating equipment, and ensuring their product hits the market on time. Farm management software can provide a means of meeting all of your business requirements under one unified system.
Implementing a generic or "industry-neutral" software (such as an ERP solution) can be a gamble. Just as farmers need the correct skills to produce what the market wants, an industry-specific software will be able to implement the best practices into your farm operation. This means improved strategic, tactical, and operational planning in the cultivation planning and planting schedule, crop protection, monitoring weather conditions, using the right fertilizer types at the right quantities and at the right time, and more.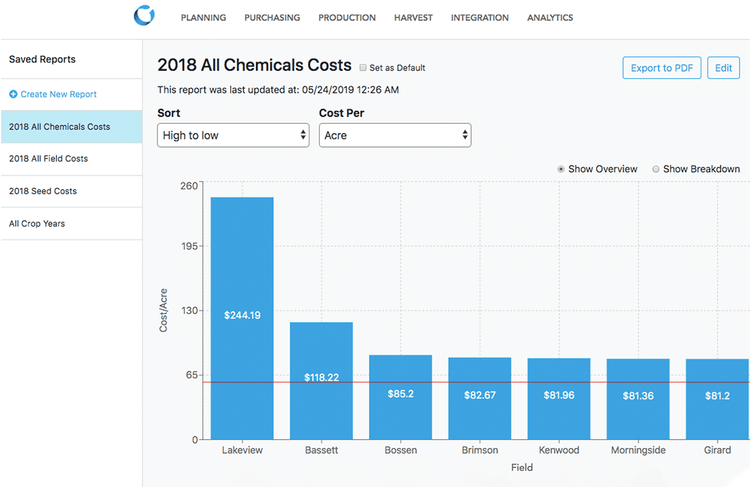 Improved Compliance
Farm management software will help you comply with regulatory requirements in the agricultural industry. This includes the Global Agricultural Practices (GAP), Good Handling Practices (GHP), and Hazard Analysis Critical Control Point (HACCP) via the U.S. Food and Drug Administration (FDA).
These type of audits and good practices will help ensure that finished goods, such as food product, is packaged, handled, and stored in as safe a manner as possible. They will also ensure that the highest quality of product hits the market.
Automation in these compliance measures can also save time on the back-end. Workers will spend less time generating reports or digging for necessary details in their data management program.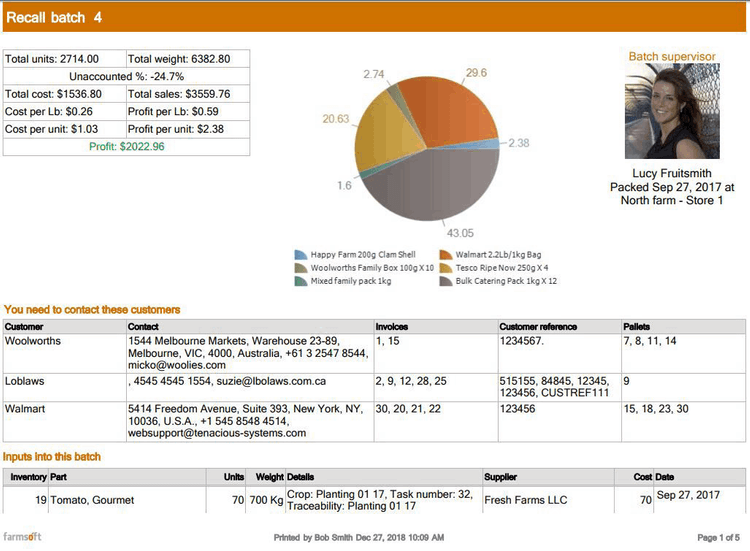 Cost of Farm Management Software
The price of farm management software will vary depending on your desired number of users and/or preferred method of deployment. Some farm management systems such as AgSquared start as low as $10/user/month. Other options, such as Farmer Core, are only $199/year.
These yearly payment options will bill annually and usually provide a discount over month-to-month payments. This type of recurring payment structure is typically found in web-based or cloud-hosted software-as-a-service (SaaS) software.
Software that is installed locally is usually purchased outright. This upfront cost includes licensing, implementation, and any needed training. For example, software such as FarmLogic can be had for a one-time cost of $1,499.
Keep in mind, many advertised prices are simply starting prices designed to get users in the door. These prices do not take into account what your actual cost may be when you factor in the size of your business, the number of users, the number of acres being managed, and more.
Free Farm Management Software
For small farms just getting started, there are some free farm management software available. These options will be limited in functionality, and are usually intended to introduce you to a solution. Paid upgrades are always available, and they are great ways to demo a solution.
Farmer Starter from Trimble: An online and mobile platform for farmers to stay organized. It's primary usage is to manage client/farm/field names with boundaries. The software can be upgraded to the paid Farmer Core software at any point.
FarmLogs Lite: The free version of FarmLogs lets you store data on fields, recent rainfall, scouting, and future prices. It also includes access to support articles by their customer experience team. The software can be upgraded to the paid FarmLogs at any point.
What Type of Farm Management Software Do You Need?
Given the sheer amount of farms that exist, it can be hard to find a software that is unique to whatever type of crop, livestock, or feed/grain your farm produces. Luckily, software developers have been creating farm management software that will work for a multitude of farm industries to ensure your needs can be met. However, these different types of farms will want to look for certain featuresets to be included in their farm management software.
Crop Farms
A crop farm is involved in the commercial production of agricultural crops such as sugarcane, cotton, tobacco, fruits, vegetables, and grain. Many crop farms, especially ones producing corn, wheat, soybeans, cotton, and rice, are grown on single-crop farms that use all or most of their land intensively on a very large scale.
A lot of the crops generated at crop farms help feed livestock for animal feeding operations or is food created for human consumption. Crop farms also help fuel the textiles industry through the production of fibers such as cotton.
Depending on the type of crop being farmed, most crops can be farmed via modern management techniques, mechanical harvesting, genetic modification methods, or hydroponics. A crop farm management software is designed to help see this farm process out from seed to harvest to sale.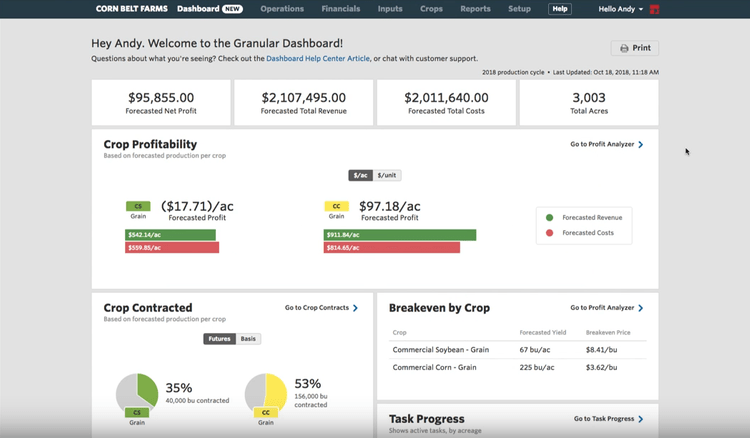 Fish Farms
A fish farm (also known as aquaculture or pisciculture) involves raising fish in ranks or enclosures such as custom-built ponds. These fish are usually raised for the purpose of human consumption. Fish farms are a way of producing seafood or protein that can be sold by a commercial business.
Fish farm management software helps improve feeding, reduce costs, avoid costly mistakes, and provide improved traceability to your operation. The software can also help manage the hatchery to ensure the population is being tracked appropriately, eggs are growing in the perfect environment, the cost of goods can be calculated, and more.
Dairy Farms
A dairy farm raises female livestock (usually cows) to be raised for their milk. Milk can be processed to be sold as milk, or used in other dairy-based products such as butter, cream, and cheese.
Dairy farm management software provides an overall view of your dairy operation, including herd management, food consumption of cows, birthing rates, and cow tracking. Advanced software can know when specific cows were last milked, when they've been idle for too long, the last time they've been fed, and also provides reminders for a routine check of the livestock for diseases or other complications.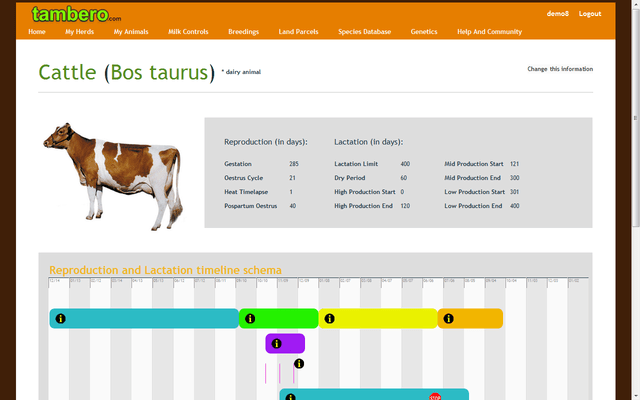 Poultry Farms
Poultry farms raise chickens, turkeys, or other types of poultry for meat consumptions. Some may also (or only) raise chickens for the eggs.
Poultry farm management software will track and report on feed conversion rate, the death rate of the chicken, the conditions of the coops they are being kept in, hatching birth rates, and breeding strategies. The biggest difference in deciding which type of poultry software to choose will be in whether you are producing meat or eggs. Egg producers will want a solution that can compare eggs produced among the coops and hen houses, and keep a close eye on feed consumption. Is your feed conversion ratio providing you with enough eggs? These type of reports are available in a poultry farm management software.
Livestock Farms
Livestock farms raise animals that can produce labor (such as helping to plow fields or horses to pull carriages), for pleasure (such as a horse stable), create commodities (such as fur, leather, and wool) or be slaughtered for their meat.
Software for livestock farms can be referred to by a number of things, depending on the animals being raised. Livestock management software, ranch management software, horse farm management software, etc. These solutions will log animal records, track genealogy, report on reproduction rates, track commodity production, manage vaccinations, track their grazing schedule, and record animal weight and health to know when they are ready to be brought to market.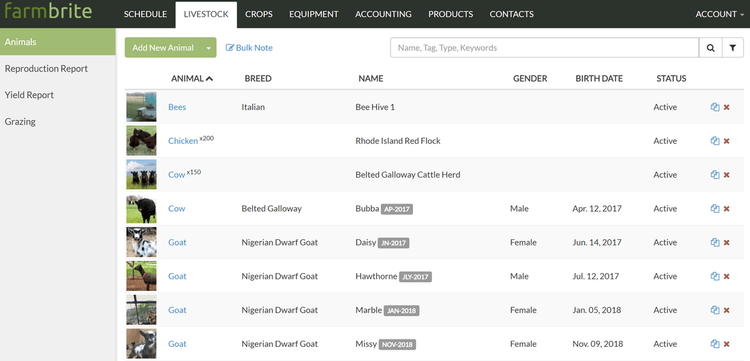 Is QuickBooks a Farm Management Software?
QuickBooks is one of the most popular accounting software solutions to date, and can be used to manage the accounting processes involved with running your farm (see: Is QuickBooks A Farm Accounting Software?)
Given the low cost of entry and overall affordability of QuickBooks compared to other options, the software is very attractive to many first-time software buyers. However, agricultural producers who seek an inexpensive way of handling their management tasks should seek elsewhere. QuickBooks will not be able to handle the management tasks and production monitoring that is included with any farm management software.
For businesses looking to find an affordable way to manage their accounting, QuickBooks can still be a great asset to use, but you'll be advised to look elsewhere to find a program that can manage your harvest, plan your yields, ensure you have the right quantity crops on hand, and create 3D renderings of your fields.
Satellite Imagery and the Use of Drones
Precision agriculture mapping has been on the rise for many years in the farming industry. Satellite imagery can be seen as a boon in farming, which can provide daily or weekly crop images for farmers that subscribe to specific services. In combination with UAVs, manned aircraft, and ground-based sensors, the crop producers will have a large wealth of images to improve the management of their crops.
The benefits of satellite imagery or the use of drones in farm management software are:
Monitor crop health with continuous field coverage
Accurate record-keeping detailing the history of your growth production and use of chemicals/pesticides
Create management zones
Detect anomalies
Monitor vegetation and growth rates
Include "worked on" paths that follow machinery as to avoid duplication of efforts