Farmers carry the timeless position of providing food products for human and animal consumption. Whether an organic farmer, a rancher, a dairy farmer, or even an alligator farmer, farmers have always needed a way to organize the financial transactions they deal with, which is how farm accounting software came to be.
Farmers work in one of the most important part of the agriculture economy and will always be depended on. As new technologies come about to help them harvest more crops or improve the lifespan of various livestock, farmers will always do what it takes to stay productive while also staying on top of the latest trends. Software companies quickly realized that accounting for a farm is much different than accounting for a construction company or a retail store. In that sense, farm accounting software became its own niche in the technology world.
Here's what we'll cover in our guide:
What is Farm Accounting Software?
Farm Accounting and Agriculture Software provides financial management for farms, farmers markets, ranches, abattoirs, and large-scale ag operations to help them turn a profit. The software can be as simple as keeping an electronic checkbook ledger or spreadsheet, and be as complex as an agricultural ERP solution to manage orders, crop inventory, plan expected harvest quantities, and more (See: Best Farm Management Software).
While many generic accounting software options can meet a farm's needs, farm accounting software handles managing specific needs of farmers and agricultural businesses. The solutions are developed with farmers in mind and can provide features, functionalities, benefits, and reports specific to the industry.
For example, while a manufacturing company may buy many pieces of raw materials to create finished goods in a set amount of time, farmers are buying seeds, fertilizer, and tools to help their products grow which can only be harvested after a long period of time. The business becomes more seasonal in that aspect, and the accounting needs to take those situations into account.
Key Features of Farm Accounting Software
| Functionality | Description |
| --- | --- |
| Accounts Payable | Provides the ledger for expenses such as livestock, feed, seed, and more. Includes invoice processing, payables approvals, and executing payments. |
| Accounts Receivable | Tracks money owed to you and manages customer debt collection. Invoice customers/clients for materials such as seed or chemicals you produce, and adjust the price owed easily. Create customized invoices with your logo for a professional touch. |
| General Ledger | Prepares a net worth statement, cash flow statement, compare budgeted versus actual costs, create a chart of accounts to track seed, chemicals, fertilizer, and review income/expenses by these categories. |
| Payroll | Manages all elements of executing employee compensation, including wage calculation, check printing or direct deposit, and payroll tax management. Enter payroll records and record employee hours on timesheets. |
| Equipment/Structures/Land/Livestock Asset Management | Keep track of depreciation on any and all assets the farm uses for their day to day operations. Monitors when equipment has lost value and allows for smarter decision making when a potential replacement needs to be found. |
| Agricultural Inventory Management | Manages supplies used, and crops harvested. Collect field records, purchases made for new items and sales made of finished goods. |
Cost of Software
The cost of farm accounting software will depend on which modules you need. Some farms can get by using an industry-neutral solution such as Freshbooks that starts at $15/month. Others with increased needs may need to start looking at an agriculture software developed specifically with a farm in mind, such as Ultra Farm which starts at a flat rate of $550.
The key questions to ask when determining how much you can budget for software is:
Are you looking to purchase a software outright (higher upfront costs) or pay on a subscription-based pricing model (lower upfront costs)?
What functionality modules are a NEED, and which are a WANT?
How many user licenses will you need?
Do you need ongoing support?
Do you need assistance in setting up the software?
Do you and/or your staff need to be trained on the software?
Software Benefits
Below are some hand-selected benefits of farm accounting software:
Better understand profitability. Farm Accounting Software will give your accountants better metrics specific to the industry involving economic farm surplus or something similar. You can also look at working costs to milk solids, which is popular in the dairy farm industry. Keeping these figures up to date based on current milk solid prices will ensure you have the most accurate picture of month-to-month profits.
Make decisions based on comparable product costs. Agricultural companies don't have the luxury of being able to keep constant prices on the products they sell, as they are always at the will of market volatility. Because of this, it's important farmers specialize in their most profitable products. Having an adequate Farm Accounting Software will let you see all of the direct and indirect costs that are consumed in the production of various products, and let you beat the margins each year. You can also look into finding better deals on various fixed expenses, such as rent on facilities used.
Protect the future of your operation. Better farm accounting helps you prepare your taxes, find margins, and measures your profitability easier. Keeping accurate records of your production levels will ensure you are complying with your insurance. Having real-time inventory records will let you sell your products much easier.
What Does Your Business Need?
Small farms need to cover their core financials by tracking income and expenses, and are probably looking into some level of reporting to review their overall numbers and perhaps check the profitability of certain areas of the operation. Farms of smaller size can usually get by with a simple accounting software such as QuickBooks, or another small business accounting or entry-level accounting system with a low initial cost. Whether single-entry or double-entry accounting, this type of software should at it's core let your bookkeeper create a balance sheet and allow for better record keeping.
Mid-sized farm operations need to consider industry-specific reports in order to look into the margins on using specific types of seeds, fertilizers, or look into the volume being produced on certain crops. Medium sized buyers are also going to be more in need of software to handle their inventory control or more in-depth accounting features such as payroll. They may also want to consider implementing budgeting and forecasting features to get a better idea to their bottom line.
Large farms and agricultural enterprises likely need to consider ERP systems to meet their increased needs. They may have a more complex payroll for paying seasonal employees. They also may have multiple locations that handle specific types of agricultural operations and thus may want to keep separate sets of accounting records or even operate as separate entities. Larger farm operations are also more likely to have different inventory types and compare their numbers with industry standard ratios.
Examples of Products
Choosing the best farm accounting software product isn't easy, but today's farmer has more choices than ever. Below are some of options that are very commonly found in the industry and can help your operation with any tasks at hand.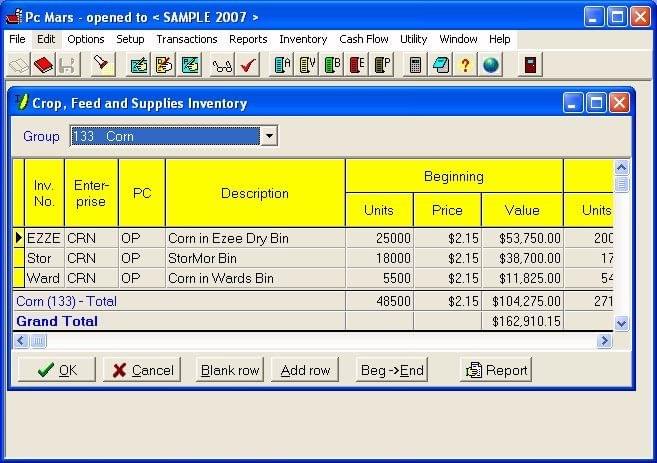 PcMars (pictured above) is a "farmer-friendly" solution developed with farmers in mind. The software is recommended for use by the Iowa Farm Business Association and offers customized inventory for tracking crops, seeds, and supplies.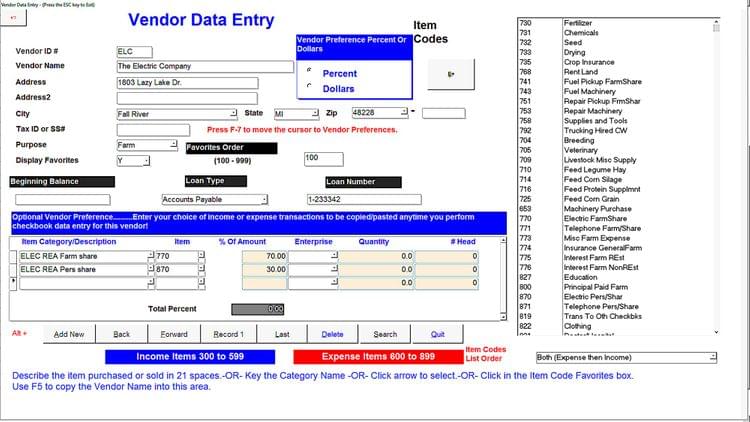 Farm Biz Software (pictured above) allows custom vendor data to be entered with preset categories related to the farm industry. These expense categories include fertilizer, seeds, chemicals, machinery costs, and more. The solution requires zero setup and includes standardized farm chart of accounts.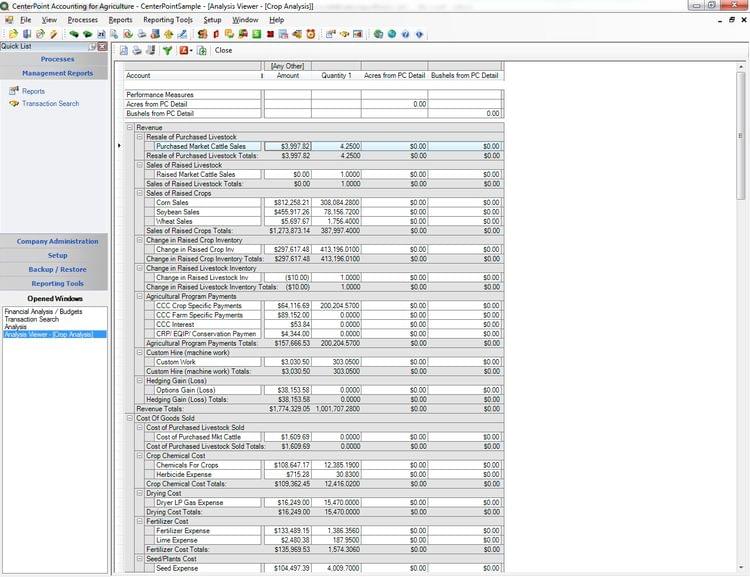 CenterPoint Accounting Software for Agriculture (pictured above) is a full agricultural suite for businesses with more complex accounting needs. The software includes a wide variety of farm industry standard ratios recommended by the Farm Financial Standards Council. It also provides detailed reports, such as for crop analysis.
Is QuickBooks A Farm Accounting Software?
QuickBooks Pro is a very popular farm accounting software option. In fact, it was likely the top choice for farmers at one time. This is due to its low cost of entry, and overall affordability compared to other options, which is attractive to many first-time software buyers.
With time, more and more software developers noticed a hole in the market and developed their own solutions created specifically for agricultural businesses. However, QuickBooks still works great for farms or agricultural organizations looking to keep a simple track of their income & expenses and create basic reports.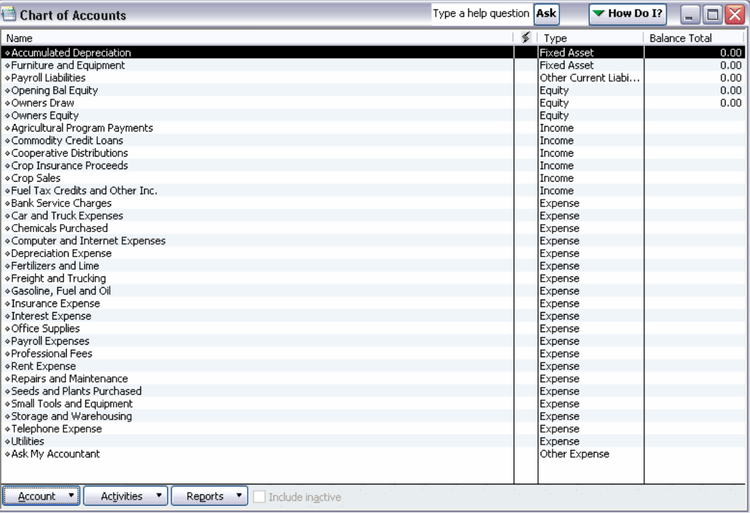 As detailed in the image above, QuickBooks can be used in a variety of industries. However, they do have preset Chart of Accounts available, including one for "Agriculture, Ranching, or Farming".
The key to using QuickBooks (or any other industry neutral solution) for farm accounting will be how the program is set up. This will require some level of knowledge of how to use the program, to ensure you can master the difficult farm transactions, such as tracking grain or livestock inventory in different locations. You'll also need to learn the "dos" and "dont's" of accounting for a farm, and ensure your reports are showing the type of information you need.
Many helpful books and online guides have been written on how to successfully implement QuickBooks as a farm accounting option, such as this PDF from FarmAnswers.org, which emphasizes how to record farm specific business transactions in a solution that wasn't developed with farm and ranch businesses in mind.
Technology Trends
Movement into the cloud. Given the rural location of most farms, many may have struggled to acquire a reliable internet connection. If a dependable connection was available, they may have faced hefty costs in order to receive it (such as using satellite internet). Because of this, farms, ranches, and the agricultural industry overall may have been some of the last to transition to the cloud and have historically tended to avoid online accounting systems.
Many software developers are starting to market the benefits of cloud software for farms, such as a lower initial cost of investment. Cloud-only solutions such as Xero are attracting farmers by pointing out what farmers can take advantage of, such as having direct feeds in place for their supplies or checking milk solid prices.
Increased Operating Expenses. The United States Department of Agriculture keeps a close eye on commodity costs and returns, and the trends show that costs for farmers are constantly on the rise. When the price of needed materials goes up, a business usually has to look at other areas of their business they can scale back or cut costs on, which may mean being more strict in their software budget.
Precision Farming, also called precision agriculture or site-specific farming, uses GPS and GIS systems to provide real-time tracking of farm machinery. Its use in the field allows for planning, field mapping, soil sampling, tractor guidance, crop scouting, and more.
Pain Points
Knowing what to do with data. Farmers are starting to adopt farming applications, but are creating the problem of now knowing how to decipher the information that they are collecting. They know the goal of using new technologies (such as software) will be to help them make more informed decisions, but many farmers may not be prepared to understand the data, or simply just not have the time to do so.
Having a strong relationship with your software vendor will ensure your software is up to date and providing you with all the tools you need to make sense of your data. A vendor is also available for training, to ensure you know more than just how to create a report, but understand it as well.
Isolated locations providing poor internet connections. Many in the agriculture business may discourage pursuing cloud-based systems if they feel they can't depend on their internet connections. They may also be hesitant to utilize new GPS technology that can track where their larger piece of farm machinery are and how much ground they've covered. Farmers want to worry less about their technology uptime and spend more time producing.