The process of providing a loan to an individual or a commercial business should be straightforward: Your business needs to evaluate a customer's ability to re-pay, approve or deny, offer the appropriate credit, and then provide the funds to the customer. Loan management software was developed to streamline this process.
Servicing a loan does become more complicated with each customer, who will have different terms, different payment dates, etc. You'll want to make sure your accounting is in order, and loan management software aims to provide this specific type of accounting to ensure your business is prepared when repayments are coming in (or even when they are not).
What Is Loan Management Software?
Loan management software helps you service loans from origination to management to collections. The software can help create a new loan for a customer, store information on the types of loan given out, manage APR and interest rates, create accurate reports and statements, and provide the needed tools to collect.
Types of Loans Managed by Software
Loan management software can be used by a company offering simple lines of credits or basic unsecured loans, or be a large financial institution providing mortgages and large amounts of funding to businesses. Determining what type of loan management software you need is important (see "What Does My Business Need?" below), but first you'll want to figure out what specific types of loans your software will be managing.
| Loan Type | Description |
| --- | --- |
| Syndicated Loans | Two or more lenders (a syndicate) jointly provide a loan for one or multiple borrowers under the same loan terms. The need for this type of loan arises when the project being funded is too big of a fund for a single lender to manage. Generally used by banks to fund large amounts over long terms, and can help improve the image of a borrower by good PR (the participant generally gives out some level of recognition to the borrower which validates their financial performance). Typically these loans are prepared by an arranger. |
| Commercial Loans | Commercial loans are between one business and one financial institution. These loans are generally to cover expenses that a business can't afford otherwise. These loans are given out based on the cash flow of the company, and generally, the business will need to present documentation such as balance sheets to verify it will be able to repay the loan. |
| Mortgage Loans | Mortgages are loans given to both individuals and businesses to fund the purchase of real estate. These loans are longer in length and are considered secure, as the institution giving out the loan is putting a lien on the property which gives them the right to foreclose the real estate if the buyer stops paying. Mortgages can provide fixed-rates, adjustable-rates, and interest-only. |
| Personal Loans | Given out to an individual for personal (non-business) use. The amount given depends on the individual's credit history and ability to repay the loan. Loans can be secured (a car loan), unsecured (such as a student loan) or co-signed (someone guarantees that the person taking the loan will pay back otherwise the loan will default to the co-signer). |
| Student Loans | A type of personal loan meant to pay for tuition, housing, and other expenses related to attending an educational institute. These loans can be issued by the government as well as private institutions. Federal loans have interest rates that are mandated by the government, while private loans will be dependent on individual credit and ability to repay. These types of loans can not be discharged during bankruptcy. |
| Payday Loans | Typically a short-term loan with a high interest rate. These loans are given to individuals with the intent of helping them pay expenses to cover them until their next payday. |
Features of Loan Management Software
Loan management software can help you manage a loan throughout the entire cycle, or focus on specific areas. For example, you may have manual processes for determining the loan amounts, but you also need a simple system to track the payment plan terms and record incoming payments. Or, you may be looking for a complete system that approves/denies applications, determines loan amounts,
Loan Origination: A customizable tool that evaluates risk and helps make the decision of whether a loan should be given out. Origination functionalities can pull credit data for individuals and compare it to varying loans offered by your company to find the best fit. Loan originations can be found in the form of online applications that can provide decisions in a matter of seconds and help kick-start the generation of needed documents so the loan can begin to be serviced.
Loan Servicing: Manage loans given by your company. Track loans by their different types, provide a varying level of interest methods and monitor payment dates to ensure you receive funds when necessary. Calculate and apply late fees to accounts manually or automatically. Collect payments via credit cards, ACH payments, wire transfers, and more.
Collections: Improve your collection rates with thorough and prompt follow-up when accounts become delinquent. Get notifications when NSF payments occur. Track overdue payments, and ensure your staff is following up appropriately with phone calls, letters, and emails. Let your staff look at payment histories, allow modifications to loan terms, arrange new payment terms, leave comments based on conversations had with debtors, and more.
Reporting: Get the reports you need to monitor your cash flow. Create reports based on the individual or business you have a loan for (to show their payment history or provide an amortization schedule) or look at how profitable certain types of loans are overall. Create dashboards for the visualizations of your choice to look at your loan metrics.
Benefits of Loan Management Software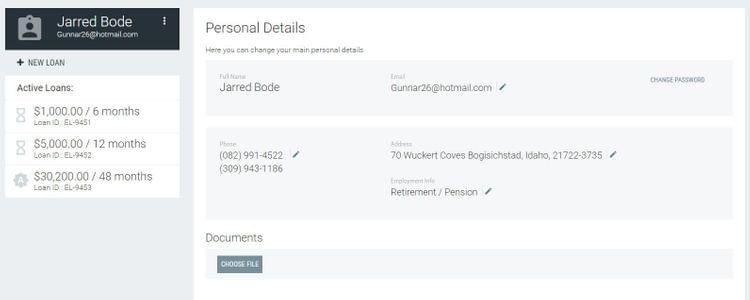 Visualize your ROI with intuitive workflows. At its heart, loan management software is a specialized workflow automation solution. Its goal is to help loans get processed and service from beginning to end, which creates a clear workflow that a business or an employee of that business needs to manage. View multiple revenue streams and expended cost tracking in order to stay in line with market demands.
Make your lending process easier than ever. Borrowers may need to borrow money once in their life (such as for a mortgage). This means that you have one chance to make a good impression on your customer. Providing your customer with an easy and understanding lending experience is important to keep customers happy and encourage them to use your organization for other loan opportunities (or let them recommend others to you). Some ways to enhance the lending experience is by offering online functionality such as the application process, servicing/management, the ability to make payments).
Increased automation with digitized records. As the loan application process turns towards more of an online approach, documents are automatically created and stored in your software system that has much larger file storage capabilities than the old file cabinets used in previous decades.
Is QuickBooks a Loan Management Software?
QuickBooks does have a "Loan Manager" feature in its desktop package, which is a simple tool for calculating interest and payment schedules. It should also be able to let you run certain "what-if" scenarios to compare different loan choices (and thus, let you work out options with a client). The QuickBooks Loan Manager also creates an amortization scheduled for the duration of the loan.
For some that feel QuickBooks on its own will not operate as an efficient loan management software, 3rd party add-ons exist. QuickBooks core accounting modules will be able to track the income and expenses of your business, but being able to store individual loan details, track amounts given out, monitor who owes what, and monitoring interest rates would require a level of knowledge of the program that end users may feel doesn't justify their time.
Software developers understand the desire of smaller companies to continue using QuickBooks for their primary accounting and add-on additional functionality to provide loan management capabilities in an easy to use and easy to understand way.
Loan servicing add-ons exist that will let you manage multiple loans and credit lines all while syncing in with QuickBooks. These solutions will vary in price but can be had for the cost of QuickBooks itself (starting at $500/annually).
What Does Your Business Need?
Small businesses and start-ups: Businesses that are starting out or manage a small number of loans (such as personal loans) will want to look for stand-alone software that provides basic loan management functionality. This will include the ability to manage multiple loans, have some CRM capabilities to record customer info, and manage credit lines. This type of software will be used in addition to a generic small business accounting software, such as QuickBooks Pro. The combination of these two separate systems will be the lowest cost route, which can be important for a business getting their feet off of the ground.
Mid-sized companies: Companies that provide commercial or more complex loans will want to look for software that helps improve the experience for the end user. Customer portals let customers log into your customizable website and look at their balances, make payments, adjust contact details, set up automatic payments, and more. Companies also want to provide customers with amortization schedules so every payment and fee is updated and helps create accurate forecasts for the customers, encouraging them to pay their loan sooner rather than later.
Large enterprises: Banks and other large organizations look for security in their system to protect the credit of their customers and reduce risk. Banks desire to deliver loans efficiently and in the most profitable manner, and will look to reduce time spent keying data into the system. Larger financial institutions will look to streamline workflow from application to funding. Larger enterprises will also desire better reporting to look at a larger amount of loans at once and track profitability and forecast returns.
Pain Points
The volume of small business loans being given out is historically low. There was a significant drop in loans under $1 million from 2008 to 2012, and a 2015 report from SBE Council says that number has failed to climb back to previous highs (they stand about 17% below the peak reached prior to the recession).
Separate systems not providing an efficient workflow model. Loan servicing starts during the acquisition of prospects and ends when a loan has been fully paid off. Loan providers may use CRM solutions to track information on prospects, however the transition from updating prospect information to tracking a loan workflow process should be as seamless as possible. Companies benefit from the use of a fully-integrated option from start to finish, rather than requiring a staff member to move a prospect over into their loan management software once terms have been agreed upon.
Technology Trends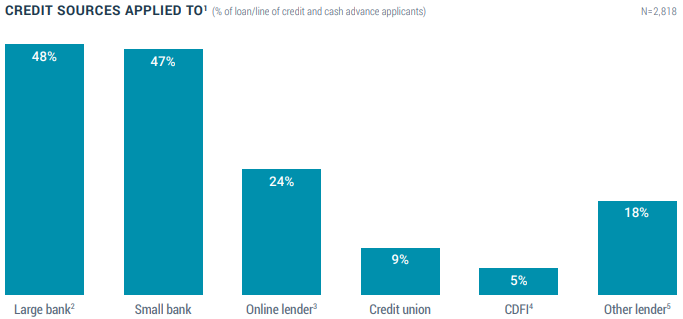 Online Lenders are growing in popularity. The recent Small Business Credit Survey from the Federal Reserve (see above) shows that satisfaction levels with online lenders have been growing over the past two years, and these online lenders have seen a 4% increase in the share of total small business loan applications (from 20% in 2015 to 24% in 2018). In response to this, banks that are seeking growth or smaller credit unions are aiming to provide the end-user with online loan applications, digital portals for uploading required documents, and automated decision aids, which is why loan management software vendors are beginning to include the functionality.
From 1985 to 2007, outstanding household debt grew from 60% of annual disposable income to 125%. Loan servicing software was originally created to be an accounting system for receiving funds and calculating the loan and principal balances. Once the credit crisis occurred and more and more Americans were taking on debt, loan management software has changed to put more of an emphasis on servicing automation. This includes electronic document delivery and software that updates more frequently to reflect today's compliance regulations (in part due to the mortgage servicing industry).