What is Restaurant Accounting Software
Restaurant accounting software manages financial information associated with the food service industry. Restaurant accounting software lets you keep track of food costs on an ingredient-level, monitor revenue from food sales, and manage payroll from a unified solution. With a better understanding of where your money is coming and going, you'll be able to make better business decisions and increase your restaurant's bottom line.
New restaurant owners often start with bookkeeping software to manage back-office processes and cash flow. Smaller businesses often need help with managing revenue and expenses, data entry, and payroll services to cut costs and save time on repetitive tasks. Larger businesses, on the other hand, usually prefer full restaurant management solutions that include accounting functionality. The restaurant management software adds more advanced functionality like recipe and menu management, point of sale, and employee management.
Features of Restaurant Accounting Software
| Feature | Description |
| --- | --- |
| Revenue Tracking | Track revenue from food and beverage sales. |
| Expense Tracking | Track equipment, food, and labor costs. |
| Payroll | Manage employee compensation from wages. Track tips by an employee to ensure minimum wage requirements are met. |
| Inventory Management | Track the costs of ingredients in your inventory and plan menus based on ingredient availability. |
| Financial Reporting | Generate profit and loss statements, balance sheets, and cash flow statements. View which days, servers, or menu items are bringing in the most revenue. |
Best Accounting Software for Restaurants
Restaurant owners know how important it is to find an affordable accounting software which fits their needs. Compare some of the most popular products used by the restaurant industry:
Restaurant365 is an all-in-one restaurant management solution that includes accounting functionality. It handles accounts payable and accounts receivable, budgeting and forecasting, bank reconciliations, and real-time financial reporting. Restaurant365 takes labor data from the point of sale system to send to your payroll processor. Popular payroll systems like Paycom can be integrated with Restaurant 365 to make payroll processing easier.
Other features of Restaurant365 include inventory management and staff scheduling, as well as vendor integration. Restaurant365 starts at $249/month for basic financial management capabilities.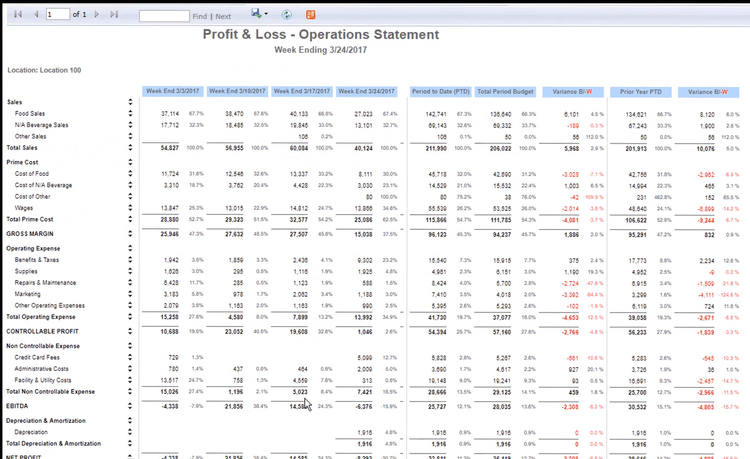 TouchBistro is a restaurant point of sale system with basic accounting functionality. Run financial reports to get a snapshot of daily sales, cash flow, menu item profitability, and staff member sales. Additional features include tableside ordering, table management, payment processing, staff scheduling and time tracking, customer relationship management, and inventory management.
For one license, TouchBistro's Solo plan costs $69/month for software alone. A hardware and software bundle starts at $105/month. The Solo plan is best for new restaurants, food trucks, or quick-service establishments only need one terminal. Larger plans are available to accommodate restaurants that need more terminals for tableside ordering or have multiple locations to manage.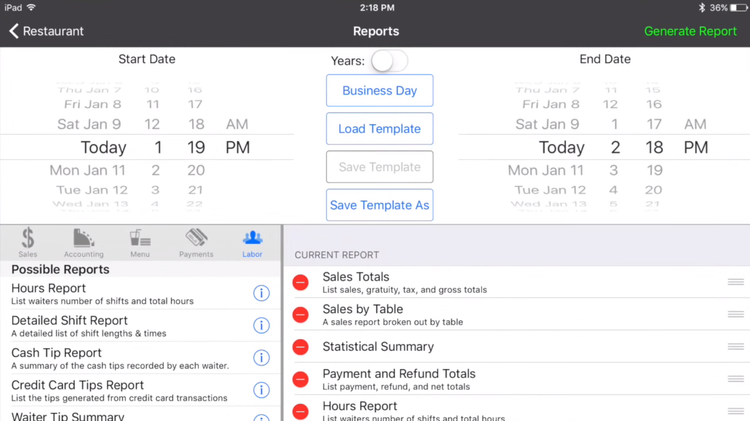 QuickBooks Online is a standalone accounting system that is popular among small business owners. Restaurant businesses use QuickBooks to monitor labor and food costs, track revenue, and generate financial statements. As your business grows, it's easy to integrate QuickBooks with industry-specific software to manage reservations, recipes, and online ordering.
QuickBooks Online starts at $25/month for one user. If you want advanced functionality like bill management, time tracking, and inventory management, you'll need the $40 Essentials Plan or the $70 Plus Plan.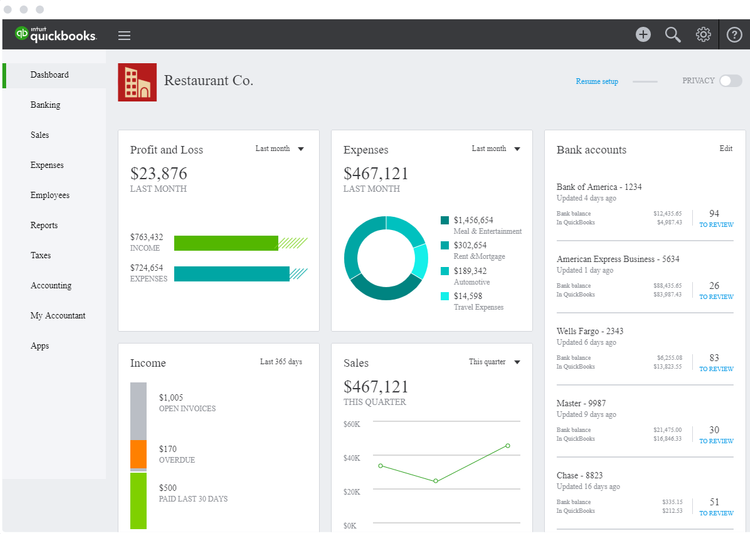 Restaurant Software Integration Options
Restaurant accounting software can integrate with other solutions such as:
Restaurant Management Systems
A restaurant management software also covers back-office processes, though the focus is on more industry-specific services. These include functions like reservation management, table assignments, ingredient inventory, and recipe storage.
By combining a management solution with your accounting software, you can control every aspect of your restaurant business with ease. For example, you can generate a financial report with your accounting tools which can identify ingredient spending. You can then use management applications to review how effective your inventory management practices are based on that spending.
Restaurant POS System Integration
Most restaurant accounting software integrates with restaurant point of sale (POS) systems. If you only have an accounting solution for your restaurant, you'll miss out on many features that will improve your business processes. POS systems assist with:
Payment processing
Floor plan design
Order management
Menu management
Reservations
Loyalty program management
You have the option to integrate your standalone accounting solution with a restaurant-specific POS or use a fully integrated POS system with accounting functionality.