Businesses looking to find the best accounting software for eBay seller business have likely been through the trial and error of manual spreadsheets. If you desire a better insight into your financials, read on to find out top picks for accounting software for eBay sellers.
What is Accounting Software for eBay Sellers?
Accounting software for eBay sellers provides income/expense tracking, sales tax management, and inventory control over the products you sell in your eBay store. eBay sellers that do enough business will look for the automation of software in their financial process and rely less and less on manual methods such as spreadsheets. The strongest argument to have your business add an accounting software for eBay sellers is its ability to directly link with your eBay account and provide real-time access to your company performance.
eBay sellers can be an individual trying to pawn off a single item, or a large eCommerce operation with a brick and mortar store and hundreds of employees. Many businesses find success in having their online storefront on eBay. The eBay economy has over 6 million sellers that employe more than 690,000 people worldwide. The success of these eBay businesses starts with accurate financial records via accounting software.
Features of Accounting Software for eBay Sellers
Core Accounting: Track income and expenses. View dashboards showing revenue from month to month.
Import of eBay Transactions: Connect automatically with your eBay account. Posts transactions to your general ledger. Avoid double-entry of your financial data.
PayPal Integration: Connect automatically with your PayPal account and ledger. Post transactions to your general ledger. Avoid double-entry of your financial data.
Inventory Management: Sync sales orders with your inventory stock levels to ensure you have enough stock on hand to complete orders. Set up re-order points so you are alerted when products are running low and can place orders to manufacturers.
Sales Tax: Calculate sales tax for each individual sale. Organize sales tax to be paid to each individual state.
eBay Fee Management: Calculates your seller fees based on your selling plan. Manage per-item fees, referral fees, variable closing fees, and shipping fees. Helps budget for additional fees due to increased sales and provides for "what-if" analysis.
Benefits of Accounting Software for eBay Sellers
Putting the features of eBay accounting software into practice can be an art form of its own, with the end result of increased sales, tightened control of your financials, and a plan of how to grow your business. Some of the top benefits of accounting software for eBay sellers include:
Direct Integration With Your eBay Account
Most accounting software for online retailers will offer direct integration with your storefront, even if hosted by a 3rd party marketplace such as Amazon, PayPal, eBay, and Etsy. This means your sales data will automatically be imported into your accounting software. This helps generate up to date income and expenses reports as well as profit and loss statements.
eBay can store your sales transactional data for up to 3 months. Having the proper software in place means you can export this data and keep it as long as you'd like it. For businesses that operate for an extended period of time, this means you'll have increased potential of analyzing historical trends compared to the 3-months that eBay limits you to.
Anytime Access via the Cloud
Cloud-based accounting software for eBay sellers will give the flexibility of showing up-to-the-minute financial data on your sales, expenses, and taxes. You can also set up automatic imports from your eBay account into your accounting solution, to ensure that your numbers are always accurate. Checking in via a mobile device can let you quickly monitor your daily sales, pending orders, and budget vs actual reporting for the month.
A web-based solution stays constantly updated. As long as you can access your web browser, you'll have the latest version of the software running at full-strength for your eBay store. Many users love online accounting software for its ease of use, as you don't require to have an accounting background to operate one.
Cost of Accounting Software for eBay Sellers
The price of accounting software for eBay sellers will depend on how many transactions you handle each month. Simple solutions have starting prices range from $30 one-time to an on-going subscription cost of $50/month.
Larger enterprises dealing with a higher volume of sales will usually require enterprise-level software (ERP software) in order to handle their advanced needs. This includes accounting, inventory, supply chain management, purchase orders, and more. ERP systems will almost always include customized pricing dependent on the number of users, the functionalities needed, and the level of included support.
Best Accounting Software for eBay Sellers
Given the size and independent nature of many eBay sellers, they will desire to find a software that is affordable, can integrate with their eBay store and PayPal accounts, and most importantly, have a streamlined and easy-to-use interface that doesn't require an accounting background.
Our top choice for eBay sellers looking for accounting software is:
GoDaddy Online Bookkeeping (formerly Outright) was designed exclusively for eBay, Amazon, and Etsy stores. GoDaddy Online Bookkeeping checks all the boxes for eBay sellers, such as being suited for independent freelancers, easy to use, and having one of the lower monthly costs available (even lower than QuickBooks).
Freelancers who desire a basic accounting solution that can work across multiple online retail platforms (such as Amazon, eBay, and Etsy) will find the integrations it offers suitable for their needs. It will also provide you with the means necessary to file a Schedule C. GoDaddy Online Bookkeeping starts at $4.99/month.
One GoDaddy Online Bookkeeping user felt the biggest feature was the reports it provided regarding income/expenses and sales tax payments:
It tracks all of my detailed spendings easily. It visually lays out my income and expenses. It has a lot of reports like profit and loss as well as sales by state, which is helpful when paying sales tax. This has saved me because there was a week or two that I forgot to charge sales tax when I filed my business. Now I know how much I owe. Megan Reed–Just Peachy eBay Store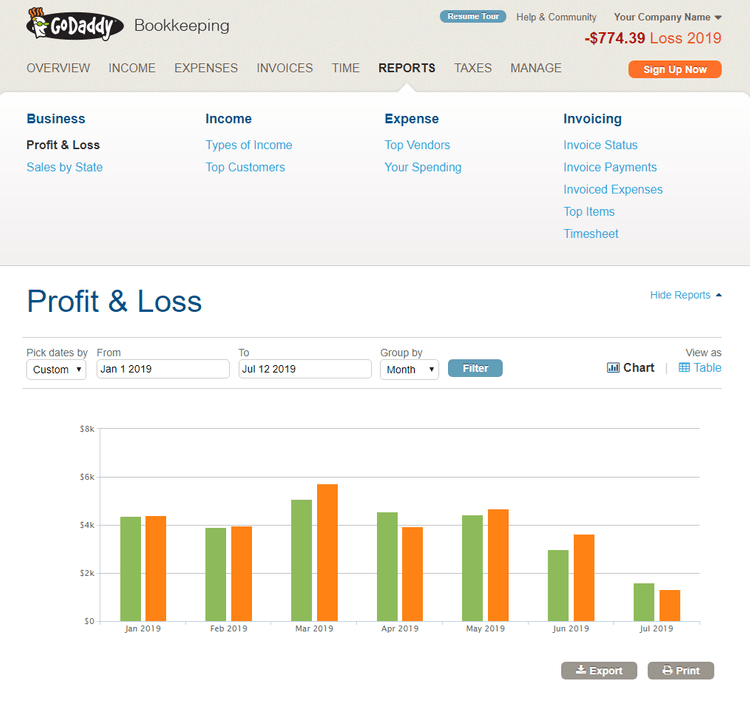 Best Transaction Importing Accounting Software for eBay Sellers
A top feature of any accounting software for eBay sellers is the ability to import your transactions from eBay and/or PayPal directly into your general ledger (one might even argue that you're not a true eBay accounting software unless you offer this capability). This is because eBay sellers primarily seek out software that can save them time on data entry before they start to consider other factors (such as the quality of the reports, how customizable their invoices are, etc.).
Our pick for the best transaction importing accounting software for eBay sellers is:
10 Minute Accounts is accounting software designed for eBay sellers. 10 Minute Accounts includes a direct link with PayPal, an interactive dashboard, sales and expense categories, transaction import and export, integrated bank accounts, profit and loss reports, and invoice generation.
All eBay sales sold through your PayPal are imported into your account within minutes. Once imported, they are automatically classified as sales, expenses, or bank transfers. 10 Minute Accounts starts at $7.25/month.
The developer, Barnaby Dixon, had the following to say during a tutorial of 10 Minute Accounts:
Your transactions can be imported from PayPal in near real-time. Perfect if you run an online business, or sell via eBay! Once imported, 10 Minute Accounts will automatically calculate your Profit & Loss and generate sales and expense reports, as well as do your monthly bookkeeping. Barnaby Dixon, 10 Minute Accounts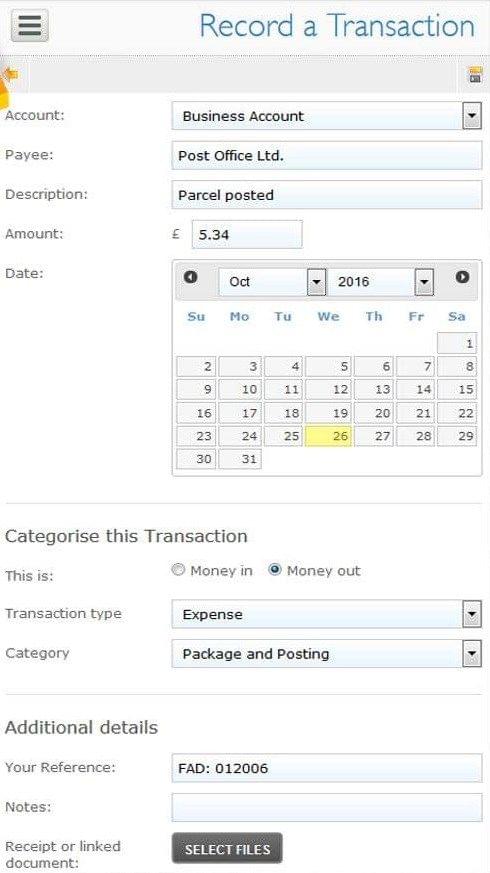 Best Entry-Level Accounting Software for eBay Sellers
eBay Sellers starting to sell products online will need to find a way to organize their eBay store finances. Like any business, without a proper understanding of your income and expenses, you won't know if your operation is profitable without proper bookkeeping. Sellers looking for an entry-level system will want as much automation as possible for the lowest cost.
Our top pick for entry-level accounting software for eBay sellers is:
Easy Auctions Tracker is an enhanced Excel spreadsheet that automatically collects your transactional information from your eBay account. The solution is certified by eBay as a compatible application for collecting and recording transactions, including item, buyer, fees, and shipping information.
Given the low cost ($29.99/one-time), it's our recommendation for new companies looking to automate and organize eBay transactions. You'll need to have a basic understanding of how spreadsheets work and will need to purchase the new version each year to continue to have the automatic import capability.
One eBay seller discussed the benefits over creating your own spreadsheet tool:
All the sales I make go automatically on the spreadsheet. All I have to fill out is what I paid on each item. It's super simple and takes almost no time. If you're bookkeeping, you're probably doing everything yourself by hand or on your own Excel spreadsheet, but this makes it 10 Billion times easier and lays everything out. Erica Boucher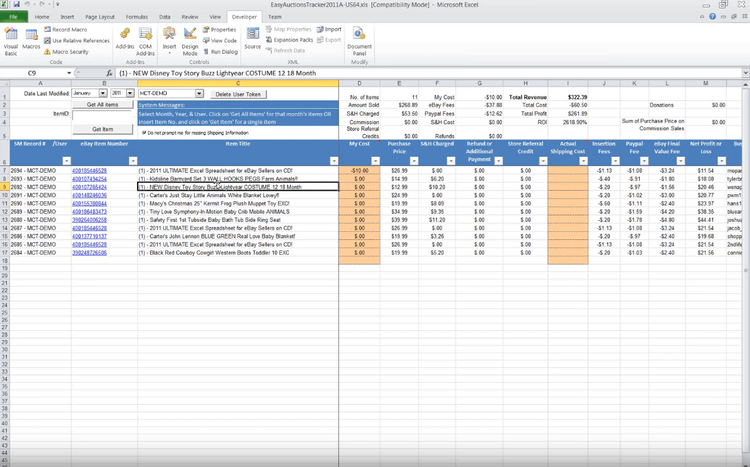 Best Free Accounting Software for eBay Sellers
For those looking for forever free software to manage the accounting of their eBay business, spreadsheets may be the first choice. For businesses that desire a level of automation, a few free options do exist. Usually, they will offer you limited functionality, or entice you to pay for additional services such as credit card processing, reporting, and more.
Our pick for the best free accounting software for eBay sellers is:
Wave software is free to use and provides needed tools such as invoicing, expense tracking, basic accounting, and more. This means you can create and send invoices for products sold on your eBay store, receive payments from customers who have ordered goods from your eBay store, import receipts of your business expenses, and produce accurate financial reports. For many eBay sellers with minimal funds just getting started out, Wave has been the software of choice due to having no cost of entry.
While Wave's accounting software is free, services such as credit card payment processing will cost extra. Credit card processing starts at 2.9% plus 30 cents/transaction.
One reviewer of Wave discussed what they felt to be their favorite feature:
Wave makes it easy to filter and sort transactions. The mass categorization of transactions is easy. I think Wave is a good piece of software for microbusinesses. It has its quirks, and I wish it was smarter and more flexible, but because it's free, it's hard to complain. Greg Lam, Sleeter Group