With data from over 4,000 QuickBooks replacement reviews at our fingertips, we wanted to provide access to something software buyers have never had before: A breakdown of the most popular QuickBooks replacement alternatives based on actual reviews.
Interested? Alright, then. Let's start with a spoiler. The three most popular programs buyers considered when they were ready to move beyond QuickBooks were Dynamics GP, Intacct, and Sage 300 ERP.
Given their overall popularity, each program makes a strong case as the place to start your consideration of QuickBooks alternatives. Then again, your company isn't just any company. That's why we've provided additional data on the most popular QuickBooks replacement products by industry, brief product profiles, and insight into the typical total project costs for buyers who have reviewed these software options.
Here's a summary of the information you'll find in this report:
The Top 10 QuickBooks Replacement Products
Analyzing the products considered by 4,000+ buyers over the last five years revealed the following top 10 most commonly reviewed QuickBooks replacement products: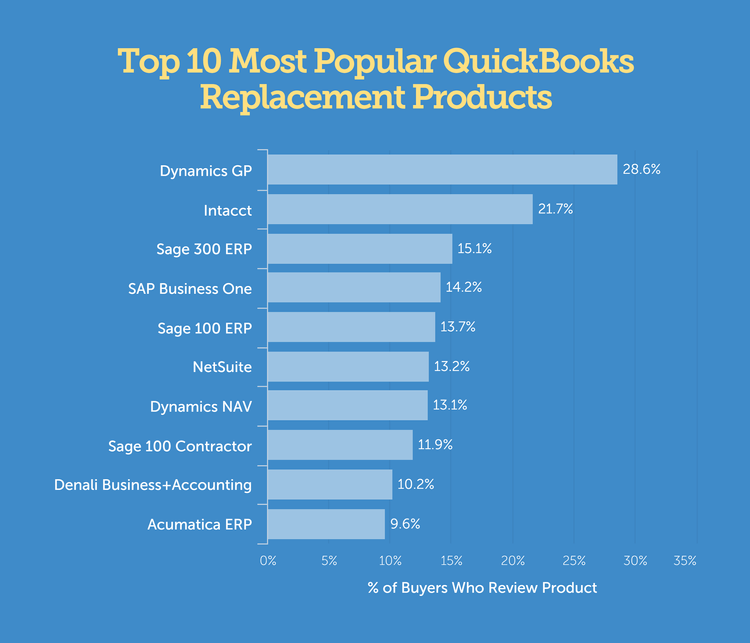 While the products vary in terms of pricepoint, deployment (cloud/onpremise), and feature support, each owns a well-established history as a popular accounting software choice for the SMB market.
Moving Beyond QuickBooks
So why do companies decide to replace QuickBooks?
QuickBooks after all is used by millions of companies, offers a wide range of functionality, and many versions cost less than a year of cable television to run.
When it comes to switching software, everyone has their reasons. But these are the common reasons buyers tell us they're looking to upgrade from QuickBooks.
We need more (or more customizable) reporting
We want stronger security for access control, authorization, and approvals
We've exceeded the file size limitations
We run into performance issues when multiple users are accessing the software
We want something scalable that can grow with our company
We need something that is designed for our particular industry
We're looking for more comprehensive functionality (ie, CRM,project management, estimating, etc.)
We need more knowledgeable, consultative support than what is provided
We need more flexibility to handle our specific workflows
To sum it up, when companies want to replace QuickBooks, it's usually because they've simply outgrown it in some critical way.
None of this means QuickBooks is a bad product. In fact, other than the operating systems and office productivity tools offered by Microsoft and Apple, perhaps no other business software has offered as much value to so many small businesses at so low a price as QuickBooks has.
Intuit, the developer responsible for QuickBooks, has simply decided to focus on developing a product for the smaller side of the small business market. With nearly 23 million non-employer firms and another 3 millions businesses with fewer than 5 employees in the U.S., it's not a bad strategy. Moreover, the nearly uninterrupted rise in Intuit's stock price since its initial public offering in 1993, suggests they're doing a pretty successful job of meeting the needs of this market base.
There are a handful of other fantastic low-cost programs on the market that can be licensed at costs in the QuickBooks range (under $1000 a year). But for growing companies looking to upgrade beyond QuickBooks, programs like Xero, Sage 50, Wave, Freshbooks, and other entry-level accounting usually aren't the most relevant choices. Overall, they provide a similar level of functionality as QuickBooks.
But there are hundreds of programs that do provide a functional upgrade from QuickBooks for companies looking to support business expansion, seeking improved efficiency, or simply looking for broader feature support. Let's take a closer look at the most popular among them.
Dynamics GP
Dynamics GP is an accounting/ERP product developed by Microsoft. The product was originally released in 1993. The current version of Dynamics GP includes functionality supporting:
Financial management and accounting
Inventory management and operations
Sales and services
Business intelligence and reporting
Human resources and payroll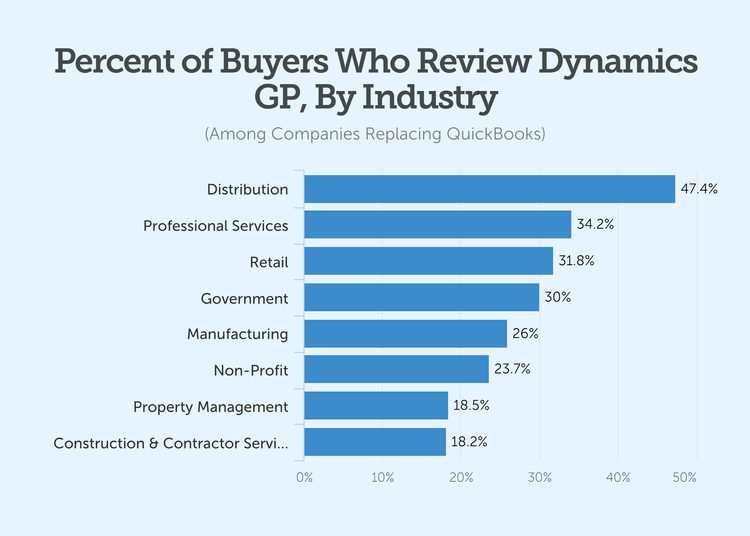 Dynamics GP is traditionally offered as an on-premise solution with upfront licensing fees and annual support/update fees. It can also be provisioned as a hosted solution on the Microsoft Azure platform. Subscription pricing is available.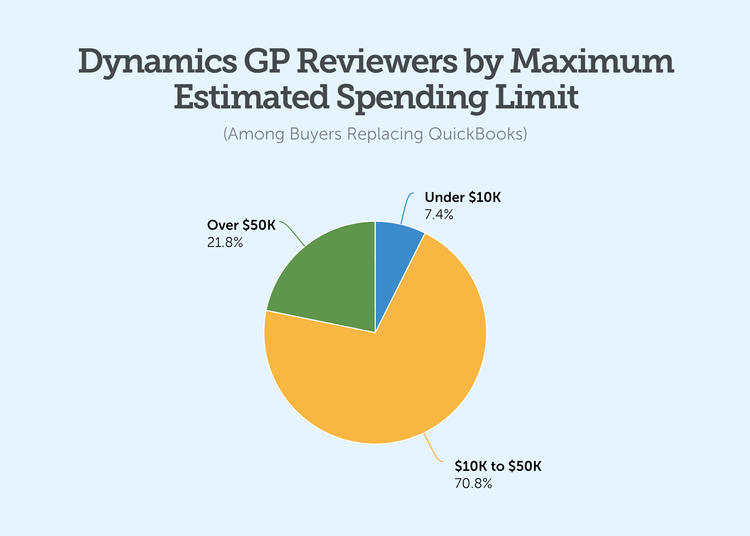 Intacct
Intacct was founded in 1999 and was one of the first web-based, cloud accounting products available for the SMB market.
Intacct includes support for core accounting, financial reporting, billing, purchasing, sales and use tax, inventory management, and project accounting.
The Intacct solution is particularly popular with professional services companies based on extensive support of time-based billing, ease of use for remote professionals, and strong project accounting features.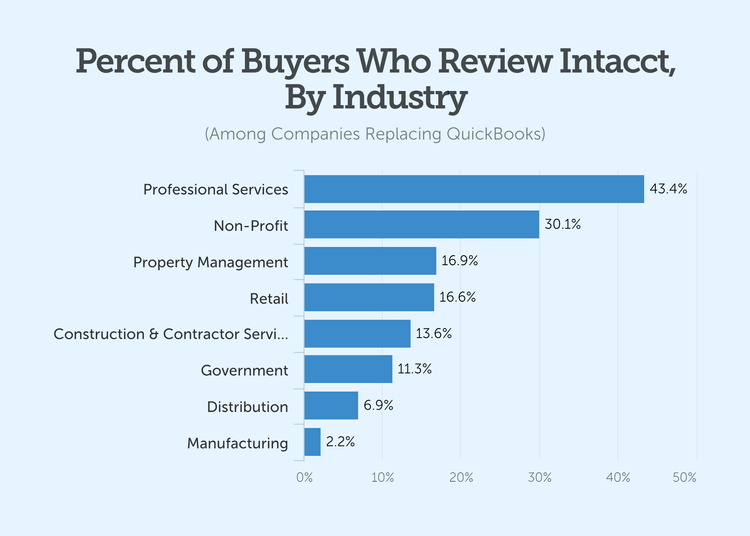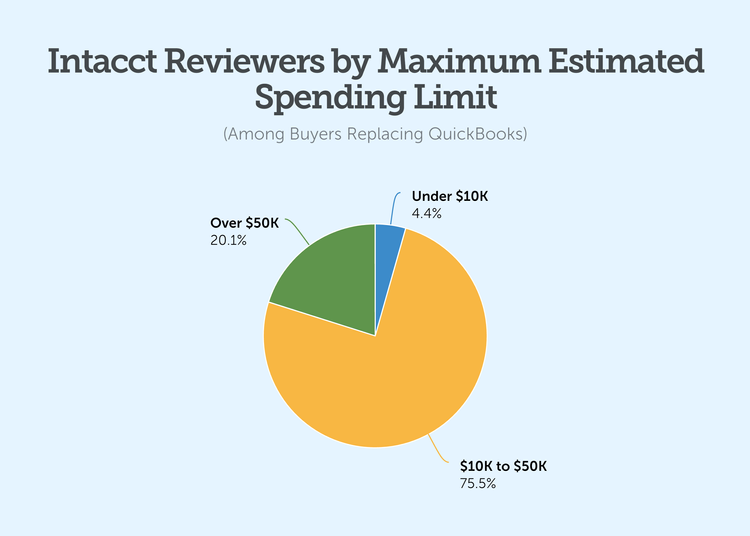 Sage 300 ERP
Sage 300 ERP is an accounting and business management solution with a long history. It was initially developed in 1976 and has had a number of name changes over the years. Many people still refer to it by the name Accpac, which Sage officially dropped from the product title in 2012.
Along with core accounting, billing, human resources/payroll, inventory control, and purchasing, Sage 300 ERP also offers support for document management, customer relationship management (CRM), and project management.
Because of the breadth of its functionality, Sage 300 ERP is popular across a wide variety of business types.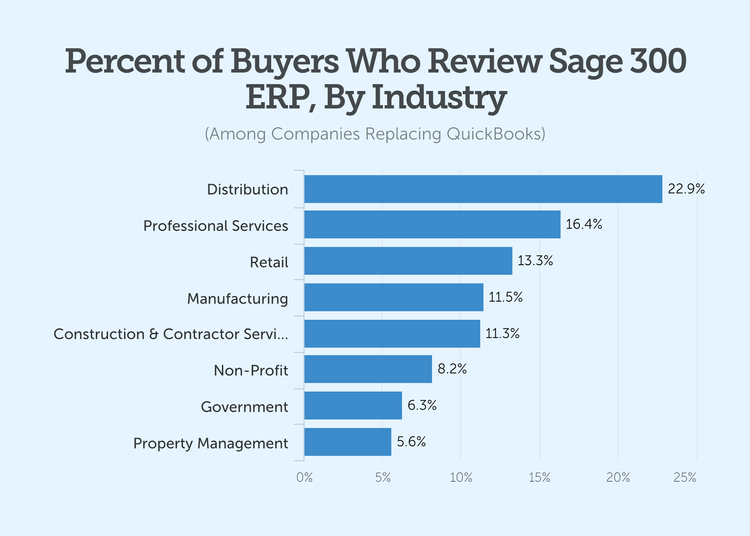 Sage 300 ERP is available for both client/server and web-based, cloud deployments.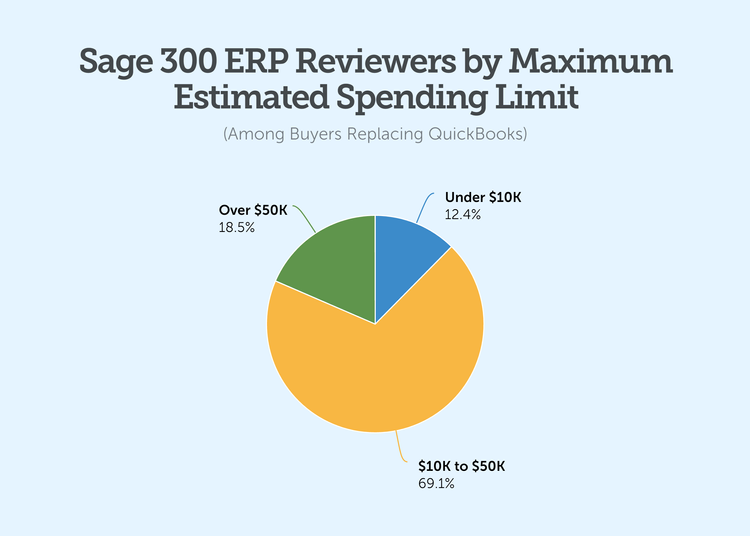 SAP Business One
SAP is a name that many business management software buyers associate with the enterprise market. However, since 1996 SAP has offered SAP Business One as an ERP solution targeted specifically for the SMB market.
SAP Business One offers functionality for accounting and financial management, customer relationship management (CRM), operations and distribution, and human resources management.
Because of a focus on operations processes such as supply chain management, warehouse management, and production planning, SAP Business One is popular with distributors and manufacturers.
SAP is traditionally licensed as a purchase option for client/server deployments. However, the SAP Business One Cloud option presents the product as an authorized vendor-hosted option available on a subscription (SaaS) basis.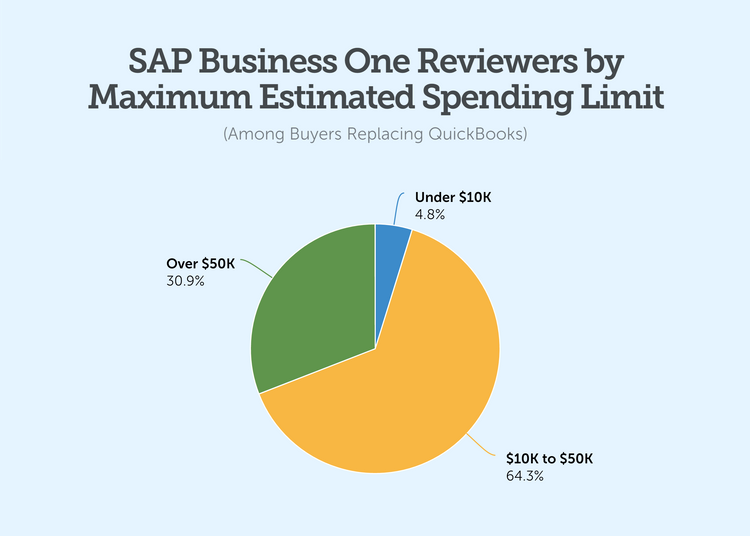 Sage 100 ERP
Like the similarly named Sage 300 ERP program, Sage 100 ERP is another accounting and business management solution with a long history spanning a series of name changes.
Sage 100 ERP provides accounting, inventory, order entry & billing, job cost, and manufacturing (work orders, bill of materials, and material requirements planning) functionality.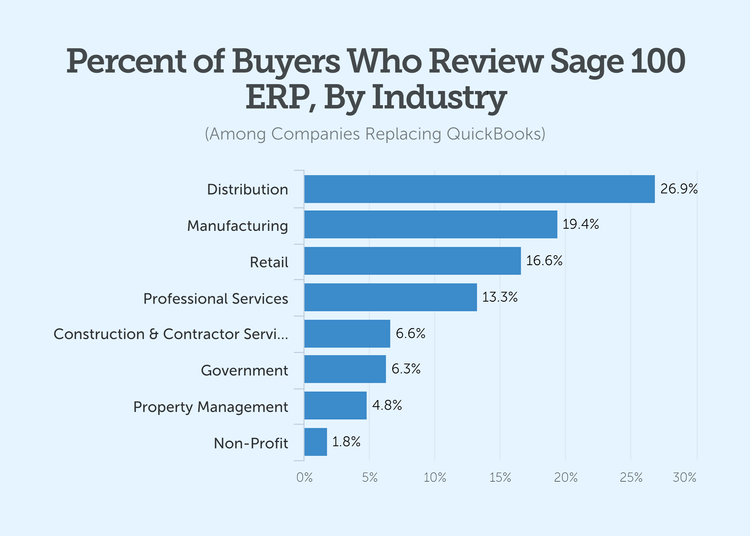 Sage 100 ERP is typically purchased as an on-premise solution. However, in recent years Sage has made an online version accessible. The online version is not natively web-based (as Sage 300 ERP is), but hosted in a Sage data-center and made available via the use of Citrix remote access software. The online version is available via subscription (SaaS) pricing.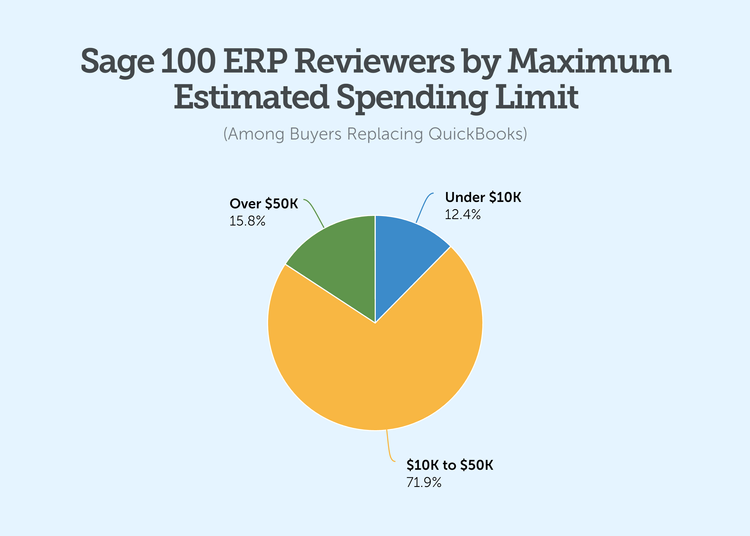 NetSuite
NetSuite is perhaps the most well-known cloud-based ERP option. NetSuite includes a broad range of ERP functionality including:
Financial management
Supply chain
Inventory control
Procurement
Billing
Warehouse & fulfillment
Human capital management
NetSuite also offers a development platform for 3rd party software developers enabling a robust market of add-on products.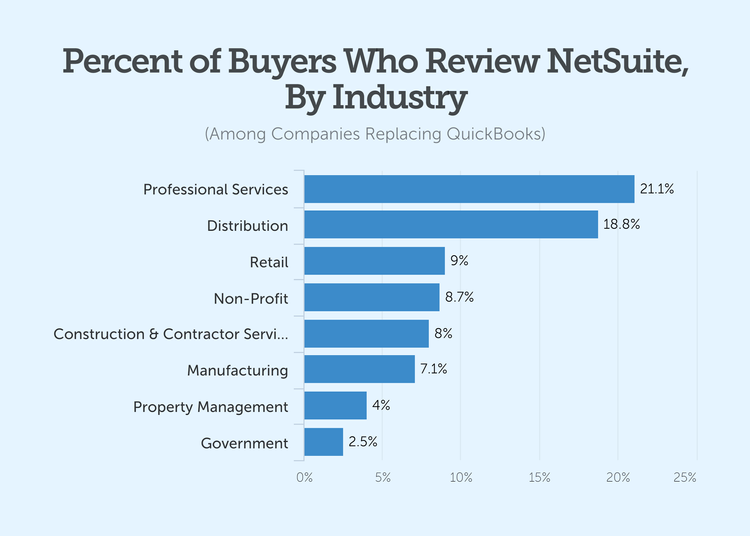 As a web-based, cloud software product, NetSuite is licensed on a subscription (SaaS) basis.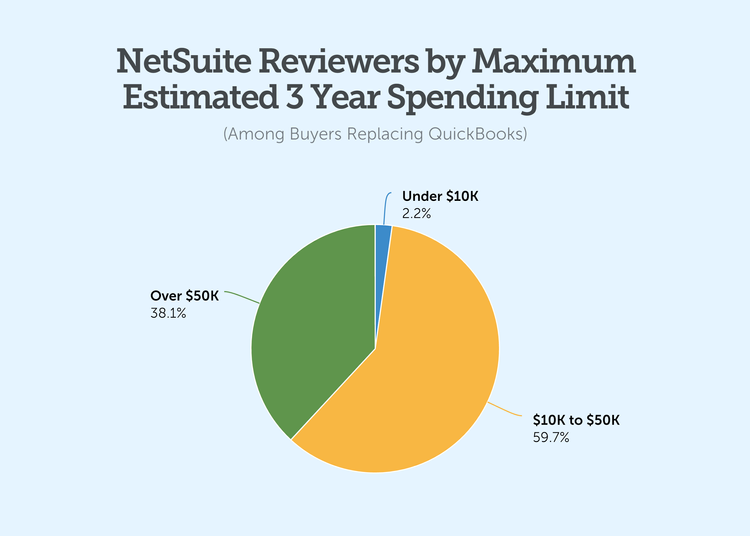 Dynamics NAV
Another ERP option from Microsoft's Dynamics line of ERP solutions, Dynamics NAV was originally published by a Danish developer in 1987 as "Navision."
Dynamics NAV provides core financial management, purchasing, order management, inventory control, customer relationship management, and human resources management.
Built on a different code base from Dynamics GP, many buyers nevertheless will find themselves reviewing both solutions. Dynamics NAV is particularly well suited for companies doing international business or manufacturers who need more in depth functional support for operational processes such as bill of materials management, requirements planning, and production management.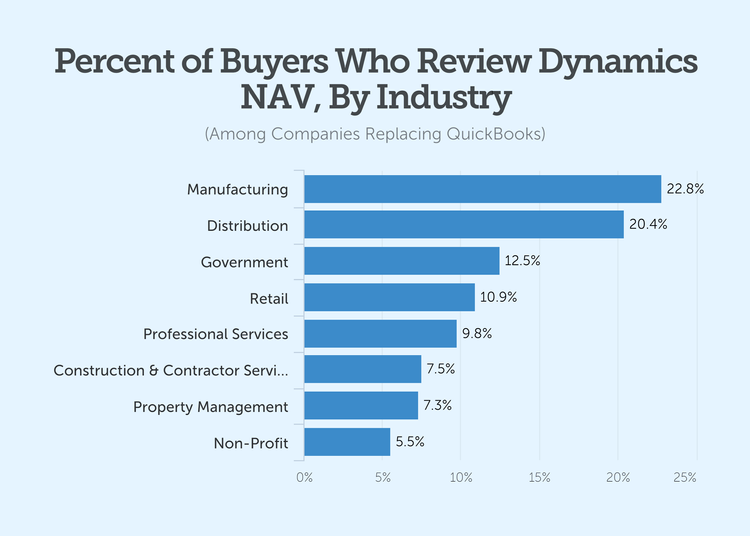 Dynamics NAV is most commonly provisioned as an on-premise, server-based solution. However, a Dynamics NAV client is available and users can deploy the product as a hosted service via Subscription (SaaS) licensing.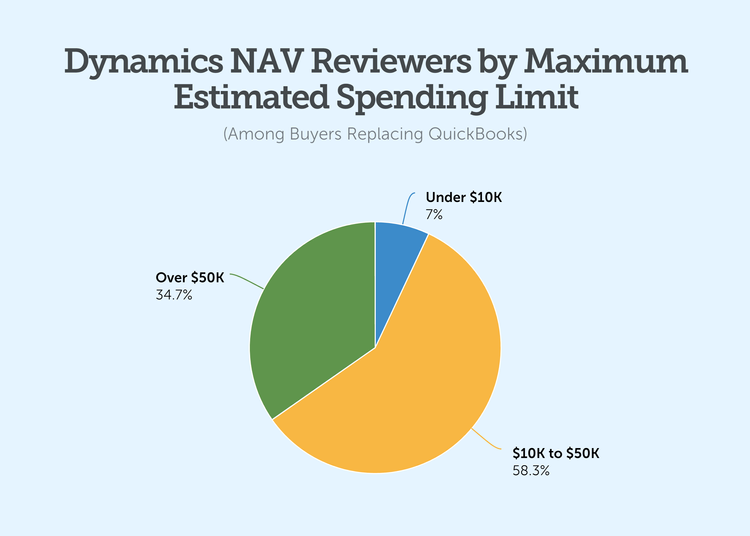 Sage 100 Contractor
The Sage 100 Contractor–formerly known as Master Builder–includes support for core financial management, billing, purchasing, inventory control, and budgeting. Additionally, Sage 100 Contractor provides features for typical construction and contracting processes like estimating, job costing, progress billing, and subcontract management.
Sage 100 Contractor is extremely popular with small-to-mid-sized construction firms. It is infrequently review by companies in other industries.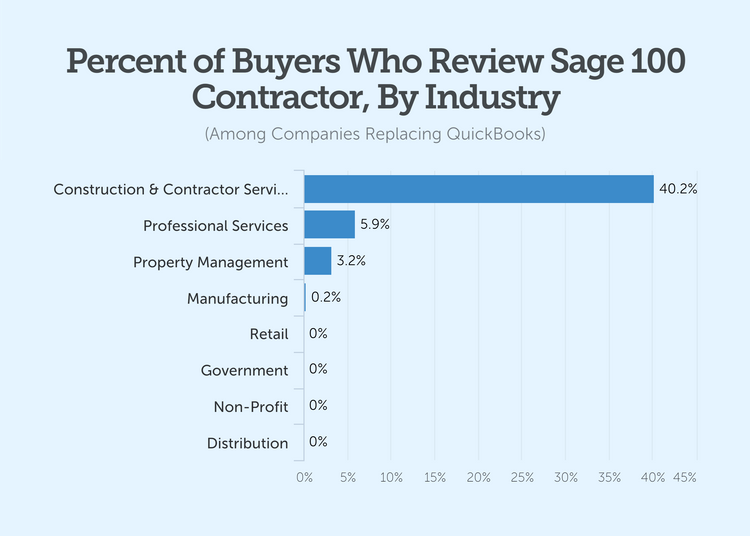 Sage 100 Contractor is available for purchase as an on-premise offering. Contractors interested in having Sage 100 Contractor remotely hosted have the option to do so via the Sage Construction Anywhere Connector. Subscription (SaaS) pricing is available.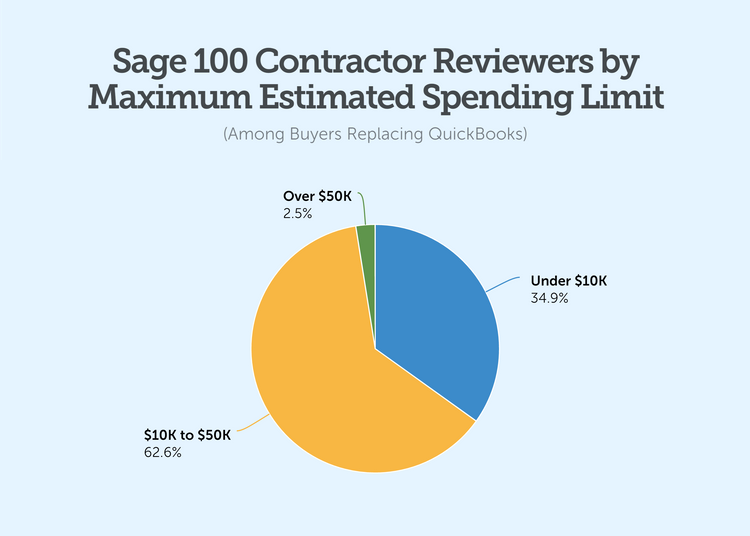 Denali Business + Accounting
Cougar Mountain Software has been producing accounting software solutions since the 1980's and the Denali Business + Accounting program is their flagship offering.
Denali Business & Accounting includes core accounting, inventory management, job costing, order entry, payroll, purchasing, and point of sale functionality.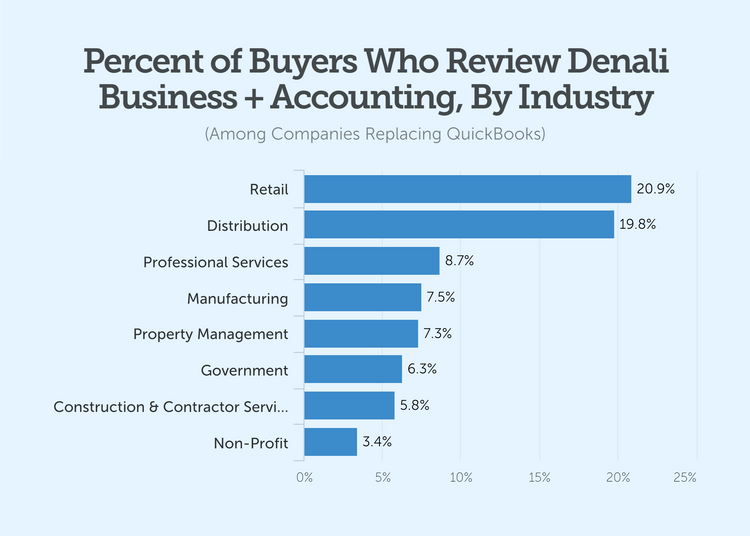 The Denali Business + Accounting product is available as both an on-premise and hosted, SaaS offering. Pricing for Denali Business + Accounting is the lowest of the top 10 most popular QuickBooks replacement options.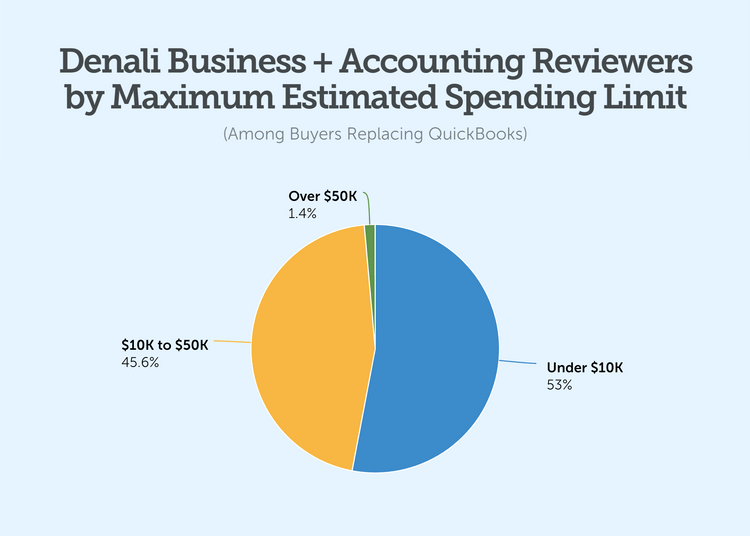 Acumatica ERP
Acumatica is another cloud-based ERP solution for the SMB market–but with a twist. Acumatica ERP is not only available as a developer hosted SaaS option, but also as an on-premise solution hosted from an internal web-server.
Acumatica ERP includes functionality for core financial management, inventory control, customer relationship management (CRM), manufacturing, order management, purchasing, service management, and non-profit accounting.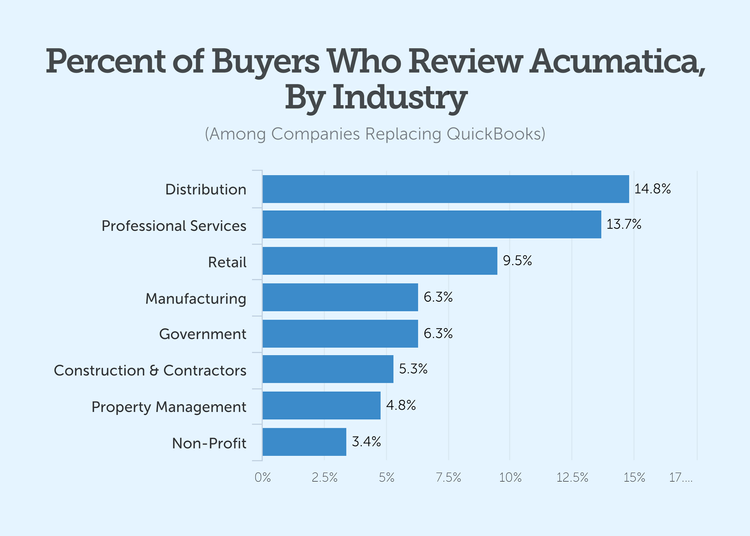 Acumatica ERP is available as a purchased option or on a subscription basis.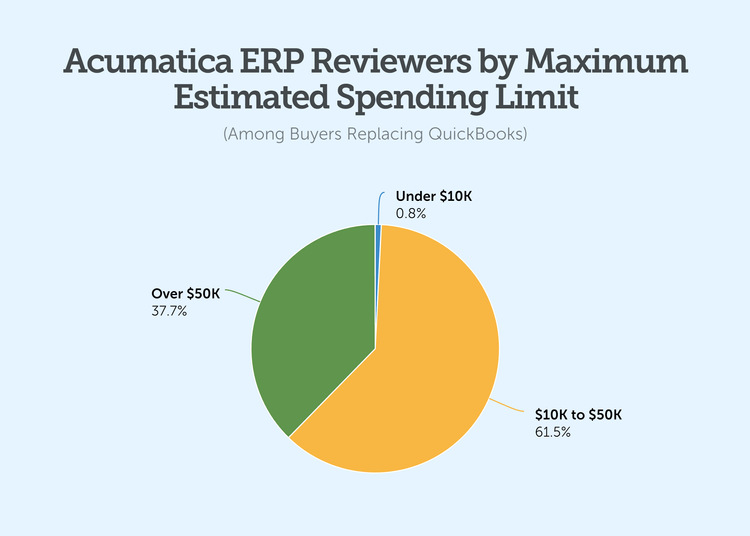 The Most Popular QuickBooks Replacement Options by Industry
Because of differences in accounting processes, individual accounting software products may be more or less appropriate for companies in different industries.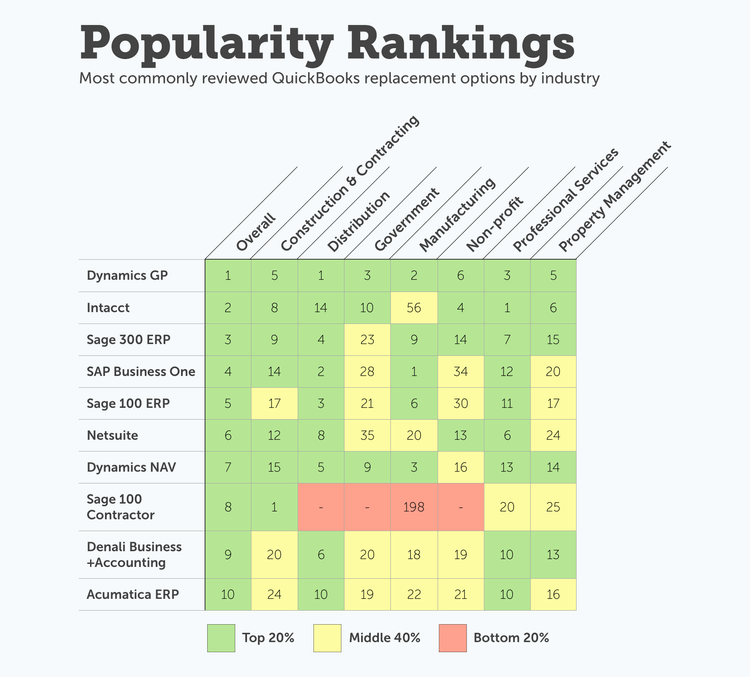 QuickBooks Replacement Options for Professional Services
The orientation toward project work among professional services firms creates a unique set of accounting and business management processes.
Generating revenue primarily via the delivery of services rather than product sales, requires focused attention on time and project management. Accounting solutions focused on these tasks are particularly appropriate for professional services firms.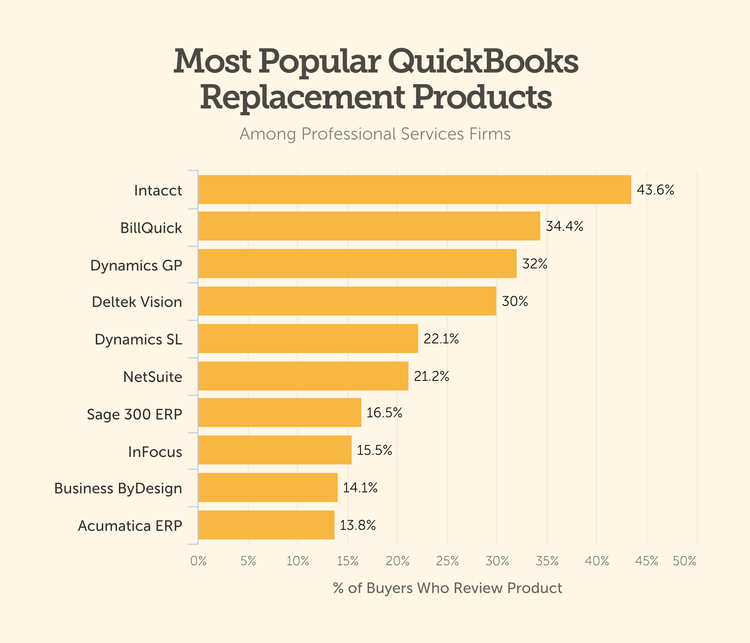 Common needs for professional services companies replacing QuickBooks include:
Project accounting or job costing
Project management
Expense reporting
Document management
Time and billing
QuickBooks Replacement Options for Construction and Contractor Companies
Similar to professional services firms, construction and contracting businesses generate revenue via project work.
However, builders and contractors also require software with features for managing equipment, supplies, bids, and subcontractors.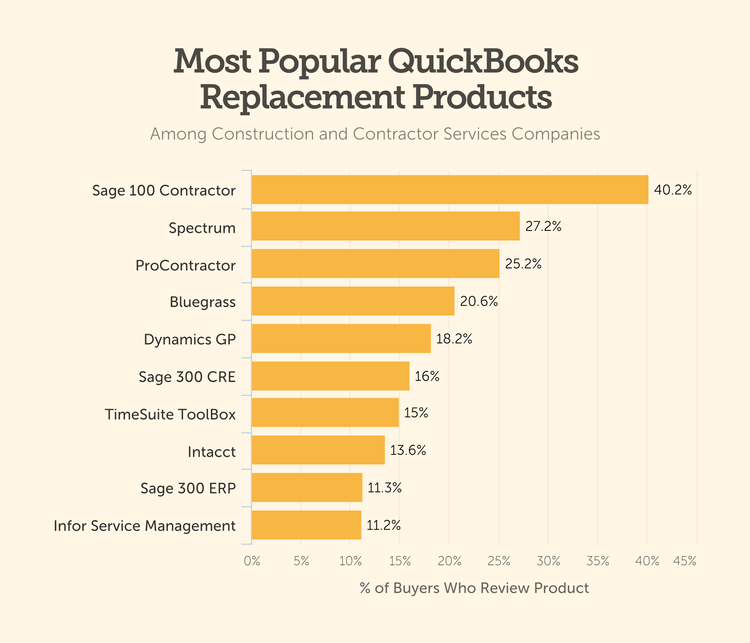 Common needs for contractors replacing QuickBooks include:
Job costing
Project management
Equipment management
Bid management
Field service management
QuickBooks Replacement Options for Distributors
For distribution companies, requirements related to product and vendor management take on elevated importance. As margins are often low in the distribution vertical, strong automation features are especially important in order to optimize efficiency and cut costs.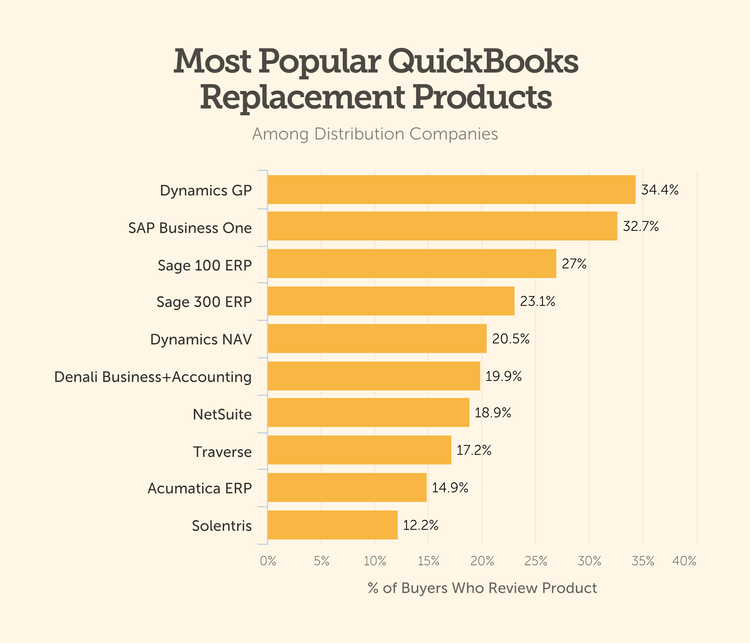 Beyond core accounting needs, common requirements for distributors replacing QuickBooks include:
Advanced inventory control
Warehouse management
Supply chain management
Order entry
Pricing management
QuickBooks Replacement Options for Manufacturers
Manufacturers not only face distribution related challenges, but also require software to support production management, engineering, requirements planning, and equipment maintenance tasks.
Integrating the back-office with the production floor can create major efficiencies for manufacturers seeking an edge on competitors.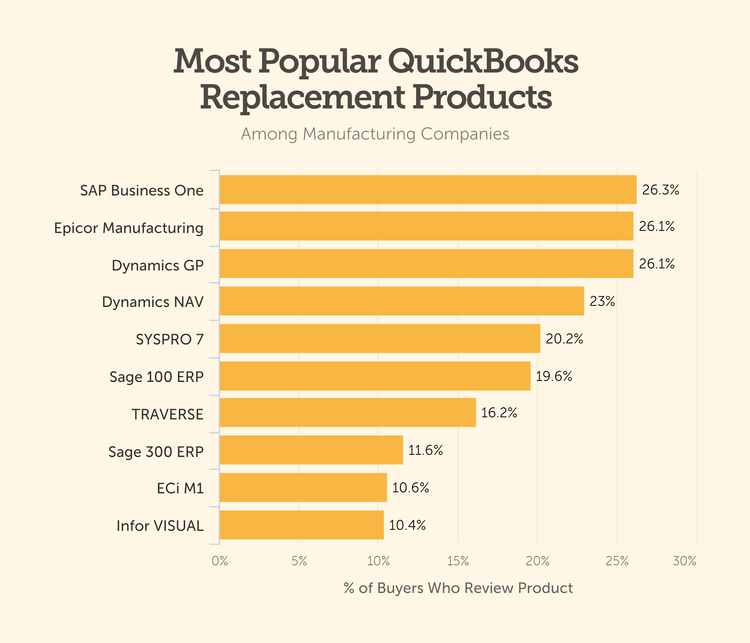 Beyond core accounting needs, common requirements for manufacturers replacing QuickBooks include:
Bill of materials support
Material requirements planning
Production management
Quality control
QuickBooks Replacement Options for Non-Profit Organizations
One of the financial management challenges faced by non-profits is the need to track expenditures back to specific fund sources.
Even small non-profit organizations can reduce the time it takes to manage key accounting tasks by targeting software designed to support fund accounting and other non-profit specific financial tasks.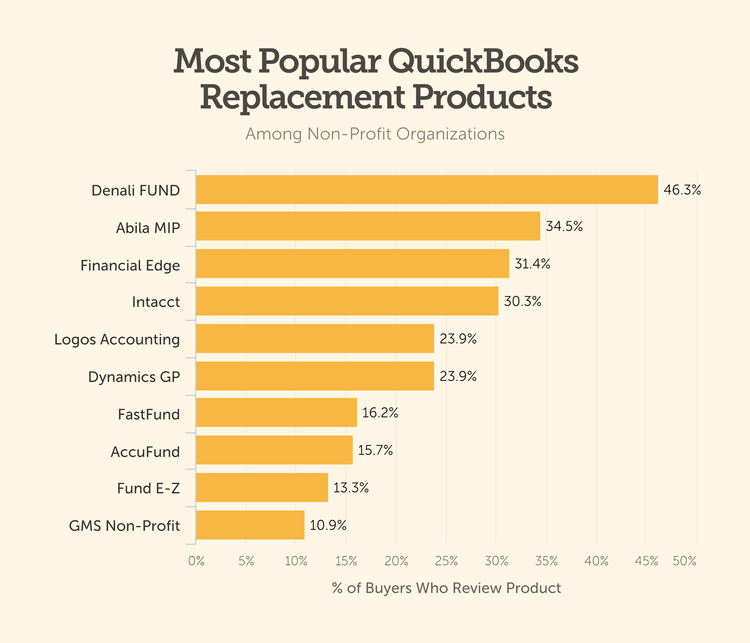 Common requirements for non-profit organization replacing QuickBooks include:
Fund accounting
Membership management
Fundraising and donation management
Grant management
Encumbrance tracking
QuickBooks Replacement Options for Government Organizations
One of the most common requirements for government organizations is the ability to track expenditures back to specific fund sources and budget allocations.
Additionally, because of the tendency towards hierarchical organizational structures in government entities, processes related to requisitions and approvals take on increased importance.
Beyond core accounting, typical needs for government organizations replacing QuickBooks often include:
Advanced budgeting and planning
Fund accounting
Purchase requisitions
Departmentalized reporting
Utility billing
QuickBooks Replacement Options for Property Management Companies
Monthly recurring billing, property/tenant based reporting, and maintenance tracking are just some of the unique management tasks faced by property management businesses.
Software adapted for property management can help address administrative challenges in a more cost effective manner.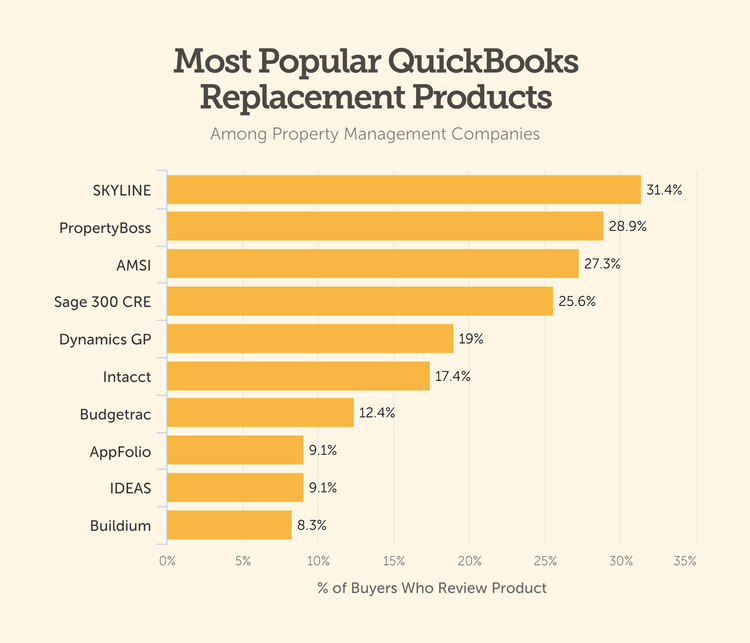 Common requirements for property managers replacing QuickBooks include:
Tenant management
Property/unit specific reporting
Investment reporting for split ownership scenarios
Common area maintenance tracking
Work order management
Methodology
The data presented in this report comes from 4,143 organizations who actively reviewed QuickBooks replacements in the last five years.
In order to identify the most popular replacement programs for companies using QuickBooks, we tallied the individual programs that these companies considered purchasing. Each product included in the count was either: a) one that was referred to the buyer via our free matching service, or b) one that the contact reported independently reviewing.
Only reviews including requirements for general ledger and least two other main modules were examined, so as to eliminate instances where buyers were looking to augment QuickBooks, rather than replace it. In collecting the data sample, no distinction was made between current users of the various QuickBooks product versions (Pro, Premier, Enterprise).
Statistics, of course, are only ever as meaningful as the sample from which they are derived. To our knowledge, no larger or more relevant data set has ever been considered in pursuit of the answer to the question of which programs are the most popular among companies looking to move on from QuickBooks.
Full Product List
559 individual products were reviewed by the 4,143 organizations we spoke with seeking alternative options to QuickBooks, including:
A
aACE 4.0, AB System Office, Abila MIP Fund Accounting (formerly Sage 100 MIP Fund Accounting), Accellos One Collect for GP, Accellos One Warehouse, Access Your Biz Professional Accounting Software, Acclamare, AccountEdge Pro, Accounting/ERP Solutions, AccountingSuite, AccountMate 8.2 for LAN, AccountMate 9 for SQL and Express, accountsIQ, ACCTivate! Advanced Inventory and Distribution Management, AcctVantage, AccuBuild, AccuFund Accounting Suite, ACE Retail 3000, Acomba, Activity, Acumatica Customer Management Suite (CRM), Acumatica Distribution Management Suite, Acumatica ERP, Acumin, Adagio Accounting Suite, Adaptive Planning, Adjutant, Advantage, Agiliron, AgManager, ajeraComplete, ajeraCore, ALCIE Distribution Suite, ALCIE Financials Suite, ALCIE Manufacturing Suite, ALCIE Project Management & Accounting Suite, Aldelo for Restaurants Pro, ALERE Accounting, ALERE Manufacturing, Alert Software, Alert Stratus for Dynamics CRM 2011, All Orders, AME General Ledger Program, AMSI - Construction Software, AMSI - Property Management Solutions, Anytime Collect, Aplicor 3C, Aplicor Online Accounting, Aplos Base Accounting Software, Aplos Fund Accounting, Aplos Software Web-Based Suite, Apogee ERP, AppFolio Property Manager, Appgen Custom Suite, Aquilon ERP, ArchAdministrator, Ascente, ASI Financials, Asset Management, Assist 2K, Assistance PSO for Microsoft Dynamics, Averiware
B
Backroom Accounting, BatchMaster - Process Manufacturing ERP Software, BatchMaster ERP with SAP Business One, bcFood, BCR Software, Bean Cruncher Online Accounting Software, BellHawk, Beyond Software, BillQuick, BIS - Builder Information System, BISTRO CRM, BISTRO Enterprise Resource Planning, BISTRO Order Management and Point of Sale, BISTRO Property Management, BizAutomation, Bizowie ERP, Black Mountain Software Government Accounting, Black Mountain Software Utility Billing, Blackbaud Fundware, Blue Link ERP, Bluegrass Software Solutions, BMSI Financial Software System, brokerWOLF, Back Office Management System, Budget Maestro, Budget Pro, Budgetrac Real Estate Developer Software, Business ByDesign
C
CareTracker, Carillon ERP, Catalyst Manufacturing, CDM+ Church Management Software, Celerant Command Retail, Cell CRM, CenterPoint Accounting, CenterPoint Accounting Software for Agriculture, CenterPoint Fund Accounting for Municipals, CenterPoint Fund Accounting for Nonprofits, Chempax, Cinch Agronomy Series, Cinch Grain Processing, Cinch Sales, CIS (Core Information System), Clarity Suite, CMS Professional Accounting, CMS Professional Payroll, CMS Professional POS, Comand Center, Commercient, Common Sense, Compiere, Computer Guidance eCMS, ComputerEase Construction Software, Connected Accounting and ERP (Mac / Macintosh), Connected Accounting and ERP (Windows), Connected Sale , ConnectedBusiness ERP, Construction Software Online, Contractor V, Core Property Management, Core2 - Advanced Distribution, Core2 - RMS, Corecon V7, COSS Manufacturing Software, Customer Relations Management Pro, CYMA HRexPRess, CYMA IV Financial Management System (FMS), CYMA IV Not-for-Profit Edition
D
DacEasy, Data Pro, Dataflow , DataSelf BI, DCAA-Assist, Decision Builder Solution - ERP/Manufacturing/Distribution, Deltek Costpoint, Deltek First Essentials (formerly GCS Premier), Deltek Maconomy, Deltek Vision, Denali Business+Accounting, DENALI FUND+Accounting, Denali POS+Accounting, DS90, Dynacom Enterprise ERP, Dynamics AX (formerly Axapta), Dynamics CRM (formerly Microsoft CRM), Dynamics GP (formerly Great Plains), Dynamics NAV (formerly Navision), Dynamics RMS (Retail Management System), Dynamics SL (formerly Solomon), Dynamo, DynaTime
E
Eagle Business Management Software (EBMS), Easy Farm, eCaliper system, ECi Advantage, ECi M1, ECi RockSolid, Elliott Business Software, eManage, EmpowerFinancials, Emque, Encore Products for Microsoft, Enterprise Integrator, Enterprise Resource Planning (ERP) & Financials, Envision Accounting, Epicor Distribution, Epicor Distribution Express Edition, Epicor Financial Management, Epicor for Service Enterprises, Epicor Manufacturing, Epicor Manufacturing - Express Edition, Epicor Prelude, Epicor Prophet 21, Epicor Retail, Epiphany Accounting Software, EQM Rental Solution, Equipment Rental Management - Dynamic NAV Module, Equipment Series, ERP123, ERP4Health, ERP-GOV, eSeries5, eSilentPARTNER Advertising / Marketing Solution, eSilentPARTNER Consulting Solution, E-Syst, eTEK Construction Systems, eTEK Fundamentals, eTimesheet, Everest Manufacturing, Evo-ERP Software, Evolution Professional, Exact Globe, Exact JobBOSS ERP, Exact Macola 10, Exact MAX, Executive Series, Expenz, E-Z-MRP
F
F9 - Excel Based Financial Reporting, FastFund Nonprofit Software, Field Service Management ES, FieldBoss, FieldOne, Financial Suite, Financial View, FinancialForce Accounting, Financials, Distribution, Manufacturing and Planning - R4 Enterprise, Fishbowl Inventory, Fitrix ERP, Flamesoft Cloud Based Accounting, Flamesoft Cloud Based ERP, FlexGen 4, FlexiFinancials, Focus 8 ERP, Focus I ERP, Focus WMS, FoodService Ace, Foundation 3000, FOUNDATION for Windows, FourGen Enterprise ERP, 4Gov, franchiseIQ, Freedom Series/EC21, Freshbooks, FrontLine, Fund Accounting Software (WinFund), Fund E-Z Fund Accounting, FundVision, Fusion ERP, Fusion Retail Management, Fusion System Solutions Software, fySales + CRM, fySales Lite + CRM
G
Galaxy, GCAS (Government Cost Accounting System), GCAS Manufacturing, GCE Federal Financial Management Solution, GCE Financial Accounting Service, Genesis Total Solution, Genius ERP/MRP, Global Shop ERP, glovia, GMS Non-Profit Accounting and Financial Management, GO Business, Gravity, Greentree
H
HansaWorld Enterprise, Hardhat Job Cost Accounting Software, Hawk-i, Horizons Manufacturing Suite, Hospitality Back Office Accounting
I
iBusinessSuite, IconCMO - Church Management Online, Idalica Time & Expense, IDEAS Property Clerk, IFS Applications, iMIS, Infinity POWER Advanced Accounting Software, InfinityHR, InFocus, Infor CloudSuite Business, Infor CloudSuite Corporate, Infor Distribution A+, Infor Distribution FACTS, Infor Distribution SX.e, Infor Service Management - Plus, Infor SyteLine, Infor VISUAL, Infor VISUAL Jobshop, Intacct, INTEGRA e-business, Integrated Mortgage Banking Software Solution, INTERAC Construction Accounting System, INTERAC General Business Accounting System, INTERAC Public Accounting System, Interprise Suite, InTouch Distribution, Intuitive ERP for regulated industries, IPBS/Banking, iQuest, iRentals ERP, Isah Business Software, iVP
J
JAMIS e-timecard & e-xpense, JAMIS Financials, JD Edwards EnterpriseOne, Jeeves Software, Job Accounting Plus, Job Cost, Job Manager for Microsoft Dynamics NAV, Job Simplicity Commercial Edition, Job Simplicity Residential Edition, JobOps, JOBPOWER Software for the Construction Industry, Jonas Club Management, Jonas Enterprise, Jonas for Service Contractors, Jonas Premier
K
K9 ERP, Kenandy, Kintera FundWare - Fund Accounting Software, Kojeo ERP, KwikSALES,
L
LightSpeed, LITEHAUS360, Load Manager, Logos Accounting, Logos II Church/Donor Management, LS Retail NAV
M
Maconomy Agency Solution, Made2Manage ERP, MAESTRO, maestro* Construction, maestro* Service Contractors, ManagerPlus - Computerized Maintenance Management System, Mangrove Online, ManuDyn Cloud 9, ManuFACT, Manufacturing Vision, Marketing Software, Mar-Kov CMS (Chemical Management System), MARS MRP for QuickBooks, MASTER Software, MasterTools - Distribution, MasterTools - Manufacturing, MasterTools - Job Control, Materials Management, Maximizer Enterprise CRM, Maxwell Systems American Contractor, Maxwell Systems Colonial, Maxwell Systems Management Suite, Maxwell Systems ProContractorMX, Maxwell Systems StreetSmarts, Method CRM Pro, Microsoft Dynamics NAV and K-12 Education Suite, Microsoft Management Reporter, MidForce, MIE Trak Software - ERP/MRP/MES fully-integrated business software solution, Millenium, Millennium III (M3), Mincom Intelligent Mining Solution, Minotaur Business System, MISys Manufacturing, MISys Small Business Manufacturing (SBM), Moodle, MRI Commercial Management, MRP for Sage 300 ERP, Multi-Entity Management, MultiFlex ERP, MultiFlex RMS (Retail Management System), Multiview Financial Suite, myFiO ERP
N
Navision Software Enhancements, NAV-X for Distribution, NCR CounterPoint, NetSuite, NetSuite OneWorld, NetSuite OpenAir, NitroSell eCommerce, NolaPro Accounting, Nonprofit Online, Nova: Transportation Solutions
O
ObviO EMS, Odoo (formerly OpenERP), Office Accounting 365, OGBOOKS, OmegaCube ERP, OneNFP Financials, OneNFP Financials Lite, OneSite, OneSource, ontrak Software, OpCenter Grant Management, Openbravo, OpenPro ERP, opentaps Open Source ERP + CRM, OpenXpert for Governments, Oracle E-Business Suite, Oracle ERP Cloud, Orange Leap On Demand, OSAS, Outreach Suite Fundraising CRM
P
PackManager, Palladium Accounting, PaperSave Pro For Microsoft Dynamics, Paradigm Transportation Suite (PTS), ParishSOFT and Church Management Solutions, Passport Business Solutions, Paymate Clarity: Advanced Payroll, HR, Time and Attendance for US & Canada, PENTA, People's Choice Accounting for Business, Perfect Practice, PlanSwift Construction Takeoff & Estimating Software, Point of Sale Pro, Powervieux, PRetail, Print Management Information System, PrintBoss, Priority ERP, ProcessPro Premier, ProContractor by Viewpoint® , Professional Services Time and Billing, Project Cost, ProMan ERP, Promax-ERP, PRONTO-Xi, Property Association Management, Property Boulevard, Property Manager Edition, PropertyBoss - Property Management Software, ProphetLine for Windows, ProTrac - Distribution Software
Q
QAD Enterprise Applications, Quantus Manufacturing Suite, QuickService and QuickMobile
R
Ramco ERP Suite, RedBeam, Reflex ERP, RentMagic, Retail Pro, RetailMagic - Single Store, Revel POS, RIS, RMI ADVANTAGE, Rockton Connect, Rootstock Manufacturing and Supply Chain Apps, Ross Enterprise for Food Processors, Ross ERP for Chemicals, Ross ERP for Process Manufacturing, Roundtable Software Advantage Accounting System, RSA eBusiness Solutions,
S
S2K Enterprise Software, Saasu Online Accounting, SafeChoice Accounting for Non-Profits, SafeChoice Fund Accounting, SafeChoice Utility-Billing, Sage 100 Contractor (formerly Master Builder), Sage 100 ERP (formerly Sage MAS 90 ERP and Sage MAS 200 ERP), Sage 100 Fund Accounting (formerly Sage MIP Fund Accounting), Sage 300 Construction and Real Estate (formerly Sage Timberline Office), Sage 300 ERP (formerly Sage ERP Accpac), Sage 300 Trade Specialty (formerly Sage Timberline Enterprise), Sage 50 (formerly Peachtree by Sage), Sage 50 Accounting (formerly Simply Accounting), Sage 50 Construction Accounting, Sage 50 Distribution Accounting, Sage 50 Manufacturing Accounting, Sage 50 Quantum Accounting (formerly Peachtree Quantum), Sage 500 ERP (formerly Sage ERP MAS 500), Sage BusinessVision Accounting, Sage BusinessWorks Accounting, Sage CRM, Sage ERP X3, Sage Estimating (formerly Timberline Estimating), Sage Fundraising, Sage HRMS (formerly known as Abra), Sage One, Sage PFW ERP, Sage Pro ERP (formerly known as ACCPAC Pro Series and SBT Pro Series), Sage Timesheet, Sage Timeslips, Sales Management ES, SalesPad for Dynamics GP, SAM Pro Enterprise, Samco Power Accounting, SAP Business All-in-One, SAP Business One, SchoolBooks-School Activity Fund Accounting, Seradex ERP Software, Serenic® Navigator, Series 5, Service Dispatch and History, Service Maestro, ServicePoint Management Software, SI Foodware Fresh Produce, SKYLINE Property Management Software, Slingshot Enterprise Suite, Small Business Consolidator, Small Business Manufacturing, SmallMfg Inventory and Accounting, Smart Hotel Software, Smartwerks, Solentris Distribution Software, SouthWare Excellence Series - ERP Software, Spectrum, Spectrum Construction Management Software, Spitfire Project Management System, Stansoft Linux, STRUCTURE, SyAcc ERP, SYMPAQ SQL, Synergy, SYSPRO 7, System 20/20
T
Tabs3, Tallie, Technisoft Service Manager, Tenrox PSA (Professional Services Automation), Tenrox Time & Billing Software, The Achieve One Distribution System, The Assistant Manager, The Farmer's Office, The Financial Edge, The Plus Series, TimeCenter, TimeClock Plus – Web Edition, TimeSuite ToolBox, TMWSuite, TrackMaster Accounting Software, Trade Accountant Online, TRAVERSE, Tropos, Trucking Integration, True ERP, Trust-it, TurningPoint Accounting
U
UA Business Software, UA Small Business Edition, UDA Construction Suite, Unanet Professional Services Automation, Unanet Project Portfolio, Unanet Project Portfolio Financials, Unanet Project Tracking, UNIT4 Business World, UNIT4 Coda Financials, Utility Billing, Utility Billing Software (WinUB)
V
Venture, VersAccounts Cloud ERP, Versaccounts Pro 5 and Pro 10, Versaccounts Startup and Pro, Vicinity - Process Manufacturing Software, VISCO, VISIBILITY.net ERP, Vision, VisionCore, Visions Distribution Software, Vista by Viewpoint (formerly Viewpoint V6), Visual Ledger, Vogue Professional, Voyager Professional
W
Warehouse Management - WISE, Wave Accounting, WebHawk, WennSoft Signature (formerly Service Management Series), WIMS 4 CRM, Wintac, WMSExpress, WOLFconnect, Work Order / Job Pro, WorkBook, WorkWise ERP
X
Xe Plant, Xero, Xledger, xTuple ERP for Windows, Linux, Mac and Mobile
Y
Yardi Enterprise Property Management, Yardi Voyager Property Management