Calibration or "zeroing" is an important aspect of metrology, the accurate, precise measurement of values made to avoid uncertainty. Many national and international laboratories exist solely to provide consistent measurement standards for others to use in their comparisons. The International System of Units (SI) also maintains a globally accepted list of main units of measurement. Unsurprisingly, methods of calibration for these many units are extensive, making it difficult to manually calibrate instrumentation without assistance.
What is Calibration Management Software?
Calibration management software, occasionally shortened to CMS, assists with the automated scheduling of instrument calibration and maintenance. These systems allow all types of facilities to increase the accuracy and precision of their measurements by keeping relevant equipment correctly calibrated at all times. The software also keeps track of measurement readings, device history, and compliance requirements.
Calibration management solutions are sometimes included in larger maintenance management software packages. However, a single solution aimed at managing your instrument calibration can be beneficial for many reasons, one of which is remaining compliant with the International Organization for Standardization (ISO) and other international agencies.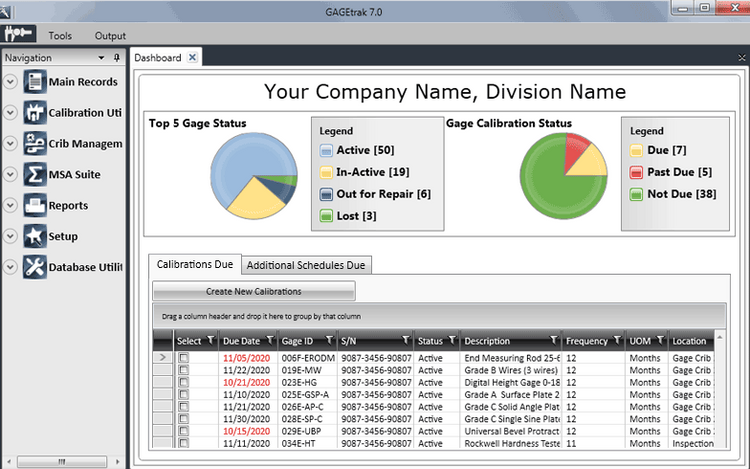 Features of Calibration Management Software
Calibration instructions: Record accurate instructions for correctly calibrating and operating all instruments and equipment at your facility
Measurement readings: Automatically record instrument measurements digitally after every calibration
Gage management: Calculate the true values provided by measuring instruments based on known deviations
Calibration schedules: Set up appointments for checking instrument calibration without causing disruption to regular operations
Asset management: Keep track of all physical assets including equipment, instrumentation, tools, vehicles, and machinery
Device history: Keep records of all instrument and equipment performance over time, along with details about how the device has been calibrated and used
Out-of-tolerance notifications: Receive automated alerts whenever an instrument is performing out-of-tolerance range
Preventive maintenance: Determine when instrumentation and equipment needs to be serviced before breakdowns can occur
Compliance management: Ensure all instrumentation remains in compliance with local, federal, and international regulations:
Due date tracking: Follow up on all important projects by receiving timely notifications before due dates arrive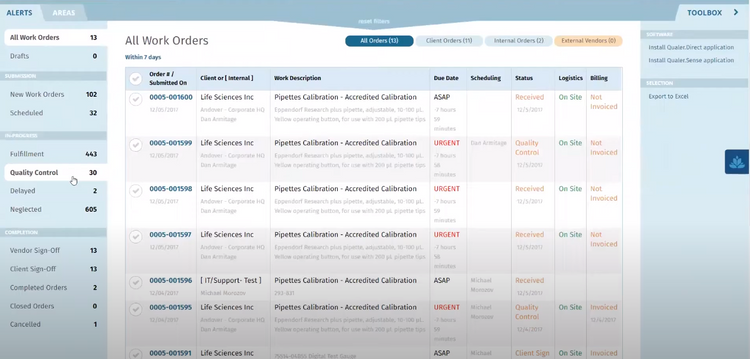 Best Calibration Management Software Benefits
There are many potential benefits to automating your calibration management system. Learn more about the advantages this type of software has to offer:
Gain Precise Measurements
One of the primary benefits of calibration management software is the increase in precise measurements from accurately calibrated instruments. Correct calibration compares the values taken by a measurement device against a known standard in order to ensure accuracy. There are seven base units as defined by the SI system:
Second (s)
Meter (m)
Kilogram (kg)
Ampere (A)
Kelvin (K)
Mole (mol)
Candela (cd)
Of course, there are additional units which may be used in measurements depending on your needs. These are simply the main units which are the most frequently used, have derived units, and have defining constants with exact values. For example, these units may help you to find general properties including:
Weight
Mass
Height
Voltage
Sound
Time
Temperature
Chemical composition
The known standard for each unit needs to be carefully considered before any measurements take place. For instance, measuring the height of an object may require a simple comparison against a physical ruler. Measuring luminosity (cd) will require far more specific instrumentation. As such, calibration management software assists with the comparison of these accurate standards against the results taken from instrumentation.
Prevent Duplicate or Inaccurate Data Recordings
Manually writing down measurements can lead to human error. And the wrong notations can lead to problems down the road from data being based on inaccurate measurements. Calibration management software provides automation to the measurement process, greatly reducing the likelihood of error.
Existing data can be imported manually or automatically, depending on prior calibration arrangement systems used by your facility. This information can then be shared amongst users on the platform, preventing the need for printed documents or lengthy email attachments.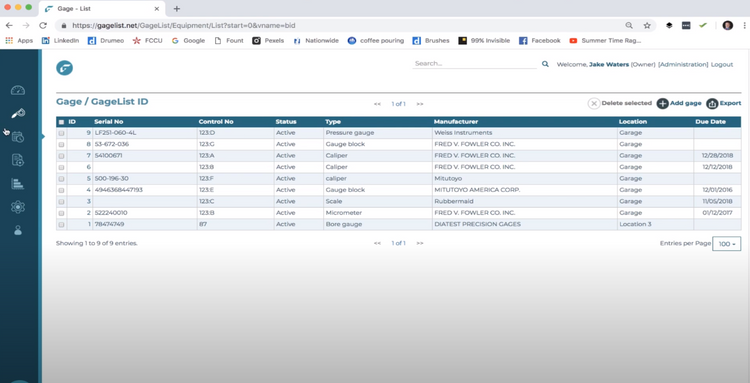 Remain Compliant
Safety compliance is a top concern no matter your business. Many industries, particularly those involved in healthcare, manufacturing, and scientific study, have rigorous safety standards when working with certain hazardous materials in order to avoid dangerous measurement errors. To reduce the likelihood of incidents, even operating equipment and instrumentation can come with a slew of tightly controlled regulations. Maintain quality standard compliance by utilizing calibration management software.
These systems allow you a single platform to review and streamline all relevant safety protocols based on your industry and local, state, or federal guidelines. And they also build paperless audit trails by tracking your workflow in real-time with calibration records, indicating exactly how your company has remained compliant throughout the calibration process.
Some international and federal organizations which may require various types of regulatory compliance or traceability include:
International Organization of Standardization (ISO)
National Institute of Standards and Technology (NIST)
US Food and Drug Administration (FDA)
United States Department of Agriculture (USDA)
Occupational Safety and Health Administration (OSHA)
For example, ISO 9001 provides one of the most well-known and internationally recognized quality management system (QMS) standards. Any company, regardless of size or industry, can gain this certification. Calibration records can help when working towards this certification by clearly outlining all issues, scope, and processes.
Reduced Downtime for Maintenance and Repairs
One of the main goals of calibration is to remove uncertainty from measurements. Any deviation from the correct values can lead to frustrating problems later. For example, making the wrong measurements while developing a prototype can lead to manufacturing errors during mass production. If an instrument is out-of-tolerance, or no longer providing accurate measurements, you could be paying the cost. Fortunately, calibration management systems with out-of-tolerance notifications, when paired with preventive maintenance, provides you with advance warning when an instrument needs to be serviced.
First, out-of-tolerance alerts can be sent out as soon as variations are detected. This can create a log of exactly when the issue occurred. Without a calibration management system, you may be left guessing exactly when your instrumentation needed correction. Once the issue is known, you can go back and ensure all measurements since then have been double-checked for accuracy.
Preventive maintenance ensures instrument and equipment downtime is scheduled before any breakdowns can occur. Since equipment malfunction can impact calibration, keeping your instrumentation in peak operating conditions can reduce errors. Device history and asset tracking tools can indicate which instruments may be in need of service as well.
Industries Dependent on Calibration Management Systems
There are several industries which rely on instrumentation to measure data. For these businesses, an automated calibration management system can be the difference between success and failure. Just some of these industries include:
Healthcare
Scientific research
Engineering
Education
Manufacturing
All of these industries use various types of instrumentation to measure various data. From the chemical composition of new medications to the precise measurements necessary to begin prototype production, calibration management software helps to ensure values are as accurate as possible.