What is Construction Scheduling Software?
Construction scheduling software assists in managing the schedules of labor and resources in a construction project. Sometimes included as part of a larger construction management software, standalone software automates the calculations necessary to determine a probable completion date. By knowing these dates in advance, you can schedule project tasks based on the availability of labor, equipment, and materials.
Construction scheduling is much more than simply creating a work schedule for your employees.With scheduling software, task sequences, priority levels, task dependencies, and the completion time of tasks can all be illustrated in a logical progression towards project completion.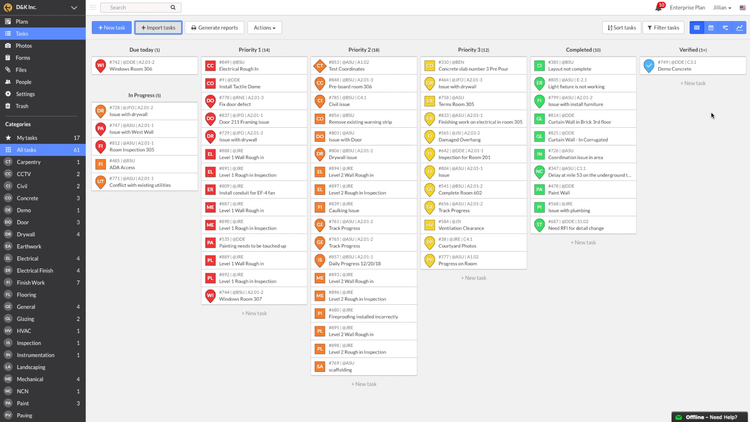 Construction Scheduling Software Features
Custom Schedule Views: Create schedules in an easy-to-read format. Set up calendar views, Gantt charts, or Kanban boards.
Resource Allocation: Assign materials, labor, and equipment to specific tasks. -Availability Tracking: Check if equipment or materials are available or currently in use, as well as employee availability.
Online Timesheets: Track employee time spent on particular tasks in the project.
"What-if" analysis: Test out various construction schedules by moving project tasks to different time slots to complete project tasks without strain on your employees or resources.
Drag-and-Drop Capabilities: A visual approach to scheduling lets you move tasks to different time slots to see if your project team can fit the construction tasks at that time or what possible effects it may have on your bottom line in terms of budget.
Capacity Planning: Determine the capacity needed to meet the demand for construction projects you are considering adding to the schedule. Adjust schedules in real-time when unexpected bottlenecks occur.
Priority Scheduling: Determine the profitability of each construction job in order to establish priority levels and work on the most important jobs first.
Time Tracking: Track hours spent on individual tasks and the project as a whole. Monitor billable vs non-billable hours for improved budgeting.
Budgeting: Estimate the total cost of a project based on the labor hours scheduled. Includes labor costs, material procurement costs, and operating costs.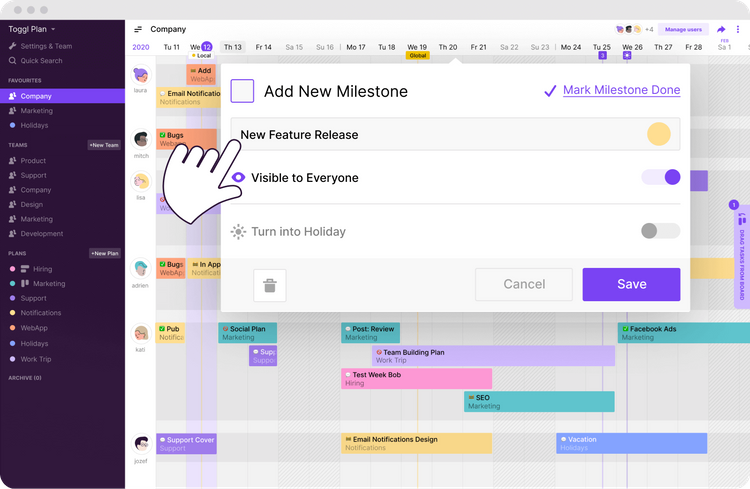 Benefits of Construction Scheduling Software
Some of the top benefits of construction scheduling software include:
Better Manage Your Construction Budget
Accurate scheduling in construction management can reduce overall project costs. To start, anticipating cash flow correctly at the start of a job can be a key factor in making on-time payments during the job. The schedule can show predicted milestones so you're ready to order the right supplies or arrange for labor.
Another way to improve the budget is by meeting deadlines faster. While construction timelines are easily affected by outside factors, making updates to the schedule with software can help you recover lost time. Finishing a job on-time or early can lead to savings on labor, equipment, and materials. And realistically updating the schedule can temper expectations to ensure you're not making promises to a client that your business won't be able to keep.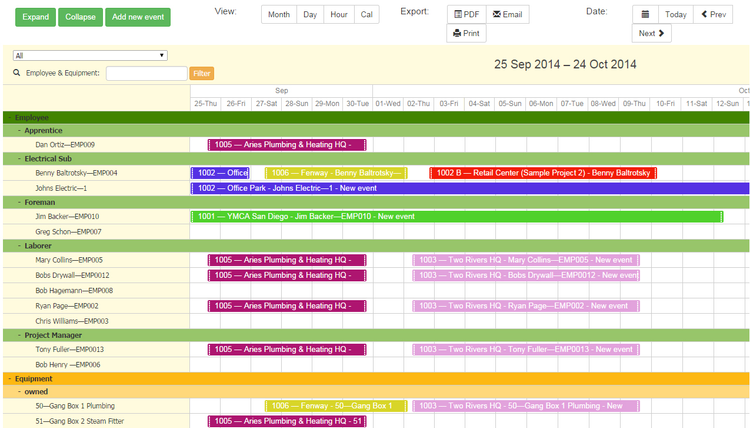 Avoid Bottlenecks from Bureaucracy
Many construction businesses need to apply for permits and inspections prior to being able to complete work. There may also be local and municipal requirements to be met when building a residential home or a commercial building. By creating an accurate timeline of when a project will start, you'll be better able to know when you need to apply for said permits.
In your construction process, you want to avoid bottlenecks that may come from having to wait on certain tasks to be completed. One example in a construction project is waiting for an electrical installation to complete before you can proceed with further work. By scheduling these inspections ahead of time, and planning non-dependent tasks to occur while this installation is occurring, your business will be able to operate at peak efficiency.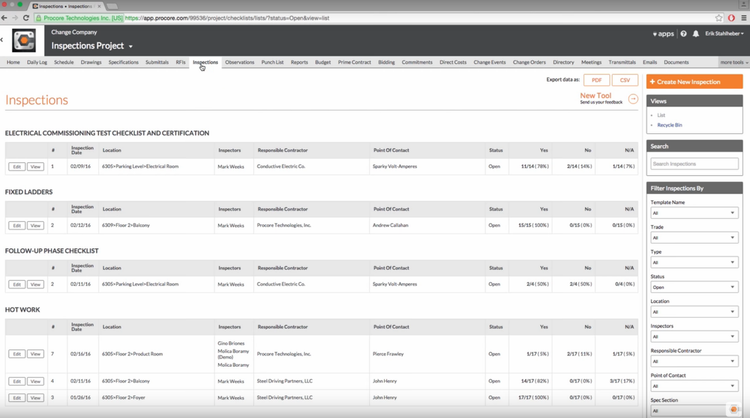 Types of Scheduling Views Available
Construction scheduling software can visually display your schedule in a number of formats, including:
Kanban Boards
In construction scheduling software, Kanban boards can use historical data to help you make precise estimations about a current project's duration, as well as plan and prioritize upcoming projects. The aim is to provide scheduling based on workflow historical data rather than on estimates. The ease and convenience of Kanban boards lets you better visualize each stage of your construction project.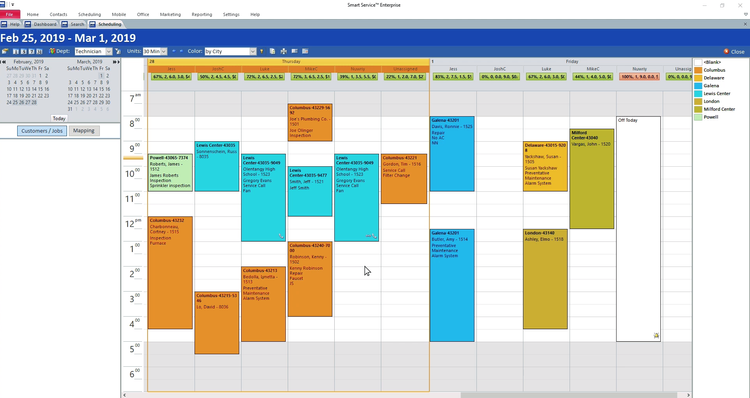 Gantt Charts
A Gantt chart acts as a bar chart that illustrates the schedule for your construction project. This method of scheduling provides a means of viewing the dependencies between tasks, helps visually represent the connections between what must be completed first, and can also track the completion of project milestones. Gantt charts are important in construction due to the frequency that changes can occur in a construction project. Charts make it easy to see the tasks that are on schedule, running behind, or are at risk of going over the allotted time.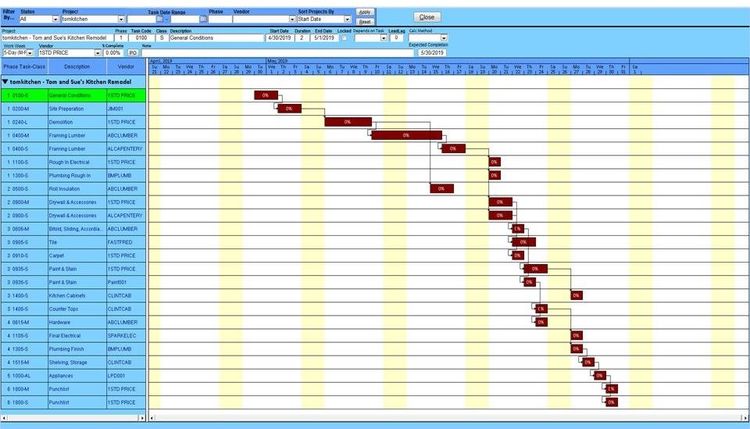 Calendar Views
Calendar views allow you to view your construction project schedule in a format people recognize. In construction scheduling, a calendar view allows you to view tasks along with their start and end dates in a format that is easy to understand. Tasks can easily be rescheduled in a drag and drop fashion whenever changes are needed. Calendar views can also be looked at in a Daily, Weekly, or Monthly format, which is great if you have an interest in tasks on a daily level, or want to look farther out into the future.