What is Construction Scheduling Software?
Construction scheduling software assists in managing the schedules of labor and resources in a construction project. Your project activities can be assigned to a specific date along with the employees, equipment, and materials needed to complete the project. Sometimes included as part of a larger construction management software, construction scheduling software will help determine a more accurate completion date by automating calculations that are based on schedule constraints of the labor and equipment.
Construction scheduling software will also track the progress of each task involved in the project–making it a key part of any project management process. If an unforeseen issue arises, you will be able to see if the estimated completion date will be affected. This allows you to take corrective action as needed to prevent delays from happening.
Construction scheduling is much more than simply creating a work schedule for your employees to follow. Construction scheduling is one of the key features in your overall construction project management, as time and task management are vital in completing projects on time. Task sequences, priority levels, task dependencies, and the completion time of tasks can all be illustrated in a logical progression towards project completion.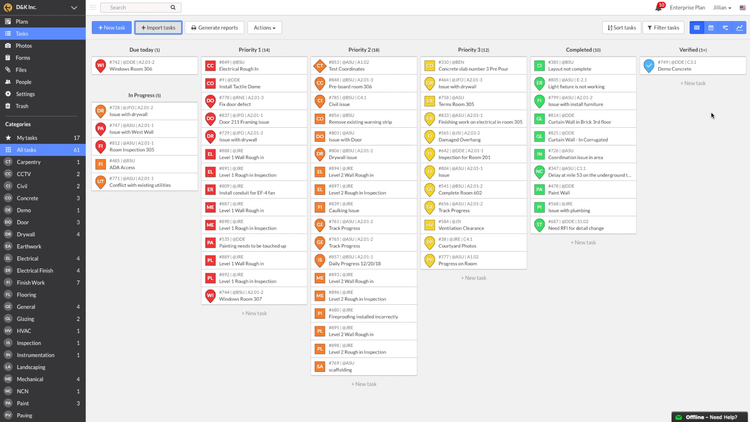 Features of Construction Scheduling Software
Custom Schedule Views: Create schedules in an easy-to-read format. Set up calendar views, Gantt charts, or Kanban boards.
Resource Allocation: Assign materials, labor, and equipment to specific tasks. -Availability Tracking: Check if equipment or materials are available or currently in use, as well as employee availability.
Online Timesheets: Track employee time spent on particular tasks in the project.
"What-if" analysis: Test out various construction schedules by moving project tasks to different time slots via drag-and-drop functionality. Find the one most efficient for your business by syncing resource availability and any constraints. Find the window that will complete project tasks the fastest without strain on your employees or resources.
Drag-and-drop capabilities: A visual approach to scheduling lets you drag and drop tasks to different time slots throughout your schedule to see if your project team can fit the construction tasks at that time or what possible effects it may have on your bottom line in terms of budget.
Capacity planning: Determine the capacity needed to meet the demand for construction projects you are considering adding to the schedule. Adjust schedules in real-time when unexpected bottlenecks occur.
Priority scheduling: Determine the profitability of each construction job in order to establish priority levels and work on the most important jobs first.
Time Tracking: Track hours spent on individual tasks and the project as whole. Monitor billable vs nonbillable hours for improved budgeting.
Budgeting: Estimate the total cost of a project based on the labor hours scheduled. Includes labor costs, material procurement costs, and operating costs.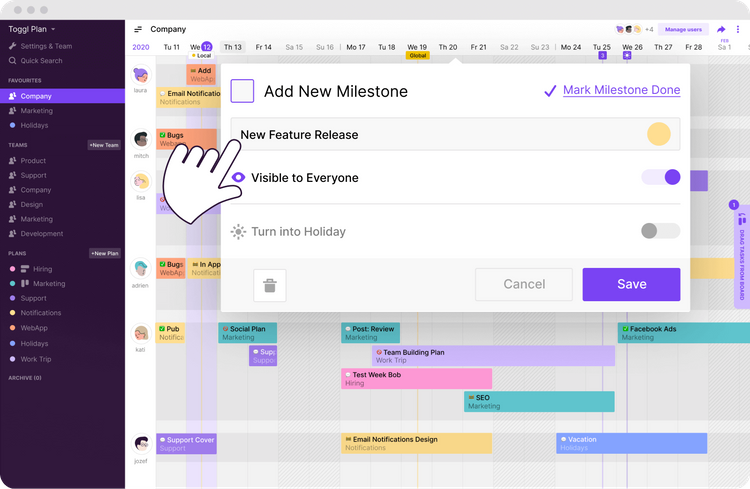 Benefits of Construction Scheduling Software
Some of the top benefits of construction scheduling software include:
Better Manage Your Construction Budget
When you have an accurate timeframe for when your construction projects will be finished, your business will be better able to predict when payments will come in for that project. Anticipating cash flow accurately can be a key factor in your business ordering more supplies or keeping your workers and subcontractors happy with on-time payments.
Scheduling in construction management can also help reduce project costs. By establishing a realistic date of completion, decision-makers can make better-informed decisions. While the complexities of a project may be hard to predict, quality construction scheduling software can temper expectations to ensure you're not making promises to a client that your business won't be able to keep.
By shortening the schedule, your construction business may be able to better plan tasks and establish more concrete deadlines. For example, some tasks may be able to be performed within a larger timeframe, allowing more critical tasks to be completed beforehand. This level of flexibility means your project tasks are not dependent on one another (i.e., one task does not have to be completed for the next to begin), and employees can work on non-critical tasks without interrupting the overall project schedule. This means no overtime is being accumulated and your project stays within budget.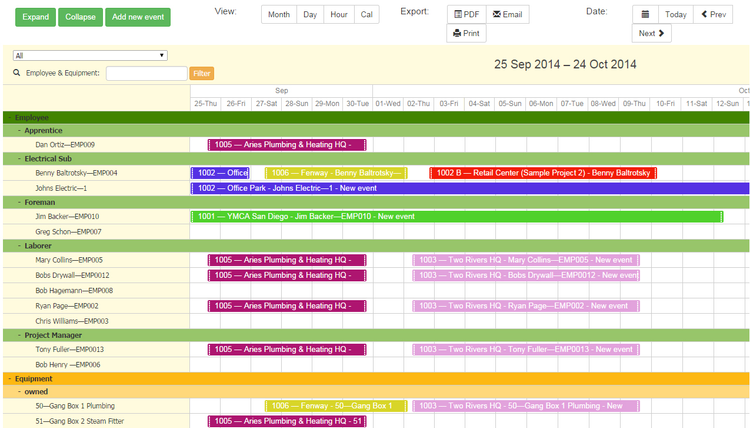 Get A Better Grasp On Task Dependencies
Many construction businesses need to apply for permits and inspections prior to being able to complete work. There may also be local and municipal requirements to be met when building a residential home or a commercial building. By creating an accurate timeline of when a project will start, you'll be better able to know when you need to apply for said permits.
In your construction process, you want to avoid bottlenecks that may come from having to wait on certain tasks to be completed. One example in a construction project is waiting for an electrical installation to complete before you can proceed with further work. By scheduling these inspections ahead of time, and planning non-dependent tasks to occur while this installation is occurring, your business will be able to operate at peak efficiency.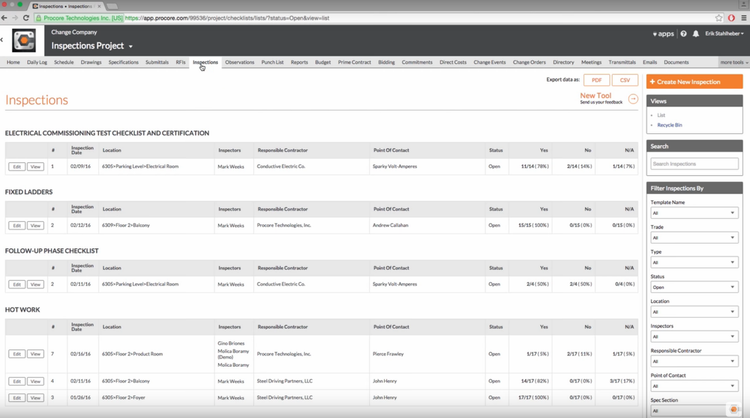 Types of Scheduling Views Available
Construction scheduling software can visually display your schedule in a number of formats, including:
Kanban Boards
Kanban itself is a lean method meant to manage and improve work across human systems–balancing demand with capacity while avoiding bottlenecks. Kanban boards are tools within scheduling software that allow you to implement Kanban by visualizing stages of a project using cards, which represent tasks that need to be completed. This creates an optimized scheduling system through visuals that help better plan projects, schedule tasks, and more.
In construction scheduling software, Kanban boards can use historical data to help you make precise estimations about project length, as well as help plan and prioritize upcoming projects. Kanban boards are known as alternatives to Gantt charts–aiming to provide scheduling based on workflow historical data rather than on estimates.
Kanban boards use:
Cards: Contain information about the task such as a description, the employee responsible, and any deadlines.
Columns: Represents stages of your construction projects. They are usually presented in the order of preferred completion.
Work-In-Progress Limits: Set the maximum number of work that can exist in each status of a project. Helps identify inefficiencies in a team's workflow.
In the days before software, physical Kanban boards could be created using post-it notes. A project manager might grab a post-it note from the "To-do" column and move it into the "In-progress" column when he was ready to begin the task. Once completed, the post-it note would again be physically moved to the "Completed" column.
Today, the ease and convenience of Kanban boards within construction scheduling software let you better plan each stage of your construction project. From design, through pre-construction, procurement, the construction process, commissioning, and owner-occupancy. These stages can be done in a linear fashion. Others may choose a more complicated approach such as "pull planning" which allows for the most critical work to be considered first prior to the work that is next in line or appears to be easier to complete. This creates sections of plans that can be divided into a master plan, a look-ahead plan, a weekly plan, and more.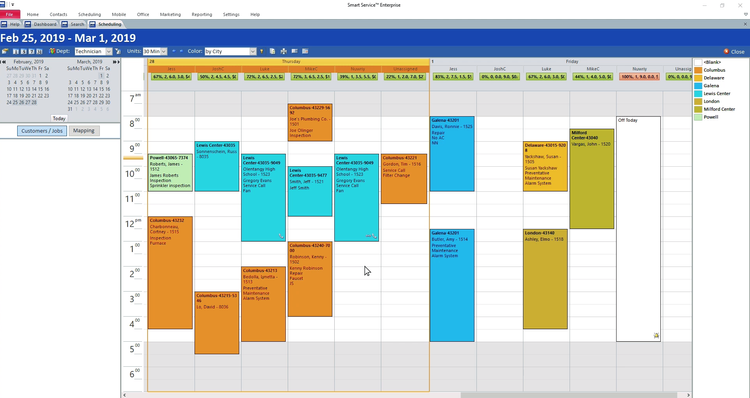 Gantt Charts
Gantt charts are named after their creator, Henry Gantt, who wanted to display the dependency relationships between activities and the current schedule status. A Gantt chart acts as a bar chart that illustrates the schedule for your construction project. This is viewed through horizontal lines that show the amount of work done over certain periods of time in relation to the time set aside.
This method of scheduling provides a means of viewing the dependencies between tasks, helps visually represent the connections between what must be completed first, and can also track the completion of project milestones.
Project managers use construction Gantt charts to establish relationships between tasks. For example, some tasks may be dependent on one another and require your crew to work simultaneously and/or have a clear line of communication open. Project managers can also set task periods, update the progress of the project tasks, insert milestones, and more.
Gantt charts are important in construction due to the frequency that changes can occur in a construction project. Any adjustment to your budget or your timeframes can have a ripple effect on the rest of your schedule. Due to the visual nature of Gantt charts, it's easy to see the tasks that are on schedule, running behind, or tasks that are at risk of going over the allotted time (and thus increasing your project budget).
Construction scheduling software can allow for milestones and progress to easily be seen at-a-glance. Updates can also be posted and change orders attached, allowing anyone involved in the project to view or be alerted to changes in your project. If your construction schedule changes, you'll need to communicate these new plans to your customers, subcontractors, and more.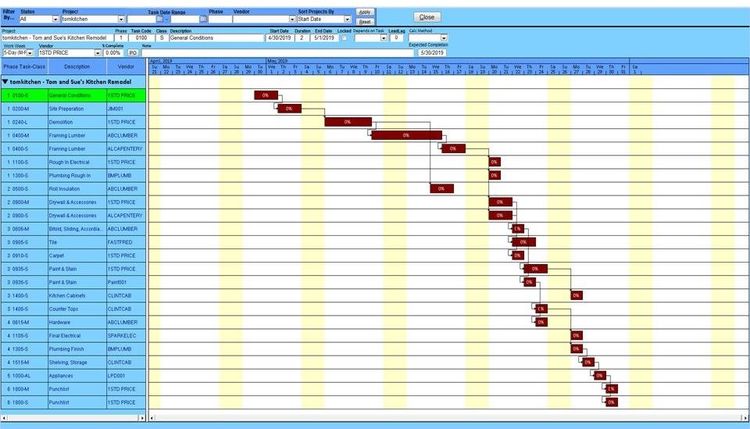 Calendar Views
The most traditional of schedule views available, calendar views allow you to view your construction project schedule in a format people are most familiar with. This is because it looks exactly like a calendar they may keep in their own home or use on their mobile device for keeping track of upcoming appointments, such as through Google Calendar or the calendar that comes with their Android or iOS device.
In construction scheduling software, a calendar view allows you to view tasks along with their start and end dates in a format that is easy to understand. Tasks can easily be rescheduled in a drag and drop fashion, and you can assign different employees. Some calendar views may also offer a Task list off to the side, letting you click on the task you have an interest in and allow the calendar to move to the appropriate date. Calendar views can also be looked at in a Daily, Weekly, or Monthly format, which is great if you have an interest in tasks on a daily level, or want to look farther out into the future.