What is Dropshipping Software?
Dropshipping software works alongside eCommerce software to help online retail businesses fulfill orders for customers by shipping products directly from the manufacturer/distributor to the customer. This is handled through order management integrations with online stores such as Amazon, eBay, AliExpress, and Shopify. Unlike businesses using traditional distribution software, businesses that dropship do not keep the products they sell in stock. When an order is placed, the business purchases this item from a third party and has it shipped directly to the customer.
Dropshipping solutions can come in a variety of forms. Some are simple integrations into your existing eCommerce software that provide additional functionality such as product discovery or a way to import listings. Other software options are fully customizable and provide order management, inventory management, repricing, and more.
Many dropshipping systems will be scalable and work for sole proprietors (who may own an eBay store) or for large multi-national shipping companies. These solutions let you scale upwards and are typically priced based on the number of orders you're dealing with and the number of listings required on your website. Some solutions can even recommend suppliers to source from.
If using multiple suppliers, dropshipping software will prioritize which supplier receives the order at the product level. You'll be able to track products assigned to different product identifiers from these different suppliers (SKU mapping) and coordinate your sales channels with shipping and tracking details.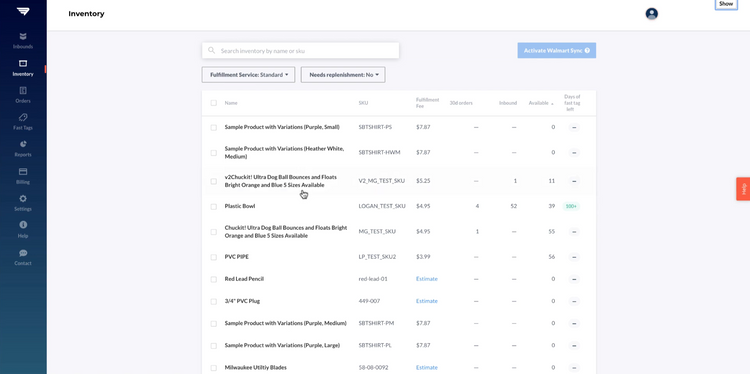 Features of Dropshipping Software
Product Search and Import: Find the products you want to sell through a database that skims multiple vendor and distributor websites such as Alibaba and Oberlo. Import these listings directly into your online store.
Listings Management: Download product information from supplier websites and marketplaces and update existing listings to match current description data, quantity, and pricing.
Order Management: Capture, track, and handle order fulfillment across multiple sales channels (multi-channel order). Connect inventory and sales orders, creating shipping schedules, tracking fulfillment, and creating reports.
Inventory Count: Track stock count data on the items that your suppliers build, buy, store, and sell. Know how much inventory is in stock to prevent overselling.
Repricing: Raise or lower inventory prices instantly and automatically based on your predetermined pricing strategy.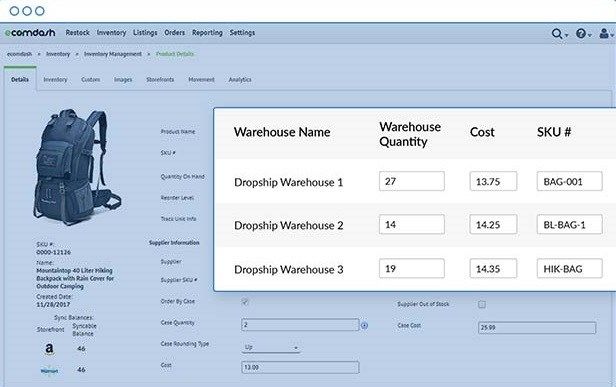 Benefits of Dropshipping Software
The top benefits of using a dropshipping solution for your eCommerce business includes:
Manage Orders Across Multiple Platforms
Dropshipping businesses may use existing retail sales channels to list their products and handle their orders. Examples of these include Amazon and eBay. Alternatively, customers may set up an eCommerce store on their own website using a software tool such as Shopify, WooCommerce, or BigCommerce. Whatever platform is used, dropshipping software will help organize all your orders into a centralized location. Likewise, dropshipping software will help add new products and adjust existing listings across multiple platforms at once, to help automate your processes and save time making needed edits.
Because of this, dropshipping software can be thought of as a type of multi-channel eCommerce software built exclusively for sellers who do not actually own the product they sell. Not only will dropshipping software help you sell your goods across a variety of third-party platforms, but you'll also be able to advertise your products and services across websites and social media outlets. The software will provide a centralized location to update product listings without worrying about outdated information on your marketplaces.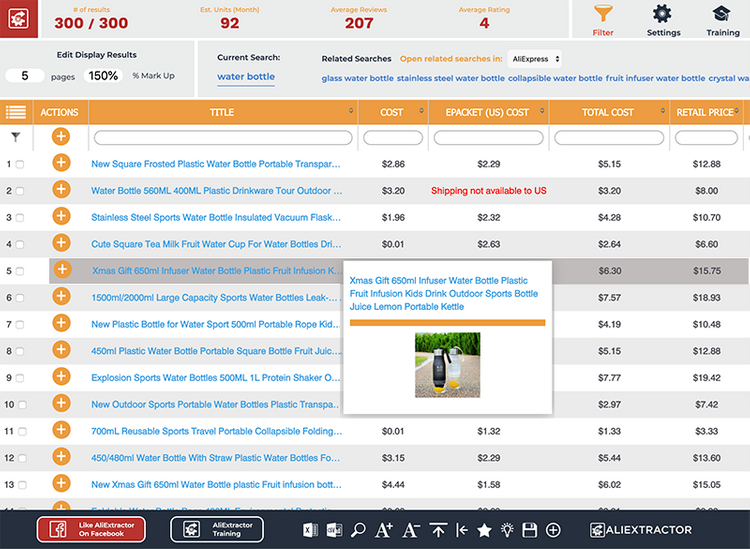 Since dropshipping businesses usually do not own inventory they are selling, this means they deal with constant fluctuations in pricing. Repricing functionality will allow the seller to lower or raise their inventory prices instantly and automatically, in accordance with pricing that is given to you from your primary distributors or manufacturers, or a predetermined pricing strategy.
Customers will always want the lowest price possible, and can very well find a product they like on your website but look for a better price elsewhere. Because of this, it's important to offer competitive pricing against your competitors to decrease the bounce rate from your online store. This can be tricky without accurate numbers on supply and demand. However, dropshipping businesses have the benefit of not having to order inventory at a set cost and have it sit in a warehouse. Instead, they can simply fluctuate their pricing based on their suppliers.
For example, you may find a product you want to sell on a website such as AliExpress. This product may only cost your business $10/piece. However, it will not be as simple as charging an extra $5-10 in order to make a profit. You'll need to take into account business expenses–as well as any unexpected costs–and inflate your expense expectations appropriately. Examples of costs to consider include shipping costs, advertising and marketing (such as FaceBook and Instagram ads), monthly fees you pay for your eCommerce store, website fees, and more.
In the above example (with the $10 product), once you factor in your expenses, you might realize each product will cost $10 in fees. This means you'll need to sell the product at $20 just to break even. A dropshipping software that integrates with your supplier's website will keep a constant check on what your product is priced at. As the price increases, so will your fees, and this price level can be adjusted dynamically on your website without much intervention on your end.
There are a variety of repricing strategies available, so it's important to choose a dropshipping software that reflects your desires:
Algorithmic repricing: A self-learning algorithm that analyzes sales and customer data to ensure your listings are optimized. Assign variables such as risk tolerance to ensure prices stay within an acceptable range.
Rule-based repricing: Assign prices that are more dependent on your competitor's prices, the time of the day, and various marketplace conditions
Velocity-based repricing: Set prices to match your minimum and maximum sales thresholds–helping you move inventory without risk of sellouts.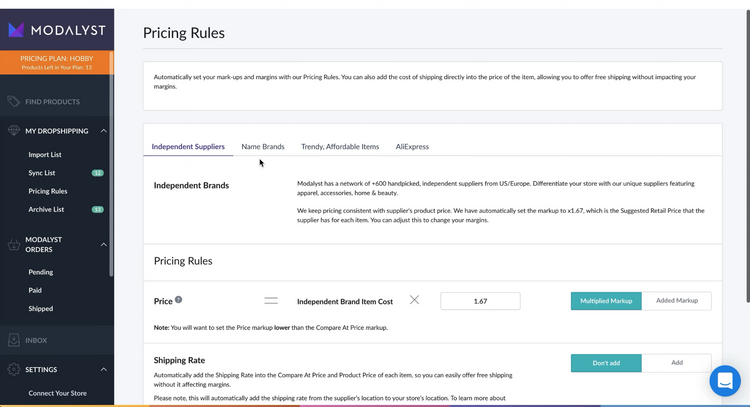 Create Automation In Your Order, Inventory, and Fulfillment
Order and fulfillment automation will help send orders directly from your sales channels to your suppliers to complete fulfillment. This is the most important part of doing business as a dropshipper. Because a dropshipping business is primarily an intermediary between a customer and a supplier, having a reliable way to automate this process can increase the number of sales you make. This process can become complicated when you start doing business with multiple suppliers, so you'll want to look for a tool that prioritizes suppliers depending on the products they offer.
One important tool a dropshipping business will want in their dropshipping system is inventory automation syncs. Syncing inventory across multiple sales platforms will make the most of your inventory exposure and avoid the risk of overselling products (and thus not being able to fulfill orders within a specific time frame).
Auto stock sync will allow you to display your true inventory across all your platforms. For dropshippers, they'll want their inventory to sync with what is listed on their supplier's website. For example, let us take a dropshipper who is buying from a supplier on AliExpress. The products are being listed by the dropshipper on Amazon and eBay, and 100 are available. Without auto stock sync, you'd have to manually allocate 50 of this item to Amazon and 50 to eBay. Using auto stock sync would be able to display 100 on each website, and dynamically update when a sale on the other site occurs. This is a similar situation that retail businesses deal with if they sell both online and at a brick and mortar location.
As long as you are able to sync with your supplier's website (or keep your system updated with how many pieces of inventory your supplier "reserves" for you), you'll be able to easily import your inventory software via a dropshipping software listing tool, which includes stock count, SKU, and pricing information.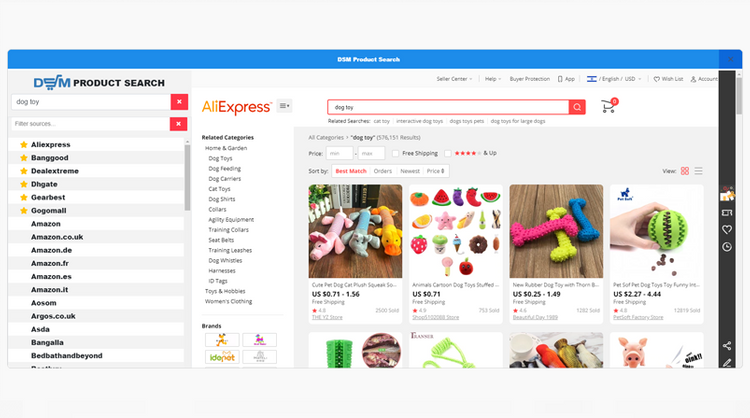 Accounting Software For eCommerce Businesses
At its core, dropshipping software will be able to work alongside your existing eCommerce solution to help import products from marketplaces and ensure your online store is always displaying accurate information. Some businesses may desire an all-in-one solution–meaning software that may also help run their online store (like an eCommerce software). Your business will also need to manage income and expenses, and thus will require accounting software.
While considered a "dropshipping software" in name, some advanced options will also include the capability to manage financials for your business, among other things. These solutions are most commonly compared to ERP software that is targeted for distributors who generate enough volume to warrant the high cost of the system.
For mid-sized dropshipping companies looking for something more affordable, they may consider one of the following:
These types of options will help store owners manage the financial side of their business, such as breaking down sales tax by state and tracking the cost of goods sold (COGS). Additional capabilities of accounting software specific to Amazon and eBay sellers include monitoring FBA inventory, invoicing customers, or linking directly to your marketplace accounts for easy export of your sales data.