What is Enterprise Asset Management Software?
Enterprise asset management software (otherwise known as EAM software) manages the lifecycle of your assets in real-time, including maximizing their lifetime through maintenance management (repairs), tracking their physical movement around your facilities, monitoring the operating condition they are in, the financial costs of maintaining the assets, and keeping records of their repair history. Assets monitored by EAM software can include both physical assets and equipment used during your business operations.
In comparison to asset tracking software, the enterprise part of EAM refers to the scope of assets being tracked. Assets tracked via EAM software usually include assets across multiple departments and locations, and affect nearly all parts of your business (from manufacturing to procurement, to human resources and finance).
Enterprise asset management software can help keep your assets running with high reliability and little to no outages. This can streamline higher production levels and increase revenue. It can also help keep your business in check when it comes to regulatory compliance, as EAM software keeps detailed records on maintenance history to ensure you keep up with the latest safety standards.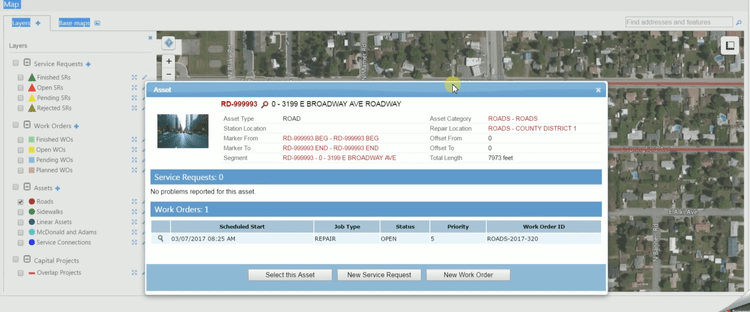 Features of Enterprise Asset Management Software
Asset Lifecycle Management: Monitors the health of assets from end-to-end to help increase its lifespan. Includes risk and operational reviews of assets. Stores detailed records on the history of each asset and work performed. Optimizes the profit generated by your assets.
Work Orders: Create a trackable document identifying what work needs to be done and how it should be accomplished.
Inventory Management: Tracks information on spare parts and equipment used in maintenance and repair operations. Automatic alerts can warn of low stock levels to ensure the proper materials and tools are always available.
Preventive Maintenance: Create schedules, track procedures, set maintenance routines, balance workloads, and more.
Predictive Maintenance: Scans equipment data for performance trends and uses condition-based monitoring to alert the appropriate staff of any potential issues.
Warranty Management: Track asset warranties, process warranty claims, and provide for unlimited warranties against any asset. Increase the return on assets and ensure your business can reclaim warranty-related costs.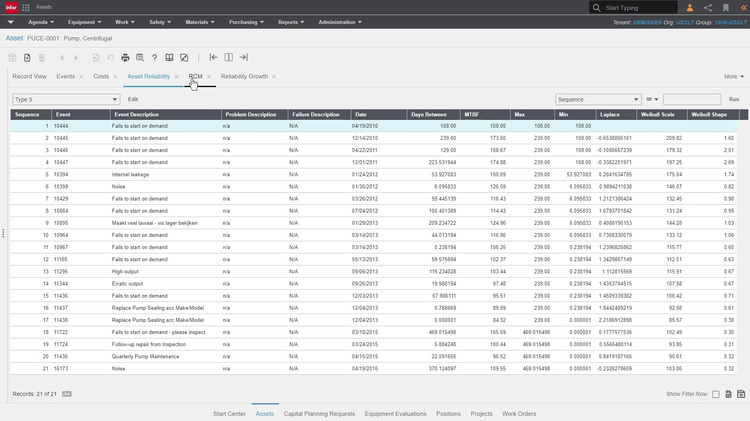 Benefits of Enterprise Asset Management Software
Enterprise asset management software will bring together the financial and operational side of managing your equipment and assets in one place. In order for your enterprise asset management software to function in a way that improves the quality of business you can provide, you'll want to take advantage of the following top benefits of EAM software:
Manage All Assets In One Program
Enterprise asset management software will provide a view of all physical assets throughout their entire lifecycle. From design, through procurement, operation, and disposal, EAM software will store asset data and documentation all from one program.
Depending on the asset type of complexity of maintenance, some businesses may have software setups that encourage keeping these asset details separate. However, proper maintenance on these assets relies on having accurate details about the condition of all related assets, the location of spare parts and tools needed for maintenance, and the coordination and management of your resources (such as staff to complete the work order).
The convenience of one asset database can make accessing conditions, locations, and schedules available at the touch of a button.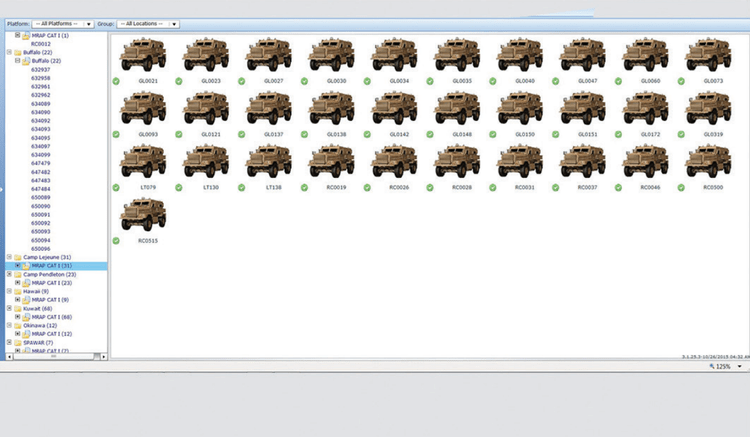 Stay On Top Of Inspections
The data captured by enterprise asset management software during regular inspections can help prevent unexpected or emergency work from happening. An example of data that can be captured is the type of maintenance performed on an asset and the employee who was assigned and performed the maintenance.
Checklists can also be created with checkboxes, text fields, and values that can have customized tolerances for pass/fail checks, depending on the desired state. Regular equipment inspections will help mitigate risks, ensure machines maintain as close to a 100% uptime rate as possible, and ensure your product team delivers quality products continuously.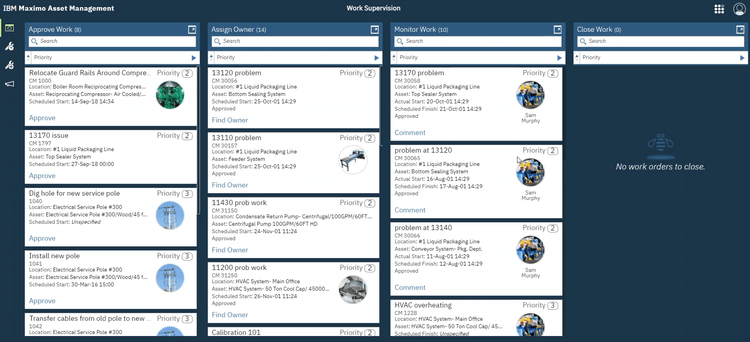 Reduce Labor Costs Involved In Maintenance Overtime
Users of enterprise asset management software can experience an increase in ROI by reducing the labor costs involved in your maintenance operations. For example, in a situation without EAM software, your company may not be aware of a machine in need of routine maintenance. Even worse, the machine may fail during peak manufacturing hours. The longer this machine remains down means the less time it's being used to create a product, and thus help turn a profit. You'll also have to pay a technician to repair the machine, which can take away from whatever scheduled work they had to set aside to fix this machine.
Having a reliable EAM software in place can reduce maintenance overtime, labor costs, production downtime, and more.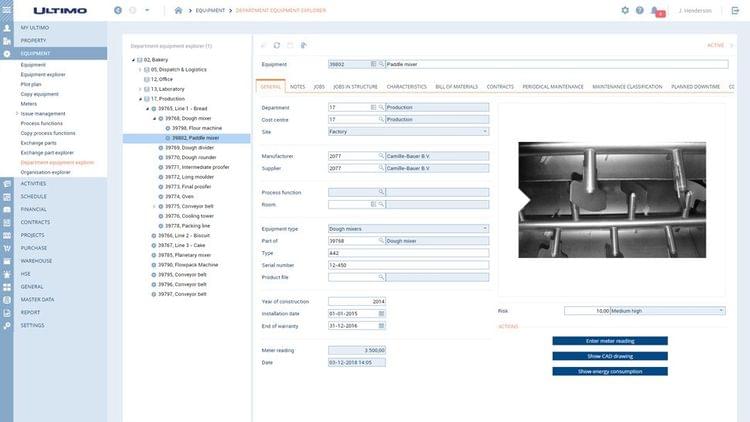 CMMS Software vs EAM Software
The biggest difference between computerized maintenance management software (CMMS) and enterprise asset management software (EAM) lies in the scope of the software and the features included. While CMMS software is used to schedule and dispatch maintenance work, EAM software helps create the optimal life cycle management of an asset. In addition to maintenance, EAM helps anticipate the replacement of assets. A safe conclusion to make is that EAM solutions do have common CMMS functionality, but CMMS software will not have all features of an EAM tool.
Computerized maintenance management systems were originally created to help automate the manual maintenance methods many companies had in place. This included functionality modules such as work order management, spare parts inventory, preventive and predictive maintenance scheduling, and more.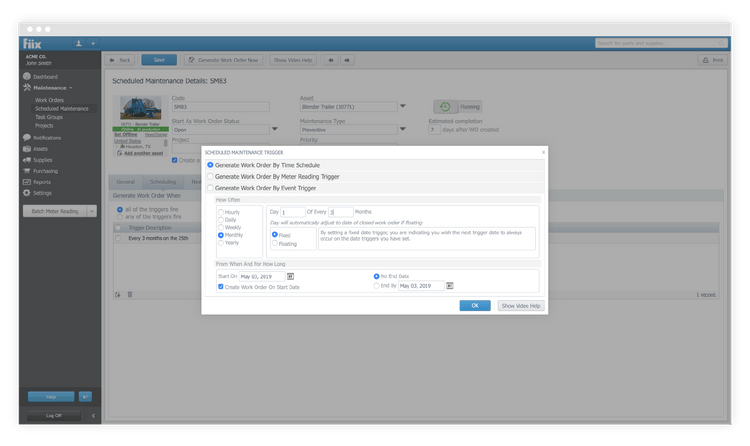 While CMMS is a great tool for handling and planning preventive maintenance, EAM takes it a step further with a more extensive predictive maintenance capability. EAM software will actively collect data on how well your machinery is operating towards pre-set conditions. Machinery that falls below these outputs can have alerts triggered to management, which can help bring attention to faulty or failing assets.
Simply put, EAM is a type of CMMS software that focuses on additional steps that are involved in the lifecycle of an asset. An EAM is usually more appropriate for businesses tracking assets across multiple locations and requiring a large number of users. Companies will usually upgrade to an EAM software once they've outgrown their CMMS software.
For those looking for software that will monitor the health of buildings, spaces, and the equipment residing in them through tracked repair and maintenance work, you may want to consider facility management software.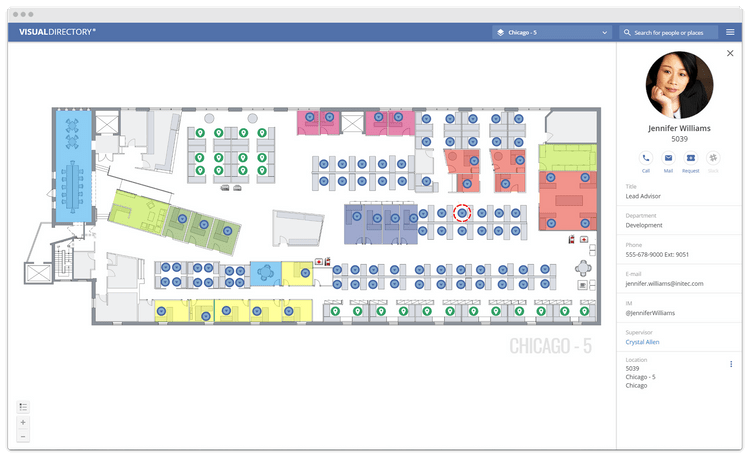 Using EAM Software Capabilities Within Your ERP Software
How does an enterprise asset management (EAM) system, which focuses on controlling assets, tie in with your enterprise resource planning (ERP) system, which helps connect the financial, distribution, sales, and other areas of your company?
Some ERP software will offer basic EAM capabilities such as asset management or financial planning for the purchase of assets. However, EAM takes your asset management to the next level with maintenance management and asset monitoring; something any asset management module within an ERP will typically not handle.
Many companies will need to invest in two separate solutions; one for managing their business operations (ERP), and one for managing assets (EAM). ERP has a broad scope, which can cover anything from financials, manufacturing, human resources, and more. EAM, on the other hand, is a more focused system with the single goal of making sure the organization's assets remain in working condition as to aid in turning a profit.
Many companies may purchase an ERP system as a fully-integrated, "all-in-one" solution. And while it's true that certain ERP systems will offer EAM functionality, implementing an ERP for EAM purposes in an asset-intensive industry can lead to complications down the road. Furthermore, the use of disparate systems can cause inefficiencies in how your organization operates. This includes risks with compliance, inconsistencies in usage and reporting, and update issues.
Many EAM software vendors will recommend a stand-alone that can work alongside your existing ERP software. This is because ERP solutions were originally developed to cater to manufacturing management needs and the service industry, rather than asset-focused industries. When an EAM and ERP are properly integrated, they can add a layer of risk mitigation to the industries most prone to having asset-related issues, such as oil and gas, manufacturing, utilities, and more.