SAP and Oracle provide some of the most popular ERP software products in the world. The main functions covered by these Tier I ERP vendors primarily include financials, sales, supply chain management, and human resources, though there are specialized applications available for specific industries.
Many ERP platforms are cloud-based, allowing global businesses to access the tools they need from anywhere with multiple language options on any device. This includes multiple ERP offerings developed by SAP and Oracle. Which cloud-based ERP software is best suited for your business needs? There are a lot of factors you need to consider first. Find out which SAP or Oracle ERP product is more appropriate for your company.
SAP vs Oracle: Software Overview
Figure out which ERP software is best for your business:
What is SAP ERP Software?
SAP has multiple ERP product options, all designed with slightly different goals in mind. The flagship SAP S/4HANA is perhaps the most well known, followed by Business One and Business All-in-One. Of the three, S/4HANA makes both the Internet of Things (IoT) and big data accessible with real-time insight on any data. This allows companies to better plan, execute, predict, and simulate at all times.
Next, SAP Business One provides comprehensive business management capabilities for small and medium sized companies. There is also SAP Business All-in-One ERP solution designed for mid-market to enterprise size businesses. Both cloud platform systems provide integrated departmental support for finance, sales, supply chain management, production, project management, and production processes.
SAP ERP solutions offer a broad range of functional support for a wide variety of industry types. These three ERP products are primarily used by manufacturers and distributors. However, they are also used in real estate and healthcare. Machine learning and artificial intelligence (AI) functions help customize these solutions to your exact business needs.
What is Oracle ERP Software?
Oracle Cloud ERP, formerly Oracle Fusion, is an integrated suite of business modules capable of various ERP functions depending on your needs. NetSuite ERP is another product offered through Oracle. These cloud applications assist with your business functions of finance, project management, procurement, risk management, and other day-to-day activities. The software can be scaled depending on what applications are needed, how many users require access, the number of transactions you process, and more.
The Oracle Cloud is made up of several specific products to cover all your basic business processes:
Oracle Financials Cloud
Oracle Procurement Cloud
Oracle Risk Management Cloud
Oracle EPM Cloud
Oracle SCM Cloud
Oracle ERP Cloud can be scaled to fit a variety of businesses, though is primarily used by enterprise and mid-market companies. The platform is used by a variety of industries with database systems, including:
Consulting
Healthcare
Finance
Manufacturing
Marketing
Software Deployment Options
There are three main ways to utilize ERP software: on-premise, cloud-based, or hybrid models. All three have different benefits for different types of businesses. Both SAP Business One and Oracle Cloud ERP are primarily cloud-based platforms. This means features can be accessed anywhere and on a variety of devices. Information can be exchanged simultaneously to locations all over the world.
However, the SAP ERP products are also available with on-premise implementation. Depending on your exact needs, you can customize a hybrid model between the on-premise and cloud-based products. Oracle Cloud ERP is not available for on-premise installations.
Winner: SAP
Pricing Models
Pricing on ERP products depends on a variety of factors including required functionality, support expectations, implementation and training needs, deployment preference, active promotions, annual revenue, and user count. Consequently, pricing on SAP and Oracle solutions can vary significantly. Also, ERP vendors are software-as-a-service (SaaS) subscriptions, meaning payments are made on a continual basis by month or year.
SAP S/4HANA pricing primarily depends on if you're using the on-premise or cloud option. SAP Business One and Business-All-in-One costs are based on the number of users. Most mid-market to enterprise corporations can expect to spend somewhere in the tens of thousands over the first 3 years of use. As an example, following chart calculates the average spending range over a 3 year SaaS period of total ownership reported by SAP Business One reviewers: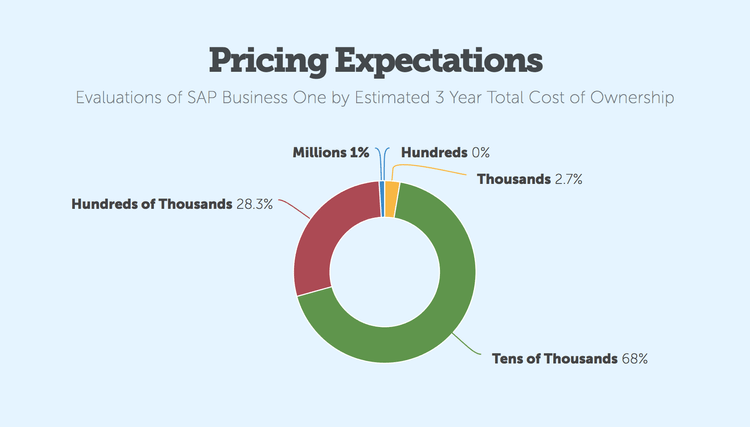 Oracle Cloud ERP has a different pricing structure. The basic platform begins at $175 per user per month. Additional financial controls are available for an added $80 per user per month. Then, access controls are an added $150 per user per month. NetSuite ERP is available for $99 per user per month. This is an estimate of how much the platform would cost over the course of 3 years SaaS: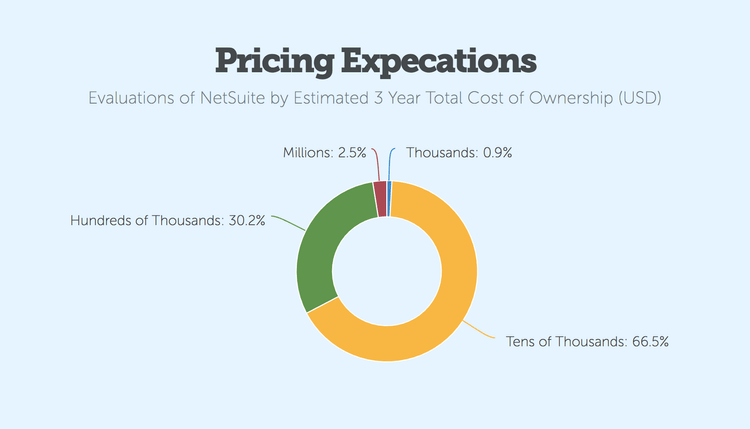 Winner: Tie - The estimated pricing is almost equal between companies with similarly sized user bases.
Organization Size
Both Oracle and SAP offer ERP solutions for businesses ranging from freelancers to global enterprises. Oracle Cloud ERP is mostly intended for mid-market and enterprise corporations, although it can be used by small businesses. NetSuite is more appropriate for smaller companies.
SAP S/4HANA is intended for enterprises, particularly those with a global presence. Additionally, SAP's Business One software is popular with mid-market to small businesses while the Business All-in-One is preferred by larger companies.
It's worth noting ERP implementation can take time. The larger your organization, and the more facilities you have around the world, the longer it will take to deploy. Large enterprises may have to wait months to have an ERP platform fully integrated into their business processes.
Winner: Depends - Generally, SAP is more appropriate for companies which are currently enterprise-level while Oracle may be better suited for companies which are still growing and need a scalable solution to match.
Industries Served
SAP and Oracle ERP products can be used by just about every industry imaginable. They all include features for front-office and back-office business processes. However, the main applications included in each offer different benefits for different types of businesses. SAP ERP solutions are often used by manufacturing and distribution companies with a heavy need for financial, accounting, or HR tools.
The same is true of Oracle, although it lends itself to managing industries which heavily rely on databases to operate. The software is incredibly flexible, this is why the platform is popular with everyone from manufacturers to consulting agencies, healthcare organizations, and financial institutions.
Winner: Oracle
SAP vs Oracle: Which ERP is Best?
SAP and Oracle ERP products both have their own benefits and drawbacks. Which you select will depend on your exact business needs, company size, and even industry. SAP products tend to be used by enterprise-level manufacturers while Oracle is better suited to enterprise and midmarket companies in any field. Yet no single platform has a clear advantage over the others without taking your current business processes into account.