There is a major correlation between achieving business success in the service industry and providing mobile capabilities to field technicians.
That's probably not a controversial statement now that we are several years into the mobile revolution–but there's also real data to back it up. The technology research company, the Aberdeen Group, published findings in 2013 reporting that service companies who met best-in-class business performance benchmarks were considerably more mobile-enabled than their peers.
Consider the differences between best-in-class and average performers in terms of rates of field access to key mobile functionality:
Scheduling (62% to 43%)
Location mapping (50% to 33%)
Customer service histories (54% to 36%)
Service ticket task details (54% to 45%)
While the relationship between access to mobile capabilities and strong service business performance may be clear, many of the answers to tactical decisions related to purchasing mobile hardware are not. In fact, there's no shortage of questions: What OS to select? To ruggedize or not? What about BYOD? Mobile web or mobile apps?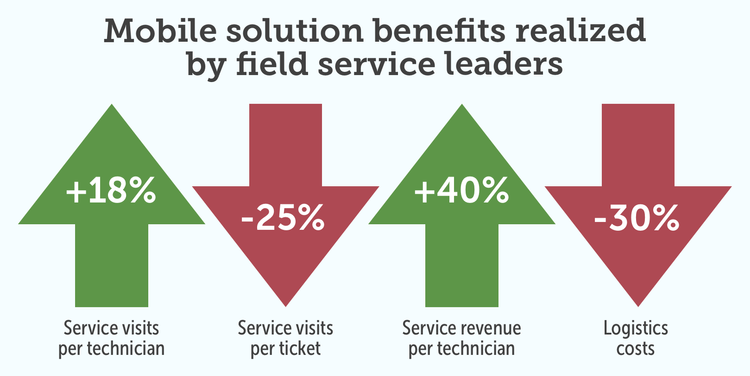 When it comes to mobile hardware, FieldAware might not have a horse in the race, but they live awfully close to the track.
FieldAware is a leading field services management software provider. They don't sell mobile hardware, but they do have a unique vantage point on the mobile device decisions facing your service business. As a developer of software for mobile web and native apps (including both iOS and Android), FieldAware creates solutions compatible with a wide range of devices.
Wondering what expert hardware recommendations they might offer? I did too.
In order to find out how to purchase the right mobile hardware to support a field service initiative, I connected with Shirlene Spillers, VP of Product Management, Design and QA at FieldAware.
What's the Best Way to Go: Smartphones, Tablets, or Laptops?
Shirlene: We recommend that companies purchase smartphones when:
Technicians use the smartphone as a true phone most of the time
Send a limited number of email messages
Are not required to enter large amounts of data (point and click applications)
Require access to web-based information intermittently
Do not use downloaded video for training and troubleshooting
Require limited amounts of data downloaded from the company and/or suppliers
We recommend tablets when technicians:
Make very few voice calls
Send multiple email messages every day
Enter significant amounts of data (where a larger keyboard would save time)
Use the web to acquire and download company and/or supplier data
Use video for training, troubleshooting and communication (ex: Apple's FaceTime video)
Laptops are only necessary when technicians often have limited or no access to a network and require access to data intensive office applications (i.e. Microsoft Word, Excel, Adobe products, etc.) Use of laptops is rapidly declining.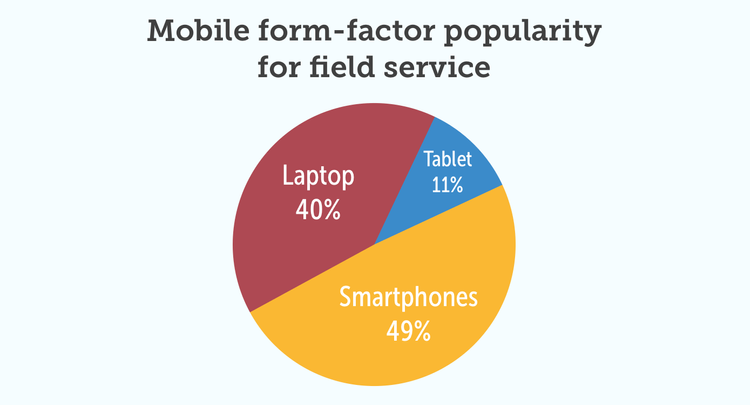 Do You Recommend Android, iOS, or Windows Operating System Devices?
Shirlene: We recommend Android or iOS simply because they are the most prevalent operating systems – and therefore most familiar to the majority of field workers (reduced training requirements).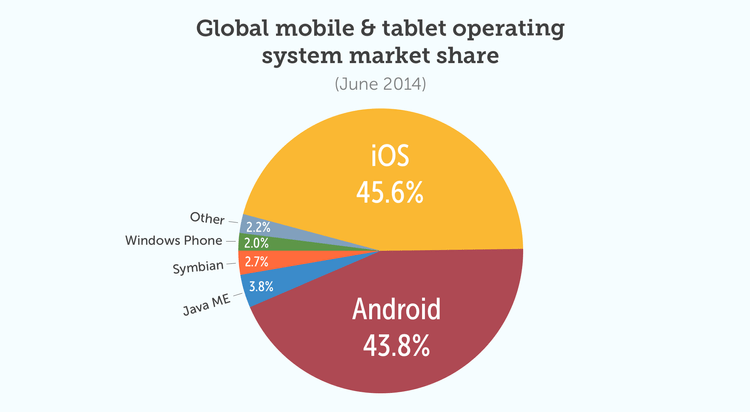 For Organizations Thinking About a Bring-Your-Own-Device Approach (BYOD), What Are the Most Important Considerations?
Shirlene: Employees often want to use their personal devices at work—and for work—as well. This provides both possible benefits and real dangers as well. It's important that enterprises understand the challenges that BYOD creates and the policies and systems that should be in place before field technician-owned devices are incorporated into an organization's technical ecosystem.
We actually wrote a white paper on the subject but, generally, companies need to look at four major areas of consideration: security, regulatory compliance, device support and end user support. Once the decision is made to allow personal devices to be used for company work, BYOD policies have to be developed and it usually makes sense to bring in some kind of mobile device management system (depending on the size of the company).
Shirlene: Most of our customers use ruggedized tablets only when they work in hazardous chemical or gas environments that require Class 1 Division 2 devices. We've found that in other environments, standard tablets and smartphones with protective cases are just as effective and durable.
Do You Suggest GPS Hardware? What Other Hardware Should Service Companies Consider?
Shirlene: We do not recommend GPS hardware for vehicles. Tablet and smartphone apps (like Google Maps) are just as, if not more efficient, in proving navigation information and can easily be mounted (just like the GPS hardware) in the vehicle. Our suggestion is that the company chooses one device (smartphone or tablet) that serves multiple functions at a lower overall cost.
In terms of other hardware, there are some really simple things like batteries, USB vehicle chargers, stylii, cases that are highly protective and can "stand up" for easy data entry. Since our app supports signature capture on the device, we don't feel signature pads are necessary.
Can You Weigh in on the Mobile Web Versus Native Mobile App Usage Debate?
Shirlene: We believe in native mobile apps for a couple of very simple reasons:
Better performance. They take advantage of the native capabilities of the operating system – making it easy to integrate capabilities like photo/video capture and voice recognition.
Ability to work offline (can be done with HTML5 caching, but not as elegantly)
User interfaces that are more user-friendly and engaging
FieldAware offers a range of field service management applications, including software for scheduling and dispatching, invoicing, work order management, reporting, business management, and quoting. For more great information on field service technology follow @FieldAware on Twitter.