What Is Fresh Produce Software?
Fresh produce software helps growers, distributors, shippers, and food processors with accurate traceability, inventory reporting, and EDI. This solution covers every aspect of fresh produce supply chain management, from picking and sales order processing to terminal market shipping and receiving.
A subset of food distribution software, fresh produce software helps manage perishable food inventory in real-time. Traceability software provides peace of mind when handling defective or contaminated produce by providing a detailed record of the food's origin and movement through the supply chain.
Fresh produce software allows users in the fresh fruit and vegetable (FFV) sector to manage their unique business needs, such as the perishable nature of products, low margins, multiple currencies, and various components involved in the cost of an item. Costs tend to be more complex in the produce industry, as you need to not only weigh the cost of the produce, but also the transportation, labeling, brokerage, handling, insurance, and currency exchange fees.
Produce Software includes modules for inventory, accounting, buying, selling, processing, packing and repacking, growing, brokerage, security, and reporting, along with the ability to quickly track and report on each lot of produce in the event of a recall. The fresh produce industry supply chain includes growers, farmers, packers, shippers, third party (cold) storage, wholesalers, distributors, jobbers, and brokers.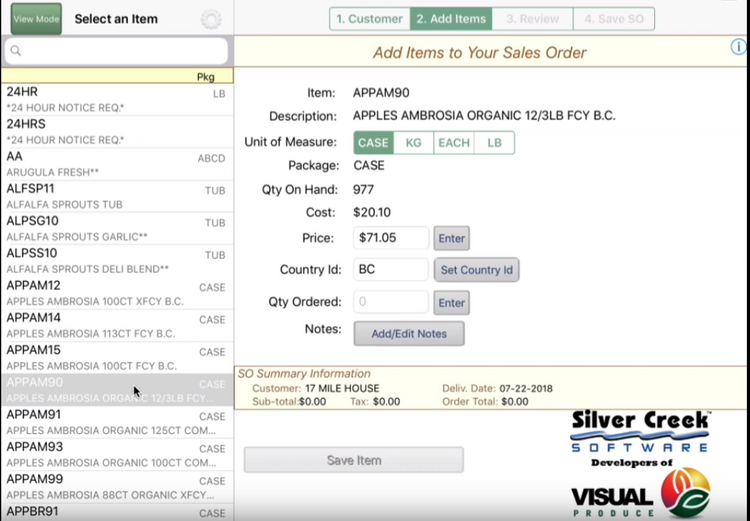 Features of Fresh Produce Software
Traceability: Record the origin of a product, ingredient, or component. Best used for identifying defective or contaminated produce. Ensure you can create PTI-compliant labels for fresh produce
Inventory Management: Monitor your real-time inventory produce stock levels. Improve your inventory control processes via barcode scanning, FIFO, picking locations, and stock adjustments and transfers. More advanced produce ERP systems will include a warehouse management module.
Accounting: Track financial transactions to record profit and loss and better improve business finances and overall cash flow. Manage produce pricing, forecasting, and planning.
Supply Chain Management: Handles your shipping and receiving, routing and delivery, sales order processing, purchase order management, and picking processes.
EDI: Facilitates the exchange of business documents from one computer to another in a standard electronic format between trading partners.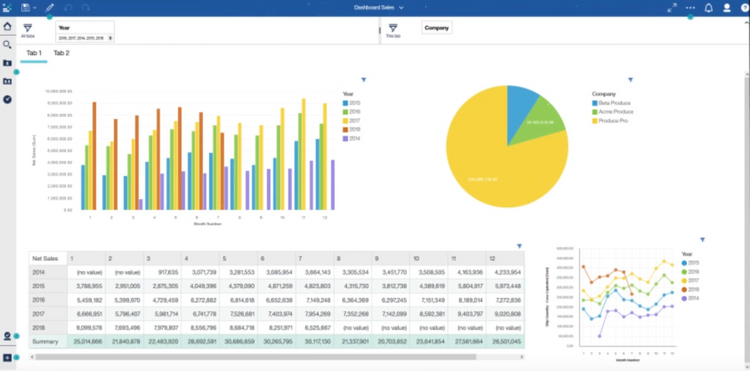 Benefits of Fresh Produce Software
The top benefits of software for the fresh produce industry include:
Stay Compliant and Prepared for Audits Via Automated Traceability
Software for the produce industry will be able to monitor production and operations in real-time, providing a full view of all stock movement in your inventory. This is crucial for an industry with strict traceability requirements. This is accomplished by tracking variations in produce variety, grade, brand/mark, size, color, and origin.
A strong traceability tool will also track all-important delivery data. This starts with your sales shipments by logging where orders are being placed from, any documentation that comes with the said shipment, and proof of delivery receipts attached to invoices.
Produce traceability software will also record staff actions that occur on your production or shipping floor. This includes line status, who was working that day, what orders came in, what was stocked, and any downtime that may have occurred. For example, know how long a product may have been outside of your inventory before it was loaded onto a truck can help determine if there were any spoilage or expiration issues to be concerned about.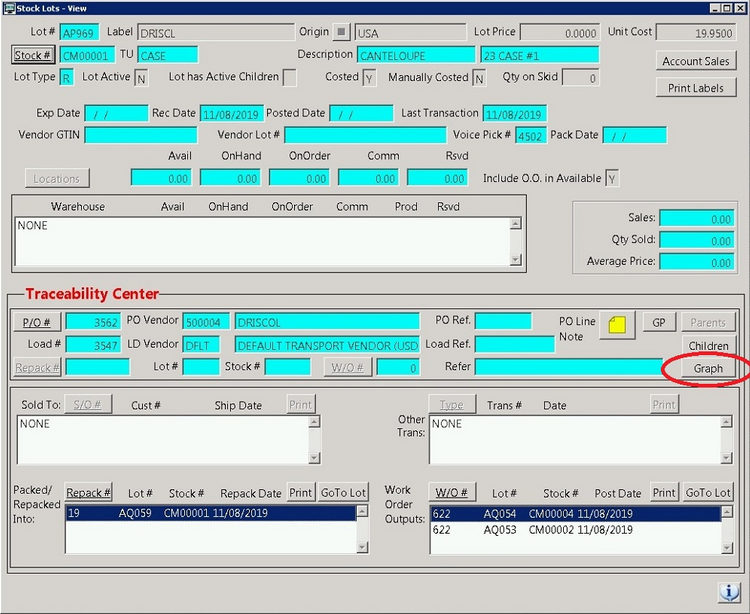 Organize Information During Recall Events
Keeping track of where your ingredients came from and where they were distributed allows you to quickly notify affected customers if specific batches of products were contaminated and need to be recalled. In the unfortunate circumstance that a product recall occurs, you'll want to make sure your company's quality control department is prepared for the worst.
Your business will want to be quick and efficient in identifying any suspect produce. If a health emergency has occurred with produce, you'll want to be efficient in finding and identifying any contaminated stock in your inventory or in any shipments.
Recalls can be caused by a number of factors. This includes contamination, allergens, spoilage, or improper storage and labeling. These issues can be identified by a vendor, during production, or by a customer. In any scenario, you'll also want to efficiently notify buyers, traders, and customers in order to meet safety compliance set forth by most governing bodies.
Some fresh produce software will allow a business to run a mock recall program. This lets your staff test their response to product traceability issues as well as any recall code requirements stipulated by food safety certification programs.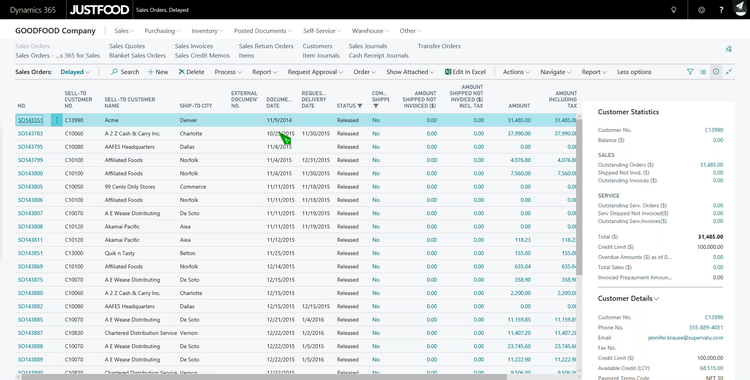 Fresh Produce Software Pricing Guide
The cost of fresh produce software will start between $100-$299/user/month. Subscription-based pricing models are generally found for cloud-based (online) software solutions. Setup fees for implementation and training are estimated to cost around what 1-year of service will cost. For example, if you sign up for a solution at $100/user/month for 5 users, your monthly cost will be $500/month, or $6,000/year. A software provider may charge anywhere from $5,000 to $10,000 for the initial setup in this scenario, depending on the services rendered.
For purchased solutions, fresh produce software will start at around $5,000/one-time and go up from there. Most businesses can expect locally-installed (on-premise) options to have licensing, implementation, and training fees rolled together for their initial costs. Services such as support and data-migration will usually be billed at a separate rate.