What Is Lease Management Software?
Lease management software (also known as lease administration software) allows property managers and rental businesses to track lease data, automate renewals, manage applications, store financial and legal documents while managing leased assets. The software is most often used for managing commercial or residential real estate property rentals, although it's also popular for controlling equipment leases. Some solutions can be used for managing employment or service contracts.
Lease management typically goes hand in hand with lease accounting solutions to streamline control over your entire lease lifecycle. Lease management software keeps track of lease details, automates renewals, and manages lease terminations and buyouts. Lease accounting software tracks income and expenses and creates reports in accordance with Financial Accounting Standards Board (FASB), Governmental Accounting Standards Board (GASB) and International Accounting Standards Board (IASB) standards. User-friendly, integrated solutions with facilities management and lease accounting allows you to track lease terms and meet accounting standards from one place.
Key Features of Lease Management Software
| Feature | Description |
| --- | --- |
| Document Management | Create lease abstraction templates, store signed lease agreements and clauses, and other important documents like service contract agreements, tax forms, maintenance requests, and renters insurance information. |
| Date Tracking | Track lease start dates and expiration dates, as well as other critical dates like past due payment dates. Receive automatic notifications and alerts for upcoming expiration or overdue rent payments. |
| Application Management | Manage application submissions, screen applicants, and create custom application forms. |
| Leased Asset Management | Track the condition and preventative maintenance details for leased assets. |
| Property Management | Manage income and expenses involved in managing both residential and commercial properties, such as rent collection and maintenance. |
| Marketing | Improve occupancy rates by advertising online to find new tenants or customers faster than through traditional outreach methods. |
| Reporting | Review information on current and past lease data to find opportunities for improvements in rent collection, occupancy, maintenance request fulfillment, or portfolio management. |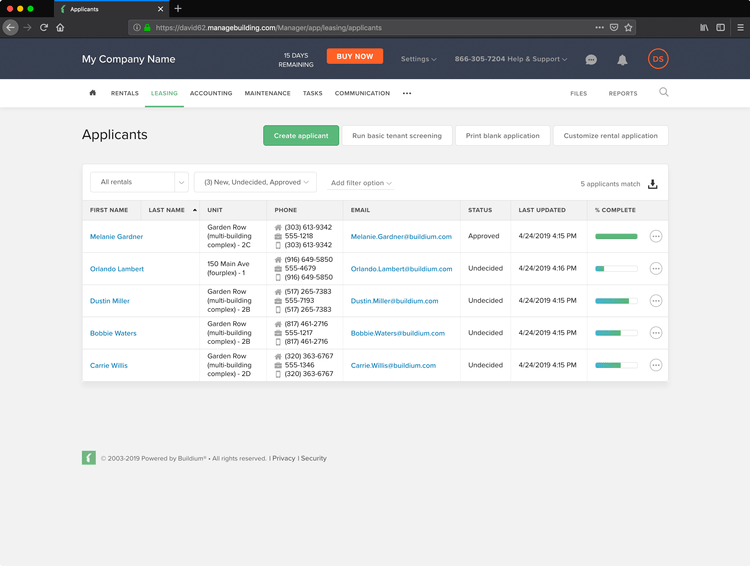 Types of Lease Management Software
Lease management software is used by a variety of businesses as an all-in-one way to manage their lease data including:
Residential and Commercial Real Estate Lease Management Software
Real estate professionals use lease management software for single-family and multifamily properties, commercial properties, and other property rentals. The software will store lease information including contract agreements, expiration dates, tenant contact information, rental payment due dates. Automatic notifications can be sent out to tenants for upcoming renewals and reminders to pay overdue rental payments.
When it comes to residential properties, software can account for both single- and multi-family leases. Lease management can also assist commercial real estate owners when serving multiple renters. Systems can integrate with full property management software solutions which include modules for work orders, accounting, and more.
Equipment Lease Management Software
Lease management software stores lease information, as well as data about all types of leased assets including tools, vehicles, machinery, and more. Details like the current condition of your equipment and customer contact info can all be stored within your system. Advanced software even has GPS tracking to determine the real-time location of your equipment.
Depending on the exact scope of your business, you may want to consider including fleet management software and equipment rental software to build a more robust lease management system.
Employment and Service Contract Software
Finally, lease management software can help businesses manage lease data for employment and contracted services. The software will store 1099 forms and signed contractual agreements, as well as information about the contracted employee or service such as employee contact information, service rates, and description of services rendered.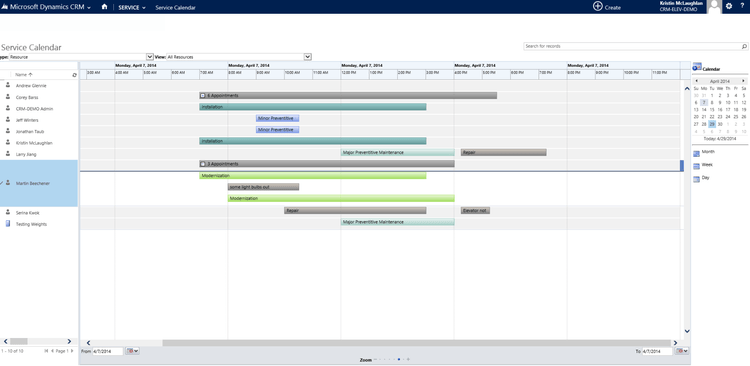 Best Lease Management Software Benefits
Adding software to your lease tracking practices can provide many long-term benefits to your operations.
Effective Document Management with Lease Management Software
Manually managing leases can lead to a lot of problems. To start, physical lease documents are prone to being lost or damaged far more easily than their digital counterparts. Lease management software allows you to create new lease agreements, store important documents, and manage lease information. The streamlined solution makes it easy for real estate managers to create new templates and modify existing ones within your lease portfolio, saving you time on drawing up paperwork for new tenants in the future.
Important lease documents from renters, customers, and contracted employees can be uploaded and stored securely within the system. These documents include renters insurance, pet and vet records, signed agreements, asset condition documents, 1099 and other tax forms, and more.
Software also tracks expiration dates and rental payment due dates. When renewals or payments are due, the system will automatically send out email notifications to your customers to encourage timely responses.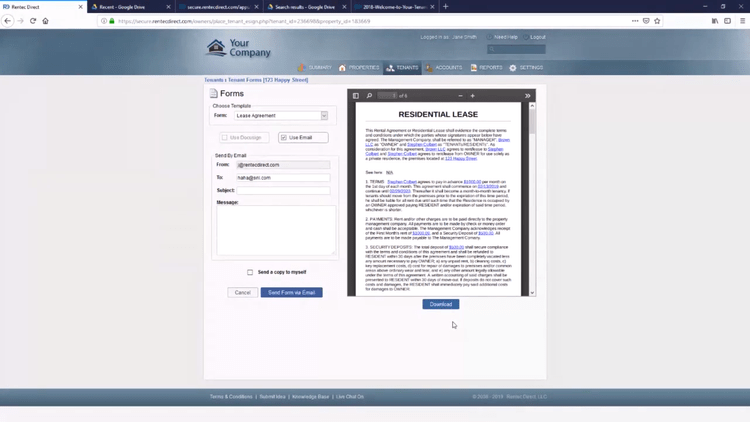 Application Management with Lease Management Software
Some lease management solutions allow businesses to accept rental applications online with a customizable application form. The form can collect applicant information like contact info, social security numbers, and addresses of previous residences. Potential renters can also upload documents for proof of income, asset documents, recommendation letters, and even pet veterinary records. If required, the potential renter can then pay the application fee right from the form, greatly reducing overall paperwork for everyone involved.
Lease management software also assists with tenant screening. Pre-screening tools can provide basic background checks for criminal activity, evictions, and credit issues, as well as verify employer information. Some tools can also screen an applicant's social media accounts for potential behavioral issues.
Additional Lease Software Options
Lease management solutions can be paired with other software to provide even more ways to manage your workflow:
Leased Asset Management
Lease management software keeps records of your leased assets including who is using the asset, the condition of the asset before and after use, and important preventative maintenance deadlines. Keeping track of an asset's condition before and after being rented is important for determining if any damage occurred while in use.
The software can also notify you when preventative maintenance is due. Keeping your leased assets well-maintained allows you to continue renting them out, improving your ROI and keeping your clients happy with working equipment or vehicles.
Lease Accounting Software
Lease management software often integrates with lease accounting software or at least includes basic accounting functionality. The accounting solution providers allow equipment and property rental businesses to record their rental income and business expenses, invoice renters, and create financial reports.
Financial reporting is especially important for rental property owners in order to be compliant with domestic and international lease accounting standards. The most recognized standards are GASB 87, the IASB IFRS 16, and the FASB ASC 842, all of which determine what types of leases need to be recorded on the balance sheet.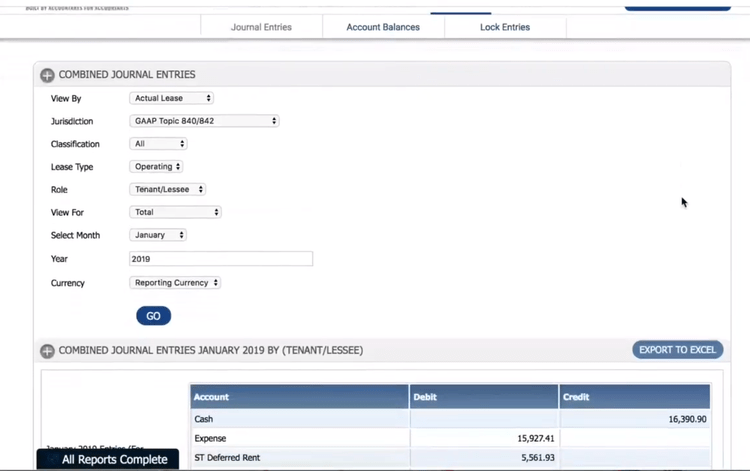 Lease Management Pricing Guide
Lease management software pricing generally depends on how you want to deploy your system and how many users or leases you need. On-premise software often requires a one-time installation fee, along with some costs related to training or maintenance. SaaS plans range from monthly to annual subscription payments, ranging from $25 per month to $50 per month.