Whether your business is selling goods out of your home with your eBay store or moving a large number of products out of multiple warehouses, you'll need to ask the following questions:
How does your business move goods faster and more efficiently?
How do you ship goods at a lower cost in order to turn a profit?
This is where the idea of multi-carrier shipping software comes from.
Some businesses only need to create an occasional shipping label, while others require full traceability into their processes with a full-blown logistics or transportation management system. To truly meet your needs, you'll need to look into an omnichannel shipping program with multi-carrier capabilities. Today, your entire freight process can be automated through a cloud solution that helps save you time and money.
What Is Multi-Carrier Shipping Software?
A multi-carrier shipping software automates your business's freight process by comparing shipping quotes from multiple shippers, helping to choose your preferred shipping partner, and initiating the shipping process. These solutions will also connect to your online stores to manage orders in one place, create and print shipping labels, manage and ship orders with tracking notifications, communicate with customers, track inventory, and view analytics.
Most multi-carrier shipping solutions will improve your supply chain shipping operations by integrating or partnering with a large number of global carriers or store platforms. Examples include USPS, UPS, FedEx, DHL, and more. These shipping systems can handle freight of all types. Some may focus on specific types of freight, while others are more encompassing of a wide variety of goods. There are also multi-carrier shipping systems that specialize in the method of shipping, such as whether via LTL freight shipping (less than truckload freight), air, ocean, parcel shipping, and more.
Multi-carrier shipping capabilities can usually be found as a part of a larger transportation management system (TMS) or ERP software. Implementing a multi-carrier shipping system is the first step in improving the flow of goods and documents from their place of origin to the place of destination. For this process to be completed successfully, the transfer of goods and the documents from one party to another must take place in synchronization via strong business software.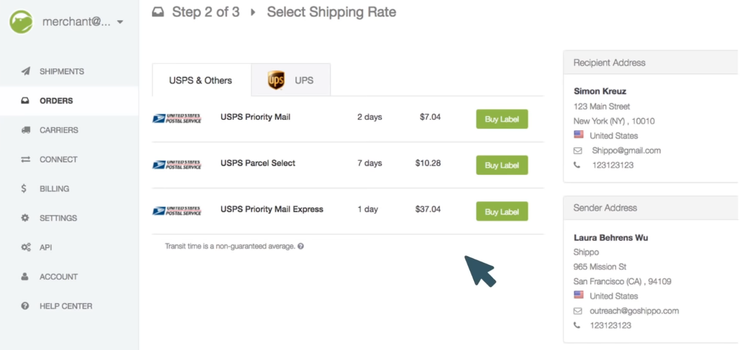 Features of Multi-Carrier Shipping Software
Create Shipping Labels: Print labels and packing slips via formats that work for your business. Includes branded tracking pages for customers, shipping notification emails, connection with all shipping carries, and the creation of return labels.
Rate Shopping: View real-time rates of shipping in the quoting process and prioritize options to save money and provide quick delivery. Link directly with USPS, UPS, DHL, and other carriers.
Ecommerce Integration: Integrate with eCommerce platforms such as Amazon, eBay, Shopify, Etsy, WooCommerce, and more.
Rule-Based Automation: Create actions you want to apply to a set of orders that meet specific criteria, such as new orders, shipping priority, shipping weight, and more.
Shipment Tracking: Track shipments and notify customers with up-to-date information regarding the status of their shipment. Includes detailed shipment information, history tracking, estimate time of arrival, and original ETA to monitor late packages.
Order Management: Streamlines order processing by helping merchants capture, track, and fulfill orders across multiple sales channels.
Inventory Management: Tracks all information about products in stock and helps maintain effective stock levels. Includes costing, location tracking, and traceability. It can link with warehouse management applications to help coordinate actions through your distribution center.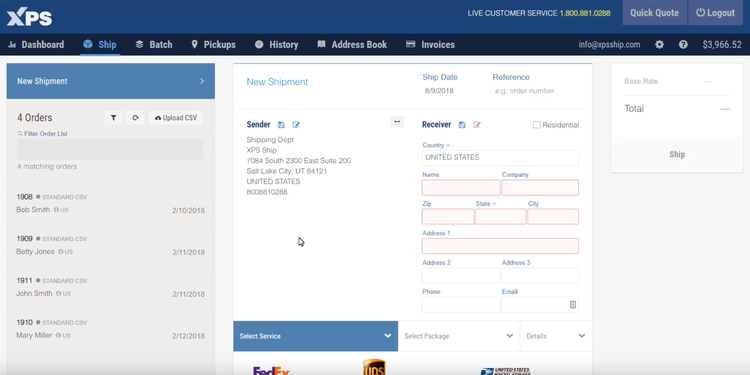 Benefits of Multi-Carrier Shipping Software
Some of the top benefits of multi-carriers hipping software for warehouses of eCommerce businesses include:
Save on Shipping Costs
Using a multi-carrier shipping software means you'll be able to view every carrier's price for their level of service. With this wealth of information, you'll be able to pick the lowest price that can complete your product's shipping journey. In comparison, you only used a carrier-provided system, they may only offer one rate per route, which may not be as inexpensive as outside solutions.
A multi-carrier shipping solution will also help standardize your shipping process. Once you're able to juggle multiple carriers and choose amongst them, you'll be able to better control costs. With controlled costs comes the ability to reduce costs by freeing up resources.
One method of reducing costs can come by predicting the total cost of each leg of your freight's journey. While sticking with a single carrier and their price list may be more consistent (in terms of pricing) it gives your business no wiggle room to adjust for shifts in product demand.
For example, warehouses can switch between carriers and pick one that is more efficient and cost-effective with shipping packages during a new product release that is in high demand. This is because some carriers may charge varying rates depending on the size and weight of the freight being shipped. Long term, this helps your distribution, manufacturing, or e-commerce business save time and money and even set your brand apart from others.
Reduce Labor Time Spent on Keying Order Data
A manual shipping process can be very time-consuming, simply because your staff has to spend far more time completing every action involved with shipping. First, you have to collect the sales order information, which includes any custom notes about delivery details. Once a sales order has been received and keyed in, you have to create a delivery schedule. This schedule usually has to be coordinated with your delivery handler.
Many times, determining the delivery time relies on what other sorts of deliveries or freight will be moved around the same time. This could be because similar goods will be picked in the warehouse (and thus, this particular purchased product can be grabbed at the same time), or this type of item may ship more efficiently (due to size and weight) with other like goods.
The delivery process itself can also be very complex. How many stops will occur during shipping? How long will this delay the shipment for your customer? How long will the overall trip become? Multi-carrier shipping software will help determine all of these timetables and pieces of information that your customer will ask about.
Integrating your order management software (or having an order entry system as an application within your shipping software) will ensure all required data is imported. This will limit the time spent re-keying data into an outside carrier's shipping system.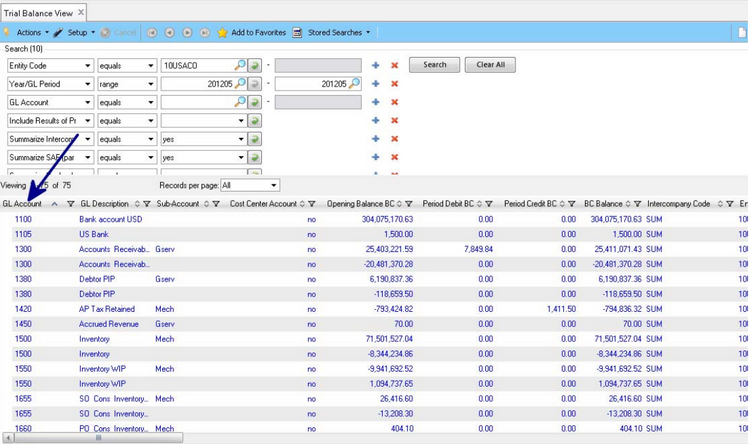 Increased Accessibility
A downside of using a single-carrier shipping software is that shipping requests may need to be re-keyed into a terminal your company has dedicated for that sole purpose. These terminals are usually found within the shipping department. While this isn't always the case (many shipping requests can be completed on a carrier's website, which requires only a web-browser), the ability to have a centralized system where your entire company's logins, usage history, and shipping requests can increase who accesses your system, the frequency they can access, and the speed at which they can add an order.
A unified approach to having the same system used company-wide will also increase the productivity of your staff. Common tasks such as applying additional services (such as expedited shipping), assigning needed details to international shipments, negotiating on bills, noting carrier preferences, and dealing with hazardous materials shipments can be handled by your staff with ease.

Improved Trade Compliance
Since global trade policies can change faster than you can keep track of, it's important to remain as proactive as possible with compliance laws and regulations. Many multi-carrier shipping solutions will have integrated compliance checking workflows. This will help your business avoid shipping goods to denied parties or embargoed countries. Automating free trade agreement compliance will also help avoid customs delays and mitigate the risks associated with dynamic trading environments.
Multi-carrier shipping software will reduce the hours spent manually going through paperwork, such as regulation reports. Having an electronic way to submit the proper documentation to licensing agencies or addressing compliance regulations as soon as you become aware of them will speed up the overall shipping process.
Compliance features in multi-carrier shipping software will also impact your freight costs and help save you from fraud. When working with a specific carrier, you'll be putting your company's reputation on the line in terms of timeliness and quality of shipping provided, so you'll want to ensure they are up to your standards. This includes monitoring the performance of carriers and highlighting risk factors.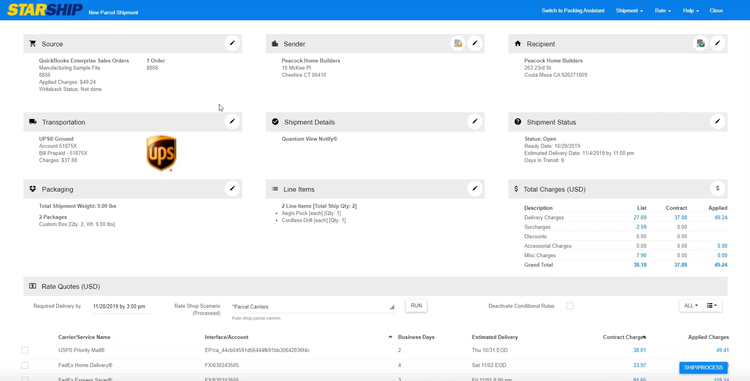 Multi-Carrier Shipping Software Pricing Guide
The cost of multi-carrier shipping software starts at as little as $5/user/month, or as much as $499/month. The cost of the software will vary greatly depending on the number of users, the methods of shipment being used, the carriers you require integration with, and the number of applications needed.
A major deciding factor for the price will ultimately boil down to what your company needs out of multi-carrier shipping software. Do you need a simple tool that can look up shipping rates of multiple carriers and print labels? Or do you require a fully integrated transportation ERP solution that also manages the inventory, financials, and sales of your organization?