What is Objective and Key Result (OKR) Software?
Objective and key results (OKR) software builds a performance management system which tracks and measures specific business goals while facilitating internal communication. OKR solutions offer a unified platform for reporting on goal progress, setbacks, and completion schedule changes. Team members and project managers alike can track progress and productivity on every specific project.
Although OKR solutions have some overlap with project management software, there are distinct differences as well. Both offer ways to track project progress, though OKR has an additional focus on monitoring feedback in order to identify possible improvements to measurable work processes. These workflow changes can lead to shorter cycle times and more accurate completion estimates in the future. Use OKR software to align your project tasks with desired results and long-term company objectives.
Features of OKR Software
Strategic planning tools: Start every project out by planning each necessary task in advance, assigning appropriate talent, organizing teams, or bringing in additional resources
Goal management: Organize specific project goals in order of importance or relevant dependencies, milestones, and scheduling
Multi-project tracking: Keep tabs on multiple projects simultaneously, through different teams and departments, on shared or custom dashboards
Progress tracking: Use check-ins to measure progress on each project task to know productivity levels and completion status
KPI monitoring: Measure custom key performance indicators (KPI) once a project is complete to determine success or failure
Feedback management: Monitor negative and positive feedback and determine what response, if any, are necessary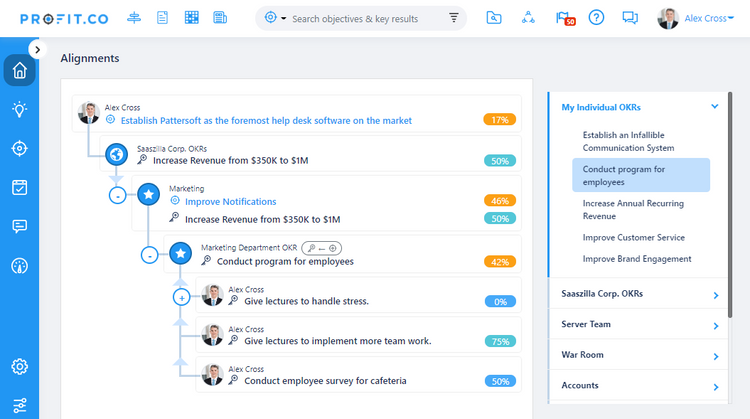 Best OKR Software Benefits
There are many benefits to utilizing OKR software at your business, such as:
Prioritize Project Goals
Goal-setting is an easy way to ensure your entire team is on the same page when it comes to project results. The clearer your goals and milestones, the easier it is to know your project timeline is on schedule. However, some goals are simply more important than others. If team members don't know which tasks are necessary dependencies or what order to complete them, this can cause delays to the project schedule. Through OKR software, you can prioritize those goals which are vital to the overall success of a project. These performance management tools even allow you to change priorities in real-time based on project developments.
Strategic planning modules allow you to indicate key objectives and KPIs to team members from the very start. Identify which tasks will need the most resources and ensure they are available when necessary. This can range from additional materials to more team members. With everyone aligned in terms of goals, everyone will know what they're working towards.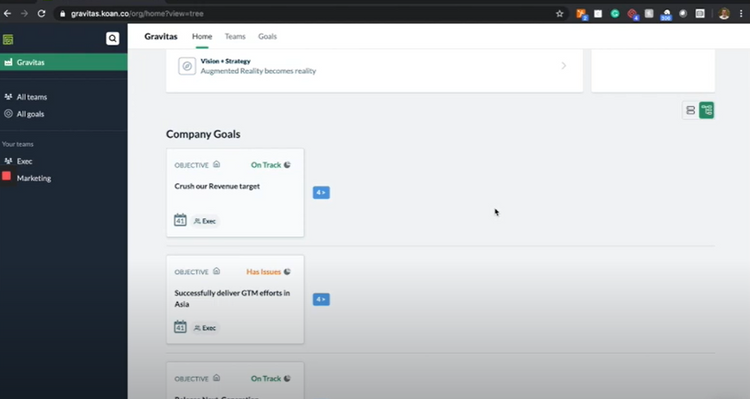 Increase Productivity with Check-Ins
Communication tools allow project managers to check-in with team members, keeping up productivity on tasks which may otherwise be falling behind. Self-submitted employee status reports can provide valuable insight into which areas of the project are working well and which may need adjustment. This increased employee engagement is twofold: it provides managers with vital information about the project while also encouraging team members to care about the quality of the work they report.
Reports can even be scheduled in advance on a daily, weekly, or monthly basis to fit your timeline. Project managers can then use this feedback to inform their coaching techniques to increase productivity and performance. This information can be viewed from customizable dashboards with highly visual metrics. And while this data can be used to track progress, it can also be useful for upcoming employee performance reviews.
For example, weekly check-ins can provide an almost instantaneous view of progress towards key company goals. Project managers can log-in on a set day of the week to see which goals are on track and which may need additional support. If employee feedback reports indicate issues, these can be addressed sooner rather than later.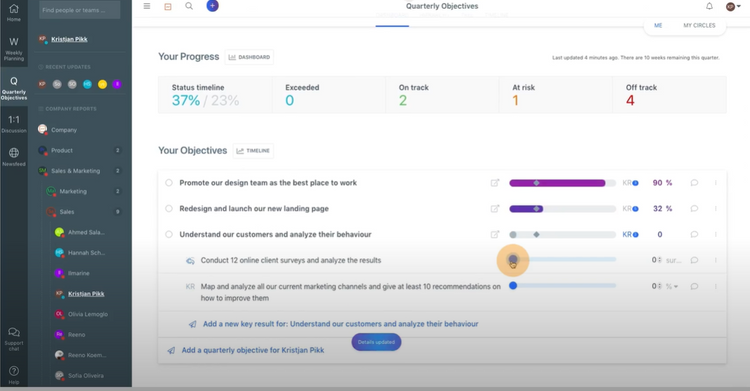 Accurate Documentation
Some businesses, particularly smaller startups, may use regular spreadsheets to plan out projects and use regular email or instant messages to communicate with team members. Unfortunately, this can lead to miscommunication if someone forgets to check their email or doesn't save changes to a shared document. For example, Slack and Zoom are both popular methods of interoffice communication, yet one person being temporarily offline can lead to comments being lost.
OKR tools facilitate accurate collaboration on projects through shared files and communication templates in one shared space. These documents can be stored on-premise or in a Cloud-based platform for instantaneous sharing across different teams. Customized alerts can inform project managers of progress updates and goal completions as they occur. For tasks which require managerial approval before proceeding, these real-time alerts can greatly expedite the project schedule.
OKR Software Pricing
There are many free OKR management software options, though there are often additional costs for extra features. Generally, paid plans are based on how many users you have, regardless of if they are project managers or individual team members. The more users you need, the higher the costs will be.
Another price factor is whether the software is installed on-premise, a Cloud-based SaaS, or some hybrid model. You then have to account for implementation and possible training costs. Monthly payments for SaaS plans tend to start as low as $2 per user and go up from there.