Employees are the lifeblood of businesses, and ensuring they are paid accurately and on time is of the utmost importance. Running payroll manually might work for a small business, but you'll need a more robust solution as you grow. If you use QuickBooks to handle your basic accounting, you could use QuickBooks Payroll. However, you might wonder if switching to a standalone solution like Gusto is a better option for managing your growing team.
While both payroll service providers offer excellent functionality, a few key differences may lead you to choose one over the other. Compare the costs, features, and benefits of Gusto and QuickBooks Online payroll solutions so you can make the best choice for your business.
QuickBooks Payroll vs. Gusto: Software Overview
While many kinds of payroll software are built to streamline and automate payroll tasks, QuickBooks and Gusto are two of the most popular, affordable options on the market.
While QuickBooks accounting software has some basic tools to help with payroll-related tasks, Intuit offers QuickBooks Payroll as an add-on or standalone software to fulfill all of your organization's more complex payroll needs. Gusto is a fully standalone option that provides payroll and human resource functionality.
Both QuickBooks Payroll and Gusto are cloud-based solutions with features business owners should expect from a full-service payroll tool, such as direct deposit, automatic payroll, and payroll tax filing.
Features
QuickBooks and Gusto have many shared features, including:
Automatic payroll
Printed checks
Deductions
Direct deposit
Employee self-service portal
Health benefits
Human Resources
New hire reports
Payroll taxes
PTO
Unlimited payroll
Wage garnishments
1099 E-file and pay
401(k)
Though both payroll solutions offer overlapping features, a few key differences make each stand out beyond the standard payroll features. These include:
Payroll
QuickBooks Payroll stands above Gusto when it comes to payroll processing time. QuickBooks has next-day direct deposit on all pricing plans and same-day direct deposit on its two higher-tiered plans. Comparatively, Gusto offers two-day direct deposit in its Simple plan and next-day deposit in its Plus and Premium plans. It does not provide same-day direct deposit in any plans, making QuickBooks the clear winner for expedited payments.
On the other hand, Gusto wins when it comes to payroll automation and payroll tax payment. The software automatically calculates and pays federal, state, and local payroll taxes, while QuickBooks will only automate payment on state and federal taxes. This forces you to print and manually file the local tax forms yourself. Further, QuickBooks only has automated payroll for salaried employees with direct deposit enabled, while Gusto offers it for both your salaried and hourly employees.
Time and Attendance Integration
QuickBooks Payroll's Premium and Elite plans come with QuickBooks Time software, including a mobile app to track your time on the go. Unfortunately, gusto does not have a built-in time tracking tool, but it offers integrations with ClockShark, Homebase, and even QuickBooks Time.
For hiring, onboarding, talent management, and other HR features, Gusto far exceeds what QuickBooks Payroll offers. In its base plan, Gusto offers a full suite of helpful HR tools for hiring and onboarding. With Gusto's Premium plan, you are granted access to even greater HR tools, including a dedicated support team with live HR professionals and even an HR Resource Center. The HR Resource Center includes templates and guides to create employee handbooks and even manage interpersonal conflicts between employees. Priority support and the HR Resource Center are also available as an add-on with the Plus plan at an additional cost.
QuickBooks Payroll also includes a personal HR Advisor on the Elite plan and an HR support center with their Premium and Elite plans. Still, these tools are less comprehensive than what Gusto has to offer.
Employee Benefits
Both QuickBooks Payroll and Gusto offer benefits administration services, but there are some minor and major differences that you should know about:
QuickBooks offers health insurance for employees in all 50 states through a third-party insurance broker. In contrast, Gusto only offers it in 39, but it is brokered directly through Gusto. If you have an existing health insurance broker, you can keep it at an additional cost. Additionally, Gusto offers 520 college savings, health savings accounts, flexible spending accounts, dependent care FSAs, and commuter benefits, all at an additional cost.
QuickBooks and Gusto offer workers' compensation administration as an add-on through AP Intego. With QuickBooks, it is available as an add-on in all plans except for Core. If you want to use it at that level, it will cost an additional $5 per month on top of the insurance policy premiums. With Gusto, workers' comp is available as an add-on in all three plans with no administration fees.
Insights and Reporting
In Gusto it is easy to create details and customizable employee, payroll, and trend reports using native software features. QuickBooks payroll uses third-party apps to create these reports and generate insights, but they are not as robust as Gusto's.
Conclusion: When it comes to features, Gusto wins when it comes to Payroll, HR Tools, employee benefits, and reporting. However, QuickBooks beats Gusto with its time-tracking software included in its two higher-tiered plans.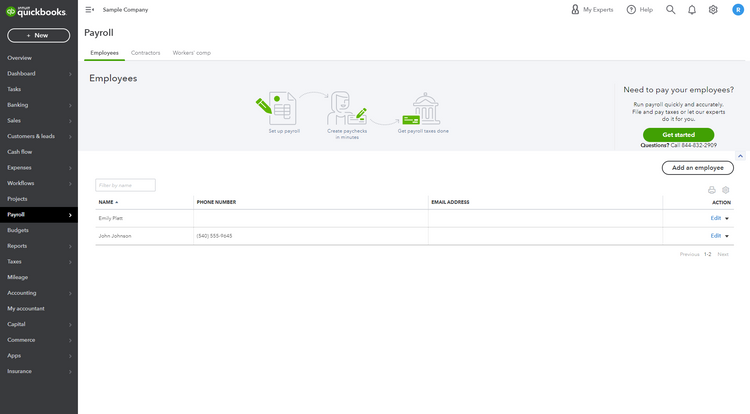 Integrations
Both QuickBooks Payroll and Gusto integrate with QuickBooks Online accounting software. Still, for obvious reasons, QuickBooks Payroll offers a more seamless integration for those who want to utilize a full product suite. On the other hand, QuickBooks Payroll only integrates with QuickBooks accounting and time tracking software.
Gusto has many third-party integrations with accounting and time-tracking software (including QuickBooks!) and will even integrate with POS systems. The software integrates with many more accounting, time tracking, and third-party software options than QuickBooks Payroll. This makes it a better choice for those who want to use many different companies for their business's software management systems.
Conclusion: Gusto
Who Uses This Software?
The software you choose will heavily depend on the kind of business you run, how big it is, and the staff you have in-house to perform payroll tasks. Typically, small business owners choose QuickBooks Payroll, which is limited to 150 employees. Gusto allows companies to grow beyond 150 employees, making it a favorite of startups and medium-sized businesses.
Gusto has a more user-friendly interface that is a favorite of startups and companies with no dedicated team to conduct payroll and HR. In contrast, QuickBooks offers implementation support to help you get the software set up and running. This support is beneficial for smaller organizations without dedicated payroll departments.
Gusto is a more scalable solution as it allows small to medium businesses to grow their number of employees into the hundreds. On the other hand, because Gusto only offers health insurance benefits for 39 states, companies that plan to expand nationally or employ remote workers in other states will be limited to those states if they choose to use Gusto's health insurance brokering.
Conclusion: QuickBooks Payroll is best for small businesses, while Gusto is best for growing businesses.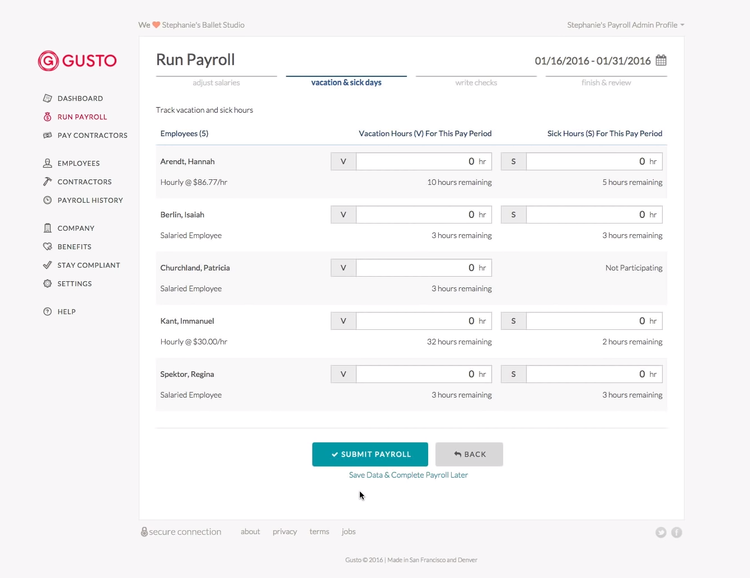 Mobile Apps
QuickBooks Payroll has a mobile app for iOS and Android that allows you to run payroll from anywhere and perform other payroll tasks while on the go. Unfortunately, gusto does not have an app with this capability. However, it does have an app for an employee portal named Gusto Wallet, which allows employees to view paychecks and W-2s, and create savings goals.
Conclusion: QuickBooks
Pricing
QuickBooks Payroll and Gusto have three product tiers to choose from, and both charge a monthly fee for each employee and contractor you want on your payroll. Both include customer support, though availability depends on the exact pricing plan.
QuickBooks Payroll starts at $45 per month for their Core plan plus $4 per month for each employee. Their highest-priced Elite plan is $125 per month plus $10 per employee. They often grant significant discounts on their pricing - check their website for the latest Quickbook deals. They also have a free 30-day trial, so you can decide if the software is the right fit for your company.
Gusto's pricing starts at $40 per month plus $6 per month per employee, and their highest-tiered plan has custom pricing depending on the number of employees and the type of features you need. Gusto also offers a separate $6 per month Contractor Only plan for businesses without W-2 employees.
Conclusion: Though the base software price for Gusto is lower than QuickBooks Payroll, QuickBooks has a lower per-employee cost, making it the less expensive option.
QuickBooks Payroll vs. Gusto: Which is Best?
If you are a small business looking to automate and streamline your payroll processes, here's how QuickBooks and Gusto compare:
When you should choose QuickBooks Payroll
You have a dedicated accounting and HR team
You are already using QuickBooks Online for your bookkeeping and want a full product suite
You have less than 150 employees
You don't employ many contractors
When you should choose Gusto
You are a startup that needs built-in HR tools
You want to be able to use more third-party software and tools
You have hundreds of employees
You employ many contractors
The advantages offered by these payroll systems largely depend on your business's specific needs. If you use a lot of freelancers and contractors, Gusto offers more cost-effective tools to ensure they are paid on time and more efficiently. If you already use QuickBooks accounting and time management software and want a full product suite that includes payroll features and benefits management, QuickBooks Payroll will be your best choice.
Looking to compare more software solutions to help you run your small business's payroll? Explore our roster of the best payroll software or request a free consultation with one of our software experts.
---
Further Reading
---